Feature
There's Nor other Way: Taking the Mazda CX-3 on a Norwegian adventure
Phill Tromans embarks on a 650-mile drive through spectacular Norway in a revised Mazda CX-3.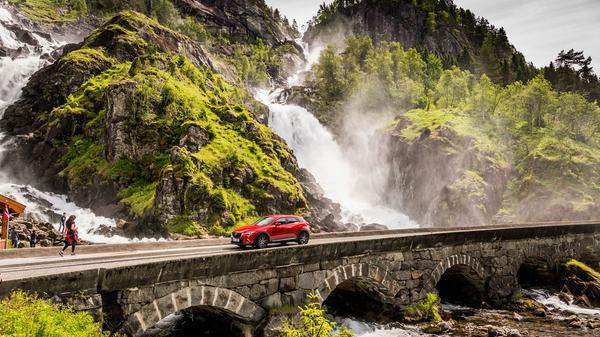 I'd never quite realised how large Norway is.
Despite a population of just over five million people, Norway has one of the longest coastlines in the world. Inlets and fjords claw their way inland, hewing out spectacular scenery that some very clever engineers have adorned with winding waterside roads and tunnels that bore through mountains. And this incredible scenery goes on, and on, and on.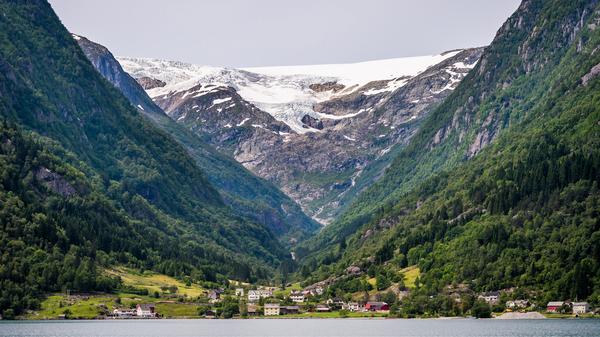 I'm here to drive a facelifted Mazda CX-3, a small SUV that rivals the likes of the Nissan Juke, Renault Captur and Vauxhall Mokka X. Starting from the city of Stavanger, I'll head north, ending up eventually in Trondheim, via a lot of very pretty roads, tunnels and mountain passes. It'll take me two full days, and studying a map of Norway shows I won't even have travelled half way up its length.
It's still a serious bit of driving though: more than 650 miles and not a motorway in sight. It's an intriguing challenge for the car, too. Mazda touts the CX-3 as a small SUV that gives the driver genuine enjoyment behind the wheel. This means it needs to tread a fine line; providing enough comfort for 12 hours a day behind the wheel, but being sharp and agile enough to put a smile on my face on some of these incredible stretches of tarmac. The facelift to this model is minimal; some refreshed looks and small tweaks to the suspension in the name of comfort are the only real changes.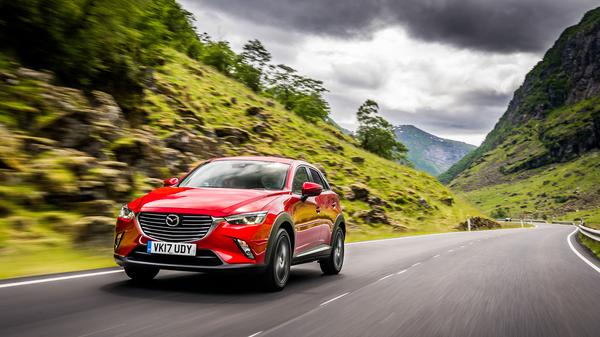 The first stretch
The first couple of hours north of Stavanger are spent ooh-ing and aah-ing at the amazing views Norway has to offer. Virtually every bend heralds a new picture postcard vista, with soaring, pine tree-covered cliffs and cascading waterfalls plummeting towards vivid blue fjords and lakes. In fact, after a while, it gets a bit dull. Such is the relentless barrage of beauty Norway flings at its visitors, you tend to get inured to it after a while. Clearly the locals feel the same. I spot an island, nestled in a valley and overlooked by raw natural splendour, but housing an unsightly cement factory. I guess everywhere needs ugly buildings, and they gotta go somewhere.
The Mazda is performing relatively well. It's a top-end model, the GT Sport special edition, which comes with all-wheel drive, and a 120PS petrol engine. The engine has plenty of poke, in the high revs at least, which makes for fun coming out of corners and jumping around the snappy manual gearbox. The steering is curious though; numb and artificial. Not ideal for a car designed to inspire the driver.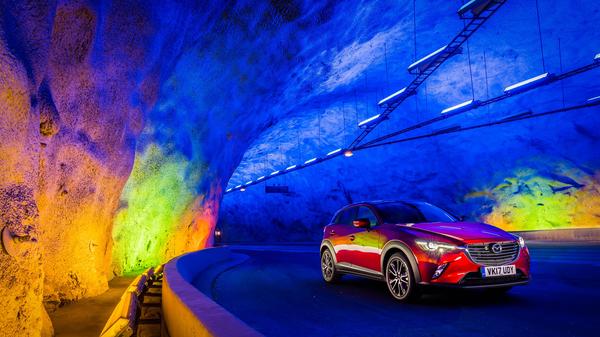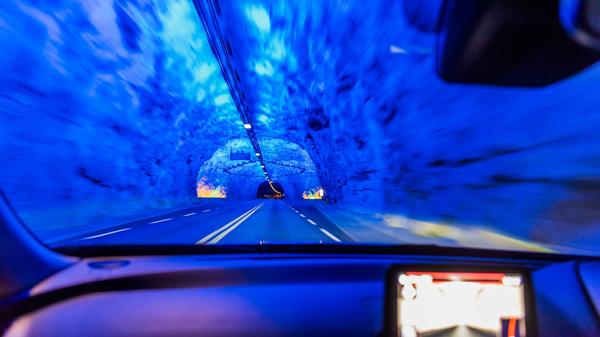 With so many waterways and islands in Norway, it's a haven for engineers. As well as roads picking out routes between mountains, the region is home to myriad tunnels that bore through the rock, often for miles at a time. One of these feats of boring, the Laerdal tunnel, is the longest road tunnel in the world. At 15.2 miles, it takes 20 minutes to drive through, and is punctuated by parking spots lit in a stylish blue and yellow, seemingly only for photo opportunities. Seems a shame not to oblige.
The first night is spent in the tourist-friendly small town of Loen, notable mostly for a new and very impressive cable car that whisks you 1101m up to the top of Mount Hoven, where a restaurant and bar have been thoughtfully placed. The views, as per usual, are incredible.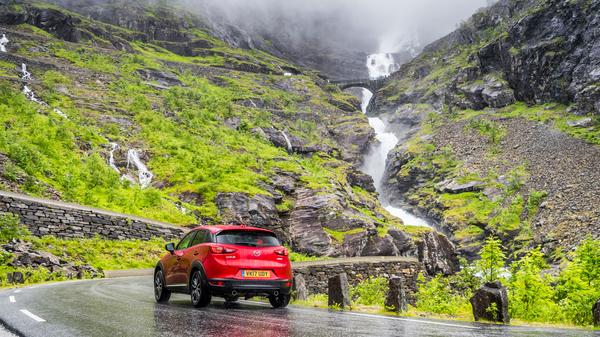 Day two
Day two sees a frankly insanely early start. By 5am I'm off on the road to avoid the tourist traffic jams that apparently plague this region. The road takes me and the CX-3 up, up into the mountains where breath-taking views await… if it weren't for the all-encompassing fog. I'm forced to slow to a crawl, unsure whether visibility is being restricted by mist or clouds. The landscape, such as I can see, is more barren now, trees replaced by snow drifts, even though it's July.
Having crested the mountain, the road winds down the side of a steep face, and suddenly I'm below the cloud cover heading towards a new favourite view, that of the Geiranger fjord. Far below a huge cruise liner is at port, framed once again by cascading cliffs.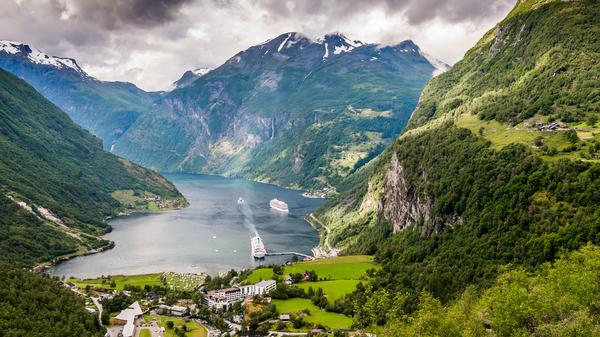 There's no time to stand and gawp though, so it's back into the CX-3 and back to the hairpins that snake up the opposite cliff. Despite the lumpy steering feel, the Mazda has an excellent chassis underneath it, one that stops the body lurching around during tight cornering, but doesn't crash and bash over imperfections in the road. The mid-life tweaks to the suspension haven't taken away its nimble feel. The all-wheel drive makes for great traction out of damp corners, but the engine really needs to be revved to haul itself up hills. I find myself longing for a torquey diesel as I drop two gears at a time to find enough grunt.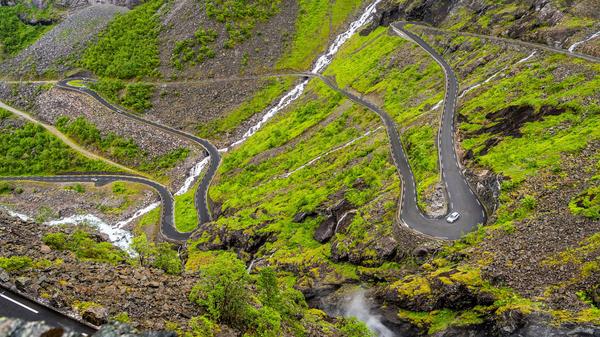 On most other road trips, Geiranger would be the ultimate highlight, but for me that lies further north. The Trollstigen mountain pass is surely one of the most breathtaking roads in the world; eleven hairpins tiptoeing down into a valley, bridging over two huge waterfalls and racing off into the distance.
After gazing at the landscape from the Trollstigen lookout platform – something not for those with vertigo – I push on, out towards the Atlantic Ocean and the final engineering feat at which to marvel. The Atlantic Ocean Road runs along the coast towards Kristiansund, and is crowned with the eye-catching Storseisundet Bridge, which appears as you drive towards it as simply a ramp into the sea. By this time the tourist buses are out and about, which means it's heaving by the time we arrive. The bridge is just part of a road that skips across the sea like a skimmed stone. It's a seriously impressive design.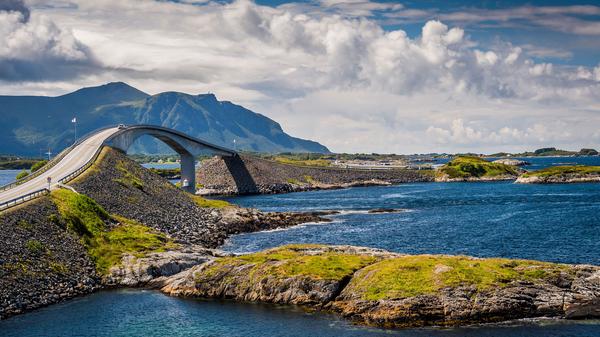 Exhausted, I finally arrive in Trondheim and settle in for the most expensive pint of beer I've ever tasted (£20, for a Guinness, if you're interested). It's hard to imagine a road trip that provides a more constant flow of incredible sights, and by and large the CX-3 has been a decent companion. It's been hard to assess its credentials as family transport – I've had no family to transport – but it's broadly fulfilled its duty as a comfortable but engaging drive. Only the steering has let it down, and while the petrol engine is fun when singing on a clear, open road, it's a bit frustrating to continually shift gears to find the power band at slower speeds, and especially up hill. A diesel would probably be a better option for everyday driving. But then again, this drive has been anything but normal.