Expert Review
Toyota Prius Plug-in (2012 – ) review
The Prius Plug-in is largely unchanged compared with the standard Prius, but there are a few additions to mark it out as the flagship version. The top grille has been made smaller, while the bottom one has increased in size, aiding aerodynamics.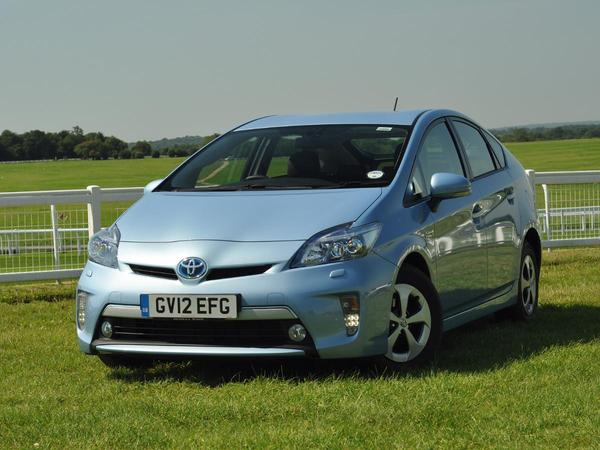 The Auto Trader expert verdict:
The Toyota Prius Plug-in has a 15-mile electric range, boosting its economy to 134mpg, without taking away from its boot space or five seats.
Reasons to buy:
Incredible fuel consumption
Smooth and silent in electric driving
Big boot and five seats
How much equipment do I get?
With a premium price, you expect a decent level of standard kit, and happily the Prius Plug-in delivers. Sat-nav, cruise control, air-con, auto wipers and lights, Bluetooth, rear-view camera and a JBL eight-speaker stereo come with the car.
How good does it look?
The Prius Plug-in is largely unchanged compared with the standard Prius, but there are a few additions to mark it out as the flagship version. The top grille has been made smaller, while the bottom one has increased in size, aiding aerodynamics. The nose also features a silver accent, which is repeated in the door handles, unique alloy wheels and boot. A new metallic shade of paint called Sky Blue is also available.
What's the interior like?
Toyota hasn't touched the interior, so you still get the now familiar dual-zone dashboard, with instruments placed close to the base of the windscreen, reducing the time your eyes aren't looking at the road. The cabin is dominated by the 'bridge' design centre console, which reaches out from the dashboard and features an aptly Star Trek-ish gear selector. We found the interior relaxing and quiet, only finding fault with the seats, which don't provide enough lateral support.
How powerful is it?
The addition of a higher capacity battery pack, which can be charged using a conventional plug socket in 90 minutes, gives the Prius Plug-in an electric (EV) range of 15.5 miles. Once this has depleted, the Prius is exactly the same to drive as the standard Hybrid model. Total power is 134bhp and zero to 62mph takes 10.7 seconds. EV mode driving is available at speeds up to 51mph and there's enough power available for urban and suburban driving. Plant the throttle, possibly to overtake or join a fast road, and the petrol engine will cut in to assist, and then shut back down. There are three button-selected driving modes called HV, EV and EV-City, allowing you to tailor the technology to suit your requirements. HV stands for Hybrid Vehicle, which will make the Prius Plug-in behave like a standard Prius and hold the mains charge in the battery pack. This is particularly useful if you live out of town, and want to drive using just electric when you reach an urban area. EV mode tunes the car to drive using just electric power until the battery is depleted, while a press of the EV City button limits throttle response in electric mode, making it easier to drive economically.
How practical is it?
Open the boot and you'll be greeted by the Plug-in Hybrid moniker. There's just as much room in here too, thanks to Toyota switching to compact lithium-ion batteries, increasing the Prius' electric range without encroaching on interior space. The boot measures 443 litres, extending to 1,120 when the 60:40 split rear seats are folded down. That gives it a considerable lead over the Chevrolet Volt and Vauxhall Ampera, which both measure 300 to 1,000 litres and have just four seats.
How reliable is it?
The Toyota Prius is growing a reputation for not only being green, but also for its impressive reliability. The combination of a sharp focus on engineering and its lack of a conventional clutch and gearbox, means most Prius owners find their car's remarkably cost effective to maintain.
What's it like to drive?
The Prius is arguably one of the easiest cars to drive in the world. Put the automatic gearbox in Drive, release the handbrake and you have two pedals and light and accurate steering. There's some satisfaction to be had in trying to carry speed through corners too, all in the name of saving fuel. The ride is good most of the time, but the suspension can crash over bigger bumps.
How much will it cost me?
Thanks to its EV range, the Prius Plug-in obtains a remarkable 134.5mpg and 49g/km of CO2 in European fuel economy tests. During our 27-mile test route, we managed 131mpg at an average speed of 23mph. Toyota conducted a five-year long global Plug-in Hybrid trial and concluded that a 15.5-mile electric range would meet the daily commuting needs of 80 per cent of European drivers.
How safe is it?
The standard Prius obtained a five-star Euro NCAP score, and this model should be no different. It performed very well, with 88 per cent for adult occupant protection, 82 per cent for child occupants and 68 per cent for pedestrian safety.
Why buy?
If you are already considering a Prius, or want to shrink your motoring bills in the long term, the Prius Plug-in makes a whole heap of sense. With low company car tax it's also sure to be a hit with business car owners.