Expert Review
Suzuki Kizashi (2011 – ) review
The Suzuki Kizashi is a handsome car, and this is aided by the fact we only get the fully-kitted Sport trim level here in the UK.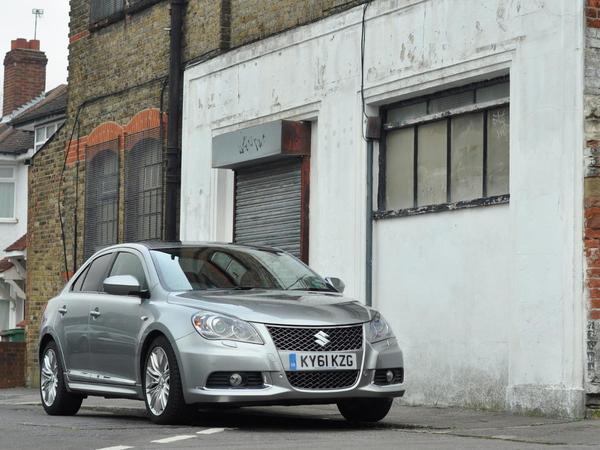 The Auto Trader expert verdict:
The Suzuki Kizashi is the Japanese manufacturer's first four-door saloon and it offers a sporty take on the traditional recipe. It's likely to remain a rare sight on British roads, so are you willing to try something a bit, different?
Reasons to buy:
It looks like a saloon version of the Swift Sport
The handling is good enough to back up its stocky looks
It's impressively kitted out for the price
How good does it look?
The Suzuki Kizashi is a handsome car, and this is aided by the fact we only get the fully-kitted Sport trim level here in the UK. The Kizashi is a popular model in the US, Canada, Australia, New Zealand and India, but a rare sight on these shores. You could say Suzuki is dipping its toe in the water, as the Kizashi is the first four-door saloon sold by a company traditionally known for its superminis and 4×4s. Best described as a stretched Suzuki Swift Sport, it has stocky and well-balanced proportions, with neat chrome tailpipe surrounds and a duck-tail boot spoiler.
Expert rating: 4/5
What's the interior like?
Inside, you'll find a typically Japanese interior. That's to say it feels well laid out, solid and long-lasting, but there's little visual excitement. The stereo display is reminiscent of a HiFi or DVD player, making it tricky to view menu options and change settings, while a touch-screen sat-nav is an optional extra. Standard leather and heated seats will attract customers, however.
Expert rating: 2/5
How practical is it?
Open the boot and there's 461 litres of luggage space, which falls short of the Volkswagen Jetta's 510-litre boot. This is largely because of significant intrusion from the rear wheel arches into the boot. Passenger space is good for four average sized adults, but rear legroom could be an issue for taller occupants. Being more compact than bigger four-door saloons (think the Ford Mondeo and Vauxhall Insignia) does have its advantages, the Kizashi feels wieldy and fits more comfortably into parking spaces, aided by front and rear parking sensors.
Expert rating: 3/5
What's it like to drive?
Of all the saloon cars we've tested, the Kizashi is pretty much unique, in that it has four-wheel drive you can turn on and off with a dash-mounted button. While the option of more traction is a good thing to have in your back pocket if it snows, it made little perceptible difference to driving the Kizashi on dry roads during our test. Unlike the Subaru WRX STI, whose four-wheel drive adds to its performance and handling abilities, the Kizashi's i-AWD system is primarily a safety aid. The biggest assets the Kizashi has are its feelsome steering and suspension, which is quite firm, but not uncomfortable and makes Suzuki's first saloon surprisingly fun to drive. Perhaps a large part of its success comes from its engineers carrying out testing on "challenging country roads in the United Kingdom" as well as the Nurburgring and German autobahns. Their findings have clearly paid off.
Expert rating: 4/5
How powerful is it?
It becomes most obvious this car wasn't designed specifically for the UK market when you look under the bonnet. A 2.4-litre petrol engine mated to a continuously variable transmission (CVT) doesn't make too much sense on this side of the pond. For those of you who aren't familiar with CVT, it allows the engine to hold as many revs as are needed, while the car then feels like it tries to catch up on the end of an elastic band. It's primarily chosen for efficiency, hence you'll find one in the Toyota Prius. But, in no way does the Kizashi make an eco statement, so we were crying out for a good old manual 'box by the end of our week with the car. Max power is 178bhp and zero to 62mph takes a rather noisy 8.8 seconds. The 158bhp and 1.4-litre TSI Volkswagen Jetta takes 8.3 seconds and its DSG semi-automatic gearbox feels much snappier.
Expert rating: 2/5
How much will it cost me?
Even with that efficient CVT gearbox, the big petrol engine averages a poor 34mpg according to Suzuki's figures, which we matched with careful driving. CO2 emissions of 191g/km mean you'll pay £445 of road tax in the first year, and £235 thereafter (2012 rates), compared with £115 and then £105 for the Jetta 1.4 TSI Sport.
Expert rating: 1/5
How reliable is it?
Suzuki has an excellent reliability record and the Kizashi felt well-engineered and built, with robust components. Its brakes hopefully won't cause problems, being produced by the same company who fit the stoppers on the Japanese Bullet trains. Cold weather testing was carried out in Minnesota, with extreme heat tested taken care of by Death Valley in the Mojave Desert.
Expert rating: 4/5
How safe is it?
The Kizashi features electronic stability programme (ESP), driver, passenger, and side airbags, with a knee bag for the driver. There's an airbag deactivation switch for the front passenger seat and ISOFIX child seat mounting points.
Expert rating: 3/5
How much equipment do I get?
One of its biggest selling points is the level of standard kit, the Kizashi boasting leather upholstery, electric and heated front seats, keyless entry and start, air-con, eight-speaker stereo, cruise control, USB port, HID headlamps, 18-inch alloy wheels, front fog lamps and a body styling kit.
Expert rating: 4/5
Why buy?
If you let out a sigh when you look out at the cars in the company car park, the Kizashi could be the point of difference you'd enjoy telling your colleagues about. It's good-looking, well-specced and handles well – you'll just need to put up with that thirsty engine and automatic gearbox.
Expert rating: 2/5