Expert Review
Skoda Fabia Estate (2014 - ) review
The Skoda Fabia Estate is in a class of its own – literally. It's comfortable, affordable to run and, above all, impressively spacious, it's well worth a look if you want more space from your supermini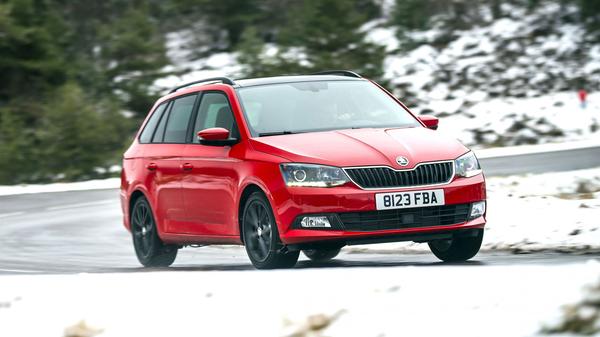 Words by: James Richardson
Published on 12 May 2015 | 0 min read
The Auto Trader expert verdict:
The Skoda Fabia Estate is very much a does-what-it-says-on-the-tin kind of car. If you're after an extremely capable supermini, but with extra space and for not that much more money, then this is the car for you. It's a very good all-rounder, providing space, practicality and equipment in spades. Be sure to choose the right engine, however, otherwise it won't be nearly so impressive.
Reasons to buy:
Huge amount of space inside
Quiet, comfortable and grown up
Excellent turboharged petrol engines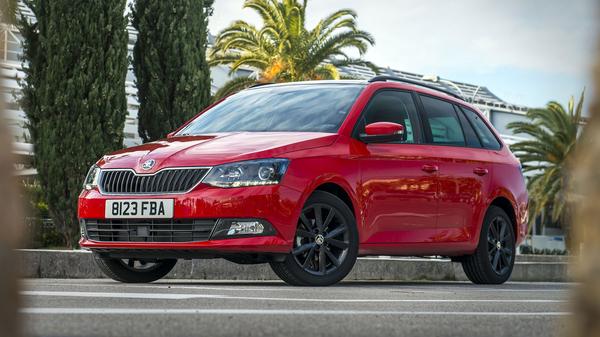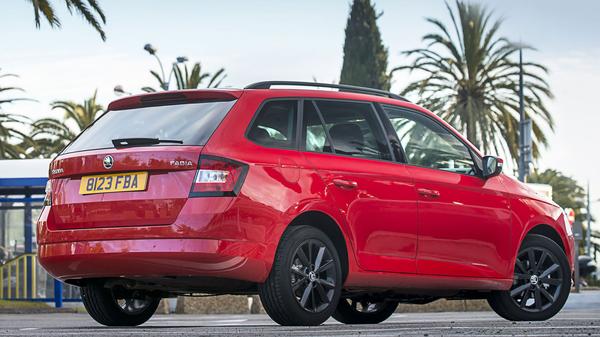 How good does it look?
It's not uncommon for supermini-based estates to look a touch awkward with the extra bit of boot bolted on to the back, but the Fabia Estate is one of the more successful transformations. It manages to look like a shrunken full-size estate, rather than a supermini with a Kim Kardashian-esque derriere. SE-trimmed models upwards have roof rails, but otherwise the estate retains the same, clean lines as the hatch and a simple, unfussed approach to the design. If looks matter to you, we'd avoid entry-level 'S' models as they lack alloy wheels or chrome details, which make the Fabia stand out.
Expert rating: 4/5
What's the interior like?
While the Fabia's cabin doesn't disappoint in terms of the quality of materials used, it's not hard to find superminis with plusher cabins. The plastics on show are sturdy and tough, but lack a certain lustre compared to other superminis. To make matters worse, it's also rather austere in there, with black and dark grey plastics dominating proceedings, and the only splash of light being the silver plastic trim that runs the width of the dash. That said, buyers can add a dash of colour to the seat upholstery by delving into the options list. Models in SE trim and upwards get a touchscreen infotainment system which is easy to use, and enables the operation of some apps – including satellite-navigation – from your Android phone via a USB connection.
Expert rating: 4/5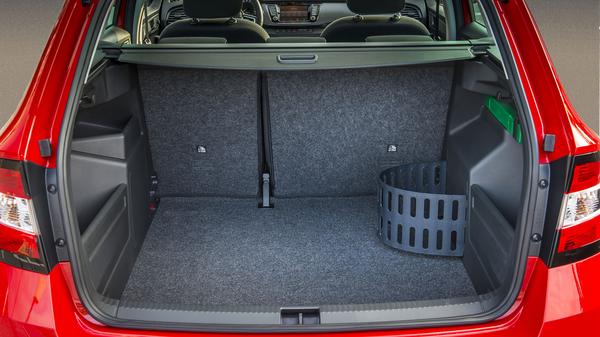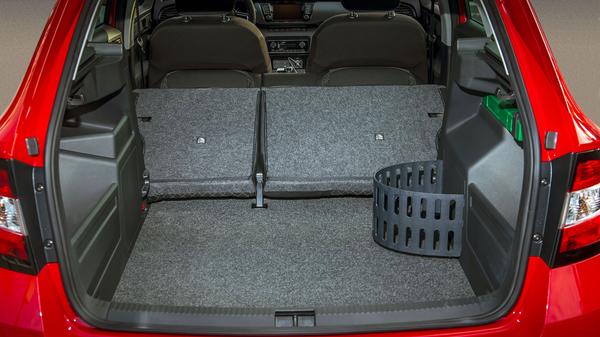 How practical is it?
"

Quite simply, there are no more-practical superminis out there

"
This is, of course, the Fabia Estate's raison d'être and, quite simply, there are no more practical superminis out there. Obviously, the extra acreage in the boot plays a big part in this, measuring 530 litres with the rear seats up and 1,395 with them down. But, not only is the boot large, it's also a very usable shape, being nice and square. A variable-height boot floor is optional on all models and, while it may lose you a few litres of overall space, it does mean that there's no lip over which to haul heavy items. Unfortunately, the seats don't fold completely flat and, if you don't go for the variable floor, there's a big step between the load floor and the back of the seats, too. Other than that, the rest of the car is the same as the hatch, with plenty of storage space around the cabin – including under the front seats – and plenty of room in both the front and back.
Expert rating: 5/5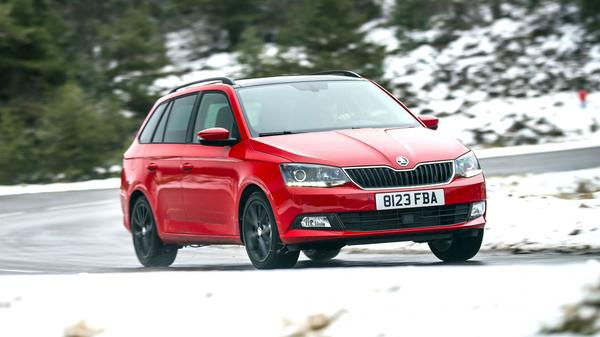 What's it like to drive?
"

It gives a decent account of itself in the corners, with sharp, well-weighted steering and impressive grip levels

"
There's no doubt that, like its hatchback sibling, the Fabia Estate is a car which has been designed with comfort in mind; and, for the most part, it delivers. The driving position is spot-on, the seats comfortable and the ride is excellent, soaking up most bumps with ease. It's slightly choppier at low speeds than it is on the motorway, but in no way is it uncomfortable. Despite this, it still gives a decent account of itself in the corners, with sharp, well-weighted steering and impressive grip levels, and it resists body roll well, too.
Expert rating: 4/5
How powerful is it?
Whichever way you look at it, there's no shortage of choice when it comes to engines. The petrol range starts with a 1.0-litre, three-cylinder 79bhp, while there are also two turbocharged 1.2-litre fours producing 89- and 109bhp. So far, we've only driven the 89bhp turbo 1.2 and it's a cracking little engine. It's smooth, flexible, quiet (even when worked hard) and reasonably powerful, and is mated to a slick, sweet-shifting five-speed, manual 'box. The car's also available with a couple of 1.4-litre diesels, producing 89- or 104bhp. We haven't tried these as yet, but we suspect that they'll only really be worth it if you're doing plenty of miles.
Expert rating: 4/5
How much will it cost me?
"

Only two of the three petrol engines don't return more than 60mpg on the combined cycle

"
The Fabia Estate should not be an expensive car to run. Only two of the three petrol engines don't return more than 60mpg on the combined cycle – and even then, they're only a smidgen under. Meanwhile, the diesels, when paired with a manual transmission, both give more than 80mpg, while versions fitted with the twin-clutch DSG 'box only just miss out on that magic figure. CO2 emissions are correspondingly low, too, so tax shouldn't be much of a consideration, whether you're a private buyer or a company car driver. That said, the Fabia Estate is no longer the budget option it once was, so actually purchasing the thing won't be cheap, and resale values – especially for a car which is likely to be a niche purchase – won't be the greatest, either.
Expert rating: 4/5
How reliable is it?
Like its hatchback sibling, the Fabia Estate is likely to be a pretty hardy machine. It's based on proven mechanicals and the previous model is rated exceptionally highly on Warranty Direct's Reliability Index. It also rates Skoda as a company highly, too, while the company's dealers also have a good reputation, so if anything does go wrong, it shouldn't prove too much of a kerfuffle to fix. Like most cars in this class, save Kia/Hyundai, the Fabia Estate comes with a three-year/60,000-mile warranty, which is decent, if not class-leading. However, it can be added to with the optional extended warranty and servicing packs, which can take care of all your needs for a nominal one-off fee.
Expert rating: 4/5
How safe is it?
Although the Estate hasn't been tested by Euro NCAP, the nigh-on identical hatchback has and it was awarded the full five stars. Naturally, it comes with a host of airbags – six, in total – as well as ABS, stability control and tyre pressure monitoring across the range. If you fancy splashing a bit more cash, collision mitigation control can also be added, which can slow or stop the car automatically from low speeds, if it detects that a crash might be imminent.
Expert rating: 4/5
How much equipment do I get?
"

Mid-range SE is our favourite, combining the best balance between price and equipment

"
There are three trim levels: S, SE and SE L, but the mid-range SE is our favourite, providing the best balance between price and equipment. These models get a touchscreen infotainment system with DAB radio, 15-inch alloy wheels, air-conditioning and the MirrorLink system which, if you have a compatible Android device, will allow you to control some of its apps – including satellite-navigation. That said, entry-level S models do get Bluetooth connectivity, DAB radio and a USB socket, but the lack of alloy wheels may put some customers off. Top-of-the-range SE L versions get luxuries like keyless go, cruise control, 16-inch alloys and LED daytime running lights, but this model's a bit too dear to recommend. It's also a surprise that no model comes with electric rear windows as standard.
Expert rating: 3/5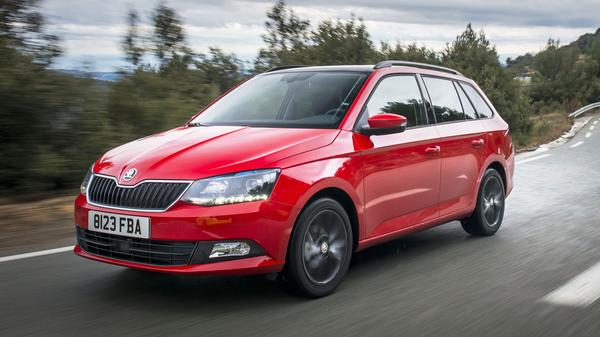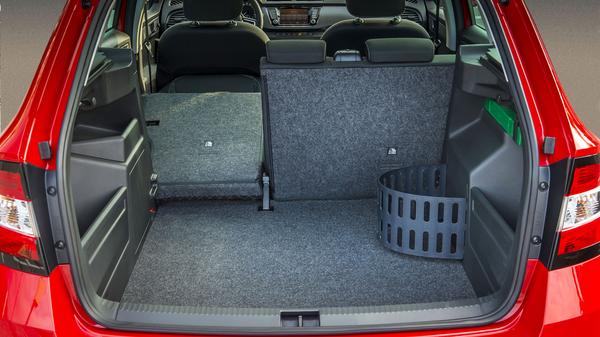 Why buy?
Because you want a supermini with the biggest available boot. In this respect, it hasn't really got any direct rivals, save the Dacia Logan MCV. Don't think of the Fabia as an estate, but more a hatchback with an extra dose of practicality. Many buyers in this segment will go for a small crossover, such as a Renault Captur or Peugeot 2008, but this is a shame, as the Fabia Estate's got a lot going for it. It's quiet (as long as you go for the right engine), cheap to run, comfortable and a decent car to drive, too. Also, it's more practical than most of its crossover rivals and, generally, less expensive, too. It does, however, lack a certain sense of style compared to its higher-riding rivals.
Expert rating: 3/5