Expert Review
Renault Fluence ZE saloon (2012 – ) Electric review
Read the Renault Fluence ZE saloon (2010 - ) car review by Auto Trader's motoring experts, covering price, specification, running costs, practicality, safety and how it drives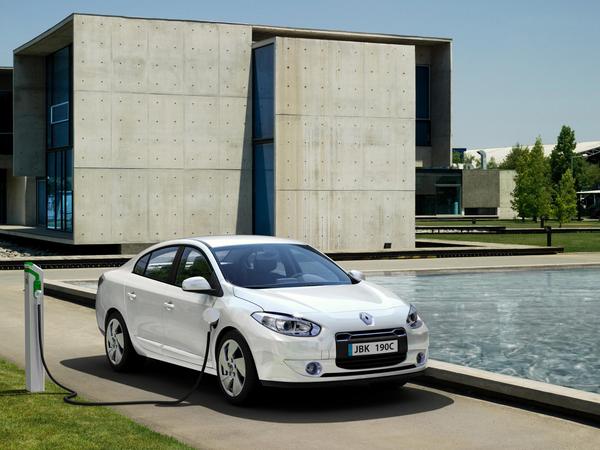 Words by: Auto Trader
Last updated on 5 November 2014 | 0 min read
The Auto Trader expert verdict:
The Renault Fluence ZE is an all-electric saloon car with a range of up to 100 miles. Unlike the techno-fest Nissan LEAF, it's surprisingly conventional inside and out.
Reasons to buy:
Smooth acceleration
Extremely quiet at low speeds
Low running costs
How good does it look?
The Renault Fluence ZE has had little publicity and is less overtly all-electric in its design than the Nissan LEAF, so it flies under the radar of most other road users. Essentially an elongated Renault Megane with four doors and a boot, the Fluence is more aerodynamic and has more space for batteries than the hatchback model. Its unusual power source is marked out by blue-tinted badges and lights, as well as 16-inch alloy wheels designed to reduce turbulence.
Expert rating: 2/5
What's the interior like?
Unlike the majority of electric and hybrid cars we've driven, the Fluence ZE has a very traditional interior. The fuel gauge is now a battery charge gauge and there's a small needle marked KW (for Kilowatts) which moves into the red when you really put your foot down. There's nothing to show the driver how to get the best out of their driving style – a big miss in a model likely to be its owners first electric vehicle. Other frustrations include a cruise control on/off button bizarrely placed next to the handbrake and a fiddly radio. The interior itself is pleasant enough, with lots of space and the benefit of being very quiet due to the near-silent nature of electric power.
Expert rating: 2/5
How practical is it?
Passenger space is very good thanks to the 13cm increase in length, while the boot measures 317 litres, compared with 330 in the Nissan LEAF. That's not a bad size (the same as a Ford Focus in fact), but it is wide and short (check out the gallery) because of the battery pack location. In the cabin there's a nine litre glove box; a 2.2-litre central console cubby; and 2.6-litre front door bins.
Expert rating: 3/5
What's it like to drive?
Renault has made every effort to place the heaviest mechanical components as low and central in the car as possible, for good balance. The steering requires little effort but is lacking in feedback, which becomes more noticeable when you get out of town. The ride quality is reasonably good, but the extra mass of the battery pack can cause the suspension to thump over bigger bumps.
Expert rating: 2/5
How powerful is it?
With 166lb/ft of pulling power available the instant you press the accelerator, the Fluence ZE feels brisk around town. It certainly feels quicker than its quoted zero to 62mph acceleration time of 13 seconds, but that's because performance tails off at higher speeds. The Fluence ZE is very much aimed at urban driving, but if you do find yourself on a motorway, a top speed of 84mph won't leave you stranded amongst HGVs.
Expert rating: 3/5
How much will it cost me?
The Fluence ZE represents good value, with a price well under £20k after the £5,000 Plug-in Car grant has been deducted. That's a significant saving against the Nissan LEAF. But, unlike the LEAF, you lease the battery pack fitted in the Fluence ZE at a cost of £75 per month. Running costs equate to a few pounds per charge, or slightly more at fast charging points, which are currently run by membership-only organisations. Maintenance is expected to be less costly than an equivalent petrol or diesel car, owing to the simpler maintenance of an electric motor and fewer consumable items.
Expert rating: 5/5
How reliable is it?
Renault is still in the early days of building electric vehicles, but testing has been thorough and the technology fitted is designed to be trouble-free.
Expert rating: 3/5
How safe is it?
Renault has a good reputation for building cars which obtain the top score in Euro NCAP crash tests, so it's a disappointment the Fluence ZE only scored four stars out of five. It was proven to be less safe than the five-star Nissan LEAF, scoring 72 per cent for adult occupant protection versus 89 per cent for the LEAF. It also performed badly for pedestrian safety, with a score of 37 per cent.
Expert rating: 2/5
How much equipment do I get?
The Fluence ZE is available in Expression+ or Dynamique trim levels, both of which offer a decent amount of kit. Auto lights and wipers, electric windows, TomTom Live sat-nav, cruise control, folding and heated door mirrors, dual-zone climate control, CD player and a front arm rest are standard. Dynamique models get front fog lights, rear parking sensors, 16-inch alloy wheels, body-coloured trim, Bluetooth, leather steering wheel and enhanced upholstery.
Expert rating: 3/5
Why buy?
The Renault Fluence ZE offers drivers a conventional car, with a highly unconventional fuel source. If you are able to charge it overnight and drive relatively short distances, it could be a real boon. However, we can't help feeling that compared to conventionally powered rivals; the Fluence is just too rough around the edges for us to recommend it.
Expert rating: 2/5