Expert Review
Mercedes-Benz M Class SUV (2012 - 2017) W166 review
Read the Mercedes M-Class (2012 - ) car review by Auto Trader's motoring experts, covering price, specification, running costs, practicality, safety and how it drives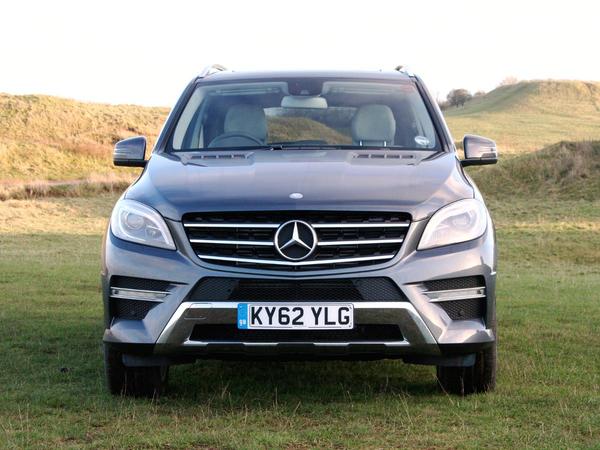 The Auto Trader expert verdict:
Mercedes has set out to make one of the most refined and comfortable luxury 4x4s on the market. There's no doubt it has succeeded
Reasons to buy:
Very comfortable on most surfaces
Quiet, powerful diesel engines
Masses of cabin and luggage space
How good does it look?
The Mercedes M-Class is a very smart-looking car, with sharp front-end styling thanks to the bold grille and sculpted headlamps. There's no hiding just how big a car it is, but the sculpted lines along the sides work well with the sharply angled panel behind the wide windows to give the car a sense of speed and motion, even when it's standing still. The M-Class is pitched at the luxury on-road SUV market – rather than being a proper off-roader – so all versions get big alloy wheels and, relatively speaking, low ground clearance.
What's the interior like?
The M-Class feels, for the most part, like a luxury car, with plenty of equipment and more than a passing resemblance to what you'll find in the company's fine saloons. However, there are a lot of buttons, both on the dashboard and steering wheel, which takes some getting used to. Plus, there are some hard plastics for the lower half of the cabin, which you wouldn't find in many cars of similar price and prestige.
How practical is it?
The driving position is excellent; that well-worn maxim about a high driving position and the good visibility it affords rings true here. Five people will be well accommodated in the big Merc, as will all their luggage in the boot, which is almost as big as the E-Class Estate's. The split-folding rear bench seat folds flat, unlocking over 2,000 litres of space, while the cabin accommodates everyday oddments well, with lots of stowage areas dotted around. Where the M-Class does come up short, though, is that unlike some rivals (and previous M-Class models), you can't buy an extra pair of seats for the boot to turn this into a seven-seater.
What's it like to drive?
Unlike more sporty SUVs, such as the Porsche Cayenne or BMW X5, this Mercedes is built primarily for comfort. The soft ride is luxurious, gliding over roads in a soothing, level-bodied fashion, with its comfortable motorway ride particularly impressive. It's quiet too, keeping engine, road and wind noise at bay, which adds to the sense of calm. Drive the M-Class hard and you'll encounter body roll and numb steering, all of which means it's not as agile or rewarding for keen drivers as its German rivals. However, given its aim in life, that's no great problem. Likewise, although it's no off-road machine, the ML's 4×4 drivetrain can easily deal with winter snow.
How powerful is it?
Of the three engines, the 5.5-litre V8 petrol unit in the ML63 AMG is the one to go for if speed is your thing – it breaks five seconds to 62mph. However, both diesels have mountains of pulling power at very low revs and should provide all the flexibility you need, while the seven-speed automatic gearbox shifts smoothly and quickly. The 2.1-litre engine in the ML250 is more than adequate for everyday motoring, but there's no denying that the extra power and torque of the V6 in the ML350 are welcome; and, it's a matter of personal taste whether you appreciate the extra pace and responsiveness or just the fact that it's less hard work to get around.
How much will it cost me?
Avoid the ML63 AMG if your bank balance is any sort of issue, because you'll be lucky to see even 20mpg unless you're always on the motorway. Both diesels are pretty impressive, but in almost every respect the ML250 is the one to choose. It averages some 5mpg more than the ML350, as well sitting four company car tax bands lower and costing less to insure. Mind you, even the ML350 is much better for economy and emissions than the Land Rover Discovery.
How reliable is it?
Mercedes has been criticised in the past for letting its standards drop, but the M-Class is proof that it is back to its best. The build quality is excellent and we have no doubt that the car will prove to be sound, a feeling that is borne out by Mercedes consistently doing well in customer satisfaction surveys.
How safe is it?
With all the various bits and pieces fitted to it, the M-Class is a very safe car and it achieved a maximum five-star rating from Euro NCAP. It's also good for pedestrians, thanks to the 'active' bonnet. Sensors detect when a pedestrian has been struck and the rear of the bonnet is lifted to provide greater clearance to hard structures underneath. Standard equipment on every model includes Attention Assist and the Pre-Safe safety system, which takes precautionary measures if it senses that the car is about to be involved in an accident. Among the options are Blind Spot Assist and Lane-Keeping Assist and the more advanced Driving Assistance Package, which includes systems that actively work to prevent accidents.
How much equipment do I get?
Things are nice and simple in the M-Class range, as the diesel-engined models come with just one trim level, Sport. This brings alloy wheels, automatic wipers, a powered tailgate, an AMG styling kit, climate control, metallic paint and sat-nav. If that's not enough, you can also choose from an extensive list of options that includes air suspension, an off-road package, heated seats, a sunroof, DAB radio and a rear seat entertainment package. The ML63 AMG, meanwhile, has its own its own trim level, including Leather AMG Sports seats and a leather-covered dashboard.
Why buy?
The M-Class makes a very comfortable, spacious and prestigious family car, and one that will provide the security of four-wheel drive during the winter months. Rather than pretending to be a sports car, it represents one of the most relaxing big 4×4s on the market.