Expert Review
Mercedes-Benz S Class Convertible (2018 - ) review
Glamour, style, luxury, power – with all this on its side, the Mercedes S-Class Cabriolet certainly seems to have a lot going for it. But is it worth its high price? Find out with our expert review.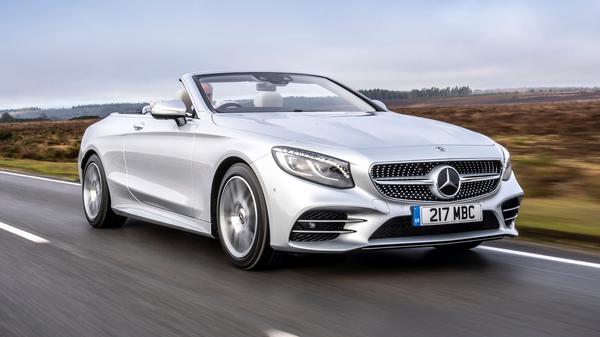 Words by: Auto Trader
Last updated on 11 December 2019 | 0 min read
The Auto Trader expert verdict:
The Mercedes S-Class is widely acknowledged to be one of the best luxury saloons money can buy. In theory, then, this convertible version should be pretty special, combining the unalloyed opulence and exceptional comfort of the saloon with glamorous looks and an open-air driving experience.
Reasons to buy:
Amazing refinement and ride comfort
Excellent performance
Supremely high-quality interior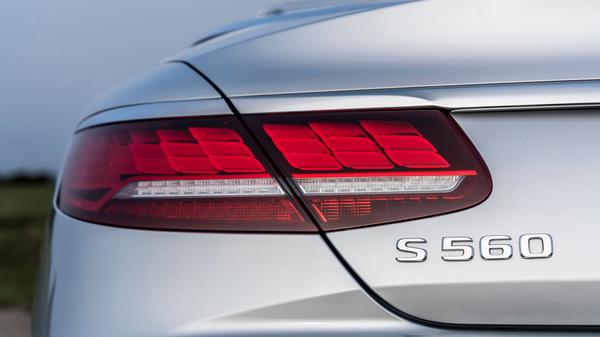 Running costs for a Mercedes-Benz S Class
While the S-Class saloon is aimed at company directors with one eye fixed on balancing the books, the Cabriolet makes no great concessions to lowering its carbon footprint, so there are no hybrids, diesels or plug-ins with dazzling mpg figures. That being said, the Mercedes is still as clean as any of its rivals, with combined economy figures ranging from low twenties to low thirties. On a long drive in the S560, you can probably expect around 25mpg, but this figure drops rapidly in town, while the S63 will achieve even less. As with all cars of this price, heavy depreciation, costly servicing, insurance and maintenance are all facts of life, but if you can afford to buy a car this opulent, then you can probably afford to run it, too.
Expert rating: 2/5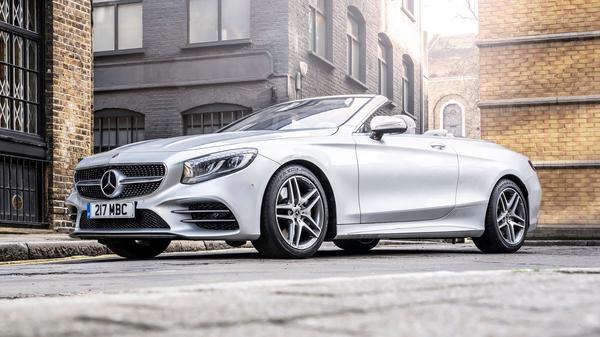 Reliability of a Mercedes-Benz S Class
Mercedes as a marque finished below average in the most recent JD Power vehicle dependability study, which is not a good start. However, if previous versions of the S-Class are anything to go by, there's no reason to expect anything other than excellent reliability from this car. Owners of previous-generation cars are almost uniform in their praise of their cars' reliability.
Expert rating: 3/5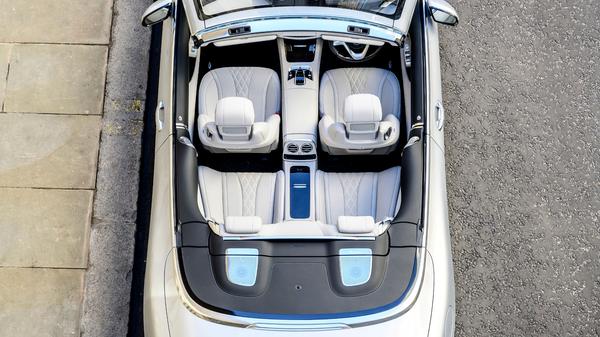 Safety for a Mercedes-Benz S Class
The S-Class Cabriolet is so packed with safety equipment that it's almost easier to list what it hasn't got. However, for the record, every model comes with six airbags, anti-lock brakes and electronic stability control, the latter also including the Curve Dynamic Assist system that uses the brakes to limit understeer (the tendency for the car to plough straight on even if the wheels are turned) when accelerating out of a bend. Beyond that, the standard kit also includes Attention Assist (to alert the driver to potential fatigue), Crosswind Assist (to help control the car if it's caught by a sudden gust of wind) and a tyre-pressure monitoring system. AMG versions also have the Driving Assistance package, which includes the Blind Spot- and Lane Keeping Assist systems, adaptive cruise control and Pre-Safe Brake, which can initiate emergency autonomous braking at speeds of up to 30mph.
Expert rating: 5/5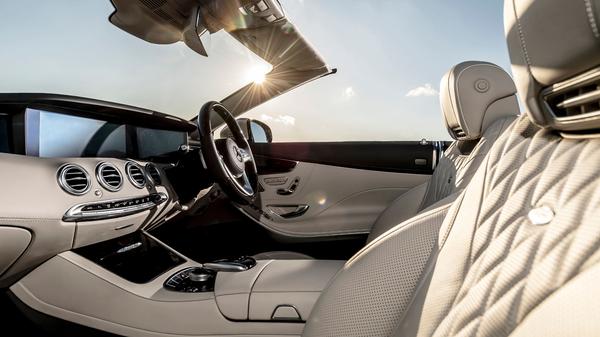 How comfortable is the Mercedes-Benz S Class
Even by the rarefied standards of the cars that you could spend this kind of money on, the S-Class impresses. The leather that clothes the seats gives a suitably luxurious feel to an interior that features the very latest in connectivity and gadgetry, as well as all the classic sophistication and comfort you would expect of something in the S-Class family. That includes a glorious dashboard (which can be finished with horizontal pinstripes reminiscent of decking on Riva motorboats), complete with two sharp-as-a-pin 12.3-inch display screens. There's a collection of buttons underneath the four central air vents, as well as Merc's normal Comand dial controller, in order to operate all the car's various functions through various on-screen menus. It all works pretty well and, with loads of room up front and a fine driving position, there aren't many better places to be a driver. Despite what Mercedes might like to claim, this isn't really a full four-seater. Legroom in the two rear seats is rather too tight for adults to want to spend any significant amount of time there, but the rear seats will be fine for two children or teenagers. What's more, boot space is reasonable, so there's more than enough room for a couple to pack their bags for a weekend away. What's perhaps most impressive about this car, however, is how smoothly it rides, especially when you consider just how fast it can go and how sharply it handles. You'd expect something capable of such performance and such a sure-footed feel through bends to offset that with a punishing ride, but not a bit of it. The air suspension that is standard on every model smothers pretty much every lump, bump or rut that our far-from Great British Tarmac can throw at it, even when you choose sport mode. Ok, so the soft-ish reactions mean this is still more a grand tourer than sports car, but it's still a tremendously rewarding and enjoyable car to drive. Throw in the fabulous refinement inside the cabin – whether you have the hood up or down – and the result is one of the most luxurious cars you can imagine. That said, when you do want a sporty soundtrack, the beauty of the open-top configuration is that you can always drop the roof to get an even clearer listen to the wonderful engine going about its business.
Expert rating: 5/5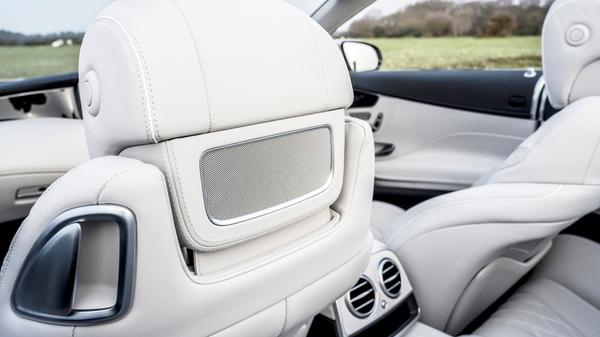 Features of the Mercedes-Benz S Class
The standard equipment reflects the car's position in the upper echelons of the Mercedes range. The S560 Grand Edition is the cheapest way into an S-Class Cabriolet, but it comes with heated and ventilated front seats, heated rear seats, full leather upholstery, 'intelligent' climate control, 19-inch alloys, LED lights front and rear and satellite-navigation, as well as DAB, a DVD-player and Bluetooth. Beyond that, the AMG models also have an upgraded stereo, smarter nappa leather upholstery and massaging front seats. Buyers can specify the roof in one of four colours (red, blue, black and beige) at no extra cost, and while the 'basic' S560 has slightly less overt styling than the AMG models, it still looks a million dollars. If you do stretch to one of the AMGs, they have a full bodykit and chrome-plated tailpipes. You can upgrade further, should you wish, to the Premium version, which adds larger wheels, heated seats and armrests in the front, and an upgraded sound system.
Expert rating: 5/5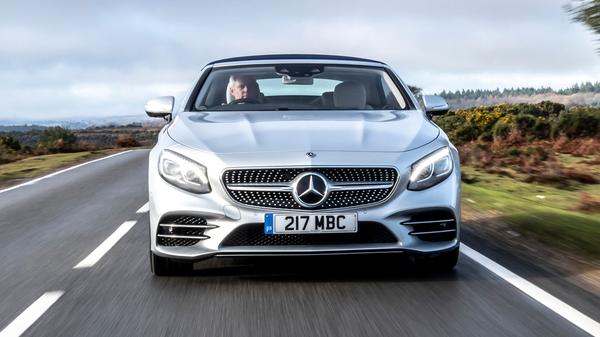 Power for a Mercedes-Benz S Class
The S-Class is not intended to be an out-and-out sports car, but even so, its performance still leaves a big impression. Especially when you remember that this is a car that weighs well over two tonnes. To cut a long story short, even the engine in the 'basic' S560 has no trouble shifting such a big car, and the stronger engines in the AMG cars just make it all that little bit easier still. You can hustle the Cabriolet along, yet it's much more fun to simply make composed, rapid progress without troubling the upper reaches of the rev-counter. Every engine pulls off that wonderful double-whammy of being docile, but responsive, at low speeds at the same time as having genuinely sportscar-like reactions when you want them. Likewise, the standard automatic gearboxes have a welcome knack of being in the right gear at the right time, as well as swapping beautifully smoothly between its seven ratios. That means that this is car that feels effortless along the High Road – well, more likely, a boulevard – but is also stunningly fast across country.
Expert rating: 5/5