Expert Review
Land Rover Defender Hard Top (2021 - ) review
The ultimate off-road van returns in the form of the Land Rover Defender Hard Top. It's not cheap but it is certainly capable.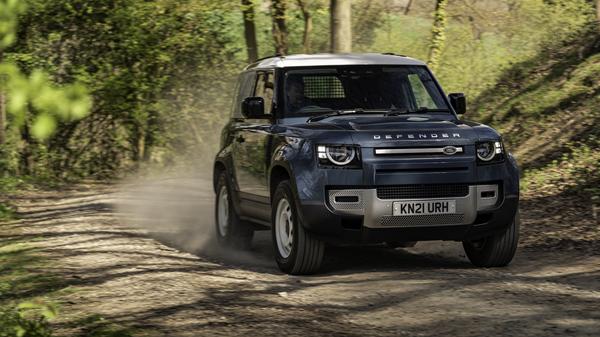 The Auto Trader expert verdict:
Available new from £48,360
Land Rover has a full range of vans once again, with the launch of the commercial version of the Defender. Named the Hard Top, the Defender van comes in either 90 or 110 versions and offers all the off-roading ability of the passenger equivalent. Everything from the bulkhead forward of the van model is identical to the passenger carrying version, meaning that this is no dialled back commercial model. This comes at a price, and quite a hefty one, but it means that there is once again a genuine and appealing alternative to the pick-up trucks that filled the void when the last Defender went off sale.
Reasons to buy:
Amazing off-road ability
Smart but very rugged cabin
Stylish alternative to pick-up trucks
Cargo & practicality
It's no major revelation that, in terms of outright space, the Defender isn't the most practical van you can buy, as it is the same size and shape as the passenger carrying version with a bulkhead behind the front seats and a loading bay. It's not even as practical as a pickup, depending on the metric you use. The two models – the 90 and the 110 – come with payloads of 670kg and up to 800kg respectively, which is short of the 1,000kg minimum that pickup trucks have to offer to qualify for commercial vehicle status. It is, however, an improvement on the maximum available carrying ability that is offered on the Toyota Land Cruiser Commercial – one of the few genuine alternatives if you are looking for a proper off roader made into a commercial vehicle. The closest comparison is the even more up market 4x4 van, the Land Rover Discovery Commercial. Payload isn't everything of course, so it is worth considering the overall space inside, and the Defender makes the most of it. With 1,355 litres of space in the 90 version and 2,059 in the 110 it is smaller inside than the Land Cruiser, although it offers a greater variety of storage solutions with several under-floor lockers. The length on offer is shorter than in a pickup, particularly if you go for a single cab version of something like the Isuzu D-Max that has a loading bay that is more than 2,300mm long and the same number of seats. The loading bay is accessed thanks to a side-hinged door – there's no top-hinged or split-door option here. This is fine out in the middle of a field but trickier if you're looking to haul big things in and out in, say, a multi-storey carpark. There is space for a Euro pallet in the back of the 110 model along with up to six lashing points, 58 litres of underfloor storage and, in the case of the 110, more lockable storage where the rear seats would have been. This is a rarity in any van of any sort, and gives you some genuinely secure options when it comes to tucking things out of sight and under lock and key. If you want to add even more flexibility then there are a couple of equipment features that will allow you to make the Defender even more practical, like a roof rack and a side-mounted gear carrier. Extra lighting and hooks are available for the loading bay too.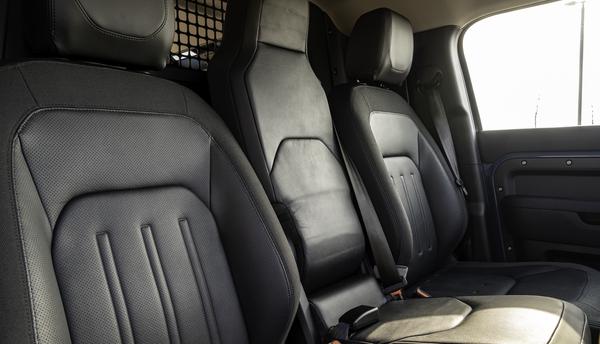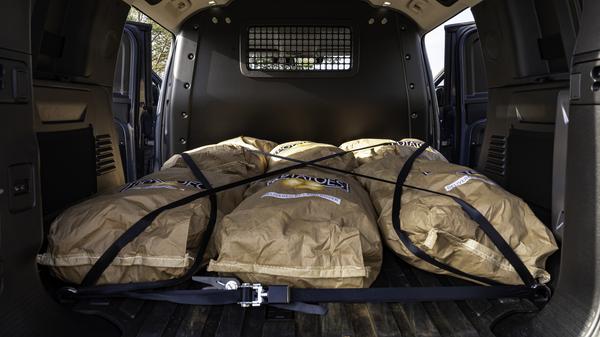 Interior
The Defender's cabin strikes a fantastic balance between rugged durability and comfort, with enough in the way of visual and tactile luxury to make it clear that this is not a compromised tool in the way that the original Defender was. It is a step above the other 4x4 vans and pickup trucks on the market, too. The result is an interior that is practical and wants you to know it. There are grab handles aplenty – more for holding on tight when traversing rutted fields than hauling yourself in – and plenty of pockets, down in the door and in the glovebox area. There aren't any lidded boxes on the top of the dash though. Rubber mats are a given though. Unlike many vans there is a huge amount of variety to the materials, with harder plastics sitting alongside squidgy rubber parts on the steering wheel and on top of the dash. There is a choice of two different seating layouts with all models coming with two adult seats as standard. The middle so-called jump seat is a fold-down affair that is narrower and sits higher than the other two, but there is a little extra headroom to allow for this. There isn't huge amounts of space, with leg room particularly impacted by the dashboard around the gear lever, but it does give the Defender an edge over its 4x4-van rivals and bridges the gap to the five-seater pickup trucks in terms of practicality. There are loads of sockets for plugging cables in, which means that it will cope with all the latest tech. On-board tech includes the option of a camera-based rear-view mirror, which is handy for giving you a clear view out of the back if you aren't used to relying on the (small) door mirrors. It does require you to keep it clear, though, and your eyes might well find it harder to adjust to the depth perception versus a standard mirror.
Running costs
With a starting price that is not far off £45,000 the Defender is not cheap. However, that price is including VAT, so the more relevant starting price for the 90 is just over £36,000, while the 110 kicks off at just over £43,000 excluding VAT. This entry price is in the same sort of territory as the top-end Ford Ranger MS-RT pickup, and you can pay more for a Defender should you wish – the top-of-the-range version will set you back in excess of £55,000. The only thing that makes this look good value is the Land Rover Discovery Commercial. Running costs are about standard for a commercial vehicle that is geared to spend a lot of time off road, with official average mpg figures in the early 30s. This puts it on a par with the better pickup trucks although it is more efficient than the Toyota Land Cruiser. Economy is aided by a 48V mild-hybrid system that takes some of the strain off the engine at acceleration and start up. Anyone running a Defender Hard Top as a company vehicle will benefit from its status as a commercial vehicle as it qualifies for the lower benefit-in-kind rating that applies to vans. This means the relatively high CO2 rating doesn't matter and it will be much cheaper in terms of company car tax payments than the equivalent passenger version.
Reliability
Land Rover doesn't enjoy the best reliability record on the whole, although the Defender is too new at the point of the Hard Top's release for there to be any evidence on how it has performed on this front. The brand as a whole hasn't done well in reliability surveys in recent years, though, while rivals like Toyota tend to sit near the top of the rankings. The warranty is a relatively standard three years, but it is for unlimited mileage.
Performance
Unusually for a commercial vehicle, particularly an off-road biased one, the Defender comes with multiple engine choices. That said, the 90 only comes with the D200 – a 200 horsepower six-cylinder 3.0-litre diesel – while the 110 has the choice of the D250 or D300. 200 horse power is significantly more than you get in many vans and the same as the only engine that is offered in the Toyota Land Cruiser Commercial, so there isn't a version that will feel underpowered by any stretch. All three have a 3,500kg towing capacity and even the D200 is capable of getting from 0-62mph in less than 10 seconds – the D300 is positively rapid, with the sprint coming in less than 7.0 seconds. This is largely irrelevant though, given the Defender is subject to the lower speed limits that apply to vans. The only slight disappointment is the eight-speed automatic gearbox – it is not quite as smooth as rival automatic setups, but this is a quibble that you would throw at a passenger car generally speaking.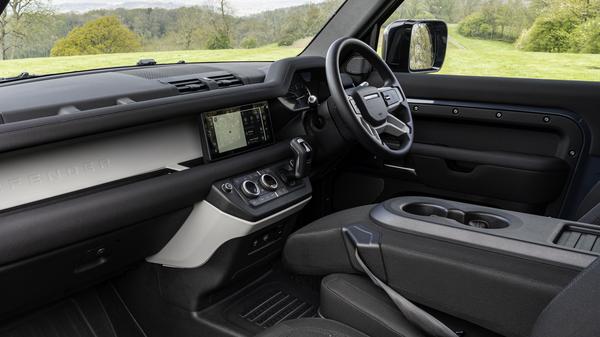 Ride and handling
Given that the original Defender's go-anywhere ability was central to its identity, the outcry would have been heard far and wide if the latest version wasn't supremely capable off road. It's little surprise that it practically breezes across, over and through the sort of terrain that normal vehicles would get stuck in, but the method in which it does it is markedly different to the old-school Land Rovers. Rather than being analogue pretty much everything is digital and there are plenty of systems that can be controlled and configured with the touch of a button or the spin of a dial. There are systems for pretty much everything, many of which will be familiar to anyone who has been in a modern off-roader, including hill descent control, a terrain response system, an intelligent all-wheel drive system that sends torque to different wheels as required, a locking differential and a low-range gearbox. Some might find the Defender's off-roading a little distanced compared to the involved and hands-on nature of the older model but this is very much the modern way and it is up with the best in the class at wading, climbing and crawling through the various surfaces. The surround-view cameras are particularly helpful when navigating tough spots – you're much less likely to see a modern Defender dotted with dents from bashing a tree stump or similar. This is particularly handy as the door mirrors are a little on the small side and the view on the passenger side can be interrupted by any optional additions like a ladder or additional storage. On road the Defender is a sophisticated machine, too, with a comfortable ride that even wavers towards being a little too soft around corners. It doesn't need a full payload to be comfortable, either, which is a fault of many a pickup truck with their agricultural rear suspension setups. As yet more proof of the Defender's premium nature, there is even a choice of two different suspension setups – a standard coil system and an optional electronic air suspension.
Safety
By van standards the Defender has an incredibly high level of safety kit, but it also has an incredibly high price tag, so you would hope that that would be the case. The surround-view camera, cruise control, speed limiter, lane keep assist, emergency braking and driver condition monitor are all welcome features as standard on every Defender. Trailer stability assist is also standard across the range, even though, curiously, a tow bar isn't. You don't get a blind spot monitor until you step up to the SE model, which is a strange omission as this might well be driven by people who are not used to being able to look over their shoulder when changing lanes – the solid van walls prevent you from looking in your blind spot in this manner. A cross traffic alert is available too, standard on the higher models and optional elsewhere in the range. Isofix is available, but again not as standard across the range – it is only fitted as part of a pack on lower models and not at all on the entry-level version.
Equipment
There are four levels of Defender to choose from, standard Defender, S, SE and HSE. It's a shame the 90 is only available in the basic trim, while the 110 has the full choice of all four levels. The basic kit includes a body coloured roof, heated, powered door mirrors, steel wheels with all-season tyres and a full-size spare. Off-road kit includes all-wheel drive and a twin-speed transfer box for low-ratio driving, coil suspension and the terrain response system. Other driver assistance kit includes a 3D surround camera with a parking aid, a wade sensor, cruise control and speed limiter, lane keep assist and emergency braking. A traffic sign recognition system is also included, with an adaptive speed limiter. All versions get a 10-inch touchscreen with sat nav and Android Auto and Apple Carplay. A heated windscreen, heated leather seats, rubber matting in the cabin and loading space and lockable underfloor storage are the other highlights. S adds automatically adjusting headlights, keyless entry and part-powered seats. The visual upgrades include 19-inch alloy wheels, black roof rails, a leather steering wheel and gearshift and leather seats. SE brings upgraded headlights, 20-inch alloys, a camera in the place of the rear-view mirror, an upgraded stereo and a blind-spot system. HSE adds more interior leather, front cupholders, heated and cooled seats and the Driver Assis Pack. The latter includes things like the clear-exit monitor, adaptive cruise, rear collision monitor and rear traffic monitor.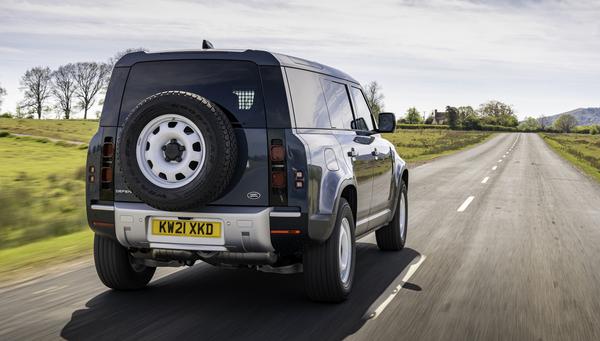 Why buy?
The Defender van is brilliant at what it does, has an excellent level of practicality but the downside is that you really do get what you pay for. It is hard to make a business case for it as a tool when there are pickup trucks that will do the same job, and have a higher payload and carry more passengers, for much less. That said, it offers a better driving experience on the road and a more luxurious experience than rival trucks and 4x4s. If you can justify the cost then it will be reward you.