Expert Review
Ford EcoSport SUV (2013 - 2017) MK1 review
The Ecosport is Ford's take on the mini-SUV theme - a rival for the likes of the Renault Captur and Nissan Juke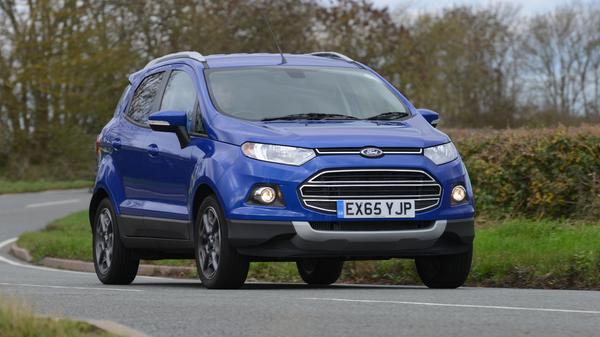 The Auto Trader expert verdict:
Unquestionably, Ford builds some brilliant cars; unfortunately, the EcoSport is not one of them. Admittedly, on the right stretch of road, it can be fun-to-drive, but this positive aspect can't compensate for a host of negatives that include an overly firm ride, acres of cheap plastic trim, shabby build quality, dour refinement and some heavily compromised usability. No matter how you dress it up, the EcoSport smacks of penny-pinching and under-development; and, consequently, it bears little resemblance to the sparkling Fiesta supermini it is based on.
Reasons to buy:
Sprightly three-cylinder petrol engine
Tidy handling
Plenty of space for four
How good does it look?
You've got to feel for Ford's designers. Creating a 'world car' that will appeal to a vast diversity of tastes must be difficult enough; trying to capture the essence of an authentic SUV within dinky city car dimensions while maintaining sufficient space, practicality and versatility must be an absolute nightmare. Even so, you don't have to look any further than Renault's Captur to see just what is possible. Compared to the French car's elegance, the EcoSport's bluff nose, truncated rump and overly square dimensions give it a naive, almost comical, appearance. Even the more expensive EcoSports, complete with silver roof rails, 17-inch alloys and faux-4x4 body cladding (including stuck-on front and rear scuff plates) fail to deliver the panache and overall design flair of Renault's urban crossover.
What's the interior like?
It may be common practice in this class of car to furnish lower cabin recesses with robust, no-nonsense materials, but the EcoSpsort takes this approach to a whole new level; and not in a good way. While swathes of tough, abrasive, plastics dominate throughout, and bolts to fix the seats to the floor are left exposed, many panels look like they've been assembled by a team of drunks and some even retain their mould-formed, sharp, unfinished edges. The view out is more commanding than you'll find in any supermini, but the dashboard slopes upwards towards the windscreen, blotting out the edges of the bonnet and making it difficult to judge the car's extremities. In terms of saving graces, the EcoSport you get many of the same switches and buttons as the Fiesta; and, while they're a bit on the dinky side, the vast majority are located within easy reach. What's more, once you've mastered them, the steering wheel controls make light work of scrolling through the audio system functions. While the wheel itself has a decent range of adjustment, the area around the pedals may seem a bit tight if you're well endowed in the Russell and Bromley department. At least there's a decent amount of space for four inside, along with the additional nicety of reclining rear seats, and there's plenty of room under the front seats for those in the back to slide their size-10s.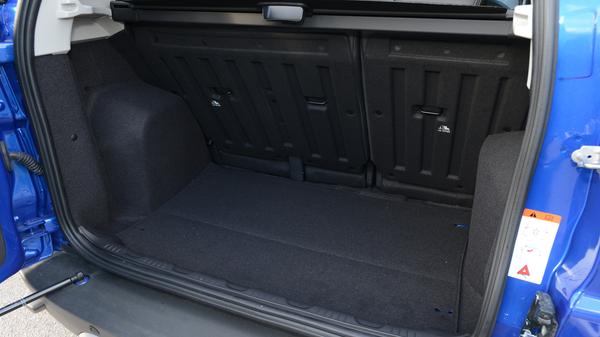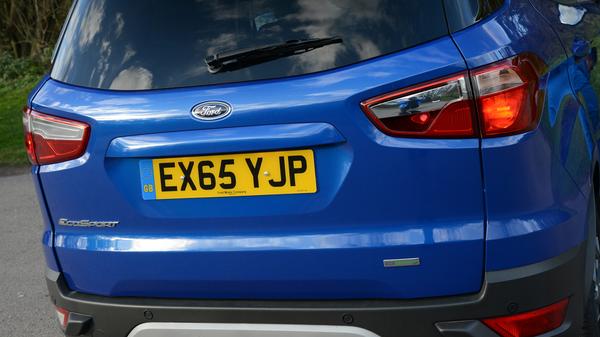 How practical is it?
Thankfully, Ford has seen sense and relegated the previous EcoSport's rear door-mounted – and view-limiting – spare wheel to the options list; the spare is replaced by a pump-and-goo repair kit. Unfortunately, the awkward rear door operation remains, and although it's lighter, it's still a pain to live with. Fundamentally, because the side-hinged door swings open toward the pavement, unless you're a dab hand at limbo dancing, you'll need to find a very generous parking bay to to get your goods and chattels in or out. Even once you've found a free lay-by, your struggles aren't over, because, with a capacity of just 333 litres, the boot is shoebox-tight. More positively, the rear seatbacks split, fold and tumble up against the backs of the front seats to boost your load-carrying options. Chances are, you'll use this option more than you might imagine, because if you just fold the seat backs on top of their cushions, you're left with a large, ugly step in the boot floor.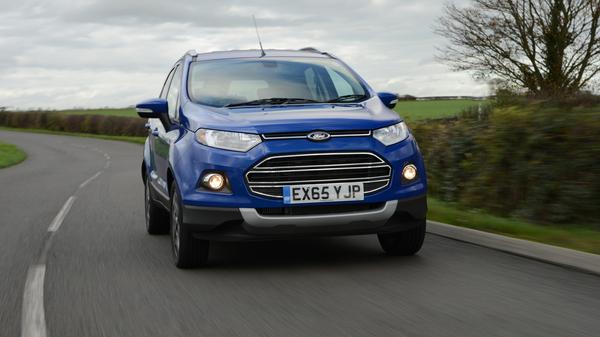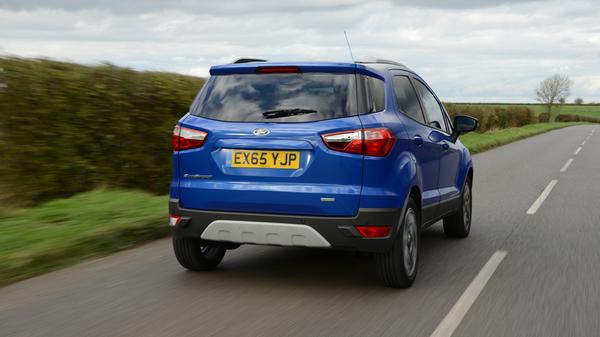 What's it like to drive?
Although the EcoSport's steering lacks a certain amount of feel and has an overly strong self-centring action, it does at least elicit quick responses from the front wheels. Body control is pretty decent, too, which is just as well, as the last thing you want is your passengers scrambling for the non-existent grab handles and sliding up against the concrete-firm door trims when you indulge in a sprightly circumnavigation of the one-way system. Unfortunately, not only does the EcoSport's rough ride quality mean it negotiates distressed High Streets with about as much compliance as a supermarket shopping trolley, the overly firm set-up also takes its toll on traction. Pulling quickly out of a wet T-junction all too easily launches the front tyres into a proper hissy-fit, and even when you're simply squirting away from the traffic lights, it doesn't take much of a heavy right foot to get the front end squirming.
How powerful is it?
The 123bhp 1.0-litre 3-cylinder engine that's also found in the Fiesta and Focus is a sprightly enough performer but it's not without its idiosyncrasies. Although it's extremely hushed at idle, it does generate some distinct vibration, which is especially noticeable if you happen to be lounging in the decidedly shaky rear seats; and, because it's so quiet initially, the defined three-cylinder thrum that trumpets its presence as you drive off can also come as quite a rude awakening. To be fair, it doesn't take long to get used to this and, despite the engine's diminutive capacity, it is an incredibly flexible powerplant. Pulling out of its boots and seemingly willing to rev for ever, it will easily drag third gear from near walking pace, right up to motorway speeds. Not that you'll want to sit at higher speeds for long periods, as there's so much road- and wind noise that you'll need to crank your voice up to max volume just to make yourself heard. If you've got one eye on ultimate economy and think the 1.5 diesel engine may fit the bill, think again. Yes, it will return decent mpg but it feels extremely flat and singularly lacking the kind of mid-range surge that you'd normally expect from a turbocharged diesel engine. As a consequence, you end up revving it pretty hard even in everyday driving conditions, and boy, does it sound rattly when you rev it.
How much will it cost me?
The good news is that the EcoSport is far from being the most expensive car in its class; and, if you play hard ball with your local Ford dealer, you're almost guaranteed to get a substantial discount. Just don't forget to factor in the cost of depreciation, as we don't expect the EcoSport will retain its value as well as many of its rivals. Equally disappointing, there's less less 'eco' in the EcoSport than you'd hope. The CO2 emissions of the 1.5 diesel – the car's most frugal engine – are easily bettered by the Renault Captur 1.5 dCi and 1.6 eHDI Peugeot 2008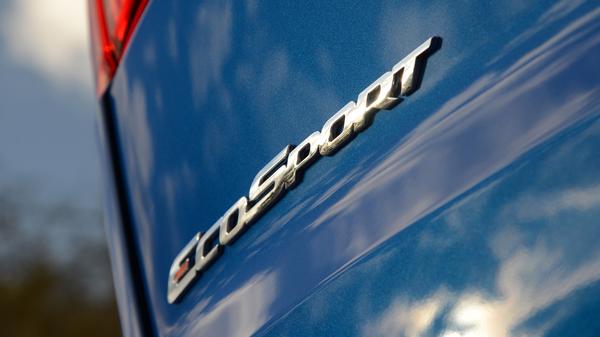 How reliable is it?
"

The engines and gearboxes are lifted from the well-established Fiesta supermini

"
The EcoSport makes extensive use of proven technology. For instance, the engines and gearboxes are lifted from the well-established Fiesta supermini. We haven't heard any horror stories from Fiesta buyers concerning common faults, and the car has performed well in customer satisfaction surveys and reliability studies. For example, Warranty Direct's Reliability Index places the Fiesta near the top of the scale for dependability, all of which bodes well for EcoSport owners.
How safe is it?
There's no faulting the EcoSport's standard equipment – it comes with seven airbags (including one for the driver's knee), anti-lock brakes with Electronic brake-force distribution, Emergency Brake Assist, and an Electronic Stability Programme, as well as a system to detect a tyre deflating. However, it's disappointing that it only scored four stars in Euro NCAP crash tests, when five stars are the norm nowadays.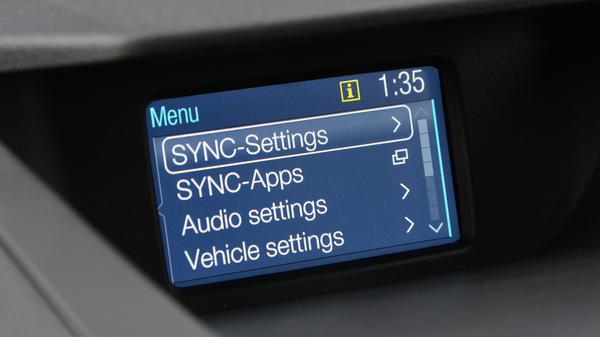 How much equipment do I get?
"

Unless the salesman will give you a free upgrade, we'd stick with the more basic model

"
The EcoSport comes in just two trim levels: Zetec and Titanium. In our opinion, you should buy your EcoSport as cheaply as possible, so unless the salesman is willing to give you a free upgrade, we'd stick with the more basic model. Standard Zetec kit includes alloy wheels, air-conditioning, remote central locking, electrically operated door mirrors and all-round electric windows. Best of all, it also comes with Ford's Sync system that allows you to hook up your smartphone and use a range of apps including the Spotify music-streaming channel and Audioteca talking books. If you're feeling madly flush, then Titanium trim will add part-leather trim to the seats, cruise control and automatic lights and wipers.
Why buy?
How can we put this politely? With so many superior alternatives in the increasingly popular mini-crossover sector, unless your Ford salesman offers you the deal of a lifetime, you'll be better off with almost any of the EcoSport's rivals. The Renault Captur offers infinitely better quality, comfort and refinement; and, unlike the EcoSport, it actually feels like it was designed and built with discerning European customers in mind.