Expert Review
Citroen Berlingo Multispace MPV (2015 - ) review
The Citroen Berlingo Multispace (2015 - ) is an MPV which majors on function over form. It may not be the classiest MPV out there, but if you need lots of practicality for not much money, then it's worth a look.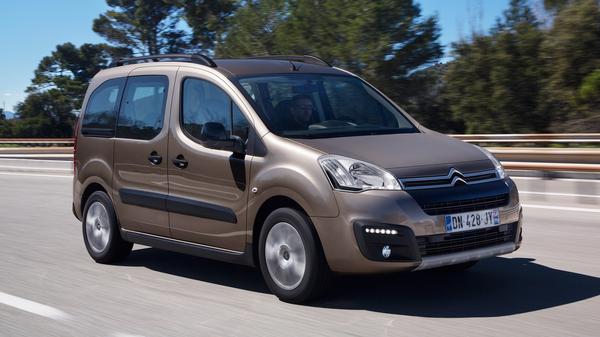 The Auto Trader expert verdict:
It may be based on a small van, but that's not necessarily a bad thing. Those boxy proportions give this thing unrivalled practicality and flexibility at a very affordable price. The Berlingo Multispace may not be the sharpest to drive, or to look at and the interior will be a touch too utilitarian for many, but if space and value for money matter to you above all else, then it's well worth considering
Reasons to buy:
A huge amount of practicality
Decent value for money
Very flexible inside
How good does it look?
Let's face it, there's not a lot you can do style-wise with something that's based on a van, but Citroen's done a decent job of sprucing the Multispace up. You get smart wheel caps on base models and the top two trims get LED daytime running lights and alloys as standard. As you go further up the range, you get more body-coloured bits and bobs, as well as tinted rear windows. There's no disguising its boxy, van-derived proportions, though; but if you prioritise function over form, then this shouldn't put you off too much
What's the interior like?
Again, if your main concern is utilitarian functionality over and above aesthetics, then you'll have no problem with this car. It's tough, easy to clean and likely to stand up to hard daily usage, but not too much effort has gone into how it looks. It's all about the dark plastics in there. There are loads of buttons and switches dotted around the cabin, but they're all pretty well laid out and easy to use. The seats are comfortable, if not particularly supportive, and there's plenty of adjustment for the driver's seat and the steering wheel, making it easy to get into a comfy driving position. The large glass area in the cabin also means it's pretty light and airy in there, as well as being really easy to see out of.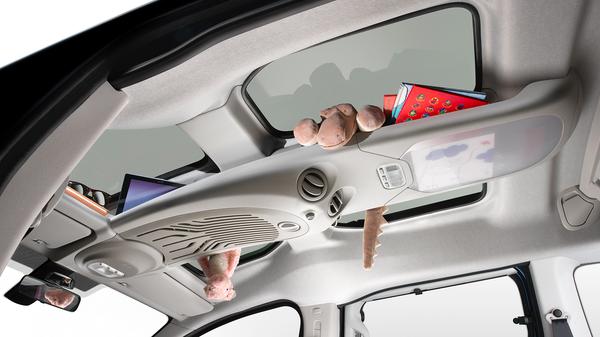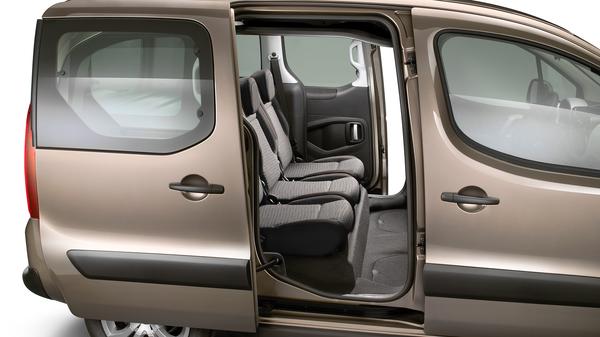 How practical is it?
"

There's a plethora of cubby holes, cup holders and shelves dotted about the cabin

"
This is where the Berlingo must shine and it does. Everyone's got loads of space – including for three child seats in the back – and there's a plethora of cubby holes, cup holders and shelves dotted about the cabin; including in the roof and under the seats. The sliding rear doors are a boon, too, making it easy to get things in and out; even in tight car parking spaces. You can also spec the car with the 'Modutop' storage facility which adds a shelf running the length of the roof to stow odds and ends, as well as adding drop-down storage boxes up there. The boot's massive, too, providing 675 litres with the rear seats up and a huge 3,000 with them down.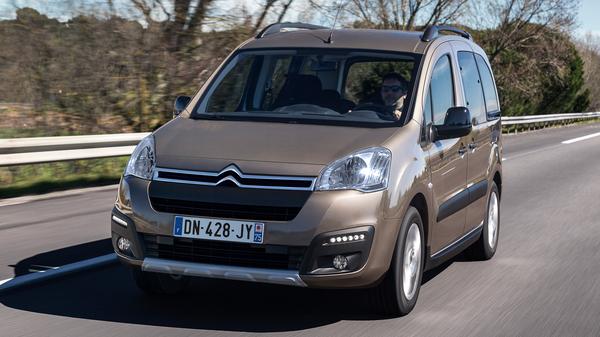 What's it like to drive?
"

It rides comfortably, absorbing the worst of the bumps and keeping everything composed

"
Despite its commercial vehicle origins, the Multispace is actually surprisingly easy to drive. It rides comfortably, absorbing the worst of the bumps and keeping everything composed yet it doesn't lean over in the bends as much as you'd think. The steering is light and direct, too, making manoeuvring what is really quite a big car - especially in tight parking spaces - a cinch.
How powerful is it?
So far, we've only driven one of the engines on offer, and it's a very good unit. It's a turbocharged 1.6-litre diesel engine, which produces 118bhp and 221lb/ft of torque and it feels every bit as strong as those figures suggest. That peak torque figure is made at just 1,750rpm, which means most of the pull is available throughout the rev range. It's refined and smooth most of the time, but it does get a little bit vocal the further up the rev range you go. One slight gripe is its gearshift action itself. It feels quite cumbersome and, in some ways agricultural, with shifting from second to third gears particularly tricky. People are more likely to go for the 98bhp version (equipped with stop/start) of the same engine, however, as it'll cost less to run.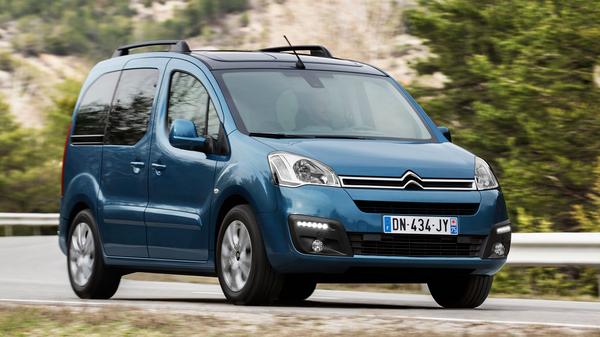 How much will it cost me?
"

Business users won't be paying through the nose in company car tax

"
Day-to-day running costs for the Multispace are likely to be pretty reasonable, as long as you avoid the petrol model. None of the diesels drop below 65mpg and they all emit between 109- and 115g/km of CO2, making fuel and VED bills not too scary. The cheapest version to run will be the 98bhp 1.6-litre diesel with in manual spec with stop and start. It'll return 68.9mpg on average and its CO2 emissions are limited to 109g/km, which also means that business users won't be paying through the nose in company car tax, either. Depreciation is likely to be more of a problem, however, with the previous model not holding out particularly well in this regard and this is unlikely to change for this model.
How reliable is it?
The Berlingo van is built to do loads of miles with heavy loads on board, and to do them reliably. This means that the MPV version is likely to be a fairly tough customer, too. It's too new for any concrete reliability data to have emerged, but Citroen is comfortably in the top half of Warranty Direct's Reliability Index, which means it shouldn't go wrong very often and, if it does, it won't cost the Earth to fix. It's also made up of some fairly well-proven, simple parts, so there shouldn't be much in the way of niggling issues with this car.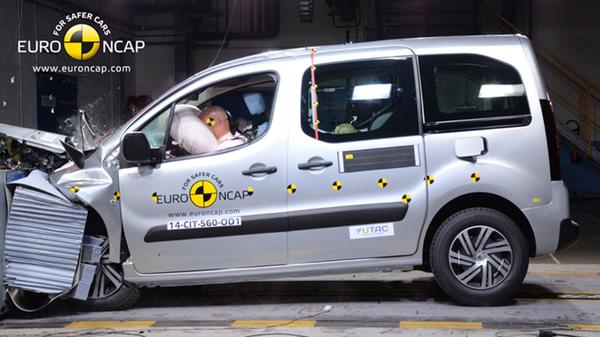 How safe is it?
"

Euro NCAP only awarded it three stars; a long way behind many of its rivals

"
This is an area of disappointment for what is supposed to be a family car. Only passengers in the front get airbags as standard, with curtain airbags only as a cost option, and even then only VTR and XTR models. There's no way of speccing airbags for passengers in the back at all. You do get stability- and traction control as standard and two Isofix points in the back seats, but if you compare it to other small MPVs, it still rates as a little disappointing. Euro NCAP only awarded it three stars; a long way behind many of its rivals, which for a family car, is a concern.
How much equipment do I get?
None of the three trim levels are particularly well equipped, with air-conditioning only being standard on top-spec XTR models, and available as option on the other two versions. Cruise control isn't even an option on entry-level VT trim (which is too sparsely equipped to recommend and only comes with the petrol engine anyway) but is standard on VTR and XTR models. All models get a CD/Radio with an MP3 socket and an auxiliary connector in the glove compartment, but Bluetooth and USB connectivity is standard only on the XTR models and only available as an option on cars in VTR spec. You can, however, spec the family pack in VTR models, which upgrades the Multispace to a full seven seater.
Why buy?
You'd buy this car because space, flexibility and practicality trump all other considerations when choosing your next car. It's relatively inexpensive to buy – and you should get a decent discount from your dealer – and hugely flexible and spacious, capable of turning from an MPV into a car with a van-like load capacity with relative ease. It should also be pretty cheap to run with efficient and clean diesel engines. However, it is very sparsely equipped and, if you intend to drive your family around in it, it's not particularly well-equipped safety wise.