Expert Review
Chevrolet Volt Hatchback (2012 - 2013) review
Read the Chevrolet Volt hatchback (2012 - ) car review by Auto Trader's motoring experts, covering price, specification, running costs, practicality, safety and how it drives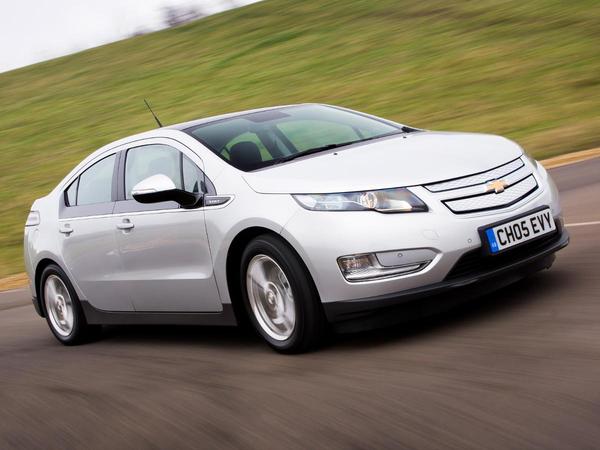 The Auto Trader expert verdict:
The Chevrolet Volt lets you enjoy the benefits of an electric car, without the fear of being left with a flat battery. It's also stylish, easy to drive and performs well.
Reasons to buy:
Stick to short journeys and you'll use no fuel
Impressive performance
Comfortable and refined
How good does it look?
The Chevrolet Volt is a futuristic car, so it's fitting that it looks like a concept which has escaped from a motor show. The bodywork is draped over a long and low chassis, aiding aerodynamics, but also giving the Volt a purposeful vibe. It might be a green marvel, but it could easily be mistaken for a sports saloon. Whether the chrome alloy wheels – this car is built in the USA remember – are to your taste, is purely subjective. It shares its underpinnings with the similarly styled
Vauxhall Ampera
.
What's the interior like?
There is a certain expectation that a new advance in car technology will have a new interior feel to go with it, and the Volt delivers on this front. Two colour screens deliver all the information you'll ever need – there's one in the central console, and another behind the steering wheel. They both have clear graphics and offer conventional information like sat-nav, but also show how the car is being powered, its economy and even how fast you're going. The rest of the cabin is more conventional, with black leather seats and interior trim punctuated by white accents.
How practical is it?
The Volt has four individual seats, which will be adequate for many customers, but could rule some out altogether. It's the result of a central spine of batteries which runs in a tunnel between the seats for optimum weight distribution. Luggage capacity is 310-litres, expanding to 1,005 with the two rear seats folded down. The
Nissan LEAF
has 330-litres of boot space, while the
Toyota Prius Plug-In
has 445 litres. A conventionally powered
BMW 3 Series
saloon has 480 litres of space behind the rear seats.
What's it like to drive?
The Volt is a smooth car to drive in most situations, but its suspension can thump into potholes and bumps. Thanks to the batteries being placed the length of the cabin, it doesn't feel too nose or tail heavy and corners with a fair amount of grip. The steering is light and the Volt is happy cruising at higher speeds too.
How powerful is it?
The Volt has an electric motor which powers the front wheels and a 1.4-litre petrol engine which acts solely as a generator to charge its battery pack. Set off with a full charge and you'll enjoy between 25 and 50 miles of all-electric driving – enough for many drivers' daily commute. After this, the petrol engine chimes in almost unnoticeably, giving the batteries enough power to continue supplying the electric motor. It will go for another 250 miles in this mode, and keep on trucking if you fill up the small petrol tank. There's around 150bhp on offer, getting the Volt to 62mph in just over 9 seconds and to a top speed of 99mph. Because it has no gears, it's both smooth and surprisingly quick to drive.
How much will it cost me?
The official fuel consumption figure for the Volt is a stratospheric 235mpg, but we'd recommend testing one to see how well it fits with your lifestyle. That figure is achievable when the majority of your journey is made using electric, with little running of the petrol motor. In theory, some journeys will use no petrol at all. The batteries are included with the Volt (they are leased if you buy a Renault ZE electric car) so after the high initial cost of purchase, you should spend very little. A full charge is only a few pounds (depending on your electrical tariff) and Chevrolet expects the Volt to be cost effective to maintain, thanks to the robust nature of its electric motor and lightly-strained petrol engine.
How reliable is it?
While the Volt is new to these shores, the original version has been on sale in the USA for over a year and more than 15,000 have been sold. It comes with a three-year/60,000 mile vehicle warranty and an eight-year/100,000 mile battery warranty, for extra peace of mind. The battery pack is climate-controlled by an active liquid control system designed to operate from minus 25 degrees to plus 50 degrees Celsius.
How safe is it?
The Volt is fitted with eight airbags as standard and received a five-star score in tough Euro NCAP crash tests. It obtained 85 per cent for adult occupant protection, 78 per cent for child occupants, 41 per cent for pedestrian safety and 86 per cent in the safety assist category.
How much equipment do I get?
Just one version of Volt is available, and it's equipped with climate control, heated front seats, Bluetooth, park assist, reversing camera, CD player, steering wheel controls, aux-in and a USB connection. The optional sat-nav includes DVD compatibility, seven-speaker Bose sound system, 60GB hard drive and optional digital DAB radio.
Why buy?
A fuel consumption figure like 235mpg is certainly a motivator. People who buy the Volt are likely to have a pioneering spirit, as it's certainly not cheap and this is the first car of its kind. Having said that, the Volt feels polished and able deliver on its promises.