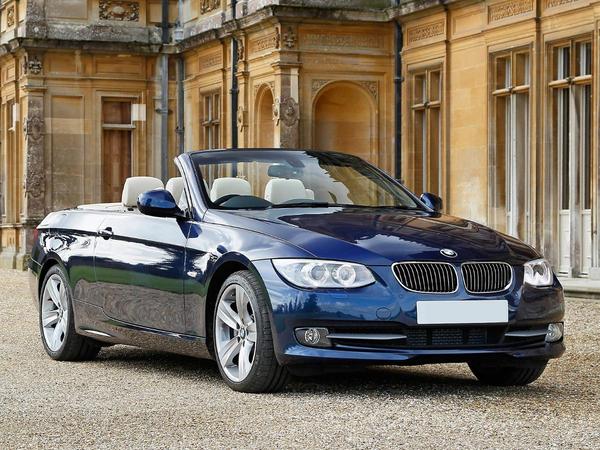 Expert Review
BMW 3 Series Convertible (2010 - ) review
Read the BMW 3 Series Convertible (2007 - ) car review by Auto Trader's motoring experts, covering price, specification, running costs, practicality, safety and how it drives.
The Auto Trader expert verdict:
The BMW 3 Series convertible is classy, discreet, desirable and great to drive. It's expensive too, but reassuringly so.
Reasons to buy:
Build quality
Usability
Dynamics
How good does it look?
When the BMW 3 Series Convertible was unveiled, the only surprise was that it had a folding hard top. Other than that, its discreet looks were typical of the company. The distinctive kidney grille, tapered bonnet, strong shoulder line and sculpted sides were unmistakably BMW, but it seems that's why the company's customers like its cars so much – they're subtle.
What's the interior like?
The predictability continues on the inside, as the interior breaks no fresh ground. Everything looks beautifully finished and constructed, but there's no sense of excitement. BMW has long offered some of the best dashboards in the business in terms of clarity and build quality, and that's the case here. The car's main rivals include the Audi A5 cabriolet and the Mercedes E-Class Cabriolet, and they're just as sober inside. However, while these cars are equally unadventurous in their design, they do offer interiors that are more attractive while still being very usable.
How practical is it?
Nobody buys a coupe-cabriolet for the practicality it offers in terms of luggage space. That's just as well, because the 3 Series Convertible can accommodate a mere 210 litres with the roof down, and all of 350 litres with it up. Rear seat leg room is also compromised, although there's reasonable head room with the roof up. There's room for two only in the back and they'll be okay as long as they're well under six feet tall. The only other premium four-seater coupe-cabrio available is the Volvo C70, as all other rivals use a traditional cloth roof. Like the 3 Series, the Volvo seats four only and stows just 200 or 400 litres, depending on whether the roof is up or down.
What's it like to drive?
BMW has long been renowned for the driving pleasure its cars provide, and it's no different here. It's so good that we can't think of a better alternative. The use of run-flat tyres across the 3 Series range means the ride is also on the firm side, and things aren't helped on M Sport models with their standard 18-inch wheels. Cars with SE trim have 17-inch alloys instead. However, the larger wheels don't provide a ride that's unduly harsh, unless the road surface is especially poor.
How powerful is it?
There's no such thing as a slow 3 Series Convertible, but the level of performance on offer ranges from fast to indecently quick. Even the slowest models, the 320i and 320d can manage 142mph, the former covering the 0-62mph sprint in 9.1 seconds and the latter in 8.3 seconds. If you want more speed, the 325i and 325d can manage 152mph and 148mph respectively, along with 0-62mph in 7.6 and 7.5 seconds. Want more? Then opt for the 330i or 330d, which can do 155mph and 0-62mph in 6.5 or 6.3 seconds respectively. If you've got deep pockets and you want yet more performance, the twin-turbo 3-litre petrol 335i, with its 302bhp and 295lb ft of pulling power is the way to go. It's still restricted to 155mph, but it'll do 0-62mph in just 5.8 seconds.
How much will it cost me?
With a relatively high list price, the 3 Series isn't an option if you're strapped for cash. The car's desirability helps soften the depreciation blow to a point, but it'll still lose over half its value in the first three years. Where the 3 Series scores is with its efficiency – you won't find a car in this segment that's better. Despite the power and performance on offer, the 320d can manage 55.4mpg with CO2 emissions of just 135g/km. Even the fabulous 330d, with 241bhp and 384lb/ft of pulling power, can average 46.3mpg, while emitting just 162g/km of CO2.
How reliable is it?
The 3 Series is dependable. These cars are well-engineered and well-built, while dealers tend to be very switched-on if problems do occur. You pay for that service, but in terms of painless ownership, few cars can match the 3 Series. Problems can crop up though, with the engine management system's software as well as the tyre pressure monitoring system. Steering racks can leak too, while uneven tyre wear is common, and replacements are costly.
How safe is it?
The 3 Series saloon has been crash tested by EuroNCAP, but not the convertible. However the saloon's five-star rating bodes well. As well as boasting a strong structure, the 3 Series is packed with safety kit to help prevent an accident in the first place, such as driver and passenger front and side airbags, electronic stability programme, traction control, electronic brake force distribution and much more. There's also a pop-up roll over protection system, seat belt pre-tensioners in the front and anti-whiplash head restraints.
How much equipment do I get?
BMW has never been too free and easy with the standard equipment on its cars. The days of poverty-spec cars have gone though, so the 3 Series convertible is reasonably well-equipped. Entry-level (SE) cars have 17-inch alloy wheels, cruise control, daytime running lights, xenon headlamps, rear parking sensors, leather trim, electric windows and dual-zone climate control as standard. Move up to M Sport trim and you'll get 18-inch alloys, sports suspension, a multi-function steering wheel and sports seats.
Why buy?
Stylish, well-built and efficient, the 3 Series Convertible is also great to drive and very safe. But you pay for the privilege of ownership.