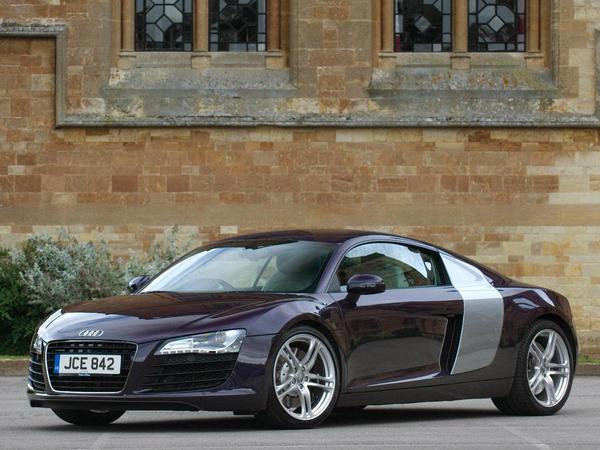 Expert Review
Audi R8 Coupe (2006 - ) review
Read the Audi R8 coupe (2007 - ) car review by Auto Trader's motoring experts, covering price, specification, running costs, practicality, safety and how it drives.
The Auto Trader expert verdict:
The Audi R8 is a thing of beauty. With its excellent performance and stunning looks, few supercars are as easy yet as enjoyable to drive.
Reasons to buy:
Excellent performance
Stunning, unique looks
Beautifully built inside and out
How good does it look?
A jewel of a car that simply drips with fine detailing, the
Audi R8
is a visual feast. The headlamps are a work of art, with the signature LEDs outlining them to give the R8 a distinctive face, day or night. It's a neat shape, but those contrasting side-blades are necessary to split the long flanks. The rear is as detailed as the front, with cool taillights, neatly integrated exhaust pipes and large cooling vents. The R8 V10 model benefits from more aggressive details, with deeper air intake scallops and a more pronounced front grille, but both models are absolutely gorgeous.
What's the interior like?
Audi's usual build quality and fine finishes feature inside the R8. There's a proviso though, as you need to specify the interior carefully to have it looking its best, and plenty of leather and carbon options add to the price. The open metal gate of the manual cars is lovely, but the click-clacking when you change gears can get tiresome and the gear knob is a bit clunky. Neat instruments and good ergonomics impress, but the R8's cabin is perhaps a bit too closely related to Audi's volume models to feel truly special.
How practical is it?
Supercars aren't really meant to be practical and the R8 demonstrates that with aplomb. There's precious little space inside the cabin for all but the driver and passenger, with only a small shelf behind the seats. Under the clamshell bonnet there's a tiny luggage compartment, but forget about trying to get a full-sized suitcase in it – as you'll struggle with more than an overnight bag. You need to be careful closing that bonnet too, if anything is protruding you could do some damage. The R8's luggage space makes a Porsche 911 feel like a Volvo estate in comparison.
What's it like to drive?
The 4.2-litre V8-engined car comes with standard dampers while the 5.2-litre V10 model gains a magnetic damping system. Most V8s are bought with that system, though, and it's worth the extra. It allows roll-free cornering and precise control with a supple ride – even on the large alloy wheels. Strangely, given its sporting focus, the R8 is one of the finest-riding cars Audi builds. However, the steering lacks the fine weighting and feedback of a Porsche 911, though the R8 still turns in quickly and grips hard, while the Quattro four-wheel drive gives it tremendous traction. If you want the ultimate R8, go for the V10 plus, with its suspension honed for sharper handling and a more exciting drive. Be warned, though: all that comes at the expense of ride comfort, and the regular V10 – which still handles superbly – is easier to live with day-to-day.
How powerful is it?
The V8 engine delivers 424bhp, which is enough to get the R8 to 62mph in just 4.6 seconds (4.3 with the S tronic transmission). That feels fast until you try the 518bhp 5.2-litre V10 with its 3.9-second 0-62mph time (3.6 with the S tronic gearbox); and, if that's still not enough, there's the V10 plus with 542bhp. All the engines relish being worked, and reward with not just excellent performance but a rousing soundtrack too. The V8 is a cracker, but sample the V10's more explosive pace and it'll be difficult not to be seduced by it. Petrolheads will prefer the six-speed manual gearbox, but Audi expects by far the majority of buyers to choose the S tronic seven-speed semi-automatic transmission, and it's a fine choice, as capable of crawling through city traffic as it is blasting across country in slicker-shifting Sport mode.
How much will it cost me?
Fuel will be your greatest expense, and the 90-litre fuel tank will need regular fill-ups, as even the most economical R8 averages just 22.8mph. Insurance and road tax won't be cheap, either, and you can expect to pay top dollar for consumables like tyres and brake pads, too.
How reliable is it?
The relatively small volume of R8s sold means data on reliability is scarce, but trawling the internet for reports of problems reveals very little. For a supercar, the R8 should be relatively trouble-free, which is impressive given its performance potential. Audi's dealers should provide excellent customer service, too.
How safe is it?
With quattro four-wheel drive as standard, traction is excellent, while electronic stability and ABS systems help keep you safe. Front and side airbags and pre-tensioner seatbelts help protect you in the event of an accident.
How much equipment do I get?
Consider the list price as a starting point only. The V8 model comes with the basics – sat-nav, Bluetooth, 19-inch alloys and leather-trimed sports seats – but if you want your R8 to feel as special as it looks, then you'll need to get busy with the options' list. Even the aluminium finish on the pedals costs more. The V10 delivers more – including that desirable magnetic damper system, as well as a Bang and Olufsen stereo and extra leather upholstery – although if you want anything other than the limited palette of standard colours, that costs extra too. Choose different side-blade trim and you'll add thousands to the purchase price quickly.
Why buy?
Few supercars are as easy yet as enjoyable to drive as the Audi R8. It might not be practical, but it's not so indulgent or exotic as to be too precious to use. Audi's servicing and ease of ownership appeal, but either engine is thirsty and you'll need to spend lots more than the list price to specify them to your liking.