Expert Review
Audi A8 Saloon (2013 - 2017) 4H Facelift review
More the preserve of chauffeurs than private individuals, if the A8 is to stand any chance against its nemesis, the Mercedes S-Class, it must be competitive on specification, running costs, practicality, safety, how it drives; and more crucially, how special it feels to be driven in.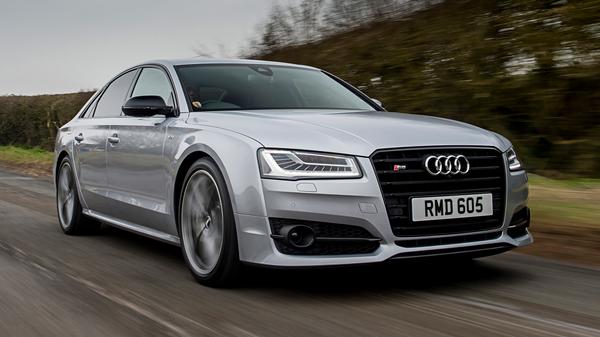 The Auto Trader expert verdict:
Not only is Audi's flagship saloon lavishly specified, beautifully built and extremely refined, it also produces effortless performance; but, as good as it is, it still feels more of a mass-produced autobahn express than a truly special form of conveyance. Thanks to a cabin that bears too much resemblance to lesser Audis' and a fundamental lack of interior space (especially for rear-seat passengers), many prospective leasers/buyers won't get beyond swinging the rear doors open before turning on their heels. Crucially though, it is the A8's inability to promenade with the same effortless, pillowy comfort and to exude the same sense of grandeur as the Mercedes S-Class that ultimately proves its undoing.
Reasons to buy:
Elegant interior
Impressive refinement
Relatively economical powertrains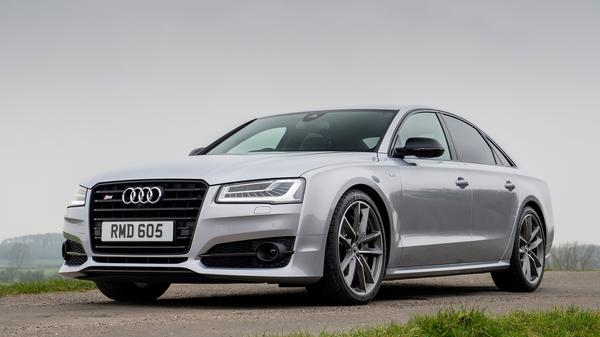 How good does it look?
"

At over five metres in length, the A8 certainly gives you a lot of metal for your money

"
One person's perception of 'subtle understatement' may well be another's idea of 'dull as ditchwater', but whichever camp you fall into, it's probably fair to say the A8 lacks a certain design flair. Moreover, the fact that it effectively looks like a scaled up A4 saloon probably doesn't do it any favours, either. That's all well and good if you prefer to slip covertly under the radar, but it's not what's required if you're looking to make a flash bulb-exploding arrival at that special red carpet event. At over five metres in length, the A8 certainly gives you a lot of metal for your money – and even more so if you specify a long-wheelbase version, which adds 130mm between the wheelarches to boost rear passenger leg room – but it's clear those slab-sided flanks and flat-top bonnet and boot-lid haven't overly taxed the panel beater's artistry.
What's the interior like?
Unfortunately, when it comes to cabin design and overall build quality, the A8 is very much a victim of Audi's own success, as many of the same interior virtues that are found in the A8's cabin can be found in lesser Audis. Therefore, there's less of a tangible upgrade in the A8 than there is in the Mercedes S-Class, which stands head and shoulders above the rest of the Mercedes range. Nevertheless, every detail in the A8 is beautifully engineered, and look as hard as you might, you'll find no flimsy pieces of trim to undermine the overall effect. A mixture of traditional wood, supple leather and more modern materials, such as aluminium and chrome highlights, lit by subtle interior lighting, means everything you touch and gaze upon exudes an impression of quality and robust solidity. Finding a comfortable driving position is exceptionally easy, too, with loads of electric adjustment for both the driver's seat and steering wheel, while all-round visibility is extremely good thanks to that traditional three box saloon design and large glass area. Given its immense length, though, it's as well the A8 has a standard reversing camera to help you slot into those exceptionally tight posh-end-of-town parking bays.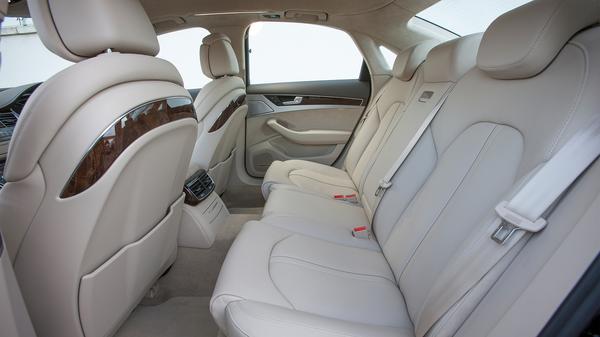 How practical is it?
"

Headroom in the rear is at a premium, and rear legroom is too tight for comfort in the standard car

"
The A8 isn't nearly as spacious as a Mercedes-Benz S-Class, being similar in size to a Jaguar XJ; which is not a good thing, especially if you're a rear-seat passenger. Headroom in the rear quarters, in particular, is at a premium, and rear legroom is too tight for comfort in the standard car. Additionally, because the rear seat cushions are set as low as possible to maximize headroom, you feel as if you fall into the rear seats; and, on exiting, it's a struggle to climb out in an elegant fashion. Certainly, ladies will need to beware the paparazzi. In terms of boot space, there are only 510 litres of luggage space – the same as in an A4 Avant – which is not really a lot of good if your family are heading off on their hols with anything more than their speedos in tow. That said, if you can afford an A8 and a chauffeur, you can probably afford an additional cab to ferry your luggage to the airport.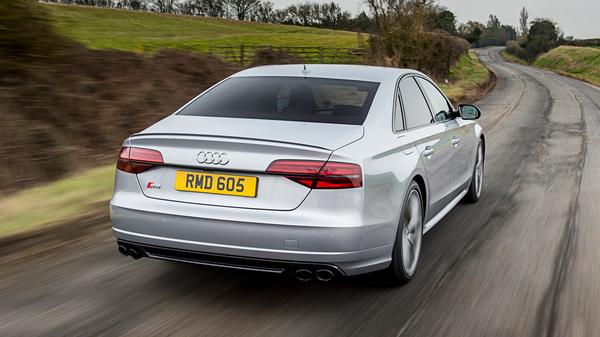 What's it like to drive?
"

The ride at higher speeds is generally well controlled and comfortable

"
The whole point of a car like this is to transport rear seat passengers serenely, with the minimum of fuss; and, because all A8s come with adaptive air suspension, the ride at higher speeds is generally well controlled and comfortable. Unfortunately, this control does come at the expense of low-speed comfort and the A8 lacks the pliant, supple low-speed ride that is the hallmark of the Mercedes S-Class. Handling is good for such a large car, however, with excellent levels of grip thanks to the standard Quattro four-wheel drive system. The steering lacks feel and could be more communicative, and it is in this department where a Jaguar XJ clearly trumps the A8. Obviously, this will be of limited concern to most owners; as they are likely to employ someone else to do their steering for them.
How powerful is it?
The petrol engine line-up consists of the mammoth 493bhp 6.3-litre W12 – which is available only in the long wheelbase A8 (and, if you ever see one in the UK, it's worth reporting its existence to the Guinness Book of Records) – and two versions of the 4.0-litre V8 twin-turbo engine, which are available in the shorter-wheelbase S8. In terms of performance, the standard S8 with 513bhp is clearly more than adequate, but if you really want the bragging rights, the Plus version generates a truly staggering 602bhp. Warp-speed acceleration aside, perhaps the most impressive aspect of this engine is the way it seamlessly accelerates away from the mark with none of the unruly jerkiness that used to blight Audi V8s of old. As a consequence, it can be driven around town in smooth, effortless chauffeur style, but should the occasion arise, it'll also dust off some upstart in his brash supercar without troubling your passenger's tranquility. For a more real world alternative, you'll need to look to the diesel offerings, including the 247bhp 3.0-litre V6 and the 345bhp 4.2-litre V8. The most popular, by some margin, is the 3.0-litre, as it marries prodigious performance to relatively low fuel consumption. What's more, the more expensive V8 offers little appreciable performance benefit and actually sounds quite harsh compared to the six-cylinder car, so it's hard to justify the price premium.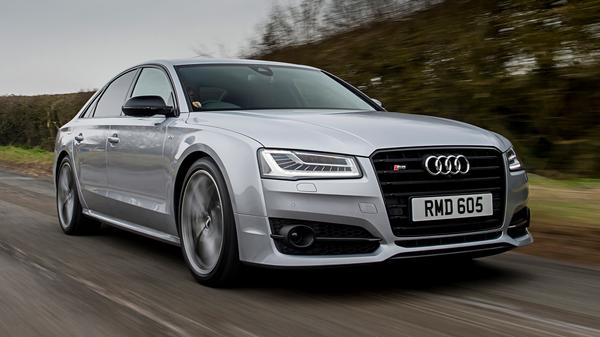 How much will it cost me?
"

The economy and emissions of the 3.0 V6 TDI are pretty astonishing considering the size of the car

"
The best-selling 3.0-litre V6 TDI models come equipped with a stop-start system, as well as brake energy recuperation technology. This helps the A8 produce just 149g/km of CO2 and an average 49.6mpg – pretty astonishing considering the size of car – and long-wheelbase cars produce just 4g/km more. Buyers beware, though, as in a class totally dominated by the Mercedes S-Class, the A8's residual values will be nowhere near as strong as the class leading Benz.
How reliable is it?
The latest A8 is too rare appear in reliability surveys, but it's exquisitely built, with materials that feel like they will last a lifetime. It's a complex car, though, and other Audis don't always fare particularly well in reliability indexes and surveys, coming in around the midway point. The dealers provide excellent service, though, and owners speak highly of them.
How safe is it?
The A8 hasn't been tested by Euro NCAP and neither has its predecessor. However, it is kitted out comprehensively with safety equipment including myriad airbags, electronic stability programme, traction control and an advanced pre-crash system that is designed to detect an imminent collision, and if it does so, it tightens the seat belts and closes the windows and sunroof. There are also ISOFIX child safety seat fasteners for both the front and rear seats.
How much equipment do I get?
Every A8 comes comprehensively equipped, with alloy wheels, adaptive air suspension, an eight speed automatic, leather upholstery, electrically operated and heated seats, sat-nav, digital radio and Bluetooth hands-free mobile phone connectivity, as well as air-con, front and rear parking sensors, automatic headlights, rain sensor, cruise control and xenon headlights. Sport models add larger alloy wheels, keyless entry and start, and a power-operated boot-lid. Meanwhile, the long-wheelbase models boast heated rear seats, electric rear sun-blinds, four-zone climate control, an electric sunroof and enough options to send your credit card into meltdown.
Why buy?
That's a very good question. Even if you're not put off by the 'Russian doll' design – from a distance, you could easily mistake an A8 for its humbler A4 sibling – it's a struggle to justify buying an A8 over a Mercedes S-Class. Certainly, the interior is plush and sumptuous, and arguably befitting of a car with such a hefty price tag, but the A8 lacks the ride quality, the interior space, the resale values and the overall sense of grandeur of its Mercedes rival.