Expert Review
Alpina XD3 SUV (2019 - ) review
Alpina is a small brand specialising in high-performance versions of BMWs. The XD3, its take on the mid-size BMW diesel X3 SUV, is a fast, comfortable, premium car for those who value power and practicality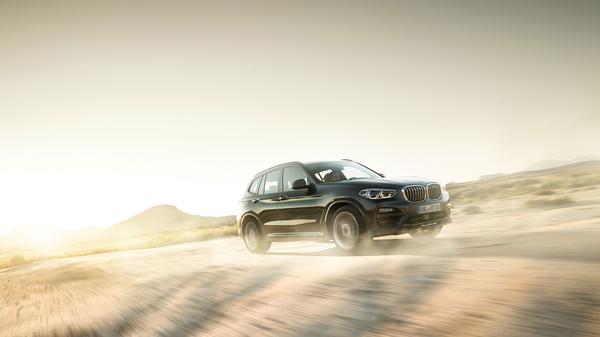 The Auto Trader expert verdict:
The Alpina brand was born in 1965. It engineers and designs high-performance versions of BMW cars, from the X3 mid-sized family SUV to the 3-Series. An Alpina is a rare, and highly desirable sight on British roads - last year Alpina sold just 57 cars in the UK. Its models get different names - the 3-Series, 5-Series and 7-Series petrol versions are the B3, B5 and B7 while the X3 and X4 diesels becomes the XD3 and XD4 - as well as styling tweaks inside and out, and revised suspension, aerodynamics and engine outputs. The company works in co-operation with BMW, sharing technology and development before adding its own engineering magic to the outcome.
Reasons to buy:
Rare badge
Strong residuals
Great performance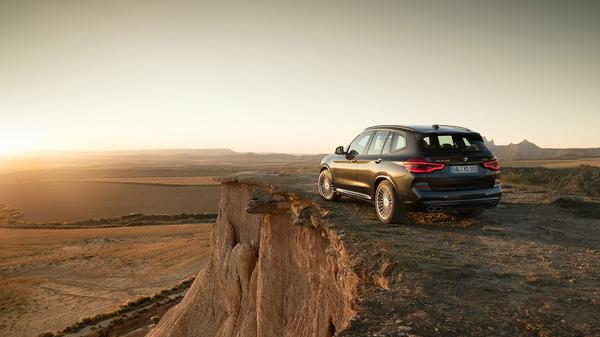 How good does it look?
The design differences between a BMW diesel X3 and the Alpina XD3 are an Alpina badge on the bonnet, bigger wheels, decals (stickers) going down the sides and Alpina lettering at the back. You also get quad exhausts and some extra bumper bodywork. For some customers, this won't seem like enough differentiation to let the average member of public know you're driving something rare and expertly engineered for better performance. It won't let them know, in other words, that you, sir/madam, are a connoisseur of cars. But for us, it's just the right side of garish, with enough subtle design tweaks for those who know.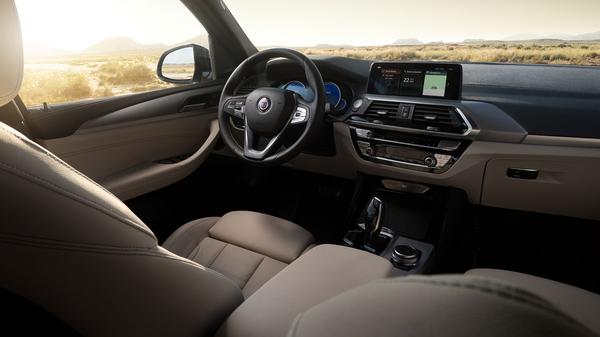 What's the interior like?
We love the continued subtle styling on the inside. Alpina calls it "confident, not intrusive", which is bang on. Our test car was an ocean of pale cream leather, with the tell-tale Alpina colours of blue and green dotted about: the steering wheel gets blue upper stitching and green lower stitching, while the seat head rests have blue and green diamonds set into the cream leather. There's an Alpina badge in the steering wheel boss and a metal production plaque with your car's model number below the central air vents. The central digital instrument dials turn bright blue when you press the engine starter button, adding a sense of sportiness to the cabin. Put the car into Sport mode, and the display style changes to "Dynamic" with green drag indicators. The rest of the interior is standard BMW design, which means it's a masterclass in pared-back luxury, with plenty of space, light and leather.
How practical is it?
The joy of the Alpina XD3 over any of the other models it builds is that as well as a niche, high-performance car, you are buying a large dose of family practicality. The BMW X3 is a very versatile car, offering enough leg, shoulder, head and luggage space for a family of four as well as a high-seated driving position and an easily accessible load space for dogs or large items when you raise the electronically operated tailgate. This then, is the perfect car for motorists who have a family but still want to retain a dose of driving excitement.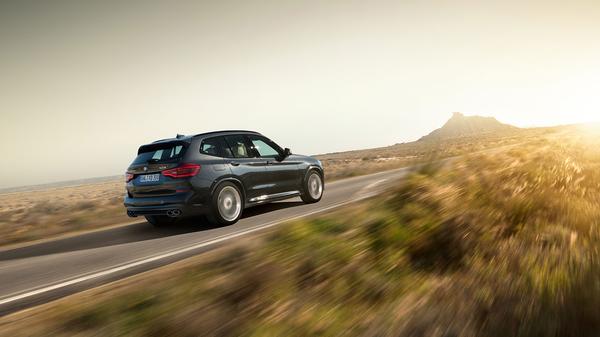 What's it like to drive?
This is the biggest reason for buying an Alpina: because you want more sporting performance than a standard BMW offers, but without the raw edge to the noise and ride that an M-badged BMW gives you. An Alpina should be the perfect blend of power, performance and comfort. And you won't be disappointed. The result is an SUV that drives more like a powerful estate, because it has brilliantly composed, unruffled handling, thanks to Alpina's own adaptive sports suspension that reacts super quickly to changing road conditions. The way the power is delivered means there's no horrible pause between you putting your foot down and something happening, and the way the suspension is set up means you don't crash through potholes and over ridges like highly tuned sports cars are traditionally wont to do. The steering response is entirely linear, with no looseness in the wheel's movement, and the whole experience feels a little bit special, not least because of Alpina's new stainless-steel exhaust system which gives a metallic, hardcore noise to the car.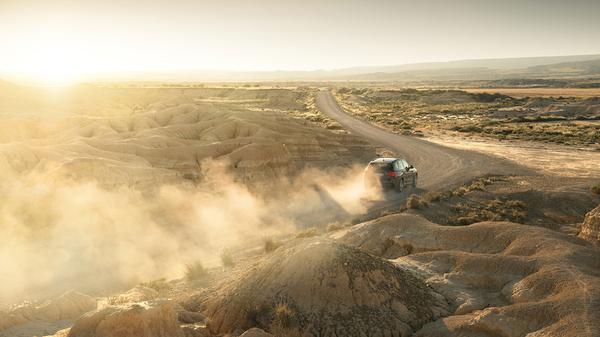 How powerful is it?
The XD3 takes the twin-turbo, 3.0-litre straight six diesel engine from BMW's X3 and "optimises the induction and cooling systems". That means that while there's barely a hair's breadth between the figures of an XD3 and an X3, it feels like a far more powerful beast. The torque curve is much flatter, meaning you get the most amount of torque - shoving power - for much longer as the engine revs rise. The engine produces 333 horsepower and 700Nm of torque, pushing this SUV to 62mph in 4.9 seconds which is sports-car fast. Add to that a sharper throttle response, which makes the car feel like it's accelerating more quickly than normal, and you have yourself the dynamic embodiment of Alpina.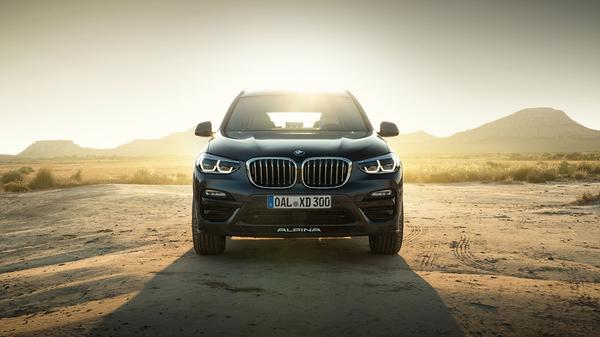 How much will it cost me?
Alpinas don't come cheap: you're talking maybe £20,000 or so more than the equivalent BMW X3, depending on how you specify each car, but the remarkable thing is the residual value of these cars. Thanks to the rarity of the badge in the UK, Alpinas hold their value very well, with high demand for used examples, and you should find that when the times comes to sell, you can do so at a satisfyingly high price. This strong residual value plays well in the hands of those looking for a finance deal too - you're looking at about an extra £100 a month or so to lease an XD3 over the equivalent X3 (depending on deposit, term and mileage).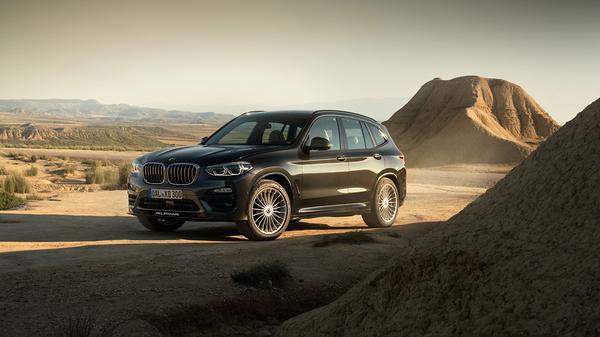 How reliable is it?
All Alpinas feature BMW's three-year warranty. BMW has of late been slipping down the JD Power reliabilty survey as a manufacturer, hence our lower rating here for the XD3. On the other hand, Alpina is a small, family-run company with a hard-working distribution arm in the UK and one senses customers are well looked after.
How safe is it?
All Alpinas come with all-wheel drive, and while there's a rear-wheel bias for the power delivery, if the car senses a loss of traction it can immediately divert power to the front wheels. The brakes have been upgraded to minimise brake fade under heavy braking when carrying heavy loads, and the car uses high-performance tyres from Pirelli for maximum road grip, especially in the wet. There's a raft of BMW safety systems available including the usual lane-departure warning system, blind spot, cruise control and more (see X3 review).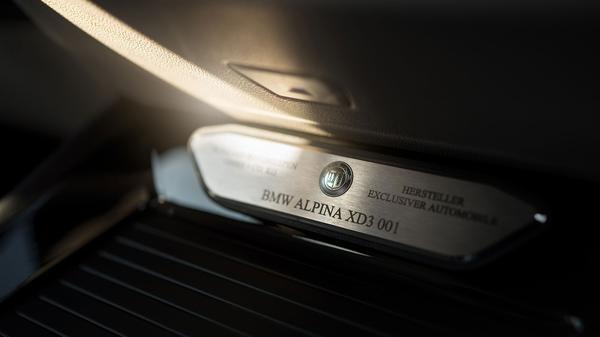 How much equipment do I get?
You get all the toys associated with the higher specification of a BMW X3, including the great BMW satnav system, good audio (Harmon Kardon is an optional extra), sports seats with electric adjustment, LED headlights, different driving modes and one touchscreen that can be split to show multiple functions. Beyond that, you can take advantage of BMW's bespoke service to create any colour or material design scheme you fancy.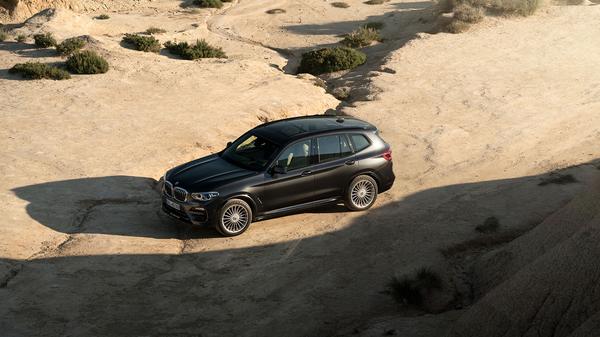 Why buy?
Alpina is still a relatively well-kept secret in the UK right now, but their ambitions are to almost double the volume of cars on sale here, from 57 to 100. That still makes them almost a total unknown, and thus will keep used prices high, but we'd suggest buying sooner rather than later for a true slice of something a bit special. If, like most drivers, you want more performance without losing any ride comfort, an Alpina could be the best choice for you. It's certainly worth the test drive.