Used Nissan 370 Z Coupe
With 46 used Nissan 370 Z Coupe cars available on Auto Trader, we have the largest range of cars for sale available across the UK.
Used Nissan 370 Z cars available to reserve
Used Nissan 370 Z Coupe cars in stock
Is the Nissan 370 Z a good car?
Read our expert review

Words by: Auto Trader
"The Nissan 370Z can be viewed in two ways. With a big, thirsty V6 petrol engine and macho looks - it's one of the few sports cars that still provides a proper analogue driving experience that really engages and tests a driver. It also comes very well equipped, and still looks great even after years on sale. However fuel economy, refinement, ride comfort and practicality are all mediocre at best, and it's not as fun to drive as the similarly priced Audi TT and Porsche Boxster."
Read the review by category
How good does it look?
Two-door coupes trade on their looks, and very few are as striking as the 370Z. When compared with the current crop of sports cars from BMW, Audi and Porsche, the Nissan still stands out as something different, even after many years on sale. The flagship Nismo tuned version cranks the aggressive design up even further with a bespoke body kit, red highlights on the grille, brakes and side skirts, and gorgeous set of 19-inch lightweight alloys. Yet even the standard car comes with 18-inch wheels, LED running lights, twin exhausts, and Bi-Xenon headlights. That means whichever 370Z you choose you'll be getting a car that packs a fairly hefty visual punch, and it will get noticed. The mid-range GT version probably strikes the best balance between price and styling oomph though, even though we have a soft-spot for the Nismo version.
What's the interior like?
It would be tempting to get carried away with how good the 370Z looks on the outside – but once you're sat in the cabin you'll come back to earth with a bang. Squeezing into the narrow gap between the thick door, steering wheel and high seat bolsters is no easy task, and once you are settled inside it takes a very long time to find a comfortable driving position. The Nismo model has stiff rotary knobs to allow you to tweak the driver's seat – but the steering wheel can only be tweaked for height and not reach. That means it all feels quite cramped, and the centre console is a real mess – strewn with buttons that are small and hard to find. Some of the plastics on the vents and in the doors look and feel distinctly cheap and flimsy, and an Audi TT feels like a spaceship by comparison. The dated orange digital clock and dot-matrix displays make the 370Z seem very old hat. On the plus side, visibility is good for a slinky coupe, with large mirrors and a wide rear screen, and despite the hard materials, the cabin seems robust.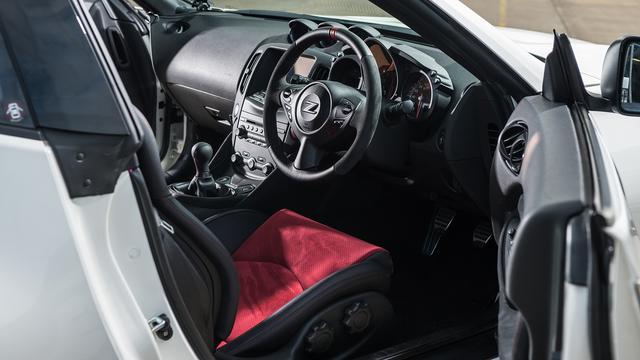 How practical is it?
It should go without saying that a low-slung car with two seats and a small boot is never going to be suitable for much more than weekend trips. Yet even by the low standards of the coupe class, the 370Z falls woefully short. The boot claims to fit up to 235 litres of luggage – but it's very shallow, and awkwardly shaped, limiting what you can carry to small carry-on suitcases and rucksacks. There is additional space behind the seats for another couple of bags, but it's not easy to access. The small door pockets, tall, wide transmission tunnel and shallow door bins also make it hard to store loose items in the cabin. The Porsche Boxster has two boots (one up front and one in the back) and the Audi TT can also carry considerably more, and also has a set of (admittedly very small) rear seats that can be used to carry kids, or yet more bags. Both are easier to use everyday.
What's it like to drive?
There's a weighty heft to all of the controls in the Z, so you really feel engaged in the process of driving the car thanks to the physical effort required. In a way it can be enjoyable to master, but can become quite tiring in slow-moving traffic when skill and a firm hand are constantly needed to drive smoothly. The slow, heavy steering lacks the precision and accuracy of more modern coupes, so the 370Z can feel quite cumbersome. The rear-wheel drive layout makes it good fun on a wet road (or a wide test track) but during normal driving the firm ride makes it hard to relax on longer journeys. It bounces and jolts over any small imperfections in the road surface, and never settles down enough to make a decent GT car. Road and wind noise are pretty bad too, so if you want a relaxing coupe, it won't be for you.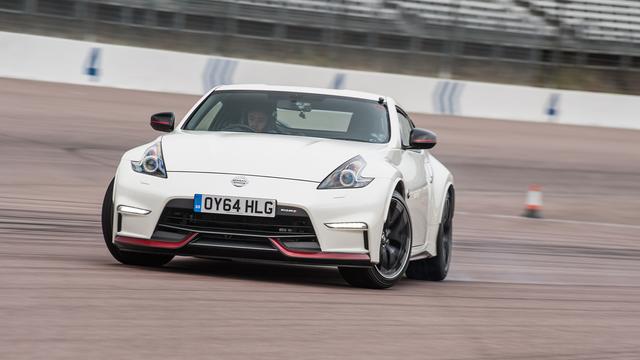 How powerful is it?
The thumping 3.7-litre V6 engine under the bonnet comes in two states of tune. A standard 370Z produces 324bhp and 268lb ft of torque; while the Nismo version delivers 339bhp and 273lb ft of shove. This might sound impressive, but the way that power is delivered leaves something to be desired. You need to work the big engine really hard to make decent progress – as all the power and grunt only starts to come in once you are well above 5,000rpm. It sounds a bit like a piece of heavy industrial machinery rather than a sweetly tuned sports car too. There are two different gearboxes – most cars come with a six-speed manual gearbox that has a fairly loose throw and long shift action, but the 'GT' version comes with the option of a seven-speed automatic with manual paddles on the steering wheel. Given how well its suits the rest of the rough and ready driving experience, we would recommend opting for the manual gearbox if you do have the choice.
How much will it cost me?
Another big disadvantage of using a large V6 petrol engine instead of a smaller one with a turbocharger is that the fuel economy and CO2 emissions are not very good at all. The 370Z is seriously thirsty – expect to achieve no more than 26mpg on the motorway, and a lot less if you get stuck in traffic or drive it through town. The CO2 emissions of 248g/km are worse than a BMW M4 and put it into one of the highest brackets for road tax – up there with Range Rovers and the like. Insurance, replacement parts and servicing will all be higher than normal thanks to the 370Z's high performance aspirations. The Nissan will depreciate faster than rivals such as the Audi TT – but at roughly the same pace as the similarly priced Volkswagen Scirocco R or the cheaper, slower, Toyota GT86.
How reliable is it?
Nissan has a brilliant reputation for reliability, and although some bits of the interior might seem a bit rudimentary, you can be fairly certain that it will be unlikely to break. The engine is well proven, and uses a chain to drive it instead of normal cambelt – which is one less thing to replace. Service intervals are every year or 9,000 miles so unless you want an expensive bill then the 370Z is better kept as a fun car for weekends rather than tackling the daily commute. Still, the engine and gearbox are very strong, and there have been no recalls issued for this car since it was first launched back in 2009.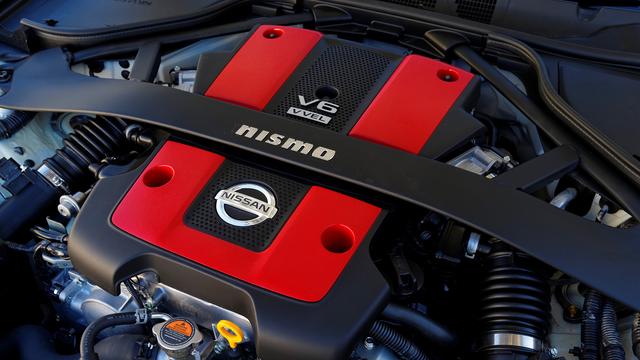 How safe is it?
The Nissan has the usual arsenal of safety systems to help prevent an accident. All versions have stability and traction control, tyre pressure monitors and manual models also have a limited-slip differential, which improves the amount of grip. If the worst does happen, then the 370Z also comes with front, side and curtain airbags, anti-whiplash head restraints. Crash safety body Euro NCAP hasn't tested the 370Z but it does without some more advanced active kit like automatic braking, blind-spot assist and land departure warning. Security is good though, with deadlocks, locking wheelnuts and a standard fit alarm too.
How much equipment do I get?
Even though the entry-level model is a lot cheaper than most of its rivals, the 370Z comes very highly equipped. Powered seats, auto lights and wipers, keyless entry and start, climate control, Bluetooth and audio controls are all standard. GT models benefit from the Connect Premium infotainment system, with a set of eight upgraded speakers, a touch-screen sat-nav, music hard drive, and even a DVD player and reversing camera for getting into tricky parking spaces. The GT also has cruise control, heated leather seats and lumbar support too. The Nismo gets Recaro sports seats and a host of styling upgrades inside and out, but no extra luxury kit.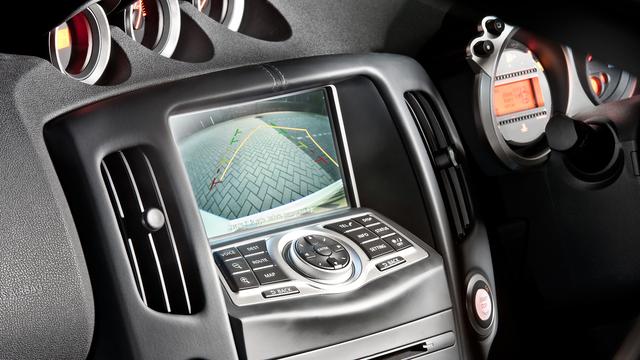 Why buy?
If you want a coupe with serious straight-line performance and a bruisingly physical driving experience the 370Z will not disappoint. It looks great and has a fun chassis – but as an everyday proposition it's leagues behind the competition. The sky-high fuel bills, heavy controls, poor refinement and firm ride make it a very niche choice in the coupe class.
Nissan 370 Z Coupe (2013 - ) review
Read the Nissan 370Z coupe (2013 - ) car review by Auto Trader's motoring experts, covering price, specification, running costs, practicality, safety and how it drives.
Nissan 370 Z Convertible (2010 - 2013) review
Read the Nissan 370Z Roadster convertible (2009 - ) car review by Auto Trader's motoring experts, covering price, specification, running costs, practicality, safety and how it drives.
Nissan 370 Z Coupe (2009 - 2013) review
Read the Nissan 370Z coupe (2009 - ) car review by Auto Trader's motoring experts, covering price, specification, running costs, practicality, safety and how it drives.