Used Hyundai ix35
With 408 used Hyundai ix35 cars available on Auto Trader, we have the largest range of cars for sale across the UK.
Used Hyundai ix35 cars available to reserve
Used Hyundai ix35 cars in stock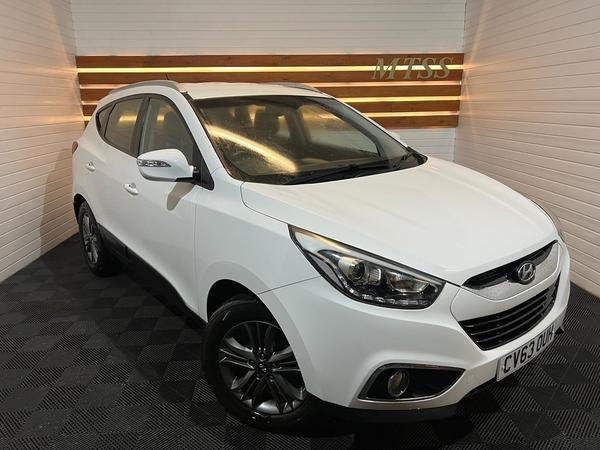 Is the Hyundai ix35 a good car?
Read our expert review

Words by: Andy Pringle
"The ix35 proves that a hydrogen car is a realistic proposition for 21st-century motoring, even if it's not without its limitations. If – and it's a big 'If…' – you can live with its high price and the limited hydrogen refuelling infrastructure, it provides a decent zero-CO2 emission family car."
Read the review by category
How good does it look?
Given the pace of change in the motor industry, the ix35 is quite an old design. Indeed, the rest of the range has already been replaced by the Tucson. However, Hyundai has done its best to ensure that the Fuel Cell stands out from the crowd, not least because of the huge graphics down the side. On the other hand, even without them, it's a striking-looking car, with plenty of styling touches: 17-inch alloy wheels, chrome door handles and body-coloured door mirrors.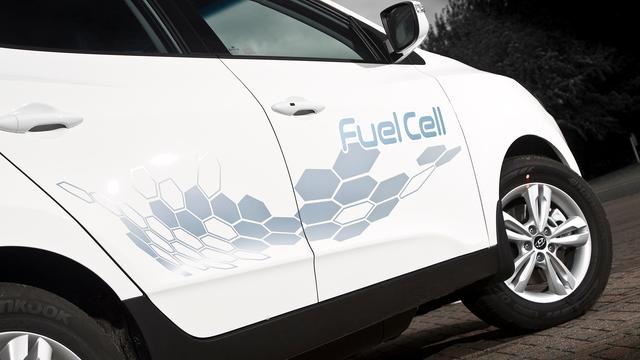 What's the interior like?
As outside, so inside, the ix35 shows its age a little: just one glance will show you that it's certainly not the kind of high-quality interior you might expect of a £50,000 car. Mind you, that's a criticism you can level at the other hydrogen-powered car on sale in the UK, the Toyota Mirai. Even so, there's no denying that the hard, scratchy plastics on the top of the ix35's dashboard and doors are disappointing. Still, Hyundai does a fine line in chunky, well-marked buttons, so it's all easy to use. And, with height and lumbar adjustment on the (heated) front seats, it's easy to get comfortable behind the wheel – although the fact that the ix35 is only available in left-hand drive may be off-putting for some drivers.
How practical is it?
Although the ix35 is a relatively old design, there are no great sacrifices in practicality. On the contrary, as far as the passengers are concerned, it's all good: the two in the front have room to spare, and another couple of six-footers will fit in the back. Admittedly, the narrow centre seat means the rear bench is better for two adults than three, but there's no large transmission tunnel in the floor. There's plenty of stowage around the cabin, too, and the only slight price you pay for having hydrogen power comes – quite literally – in the shape of the boot. Because the fuel tank sits underneath it, the floor is a couple of inches higher than normal and therefore you have less depth to play with. And, for the same reason, when you fold the rear seats down, there's a small step in the floor. Mind you, even with that caveat, there should be enough space for most people's needs.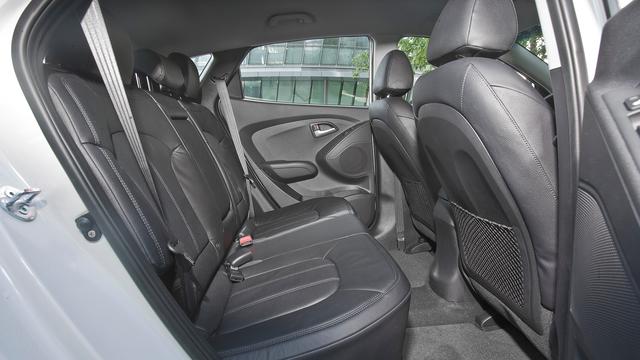 What's it like to drive?
In some ways, this is the area in which the ix35 shows the relative age of its design most obviously. The ride is a little on the firm side around town – particularly prone to thumping its way over ridges in the road – and even when the speed picks up out of town, it remains unsettled. That said, it's nothing that'll put you off if you're dead-set on running a hydrogen car. In fact, the ix35 is perfectly easy to manoeuvre around town; and, although keener drivers will want a bit more feel through the steering and a bit less body roll through the bends, the ix35 is on a par with rivals such as the Mitsubishi Outlander, which also respond better to a more relaxed driving style.
How powerful is it?
Perhaps one of the greatest attractions of the ix35 is that it's effectively an electric car, so it gives you smooth and near-silent running around town. Admittedly, there's a little hesitation when you first pull away from rest, but once the car is up and running, it's responsive and gathers speed very nicely. That remains true out of town, and up to about 40- or 50mph. However, once you get beyond that, the rate of acceleration slows, so overtaking manoeuvres need plenty of planning. That said, the ix35 is more than capable of sitting very happily for mile after mile at the legal limit on the motorway, and as long you can maintain a steady speed, it doesn't reduce the range too badly.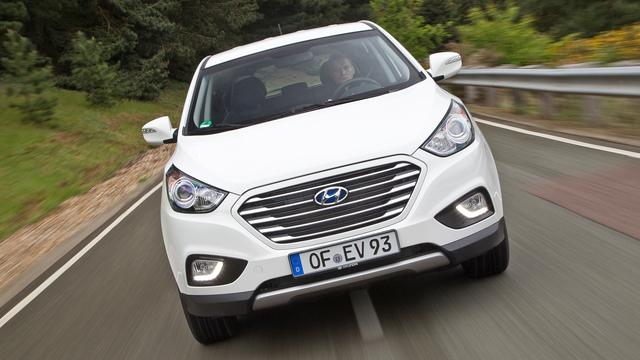 How much will it cost me?
The biggest problem with the ix35 Fuel Cell is that it costs so much to buy. At over £50,000, not only is the ix35 the dearest Hyundai in the UK, we also expect monthly lease costs to be higher than for the Toyota Mirai. Unless you are willing to pay a high price for zero CO2 emissions, the likelihood is that you'll need to have some kind of subsidy behind you (or your company) to consider the ix35 Fuel Cell. However, beyond that list price, daily running costs aren't too bad: a tankful of fuel costs about the same as a tank of petrol or diesel, and gives a similar range, although the big issue is whether you live near enough to one of the handful of hydrogen refuelling stations to make running a hydrogen car a realistic proposition. Zero-emission motoring brings major tax advantages, as well as making the car exempt from the London congestion charge. The only major question mark is over the car's residual values, but as yet, no one is sure of the answer to that …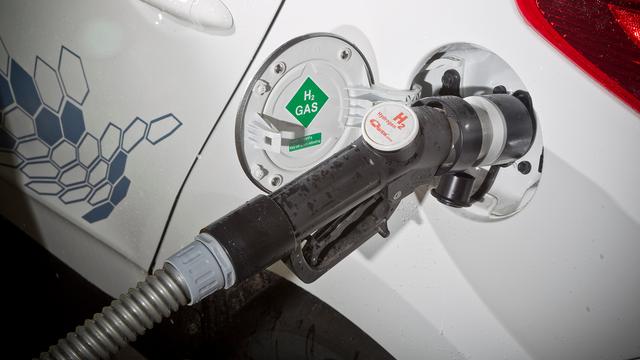 How reliable is it?
This is a difficult question to answer, as the technology in the ix35 is so unfamiliar in a passenger car and no one has any great experience of running a hydrogen car. However, Hyundai has been working with hydrogen vehicles for almost 20 years and this car is the product of some two million miles of testing. The other good news is that, compared with other makers, Hyundai gives an about-average performance for reliability, while this car is covered by the same five-year, unlimited-mileage warranty as any Hyundai model.
How safe is it?
It seems highly likely that any potential customer's biggest concern will be around safety, but Hyundai is at pains to point out that the car has been through extensive safety testing, including crash tests. In addition, there are sensors all over the car to detect hydrogen leaks, while numerous features ensure that filling the car is a safe operation. Beyond that, the ix35 scored a five-star rating from Euro NCAP when it was tested back in 2010 (albeit with a diesel engine), and the Fuel Cell version comes with a reasonable selection of safety equipment, including six airbags. However, you can't specify more modern safety features, such as autonomous braking or lane-keeping systems.
How much equipment do I get?
With the ix35 Fuel Cell, you know that the cutting-edge technology underneath is what really pushes the list price so high. However, you do also get a reasonably high level of standard equipment, such as leather trim, dual-zone climate control, a touch-screen sat-nav system, Bluetooth connectivity, cruise control and rear parking sensors. Mind you, much of this is now relatively outdated, and little things like the unavailability of DAB radio seem odd on such a technologically advanced car.
Why buy?
With such a high list price, the real attraction of the ix35 Fuel Cell comes in a desire to be seen to be green. And, of course, there's no point even considering a hydrogen car unless you have easy access to one of the very few refuelling stations in the country.

Good points
Definitely the comfort I have found in the seats...
Bad points
Wish I had pick a newer model, but that hopefully...
CATHERINE
Published 2019-04-24
Good points
Plenty of gadgets: Bluetooth, SatNav, cruise...
Bad points
No DAB radio
MICHAEL
Published 2019-03-13
Good points
I like the high seating, it gives great view. It...
Bad points
None of seat belts retract well. The air blower...
KAREN
Published 2018-10-23
Hyundai ix35 SUV (2013 - ) review
It may not look it at first glance, but the ix35 is one of the most revolutionary cars in Britain, using a hydrogen fuel cell instead of a conventional internal combustion engine
Hyundai ix35 SUV (2010 - 2014) review
Read the Hyundai ix35 4x4 (2010 - ) car review by Auto Trader's motoring experts, covering price, specification, running costs, practicality, safety and how it drives.