Used Honda NSX Coupe
With 9 used Honda NSX Coupe cars available on Auto Trader, we have the largest range of cars for sale available across the UK.
Used Honda NSX Coupe cars in stock
Is the Honda NSX a good car?
Read our expert review

Words by: Pete Tullin

Additional words by: Auto Trader
"It wasn't so long ago hybrid supercars like this were million pound exotica but the Honda NSX brings the technology down to the relatively attainable price of Porsche 911 Turbos, Audi R8s and the like. As easy to drive as a Civic around town but fast enough to thrill as much as any more exotic-sounding supercar, the NSX is a dazzling demonstration of Honda's engineering skill."
Read the review by category
Running costs for a Honda NSX
The NSX may be the ultimate everyday supercar, but there's nothing commonplace about its asking price, its running costs, or availability. By the time you've chosen a few tasty carbon fibre trinkets you can also easily add the price of a well-specced Civic to the price, too. As with any motoring exotica, fuel, tyres, insurance premiums and servicing will all create a whopping black hole in your bank balance. It's also only sold and serviced through two specially appointed, London-based Honda dealerships, which may not be convenient for everyone. But cars like this are bought as much as style statements as they are driving machines. Just don't necessarily expect a return on your investment as you might get with a limited-edition Porsche like a 911 GT3, the Honda dealer network offering nearly-new NSXs at two thirds of what they'd have cost new. Depreciation like that is going to hurt, even for those who can afford such a car.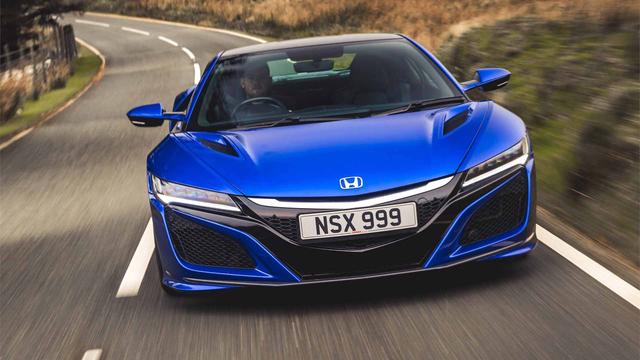 Reliability of a Honda NSX
At this point we're tempted to say, your guess is as good as ours. Although it's a highly complex vehicle, unless some irate well-heeled customer creates an online Twitter storm, the chances of anyone ever knowing of any problems with the NSX are remote. What we can say is Honda's reliability record for its more mundane vehicles and its high-performance superbikes is impeccable, and Honda has a reputation for reliability that is the envy of the motor industry. Look at pretty much any reliability or customer satisfaction survey going, and you can bet Honda is on or near the top of the list.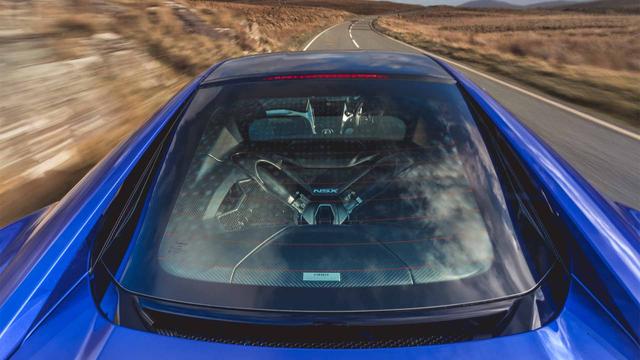 Safety for a Honda NSX
Cars as exotic as the NSX aren't usually crash tested by Euro NCAP, but Honda claims the NSX delivers ultra-high chassis rigidity, and the use of light materials including aluminium and carbon fibre reduces mass and maximises collision performance. The NSX is also equipped with front and side airbags, and a driver knee airbag. There's also automatic collision notification, but many safety features you find on a typical family hatchback – like blind-spot monitoring, adaptive cruise control or low speed autonomous braking – aren't available.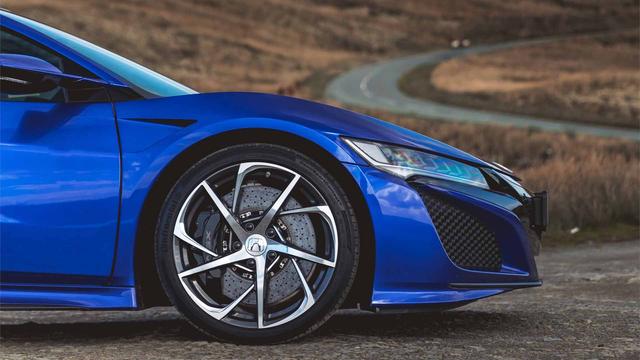 How comfortable is the Honda NSX
Although we're currently waiting on the new version the Porsche 911 Turbo has always been the benchmark in this sector for combining supercar performance with daily practicality. The NSX can't match the 2+2 cabin of the Porsche and is closer in size spirit to the Audi R8, which also flits between usable and thrilling in the blink of an eye. No mistake though, the NSX is a cosy machine designed for maximum thrills rather than long-distance cruising with bags of kit. Pack light and enjoy the ride would be our advice. And enjoy it you most certainly will. Like many modern performance cars the NSX has a huge array of driving modes, controlled by a large dial in the centre console. In its more mellow settings it's a cinch to potter around in, with excellent visibility, light controls and the easygoing nature of any regular Honda. Sure, the ride is a little brittle around town and the brakes – combining regular discs with electric regeneration – take a little getting used to. Switching to the more hardcore settings is like pulling the pin on a grenade though, so dramatically does the NSX's character change. It remains easy and undemanding to drive but the sheer relentless response of the acceleration will have your eyes on stalks, the speed of the steering making it feel super agile through the turns while the sophisticated all-wheel drive system delivers confidence inspiring traction. The NSX's real trick – and one missed by some rivals – is making this kind of performance easy to enjoy without forgetting to make it exciting too.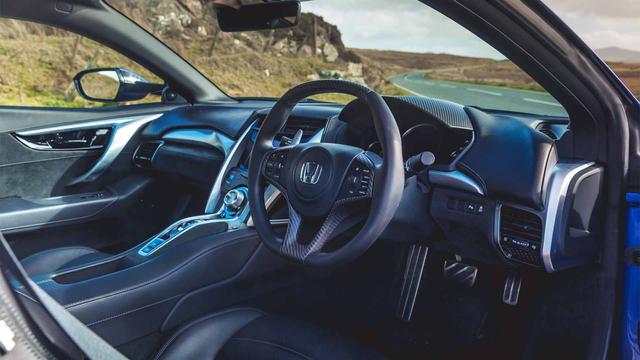 Features of the Honda NSX
Aside from the incredible engineering beneath it equipment is not particularly generous, but does include LED headlights, heated mirrors, adaptive suspension dampers, keyless ignition and entry, dual-zone climate control, leather and Alcantara upholstery, heated seats, a 7-inch touch-screen, and Apple CarPlay and Android Auto smartphone integration. The NSX's options include things like sat-nav, parking sensors, and an upgraded sound system. You can also choose to add powered full leather seats, an Alcantara headliner, carbon-ceramic brakes, upgraded optimised tyres, metallic paint, and various carbon-fibre bits and pieces for the roof panel, engine cover and rear spoiler.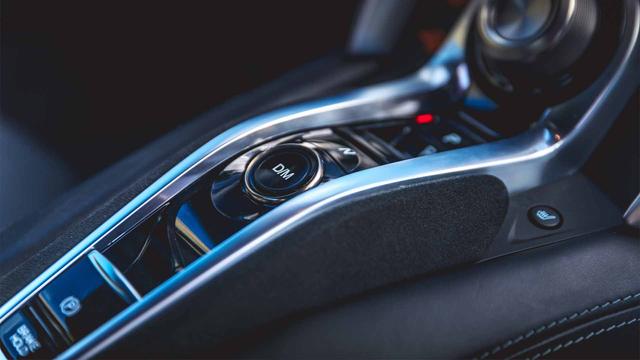 Power for a Honda NSX
The NSX's incredible performance is comes from its combination of three electric motors and a turbocharged V6 petrol engine, two of the motors powering the front wheels while the petrol engine and third one drive the rears. As such it's not a true four-wheel drive car, the front motors helping traction off the line and providing stabilising force through the corners. At trundling speeds in town you might be able to eke short periods of electric-only driving too, but it's all too easy to wake the rest of the powertrain up and the NSX makes it clear the hybrid element is about increase performance rather than any pretence of eco friendliness. Progressing through the driver modes increases the presence – and sound – from the petrol engine too and in its most aggressive setting it's as exciting as any conventional supercar motor, the growls and hisses from behind you all adding to the experience.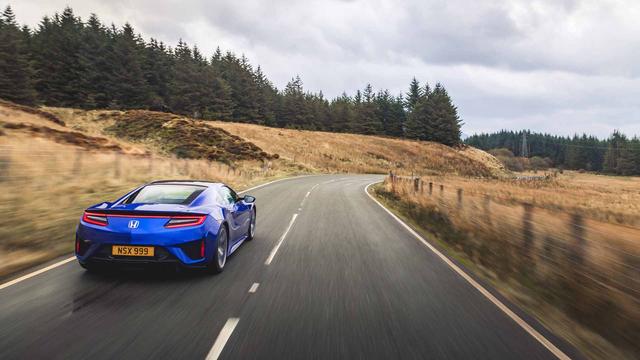 Honda NSX Coupe (2016 - ) review
A Honda NSX remains a leftfield choice against more established sports car brands like Porsche, Audi, Mercedes-AMG, McLaren or Aston Martin but the hybrid tech puts it in a league of its own at this price