Used Audi A4 Allroad
With 113 used Audi A4 Allroad cars available on Auto Trader, we have the largest range of cars for sale across the UK.
Used Audi A4 Allroad cars available to reserve
Used Audi A4 Allroad cars in stock
Is the Audi A4 Allroad a good car?
Read our expert review

Words by: Pete Tullin

Additional words by: Andy Pringle
"The allroad is an exceptionally refined and comfortable motor, with a gem of an engine range that produces strong performance and excellent efficiency. It also provides estate-car versatility, an immaculately tailored cabin and a superb four-wheel-drive system. In short, the allroad is jack-of-all-trades and master of most."
Read the review by category
How good does it look?
The compact executive estate segment is a notoriously conservative, so the allroad could be just the job if you're looking to stand out from the usual crowd. Despite its 34mm increased ride height over the standard A4 Avant – that's roughly the width of a packet of 10 Woodbines – under-body guards and chunkier tyres, you could be forgiven for thinking the allroad is more of a styling exercise than a proper mud-plugger. We have some sympathy with that view, as under normal circumstances, it's debatable whether the allroad will offer much advantage. In other words, will it be any more adept at getting you off a snowy driveway than a normal Quattro wagon? Probably not. Replete with vertical grille slats (usually the preserve of Audi's SUVs), matt black wheelarch cladding, gaping front air intakes and satin-finished roof rails, that – along with its additional stature – will, if nothing else, make it easy to spot amongst the plethora of BMs and Mercs in the corporate car park.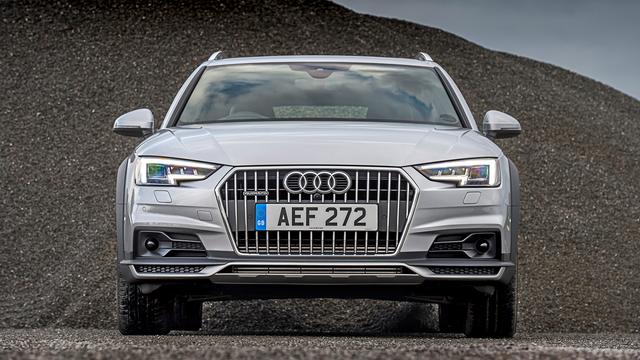 What's the interior like?
Audi is renowned for its high-quality interiors and crafted driving environment, and the allroad is no exception. The clean, elegant dash design is similar to that of the high-end A8 luxury saloon, and includes the fixed infotainment screen that sits above the centre console, which is neatly integrated with a magnesium frame and high-definition display. As an option, you can have the 12.3-inch 'virtual cockpit' display that replaces the analogue dials, with a fixed screen in the centre console. It looks great and displays a lot of useful information at a glance. What's more, every detail, from the toggle switches on the standard climate control to the lights in the headlining are beautifully engineered, while the overall fit and finish is incredibly precise, and there are no cheap or flimsy pieces of trim to let the side down. All-round visibility is even better than in the A4 saloon, thanks to the higher roofline and wider rear window, and finding a comfortable driving position is really easy, with loads of adjustment for both the driver's seat and steering wheel. That said, it's likely those with a nagging back condition won't be particularly impressed by off-set pedal box.
How practical is it?
This is another area where the allroad delivers. It feels spacious up front, and those in the back are treated to a decent amount of legroom. Headroom in the back is a step up from the A4 saloon, with an extra few millimetres ensuring that even six-foot passengers have space to spare. The high transmission tunnel does eat into the amount of foot space, however, so three adults might feel a tad pinched across the back seat. The boot is a good size, too, with 505 litres available with the seats up, while split/folding rear seats are also standard, making it easy to carry long or awkwardly shaped items of luggage. Fold the seats down via the natty plastic levers in the boot, and the load bay increases - leaving 1,510 litres to fill - but the seats don't fold totally flat. That puts the allroad on a par with most of its premium rivals, but if practicality is your chief concern, then roomier options like the Volkswagen Passat Estate or the Skoda Superb Estate comfortably swallow more luggage, and for a significantly lower price.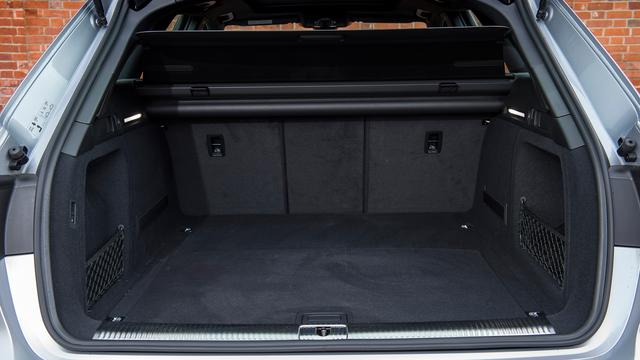 What's it like to drive?
The allroad's chunky-walled tyres go a long way to taking the sting out of the crazy paving surfaces that have become the norm in our towns and cities, but it's also the additional freedom in the adaptive comfort suspension that makes the allroad more comfortable than the standard A4 Avant. Vertical float is tangibly increased, allowing the body to breathe with a smoothness similar to many of the world's finest luxury cars. It's actually so dramatically different, if we didn't know better, we'd swear the allroad was underpinned by sophisticated air suspension, rather than its common-or-garden steel springs. None of this emphasis on comfort appears to affect the allroad's handling prowess unduly, either. True, there's no arguing with physics, and the additional ride height raises the allroad's centre of gravity above that of the standard Avant; but, despite this, things remains relatively flat, and with prodigious grip to lean on, the allroad feels unflustered and reassuringly secure when pushing on through fast sweeping bends. If there is a fly in the ointment, then it's the allroad's steering. Although the feather-weighting at low speeds helps you to tool around town with minimal effort, once above 30mph or so, the speed-sensitive system ramps up the weighting to such an extent that it feels like someone has strapped a bag of King Edwards to the base of the flat-bottom steering wheel.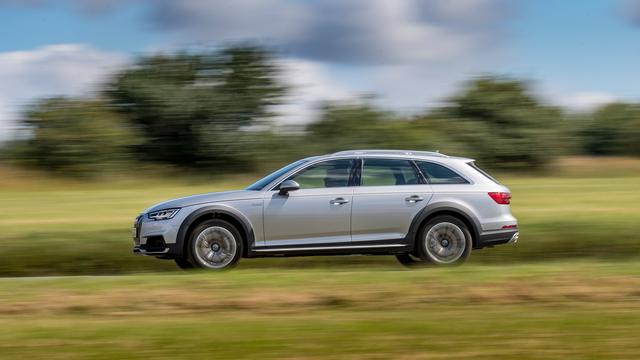 How powerful is it?
No matter which engine you choose, you won't be disappointed as they're all absolute pearlers. The 187bhp 2.0-litre diesel , which is smooth, punchy and brilliantly refined, is very tempting and offers bags of performance: a 0-62mph sprint time of 7.8 seconds will shame many a warm hatch, and without too big a penalty in economy or emissions. Unsurprisingly, the 3.0-litre V6 diesel delivers an even greater dose of low- and mid-range urge, shaving a full second off the 2.0-litre engine's 0-62mph time. However, perversely, given its multi-cylinder layout, it isn't demonstrably smoother or quieter than the smaller four-cylinder motor. For us, though, the 249bhp 2.0-litre TFSI engine is the real star of the range. Smooth and hushed at lower revs, it occasionally feels just a smidgen short of mid-range torque compared to its diesel counterparts, but once the revs soar and the exhaust content steps up a notch, it punches strong and hard, delivering exhilarating performance. Perhaps the biggest compliment we can pay Audi's ultra Quattro drivetrain (which comes only with the 2.0-litre petrol engine) is that it is near-imperceptible in action. Whether it's shuffling power between the front wheels, to all four wheels when maximising performance, or disconnecting to reduce drag and boost economy, it operates in a hushed, seamless fashion with none of the audible clunks or vibration that afflict some less accomplished active drivelines.
How much will it cost me?
With so much flexibility, power and refinement from the engine range, you'd have thought something would have to give, but the allroad is up there with the best when it comes to economy and CO2 emissions. Choose the 2.0-litre diesel and its claimed 56.5mpg means emissions are pegged at 132g/km, but the big story belongs to the V6 TDI, which only raises the output by 5g/km, meaning there is only a tiny tax penalty for the extra poke. Even the petrol engine does a decent job, as it manages 44.1mpg and 147g/km, although these figures do jump up if you add the larger alloy wheels. In terms of pricing, the allroad carries a £1100 premium over an SE Quattro Avant's list price, but its relative exclusivity means it may well have stronger residual values than the standard Avant. Servicing and other running costs should be similar.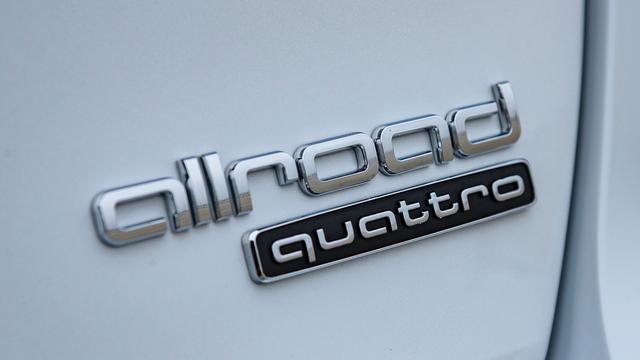 How reliable is it?
Surprisingly for a marque with such a sturdy image, Audi has never done particularly well in customer satisfaction or owner reliability surveys. Buyers often complain about the number and cost of the repairs required to their cars, and as a result the brand now sits well down the manufacturer rankings in the Warranty Direct reliability index. Mercedes and BMW both perform better, and the previous A4 Avant (which the allroad is based on) put in an equally poor showing, with issues with the electrics and engine trouble causing the biggest complaints from buyers. Hopefully with an all-new chassis, overhauled engine range and much higher-quality interior, Audi can improve its patchy record. At the moment, though, it's far too early to know if this model will buck the current trend, but it does at least come with a standard three-year, 60,000-mile warranty.
How safe is it?
The A4 Avant, which the allroad is based on, has not been crash-tested by Euro NCAP, but the saloon earned a maximum five-star rating, so the allroad should hold up just as well in an accident. It comes reasonably well equipped as standard, with all the usual boxes ticked when it comes to keeping you and your passengers safe. That means you get six airbags and ABS, as well as traction- and stability control. For even more security, there are also cruise control, reversing sensors to help you park, and a pop-up bonnet to protect pedestrians. There's also a system that'll brake for you at low speeds to prevent a crash around town. If you want to splash out on the full suite of features, then there is a huge number of active systems, too. These include adaptive cruise control and a lane assist system that is so advanced the A4 can almost drive itself. Traffic sign recognition, cross-traffic assist and a head-up display are all available to those with deep enough pockets.
How much equipment do I get?
Refreshingly, there are only two spec levels to choose from in the allroad, which is a welcome change from the maze of convoluted trims offered by many rival manufacturers. For the most part, the standard specification provides all you really need, with 17-inch alloys, three-zone electronic climate control, xenon headlights with LED DRLs and Audi's Smartphone Interface (which supports Apple Carplay and Android Auto). A power-operated tailgate and electric load cover, cruise control with freewheeling function and speed limiter, are also included, as is Audi's brilliant MMI system, which gives you access to the vehicle's infotainment systems. An off-road detection system, which adjusts the ESP automatically, is bespoke to the allroad, as is the additional off-road mode that's found in the i-drive select, which lets you tailor the chassis set-up to your preference. Sport trim level beefs up the alloys and adds rear LED lights with dynamic indicators and a LED interior lighting package, along with additional interior niceties, such as ports seats with twin-leather upholstery, an upgraded Audi Sound System and privacy glass.
Why buy?
You could argue until the cows come home whether the allroad is worth the premium over the standard Quattro Avant, especially as the Avant is a fantastic car in its own right. It largely depends on how much emphasis you place on comfort over engagement, as the allroad is clearly the cushier option, although it does loose a smidgen of control as a consequence. However, the allroad is the first Audi to get the company's latest, more efficient drivetrain, so for now at least, it will be more affordable to run. What's more, the allroad will only sell in relatively small numbers – Audi estimates no more than 850 per year – so, along with its individual looks (love-em or hate-em) it will lend a certain exclusivity to your driveway. If it was our money, we'd take the allroad in a heartbeat.

Good points
nice to drive
Bad points
smaller boot than we should have bought larger.
CAROLYN
Published 2017-11-10
Good points
Car based 4x4 (not a bulky SUV) Super smooth...
Bad points
Fuel consumption - 23mpg round town Jukebox...
ADRIAN
Published 2014-09-26
Good points
Acceleration for a 4 wheel-drive plus the looks...
Bad points
Nothing bad - just preference of the driver.
Audi A4 Allroad Estate (2016 - ) review
In a sector obsessed with stylistic conservatism, the A4 allroad is a bit of a leftfield option. Offering muscular performance and a great blend of comfort, control and versatility, it's certainly an option worth exploring