Mercedes-Benz EQC SUV
New from £64,950
How long will it take to charge?
Results based on 88.00kWh Mercedes-Benz EQC battery
0

For a part charge (up to 0 miles)

0

For an 0% charge 0
You can charge this vehicle in 45 minutes at its fastest charging speed of 120 kW
* We have used data from the manufacturer to estimate these charging times, they are only a guide. Charging times for some speeds may not have been provided.
Is the Mercedes-Benz EQC SUV a good car?
Read our expert review

Words by: Auto Trader
"The Mercedes-Benz EQC is competitively priced compared with rivals from Audi, Jaguar and Tesla, although it's still expensive compared to conventional SUVs of a similar size. Nonetheless, the electric powertrain gives it stunning performance, low running costs and a quiet and comfortable driving experience."
Read the review by category
Running costs for a Mercedes-Benz EQC
Like all electric cars, the EQC is cheap to run when compared with a petrol or diesel equivalent, although how much cheaper it is will depend on where you charge it up. As standard, that's quite flexible, allowing owners to use slower AC chargers when necessary, the optional Mercedes-Benz home charger for quicker charging at home or faster-again DC chargers on the public network, where available. Officially – and this depends on the precise specification of the car bought – the EQC can travel up to about 260 miles on a full charge. Priced on a par with other five-seat electric SUVs from premium brands (i.e. it's expensive to buy), the EQC is expected to retain its value well, reducing the cost of depreciation and making it good value to buy using PCP finance, for example. The 'Mercedes me charge' package is free for three years, simplifying charging up across the UK and Europe.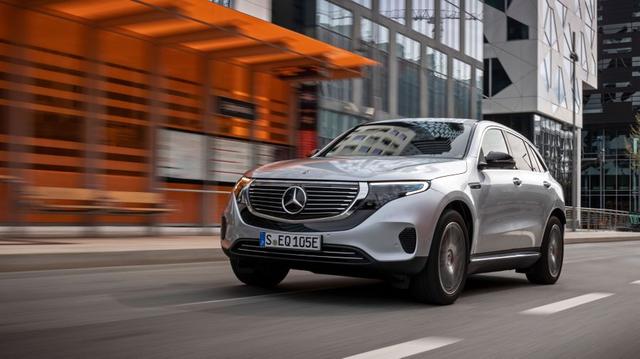 Reliability of a Mercedes-Benz EQC
As Mercedes-Benz's first mass-produced electric car, there's no reliability data as yet. The good news is that electric cars have fewer moving parts than petrol or diesel cars, even if they're still immensely complex pieces of machinery. Mercedes has had a decent reputation for reliability in recent years, although it only finished 19th out of 24 manufacturers in the 2019 J.D. Power UK Vehicle Dependability Study. Still, that's better than Audi, BMW, Jaguar and Land Rover could manage. As with other Mercedes models, the EQC comes with a three-year unlimited mileage warranty for mechanical or manufacturing issues and up to 30 years for corrosion. On top of that, the EQC's battery has an eight-year, 100,000-mile warranty.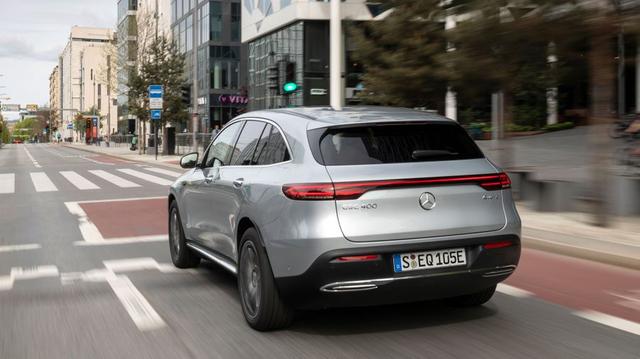 Safety for a Mercedes-Benz EQC
The standard Mercedes EQC is a very safe vehicle, as proved by its impressive five-star rating in Euro NCAP tests. Even so, it's still a little disappointing that the most advanced active safety systems are not included as standard. It does come with useful blind spot monitoring and parking assistance systems, but buyers need to pay more for the Driving Assistance Package Plus. This features a host of potentially life-saving active functions that work with and without the active cruise control to warn the driver and/or brake and steer the EQC in emergency situations to help avoid a collision. It's money well spent.
How comfortable is the Mercedes-Benz EQC
The Mercedes EQC is practical, if not quite as capacious as Mercedes-Benz's similarly priced SUVs, or some of its key rivals. With a slinky shape designed to slip through the air efficiently and a comparatively high floor to accommodate its electric powertrain, it's perhaps no surprise that the EQC feels a bit compromised, with rather small door openings and a high boot floor. It still provides plenty of space for four tall adults and lots of luggage, however. While the amount of space in the cabin might not wow you, the design probably will. It's all very swish and suitably futuristic, and is dominated by an all-digital dashboard that's highly customisable and works well with the touch-sensitive thumbpads on the steering wheel. Mercedes has given the EQC a few unique bits and bobs that mark it out as one of its EV models, such as the slatted door trim detailing and copper-coloured vents, yet it covers the basics, with excellent visibility and seat adjustability. Comfort and refinement are the words that spring to mind when describing the way the EQC drives. With an electric motor on each axle, there's four-wheel drive, so the EQC feels sure-footed no matter what the road conditions. It's very quiet, thanks to the smooth electric motor and transmission, and has a very good turning circle that makes it particularly easy to park. Overall, the EQC sits between the sportier handling of the Jaguar I-Pace and the more luxury-oriented Audi E-Tron, offering a good compromise.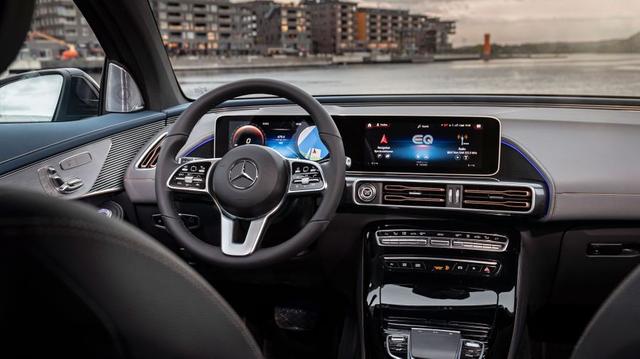 Features of the Mercedes-Benz EQC
Mercedes-Benz offers quite a few versions of the EQC, all using the same electric motors and battery pack. Each one is very well equipped – even the entry-level model comes with LED headlights, an active parking system with rear camera, heated front seats, artificial leather upholstery, sat-nav and the large touchscreen infotainment system. Above that are trim levels based on the sportier looks of the AMG Line model, which all, at a minimum, get an AMG makeover outside and in, including leather upholstery and 20-inch alloy wheels. Higher-spec cars additionally feature an electric sliding roof, an upgraded sound system, smartphone integration and wireless charging, while the top-spec model adds head-up display, memory seats and an even more advanced parking package.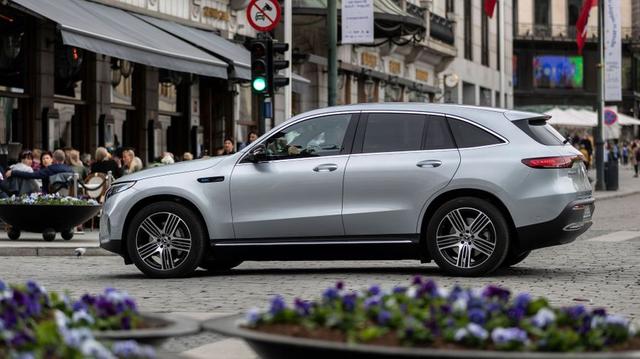 Power for a Mercedes-Benz EQC
Despite the EQC's weight, its two electric motors give it remarkable acceleration, especially from a standstill. That's thanks to the fact that electric motors always deliver maximum pulling power from the first instant they start to turn. When they're both delivering full power in the EQC, there's just over 400 horsepower on tap. The result is that, like its electric SUV rivals, the EQC accelerates away from standstill as quick as many high-performance sports cars. The effect is amplified by the absence of engine noise and the seamless power delivery, making the EQC rather good fun to drive. The electric motors are very quiet in operation and the driver can choose between various modes of operation to prioritise response or range between charges. Paddles behind the steering wheel allow you to adjust how much energy is recuperated during braking.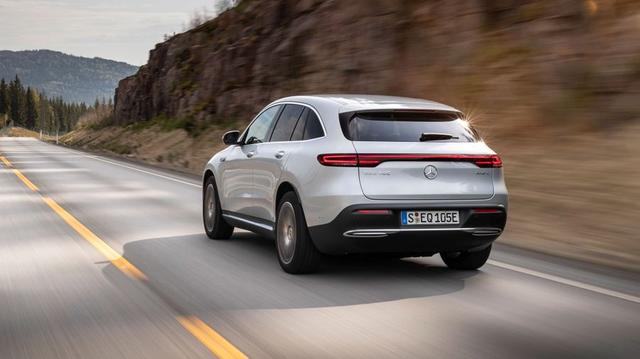 Standard equipment
Expect the following equipment on your Mercedes-Benz EQC SUV. This may vary between trim levels.
Related articles and reviews
Mercedes-Benz EQC SUV (2019 - ) review
The Mercedes EQC is an electric, five-seat SUV that's a rival for the Audi e-tron and Jaguar I-Pace. Our expert review gives you the full lowdown on Mercedes-Benz's first bespoke EV.