DS AUTOMOBILES DS 9 Saloon
New from £41,250 / £478 p/m
Overview
Petrol or petrol plug-in hybrid
Is the DS AUTOMOBILES DS 9 Saloon a good car?
Read our expert review

Words by: Erin Baker
"The DS 9 is a new executive saloon from DS, the luxury French brand that has evolved from a fancy trim level for Citroëns and into a brand in its own right. The DS 9 is launched in pure petrol and plug-in hybrid versions, and follows the DS 7 SUV and DS 3 Crossback. The E-Tense badge denotes plug-in hybrid versions of all DS cars."
Read the review by category
Running costs for a DS AUTOMOBILES DS 9
The DS 9 benchmarks against mid-size premium saloons such as the BMW 5 Series, Jaguar XF and Lexus ES. That means a starting price around the £40,000 mark, which isn't cheap. Many may scoff at the idea of paying so much for a French saloon, without the premium badge legacy of, say, Mercedes-Benz or Audi. However, DS is aware of the uphill battle it faces, and so has filled its base cars with a generous level of comfort features and space. Furthermore, go for the plug-in hybrid version (E-Tense), and you could find yourself doing the majority of your weekly journeys on electric power alone, topping it up on a charge at a cheap off-peak tariff overnight at home. That's unless you do a lot of motorway work, which eats charge in the blink of an eye. The E-Tense version also makes sense for fleet drivers given it carries a Benefit In Kind rate of 11 per cent (the petrol version attracts a 35 per cent rate), an official fuel consumption figure of 177mpg and 33g/km of CO2, keeping ownership costs down. There's also an E-Save button, which reserves battery charge for zero-emissions driving in city centres, thus ducking any emissions-based charges that may apply or be on the horizon where you live. Best of all there's now an owner's app which gives you access to all the DS models on a subscription basis. This means if you fancy an SUV or hatch for the weekend you can have one.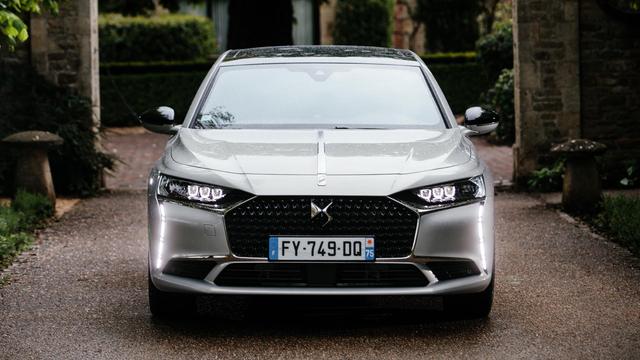 Reliability of a DS AUTOMOBILES DS 9
You can no longer assume that because a car is French, its build quality is bad and therefore reliability will suffer. Indeed, the French brands are starting to rank higher than their German counterparts in many owners' reliability surveys and indexes, and we'd feel comfortable in buying a Citroën, Peugeot or DS now. The DS 9 shares its underpinnings with the Peugeot 508 which has been around for a while now, with favourable owner reports. Oddly, then, you'd be better off looking at reliability scores for Peugeot to find out about the DS, rather than Citroën, which it was once part of. And which fares worse than Peugeot in most tables. The warranty is the industry-average three-year/60,000-mile job.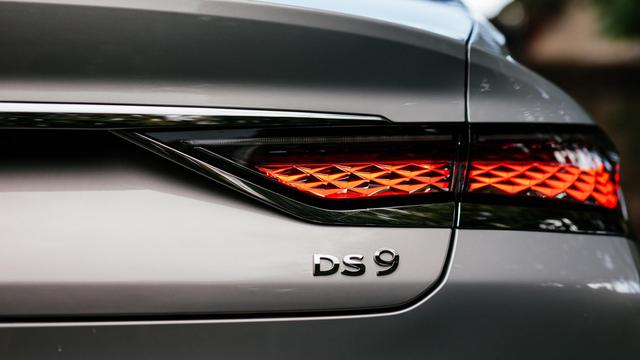 Safety for a DS AUTOMOBILES DS 9
There's some good stuff on the DS 9 that you don't see on other cars, or at least rarely as a standard feature The DS Active Scan Suspension uses a roof-mounted camera and sensors to scan the road ahead for bumps and broken surfaces. The data transfers to the computer controlling the wheels, which moves them independently to improve traction with the road. A four-wheel drive version is due soon after launch, which will provide even more traction in slippery conditions. DS Safety is the umbrella package incorporating night vision (infra-red cameras spot pedestrians, cyclists and animals up to 100 metres ahead in the dark), attention monitoring which sounds a little alarm if it senses from your eye movements that you're tired, blind spot monitoring and automatic emergency braking. The Drive Assist uses adaptive cruise control in line with a lane-keep assist function that takes over the steering if it feels you're drifting outside the lane, to effectively provide semi-autonomous driving. Park Pilot is, meanwhile, an automated parking assistant that detects a parking space at up to 20mph and will reverse or parallel park the car.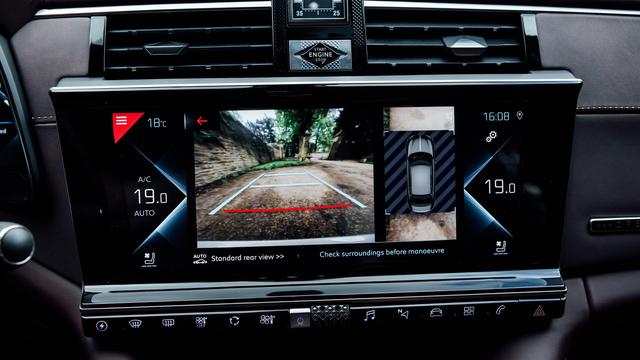 How comfortable is the DS AUTOMOBILES DS 9
You cannot fault the DS 9 for comfort. There is tons of rear space for long legs, the seats are supportive and wide, and, best of all, the DS 9 is supremely quiet and smooth at speed. You cannot hear or feel a thing and is far more akin to a luxury saloon like a BMW 7 Series or Audi A8 in this respect, and a level better than others in its class. If comfort is what counts, this is your car. We also love the watch-strap design on the Nappa leather seats on the higher of the two trim levels. To offer a sense of Paris after dark you can choose dark red or black leather and there is pearl stitching on the doors, which requires a degree of craftsmanship. Little touches include lighting the space behind the central pull-down arm rest in the middle of the rear seats. The front seats are heated as standard and you can have them ventilated front and rear, with a massage function, on the top Rivoli+ trim level.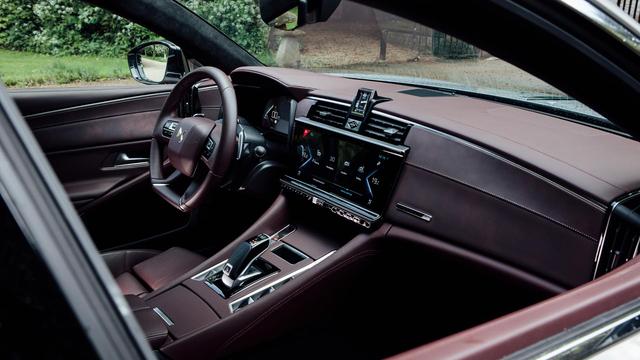 Features of the DS AUTOMOBILES DS 9
Sadly for DS it is still lumbered with the dreadful sat-nav system used across the Peugeot, Citroën and Fiat brands. The graphics are several years behind everyone else, functionality isn't remotely user-friendly and none of it looks pretty. Less said about it the better - plug your phone in and use Google Maps or you're the navigation app of your choice would be our recommendation. We're also not huge fans of the repeating diamond motif that's used on the digital displays and buttons, but that's a matter of taste. You do, however, get wireless charging, a large touchscreen and cute analogue clock that revolves out of the dashboard when you start the car. A shame the starter button is so plasticky, though.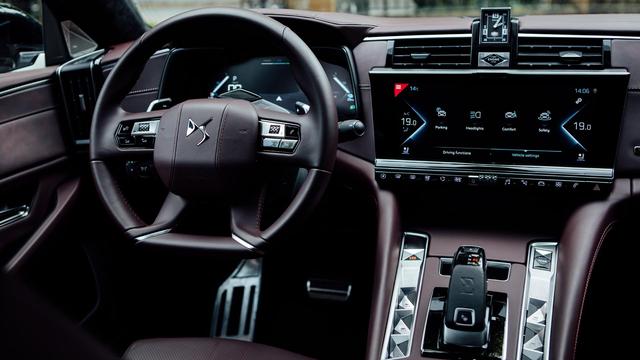 Power for a DS AUTOMOBILES DS 9
Both the petrol engine and E-Tense plug-in hybrid work well in the DS 9. While the E-Tense makes most sense for company drivers, it's also a very pleasant experience to drive around in electric silence for up to 33 miles on one charge for everyday journeys, though hard driving can push the range below two-thirds of that. A charge takes just under two hours because it isn't a huge battery as you'd find on a pure electric car. The ride, in true French style, is wonderfully wafty but also magically supportive, with delicate, precise steering for such a big car.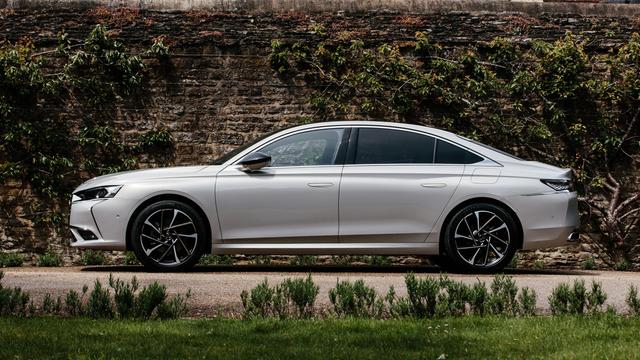 Lease deals
These deals are based on terms of 8,000 miles, for a 36 month lease with a 6 months initial payment.
Standard equipment
Expect the following equipment on your DS AUTOMOBILES DS 9 Saloon. This may vary between trim levels.
Related articles and reviews