Long Term Review
Living with a… Honda CB125R (Final Report)
Everyone's biking story has to start somewhere, as one of our team is finding out with Honda's slick-looking CB125R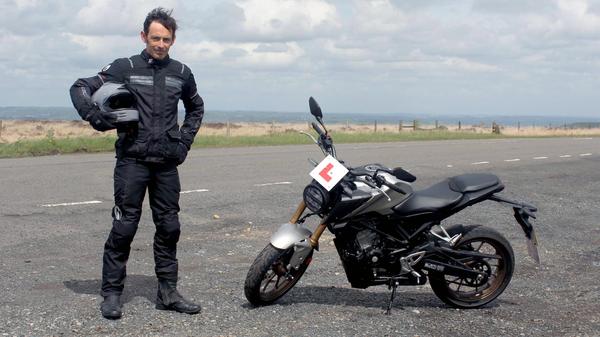 Words by: Dan Trent
Published on 27 July 2023 | 0 min read
As we all know, a bike licence isn't something you can just do overnight and there's a path to be followed before the two-wheeled world is revealed in all its glory.
Check out our dedicated new rider tips for more on the process
but with your Compulsory Basic Training (CBT) in the bag and eyes on the prize of a full licence the next usual step is a 125cc bike, which you can ride from age 17 on an A1 licence as you build experience for a 'big' bike and your full A2 or A licence. Traditionally a 125 was a test of endurance, your choices mainly limited to scooters or budget models like the Honda CB125F. That's changed in recent years, a new generation of models boasting the style and attitude of big bikes but with rookie-friendly power outputs and more accessible pricing.
Which brings us to this,
the CB125R
. Built to Honda's 'Neo Sports Café' ethos it looks every inch the baby brother to performance 'naked' bikes like the CB1000F or CB650R, with the same modern vibe, slick Showa upside down forks and modern features like LCD instruments, LED lights, ABS and more. With a bike like this you can finally ride a 125 with pride as you learn the skills for the next step of your motorcycling adventure. That's the theory, at least. Over to our in-house biking newbie to see how it works in reality and whether a CB125R really can get him on the road in the promised style. Skip to:
Month 1 – Earning your spurs
Month 2 – In at the deep end
Month 3 – It's all great in theory
Month 4 – Big bike conversion
Month 5 – Go big or go home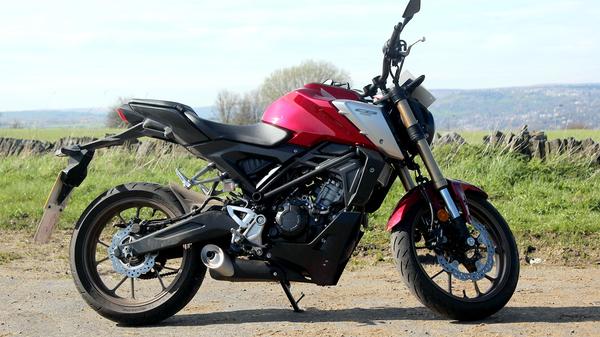 What is it?
Model: Honda CB125R
Options fitted: L-plates!
We like
Looks like a baby CB1000R
Big-bike features
Easy to ride
We don't like
The weather
Needs winding up for its best
Getting left behind by friends on big bikes
Month 1 – Earning your spurs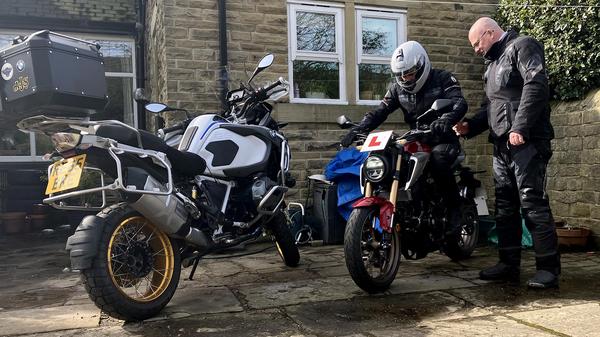 The mid-life crisis, born-again biker stereotype is inescapable for a 40-something newbie to motorcycling like me. They say it's never too late to try something new, though, and in that spirit I am now (hopefully) on the path my full licence. A full 30 years after passing my car test, and a career on four wheels as a reviewer and roadtester.
Which is how I came to accept SEAT's offer to put me through my
CBT
so I could test out its
MÓ electric scooter
, itself a rebranded
Silence SO1
. That got me out on the road and proved an enlightening experience but, best will in the world, an electric scooter wasn't really living the dream. Somewhat arrogantly I then wondered how hard it could be swapping from a single-speed, all automatic electric scooter to a proper baby bike like the CB125R. Judging by the look on the face of the guy from Honda who dropped it off perhaps more difficult than I'd bargained for. When I told him I'd never ridden a geared bike before he looked from me to the pristine Honda he'd just unloaded with a look of weary resignation and left me to it. Given this all took place in the midst of a blizzard all I could do was wheel it round to the back of the house, throw a tarpaulin over it and wait for the weather to improve. While that happened I watched a few videos, called some biking mates for advice and then did the sensible thing and contacted a responsible grown-up to help. Step up good friend Reg Local, an ex-traffic cop who now works as an advanced instructor on four wheels and two, and publishes superb videos on advanced driving and riding skills
on his YouTube channel
. Two days later Reg appeared on his gigantic BMW GS, the CB125R looking comedically tiny in comparison. The service road round the back of my house offered just enough space to learn the very basics of clutch control, Reg schooling me in pulling away, stopping, hill starts and even a simulated give way junction. This all felt a big step-up from the twist'n'go electric scooter, and quite a lot to get my head round. From there we went to a nearby residential street, where I could go up a few gears, repeat a short loop with a couple of junctions and generally relax into it. To start with I was all over the place, my feet still learning the placement of the gear selector and rear brake, revs rising in all the wrong places and my indicators flashing this way and that. But it was all coming together, and before I knew it, we were out on the road proper, the reassuring sight of Reg and his GS filling my mirrors as we rode up onto the nearby moors. While the sight of a late-40s man on a little bike with L-plates is hardly living the rebellious dream I didn't care. The CB125R looks like a proper bike, and to me it damned well feels like one as well! A lifelong cyclist, I've got the two-wheeled instincts and road sense hard-wired into me, so the shoulder checks and all the rest come naturally. And as a driver I understand gears, clutch biting points and all the rest. Putting it all together in a totally different sequence is a bigger challenge than I'd cockily assumed, though, so I'm appreciating the Honda's rookie-friendly features like ABS and a gear indicator on the LCD screen for when I lose count of how many times I've worked the shifter. With an informal sign-off from Reg, some borrowed clobber from a thankfully similarly sized mate and a burning sense of ambition I'm now all systems go, and ready to rack some miles. At this stage in my biking career I can think of no cooler machine to be doing it on than this little Honda!
Back to top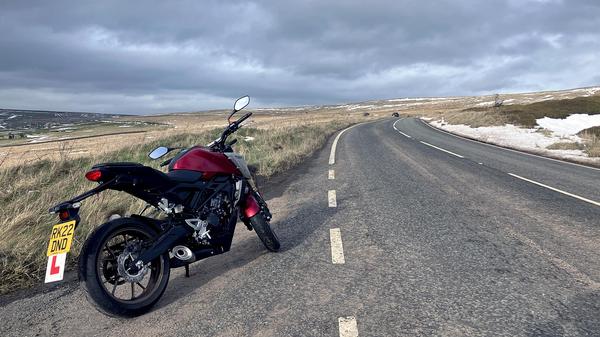 Month 2- In at the deep end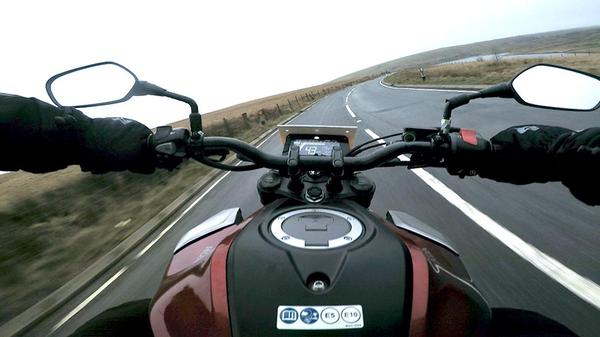 It's been a steep learning curve on the little Honda already, the month since my last update including my first ride to and from the office AND attending my first bike meet. On my L-plates.
Thankfully neither was as an intimidating experience as I'd feared! First, the commute. It's only 30-odd miles to Auto Trader towers in central Manchester, but for a learner on a 125 there are two major obstacles to overcome. First being my usual route in the car is over the tops on the M62, which is obviously a no-go on L-plates. I still need to get over Saddleworth Moor somehow, though. At weekends the roads across it are popular with bikers enjoying the big views and well-sighted twists and turns but it's a bit different for a rookie rider in the early morning gloom. Still, anything is better than the M62 and, when the fog does lift, it's an opportunity to get a feel for the bike at higher speeds than you get riding round town. I get a bit of that for the final run down into central Manchester as well, this being a chance to test my skills filtering through traffic. As a keen cyclist I'm pretty comfortable with this, and low-speed manoeuvring on two wheels comes naturally enough. The 360-degree vision, concentration and forward planning are all transferrable skills as well. But even a 125 feels a bit of a lump compared with a bicycle, and factoring in gear changes, clutch control and other complications means I arrive at my desk more wired than if I'd downed two espressos. Suffice to say, the commute packs a lot into a relatively short distance so with a few of those under my belt I'm confident it'll equip me with the skills I need for the full test. Commuting sussed it was then time for my first bike meet, this being a very hipster gathering at a local pub organised by trendy flat-track magazine Sideburn. My little Honda did rather stand out among the straight-piped Harleys and tastefully customised retro rides brought by fellow attendees and parked next to the Triumph Speed Triple my pal Sim came on the CB125R looked tiny. Gaining some facial hair and tattoos looks just as important as ditching the L-plates as well, seemingly. But everyone was very nice, the little Honda got some respect and the general 'we all start somewhere' tone was very supportive. For all the many and various tribes I'd always heard the biking community was accepting of anyone on two wheels, and so it seemed. I also managed to depart at the end without stalling or – worse – dropping the bike so I'll consider that a successful first outing. So much for the practice, though. Before I go much further I need to address the theory test and get that squared away. More on that next time.
Back to top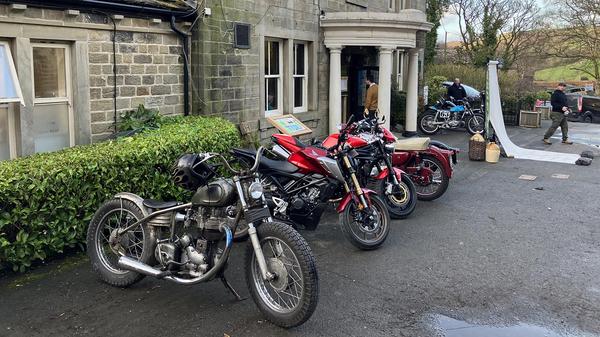 Month 3 – It's all great in theory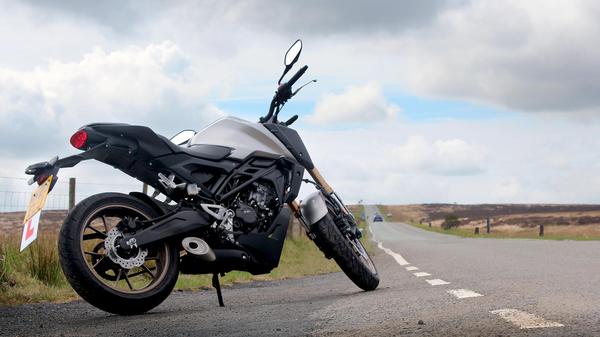 Having held a full car licence for 30 years it felt a bit weird signing up for a theory test and revisiting my learner days once again. I don't begrudge the process, to be fair, and it's no bad thing to have a refresher on all matters Highway Code and do the video-based hazard awareness test that wasn't around when I learned to drive.
In my arrogance I thought I'd just go online and try my hand at a few mock theory tests to see how good (or bad) I was. Needing a score of 43 out of 50 I was happy to see common sense and experience got me through most of the questions without too much stress, though a few of the motorcycle-specific questions and things like stopping distances exposed some gaps in my knowledge. The hazard awareness videos were actually trickier, on the basis you have to click the screen when you see what you think may be a developing hazard. But only within a time window dictated by programme. Without wishing to sound cocky I found myself clicking most of them long before that point, my years riding bicycles perhaps sharpening my observational instincts beyond that of your average learner driver. All well and good out in the real world, but it actually meant I failed the test on a few of my practice rounds. With my test booked I then spent a few long evenings virtually 'driving' around various pixelated English street scenes ready to click any time a car (usually a Suzuki Swift, seemingly) looked like it might back out of a driveway, a tractor pull out from a field or lorry perform an unexpected U-turn. On the day itself pretty much all of the above and more – including a car coming the wrong direction towards me up a one-way street – happened on the ride over to the test centre, which gave my nerves an additional jangle. Which I'll blame for my worst score I'd ever got in any of my practice goes at the video section, due to some panicked over-clicking. I just about scraped it, though. And with the certificate in the bag it's now time to look at my conversion course on a bigger bike, and then some training ahead of the two practical modules of the main test. More on this in due course. In the meantime I'm just enjoying getting out on the bike, which turns out to be a whole lot more pleasant now the weather is improving and the evenings are getting longer. I also had another ride out with pal Reg Local observing and offering commentary on basics like road position and cornering through an earpiece. Every rider I've spoken to has said how important this kind of training can be, and so it proves. It also helps reassure those around me concerned at my sudden enthusiasm for motorbikes that I'm riding with adult supervision at all times! Finally, the observant among you may have noticed 'my' CB125R has turned from red to silver. Nothing sinister (or embarrassing) to report there, just that Honda for some reason needed the red one back. With barely any miles on it the new one felt a bit tight and I kept missing upshifts by being a little timid on the shifter but my day out in the Dales trying to keep up with Reg on his BMW has seemingly blown the cobwebs out and it's ticking along very nicely. I'm already hungry for a bit more power, mind. Looks like I may have tipped into that slippery slope…
Back to top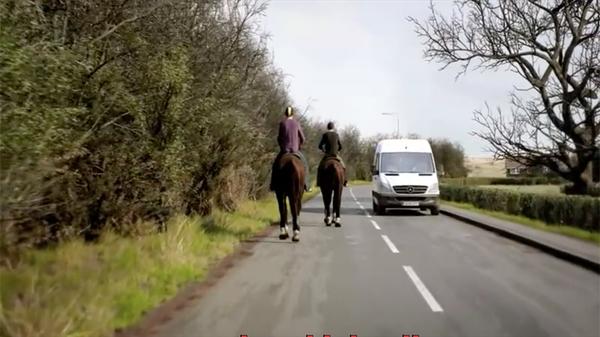 Month 4 – Big bike conversion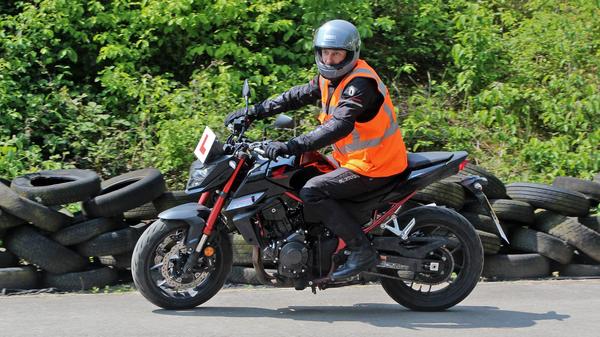 Having scraped my theory things have progressed rapidly, my 'conversion course' meaning my debut (supervised) ride on a big bike and preparation for the first part of the two-stage test required for my full licence. All of which feels a pretty steep learning curve from March, and my first wobbles onto the road under the watchful eye of my bike instructor pal Reg Local.
With the weather improving I'm learning some other lessons about motorcycling as well, namely that whatever combination of conditions and clothing you'll apparently never
quite
be the right temperature for the entirety of your ride. The commute is a good example, with the exposed bit over the moors chilly of a morning given the exposure and higher average speeds, but then getting a bit sweatier as I hit the slower urban roads on the way into Manchester. Given how sweaty you get at low speeds it also turns out that I should have removed the insulated liners from my borrowed Richa clothing before turning up at training school
Bumpy
in Leeds, the name inspired by their on-site trials course where riders of all ages can practice their rock-hopping skills. Nothing so adventurous for me, given my introduction to the rather intimidating looking Honda Hornet involved little more than low-speed weaving around cones. With a 750cc twin-cylinder engine and 92 horsepower against the 15 horsepower of my CB125R this was my first go on a more serious machine, though truth be told for the first hour or so I wasn't out of first gear and my first impression was of how the extra weight made the basic manoeuvring exercises that bit trickier. To put that into perspective at 190kg the Hornet weighs 60kg – or a pillion passenger – more than the 125, which makes quite a difference to the handling. I'll need to get more comfortable with that and better at the exercises to pass the Mod 1 part of the test, which takes place on a closed course and involves various manoeuvres like slaloms, figure of eights, emergency stops and the like. After a bit of low-speed wobbling I then got my first chance to ride the big bike on the road, myself and the other pupil supervised by instructor Martin. On the road I felt a lot more comfortable on the Hornet, though we took it pretty easy and, on Martin's advice, kept it in the 'Rain' mode for a slightly mellower response and maximum protection from the safety systems. It's credit to my little CB125R that the riding position and general vibe didn't feel as worlds apart as I expected, though even with a pretty tentative hand on the throttle it was clear I had a lot more to play with there. And when it came to riding home on the 125 it felt like I was having to pin it everywhere to make any progress whatsoever. With a mixture of nerves and excitement I'm now looking forward to a couple more training sessions and then the Mod 1 test itself. Much as I love the little Honda I fear after this first taste of a bigger one there won't be any going back.
Additional photography: Chris Waters/Bumpy
Back to top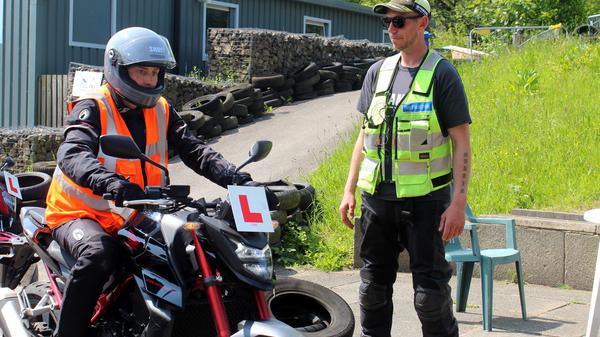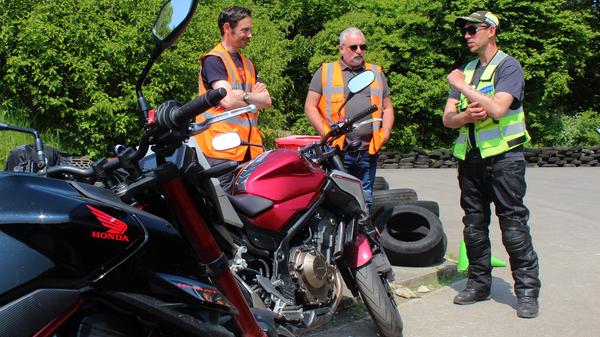 Month 5 – Go big or go home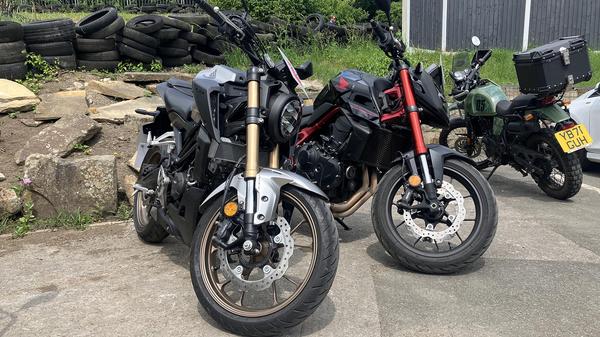 The CB125R does a decent job of acting the bigger bike than its learner-friendly credentials suggest. And if you're looking to ride on a
CBT
for a longer period to keep costs down, or build some experience before going for your full licence, it would be a great choice. I'll confess I'm not that patient, though, and after the conversion course and my first go on the 750cc Hornet I was itching to progress through the Module 1 and 2 tests.
But given I could only ride the Hornet while supervised by an instructor I still needed the 125 for racking up those all-important practice miles. Once again, my commute's combination of flowing, national speed limit moorland roads and filtering through busy city traffic proved just the job, the latter a great excuse to practise the all-important observation routines. In bike training circles these combine regular mirror checks with proper over-the-shoulder 'lifesavers' the Mod 2 examiner will expect to see before any change in road position. As a cyclist it's an instinct already drilled into me, though while the principles are the same the fact you're going faster on a motorbike (and have mirrors) means a specific sequence of checks has to be followed. After some training and practice runs on the closed examination course at the test centre it was time for the real thing. Some had said Mod 1 is more difficult, given the fact you do it on a controlled environment means nowhere to hide when carrying out the prescribed manoeuvres. These comprise the usual slaloms, figure-of-eights, turns in the road, emergency stops and avoidances but all have to be done with total precision, and the correct sequence of observations. Having practiced in the dry the fact it had just rained when I did the test meant I was a little cautious building speed for the emergency stop, the speed trap saying I was a fraction under the 30mph minimum you need to hit before grabbing the brakes. The examiner only scored it as a minor, though, so I got the all-important pass and certificate. While the consensus among fellow riders suggested Mod 2 was less stressful and should, in the words of instructor pal Reg Local, just be treated "like going for a ride with a mate" I'll confess I was way more nervous. Just like my car test almost exactly 30 years previously I did the only thing I could, bagging as many miles in as possible in the days before to keep the nerves at bay. And hope the fact instructor Andy was pretty quiet on the earpiece in our training sessions suggested I should trust my instincts. Filthy weather on the day itself didn't help, pools of standing water on the insides of roundabouts, soggy kit and rain all over my visor adding a level of discomfort to the stress. In my attempt to ride for the conditions I felt I was going so slowly I'd fail for being too cautious, the Hornet chuntering impatiently at my timidity and feeling twitchy in response to throttle and steering inputs. But with just three minors (one for fluffing a gear change when my wet boot slipped on the shifter, another for riding a fraction too close to parked cars and a final one for blocking someone's drive for the pulling away from the kerb exercise) the result was all that mattered, I had my ticket and it was time to bid an emotional farewell to the little Honda that got me through it. I'm hoping there will be plenty of bikes to follow it. But I reckon I'll always remember my first, and grateful I had such a cool little machine on which to earn my biking spurs.
Back to top