Advice
How to get on your bike in 5 steps with CBT
Longing to get on a bike and ride into the sunset? Here we tell you how to go from novice to the owner of your very own compulsory basic training (CBT) certificate.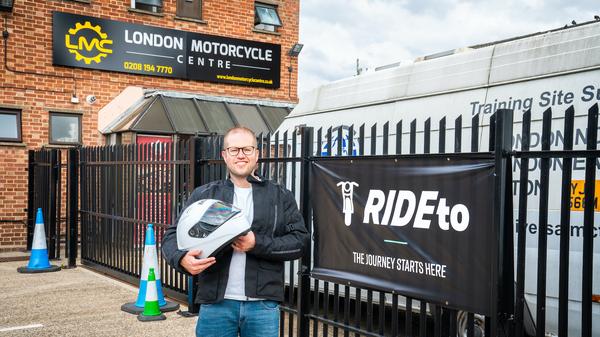 What's a CBT?
Compulsory basic training (CBT) is a course you need to take before you ride a moped or motorcycle on the road in the UK.
CBT courses are usually a day long, the training will allow you to make sure you can safely ride on your own.
What can I ride with CBT?
Once you've completed CBT, you can ride a:
moped if you're 16 or over
motorcycle up to 125cc and with a power output of up to 11kW if you're 17 or over
You'll need to use L plates (L or D plates in Wales) and if you don't pass your full moped or motorcycle test within 2 years after your CBT, or you have to either take CBT again or stop riding.
What licence will I need?
In order to do a CBT course you will need a provisional licence. You require this to sign up for a course and ride on the road whilst undergoing CBT training under the supervision of an instructor.
Booking your CBT
We recommend visiting the
RideTo
to book your CBT. RideTo is the UK's number one platform for motorcycle training, where you can find training centres all over the UK.
What gear will I need for my test?
In more normal times a lot of test centres allow you to hire the gear you need for your test. However due to COVID-19, you are now required to bring your own gear on your CBT training day. Although this might seem inconvenient - you will need to buy all your gear down the line anyway.
You'll be pleased to know you won't need to buy a bike before your CBT, this will still be loaned to you. You will need L plates but these should be provided by the CBT centre too. You will need:
A helmet
A jacket
Gloves
Boots
Where can I buy motorbike clothing and accessories?
If you want to buy these quickly and easily, we would recommend buying them online from
SuperBike Factory
. They are the UK's largest used motorbike retailer, with in excess of 1,000 bikes to choose from, they also have an
online accessory
store selling helmets, jackets, boots and gloves from all the leading brands.
CBT - Get Biking in 5 steps
Once it gets to your CBT day, you will go through 5 steps before you get your certificate.
Want to watch this in a video?
Step 1 - Induction and eyesight test
During this part of the day you will be given an induction by the instructor and you will also have an eyesight test to make sure you are able to read number plates on the roads.
Step 2 - The basics of motorcycle control and handling
In this section of the training, you will be taught how to control and handle a motorbike.
Step 3 - How to safely ride a motorcycle off-road
In step 3, your instructor will go over how to ride a motorcycle off road safely. You will be expected to drive around some cones, at the test centre.
Step 4 - Road riding theory
A necessary component you will need to get on the road is understanding road theory including The Highway Code. This part will be classroom based.
Step 5 - Practical road riding
This is probably the bit you'll be most excited for, getting out on the open road on a motorbike for the first time! Your instructor will check all your gear is in check, by now you will have learnt how to handle the bike, how to ride safely off road and they are hopefully happy enough to take you out on the open road. This section will last 2 hours and you will be with an instructor the whole time, out and about wherever your test is taking place.
What's next?
Once you've gone through all the 5 steps, you'll be back at the test centre. If the instructor is happy you are safe to be on the road on a motorbike, you will get a certificate to prove it - this is your CBT.
Now you just need to find yourself a bike, we know just the place!
Find your perfect bike
on Auto Trader Bikes now.