Expert Review
Honda CB125R Naked (2018 - ) review
A funky, roadster 125 from Honda to rival KTM, Yamaha and co. has been a long time coming but it's worth the wait – the CB looks great, is easy to ride and well-equipped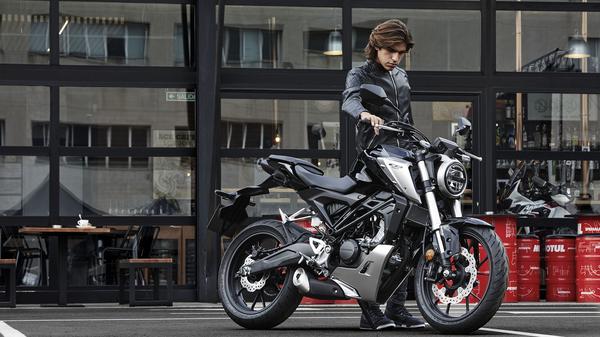 The Auto Trader expert verdict:
Available new from £4,101
Honda takes on the KTM Duke and Yamaha MT-125 with this new, naked learner roadster that's has stylish, CB1000R-alike looks, a great spec including inverted forks and friendly manners.
Reasons to buy:
Great 'mini-CB1000R 'Neo Café' styling
Quality spec including inverted forks, LCD dash and LED lights
Typical Honda rideability and quality
Design
A stylish, youth-orientated, naked Honda 125 has been a long time coming. Despite producing the brilliant, sports CBR125 for well over a decade, Honda never produced a naked version with its offerings in a class dominated by Yamaha's MT-125 and KTM's Duke 125 instead being simply the worthy but dreary CB125F and the preceding, half-faired commuter CBF125. But this new R has been more than worth the wait. It's powered by an updated version of the CBR's liquid-cooled, single-cylinder engine, gets an all-new tubular steel chassis including monoshock, and snazzy inverted front forks and radial front disc and is all wrapped up in sharp and slick bodywork inspired by its bigger brother, the CB1000R super-naked, getting nice touches like LED headlight and LCD digital dash along the way. And, with all that finished off with Honda's traditionally brilliant build quality, what's not to like?
Riding position
Honda simply don't do dodgy ergonomics and the CB125R is no exception. Although the 816mm seat seems surprisingly high at first, the bike's so slim it's not at all awkward and you quickly realize it's to tilt you forward into a more aggressive, typical naked stance. Not that it's at all extreme – this is a Honda, after all – in fact it's perfect for a novice fun bike – upright, comfortable seat and stretch forward to bars, perfectly positioned controls, light, slim and manageable: all-n-all it's both easy to ride and eager and fun.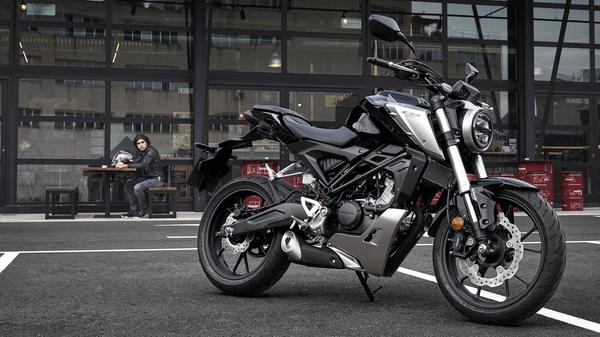 Practicality
A naked, restricted 125 is never going to be the ultimate in practicality but, being a Honda, and having the pleasing lustre, easy comfort, predictable manners and reassuring durability that comes with that, the CB125R makes a decent fist of things. It's a doddle to get on with, brisk enough round town, excellent through traffic thanks to its precise controls, steering and responsive delivery and a decent commuter, too. And, if you're a 17-year-old with an Adidas backpack on your way to college, it's probably the most practical and useful thing you can imagine. It's only if you attempt longer trips that it's proportions and lack of weather protection and performance seem lacking, but then, that's not what it was made for.
Performance & braking
Again. there's a limit as to how excited anyone can get about a restricted 125 but, within the context of its A1 licence class, and full in the knowledge that, 13bhp or not, the CB is a true object of lust to many 17-year-olds, there's not much to criticise about Honda's newcomer. That 13bhp may be a tad down on its Yamaha and KTM rivals but you'll barely notice it; the power delivery is linear, willing and characterful and it sounds good, too. Meanwhile, that front brake may be a single disc grasped by an impressive, radially-mounted, four-piston caliper, but it surprisingly feels a little dull. It's not bad, but it lacked the sharpness we'd have hoped for.
Ride & handling
The ride quality from those unadjustable but otherwise impressive beefy 41mm inverted forks allied with a single shock at the rear is plush and predictable enough without being wallowy. Better still, the CB's upright, aggressive riding position and decently sharp steering geometry combine to make the little Honda a hugely nimble handler. In fact, it's so quick and instant that, you think you want to wiggle through a gap in traffic and it's already done – not a bad characteristic to have when you're after an easy, idiot-proof and fun learner bike.
Running costs
If you're concerned the CB125R may be more expensive to run than some of its rivals simply because it's a Honda – think again. At just under £4000 the CB is over £500 cheaper than the Yamaha MT-125 and over £300 less than the KTM Duke, so you're up in terms of value straight away. On top of that, Honda residuals are typically decent, its modest performance means consumption of the likes of fuel, tyres, chain, brake pads etc will be marginal (a it is for all bikes in this class) while the better-than-average build quality should prove cheaper to maintain than most as well.
Reliability
Although a relatively new bike, the CB125R is based around the well-proven motor from the old CBR125R (in case you're wondering, Honda have chosen not to directly replace the old faired sportster, choosing instead for this new sporty naked to fill that bike's shoes) so there should be little to fear. reliability-wise. On top of that the cycle parts are all decent quality and should prove durable while the finish is typically good as with all Hondas as well. We're holding a mark back for safety's sake, but the CB should be right up there with the best.
Warranty & servicing
Unlike some manufacturers Honda offers a two-year, unlimited mileage parts and labour warranty across all its road bikes, irrespective of size (some brands only offer one year on their 125s). Servicing is due annually or every 6000 miles or whichever comes first, but considering its capacity and likely use we'd expect the former to be the case. On top of that, the CB is an exposed naked with no fairing or other gubbins to worry about so servicing shouldn't be too extortionate.
Equipment
Considering it's a naked 125, the CB is pretty lavishly equipped, which is another part of its appeal. Despite being among the cheapest in its class there's a slick reversed LCD digital dash, inverted forks, radial front brake, LED lights and lots of nice detailing – you'll be the envy of any self-respecting teen gang.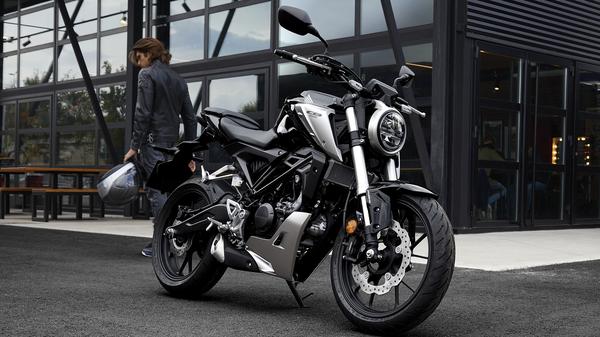 Why buy?
It's more a case of why not – the CB's got that much going for it: great looks; easy naked rideabaility; proven mechanicals; decent performance; lots of nice details and, the cherry on top, the reassurance of being a Honda with all the great build quality and extensive dealer network that comes with it. It's even great value, particularly compared to its Yamaha rival. If you're after this sort of bike we recommend it heartily and can imagine few better starts to life on two wheels.