News
Hyundai IONIQ 5: an electrifying design icon
Sponsored: Hyundai's new CUV combines space-age technology with remarkable design...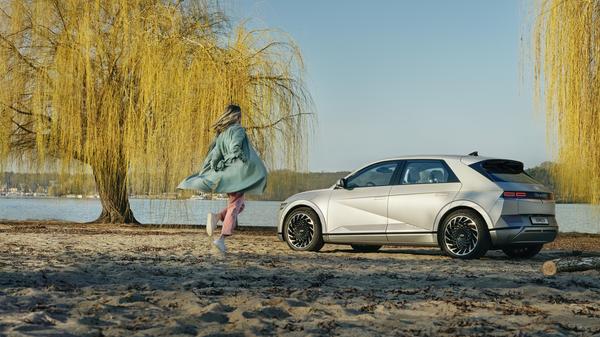 Sponsored article in association with Hyundai
IONIQ 5 is Hyundai's new 100 per cent electric crossover. Beautiful from any angle, IONIQ 5 combines pure design and ultra-fast charging with the many cost-saving benefits that accompany clean driving. Want to join the electric revolution in style? Let's take a closer look at the innovative Hyundai IONIQ 5. The design of IONIQ 5 raises the bar – and is unlike anything else you'll see on the road today. Ground-breaking in its simplicity and purity, it's a refreshing take on the electric vehicle. Attention to detail is second-to-none, with minimal panel gaps and flush door handles for optimal aerodynamic efficiency. IONIQ5's striking surfaces are enhanced by signature Parametric Pixels – unique jewel-like design elements that will feature on the exterior of all future IONIQ models. The car is also available with exclusive aero-optimised 20-inch wheels that match IONIQ 5's sleek profile perfectly, helping to give this car high-quality flair. State-of-the-art design is matched by a choice of 100 per cent electric, next-generation powertrains. Customers can select two battery pack options – 58kWh or 72.6kWh – paired with either rear-wheel or all-wheel drive. The larger battery returns up to 298 miles of range from a single charge. Ultra-fast charging is another of this EV's superpowers. Indeed, IONIQ 5 is one of only a handful of vehicles that support both 400V and 800V charging. This revolutionary 'multi-charging' system enables IONIQ 5 to charge from 10 – 80 per cent in just 18 minutes using an ultra-rapid 350kWh charger. A five-minute charge returns up to 62 miles of range.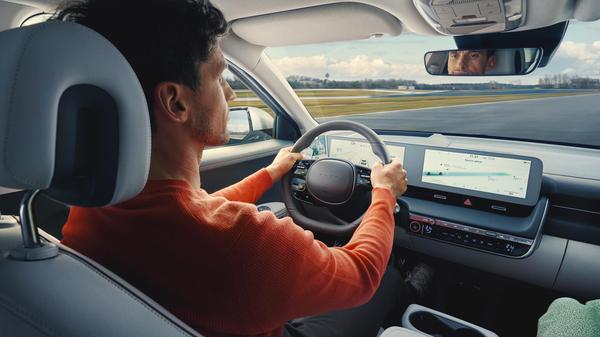 Electric vehicle technology moves fast these days, but so does IONIQ 5. When specified with all-wheel drive and bigger 72.6kWh battery, the range-topping IONIQ 5 delivers a combined power output of 305 horsepower. The result is a thrilling 0 to 62mph time of just 5.2 seconds. No wonder IONIQ 5 is causing a stir.
Inside, IONIQ 5 functions as a spacious and refined 'living space' that reflects Hyundai's commitment to sustainability. Eco-friendly materials and a choice of three nature-inspired colours give the cabin a sense of peace and tranquillity. The clever use of space extends to the brand new Universal Island – a moveable centre console that slides back and forth along the flat floor. It's this kind of innovative flourish that makes IONIQ 5 feel like a completely new experience. As you'd expect from such a forward-thinking EV, you'll find plenty of next-generation technology at your fingertips. The space-age interior wows with a wide-screen dual cockpit that consists of a 12.3-inch touchscreen and customisable 12.3-inch digital cluster. Electrically-adjustable front seats recline at the perfect angle to provide a weightless feeling. And IONIQ 5 is available with an optional augmented reality head-up display. IONIQ 5 becomes even smarter when paired with the latest version of Hyundai's Bluelink connected car software, which allows customers to control their vehicle via a smartphone or voice commands. The Bluelink app displays range and battery level, you can use it to schedule charging times to optimise your time and budget as you can make the most of overnight off-peak electricity rates. Ready to power up your life with the breathtakingly beautiful Hyundai IONIQ 5? Prices for this revolutionary EV start from just £36,995 and all models come with Hyundai's 5-Year Unlimited Mileage Warranty, plus an 8-Year/100,000 Mile High Voltage Battery Warranty.