News
Fiat unveils new 124 Spider
The spiritual successor to the company's classic 1960s roadster will go on sale next year, thanks to some help from Mazda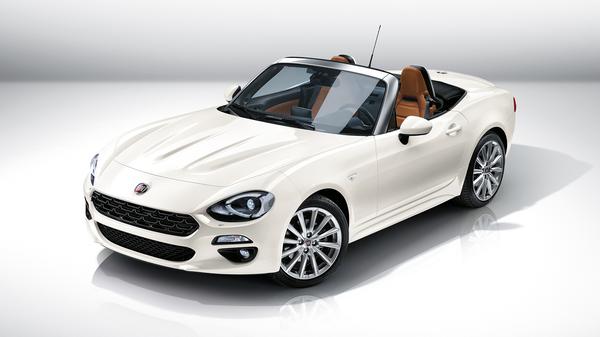 New 124 Spider developed alongside latest Mazda MX-5
Distinct looks echo that of classic 1960s 124
On sale in the UK in the second half of 2016
These are the first pictures of the new Fiat 124 Spider, which has just been unveiled at the Los Angeles Auto Show.
Although it was developed alongside the latest
Mazda MX-5
– with which it shares much, including the rear-wheel drive platform – the 124 has its own unique styling, which echoes the look of the classic 124 Spider that was launched in the 1960s. So, it has a line in the bodywork running from the front wheelarches over the rear haunch towards the rear light, as well as twin power domes on the bonnet. The cabin, meanwhile, is very similar to the Mazda's, but where the 124 differs is that it will be powered by a Fiat engine – a turbocharged 1.4-litre petrol unit producing 138hp. That should mean its performance sits midway between the two versions of the MX-5, suggesting a 0-60 time of around eight seconds. There will be two trim levels, with the basic infotainment system including Bluetooth and a USB/aux input, while the upper trim level will get a touchscreen display, DAB radio, a reversing camera and a 3D navigation system. Full details of the car's specification will be announced nearer the time when the car goes on sale – which is expected to be the second half of next year. The price will be confirmed at the same time, but we expect the 124 to cost around the same as the MX-5, starting at around £20,000.