Feature
2016 Ford Focus RS passenger ride
Our first experience of the new Ford Focus RS came at Ford's own test track and from the passenger seat, but how does next year's most eagerly awaited hot hatch feel?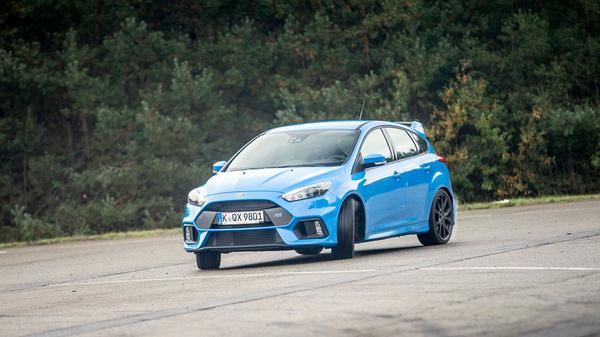 Auto Trader verdict:
Only quality time behind the wheel of the latest Focus RS will tell if it is a legend in waiting. However, if our first impressions are anything to go by, judged by its attitude, performance and the sheer depth of engineering excellence that created it, at the very least, it looks like a shoe-in for 2016's hot-hatch honours.
Need to know:
The most powerful and seemingly most capable RS ever
Available to order now, first deliveries Spring 2016
Prices start at £29,995
What is it?
RS product launches come around about as often as Halley's comet, so the chance to jump in Ford's all-new firecracker Focus is a not-to-be-missed opportunity.
Heck, the stats alone are enough to propel any self-respecting petrolhead into a giddy spin. With a maximum power output of 345bhp at 6,800rpm and a thunderous 325lb ft of torque delivered from just 2,000rpm, it's little wonder that Ford has resorted to a trick four-wheel-drive system to manage the turbocharged 2.3-litre four-cylinder engine's stellar output. At full tilt, 0-62mph comes up in a blistering 4.7 seconds, while the top-end mayhem is pegged at a dizzy 165mph. In addition to the AWD set-up, torque vectoring and myriad electronic systems - none of your old-school limited slip diffs and Revo knuckles here - meter out power to the wheels with the most grip. The electronic wizardry also makes selectable drive programmes available, including launch control to maximise traction off the mark and a 'drift mode' that can shuffle up to 100% of the power to an individual rear wheel to promote controllable oversteer. The beefed-up springs and two-mode electronic dampers - with selectable road and track bias - along with uprated anti-roll bars and heavy duty front suspension knuckles are all bespoke to the RS.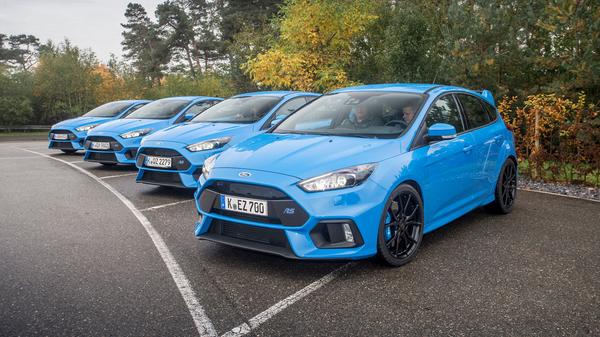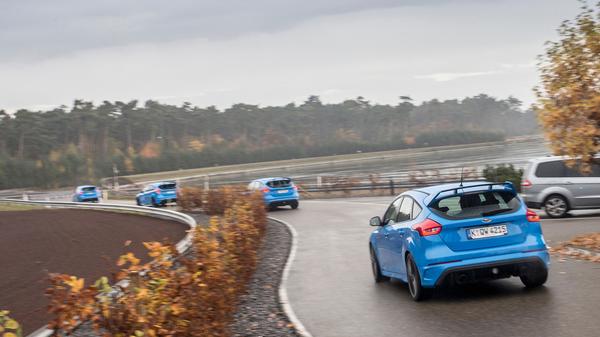 What's it like?
Sadly, Ford decreed that this particular RS launch would be held behind closed doors at its high-security Lommel test facility in Belgium and first impressions would have to be garnered from the passenger seat. Drat and Triple Drat!
Let's be frank, road cars are not best judged on test tracks. Just for starters, the silky smooth surface of a handling circuit is guaranteed to flatter even a crushingly firm ride. What's more, most of the RS tuning work was signed off at Lommel, so you'd expect it to be pretty tidy in its own back yard; a bit like Barcelona playing in front of a full house at the Camp Nou, so to speak. To be fair, even from the passenger-side Recaro, and even under these controlled conditions, it's pretty obvious that this RS isn't so much special, as sensational.
Perhaps the starkest departure from the previous Focus RS is the overall poise of the new car. Whereas the old front-wheel-drive RS had a dominant, nose-heavy feel that acted almost like an axis that the rest of the car pivoted around, the new RS appears tangibly sweeter, with far more neutral front-to-rear balance.
Set in maximum-attack mode, with a Ford hot-shot at the wheel, acceleration feels head-bangingly brutal, as a cacophony of turbocharged pops, bangs and burbles gives way to a fusing of drive shafts and a chirping of fat rubber. Several sharp gearshifts later (with grip levels through some particularly wicked bends providing the ultimate test of rib cage flexibility, and extreme braking into the tighter corners driving chins into sternums), our desperation to pedal the RS for ourselves goes into overdrive. That desperation instantly registers hyperdrive as our hot-shot demonstrates the laughably easy way the drift button permits lurid sideways slides that can be effortlessly controlled with no more finesse than a great big dollop of throttle.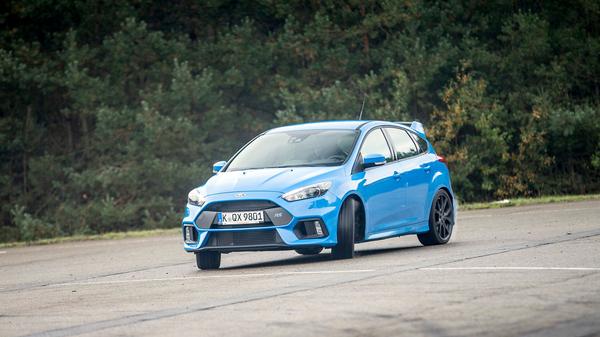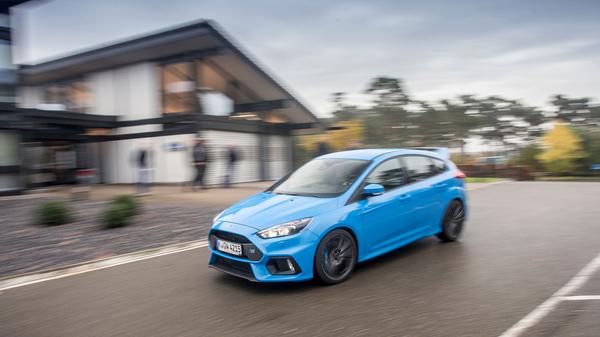 Having been slapped on the wrist and told we'll be allowed a full drive early in the new year, we observe that visually, apart from the obvious battery of exterior ducts, spoilers and air-dams, there's little else to mark the RS out from the current Focus ST.
Some might argue that's more than sufficient given the budget blown on the engineering, but with the exception of anthracite headlining, a marginally shorter gear lever and a couple of additional buttons on the centre console to activate the drift programme, the RS all but imitates its humbler cousin. That said, Ford reckons most buyers will spec the Luxury Pack that includes folding door mirrors, rear parking sensors, keyless entry, cruise control and privacy glass for a further £1,000. If that isn't sufficient, you also have the option to customise your RS with motorsport-style Recaro front seats for £1,145 and 19-inch forged alloys for £595.
Key facts:
Model: Ford Focus RS
Price: £29,995
Engine: 2.3-litre 4cyl turbocharged
Power/Torque: 345bhp/325lb ft (347lb ft with over-boost)
0-62mph: 4.7 secs
Top speed: 165mph
CO2: 175g/km
Boot space: 260 litres
Also consider:
Mercedes A45 AMG
Immense performance and grip but undermined by unengaging handling, insipid sounding engine and ludicrously expensive price tag. Megane Renaultsport 275 Trophy Lacks a bit of outright grunt compared to the 300bhp-plus brigade, but awesome chassis means it leaves more powerful rivals trailing. Volkswagen Golf R Blends Volkswagen class and quality with real driver appeal. The first Golf R to outdrive the legendary GTi.