Expert Review
Yamaha MT-09 SP roadster/naked review (2021-)
Perky, three-cylinder roadster spearheaded Yamaha's modular 'MT' rejuvenation in 2013. 2021 brings an improved, Euro5 compliant, third generation version along with this up-specced – and brilliant – SP variant.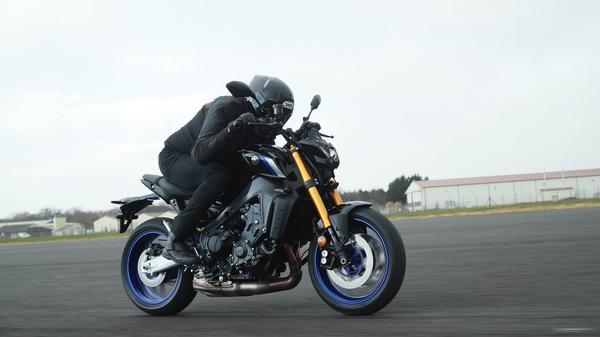 The Auto Trader expert verdict:
Available new from £10,353
The lively MT-09 has been a brilliant 'first big bike' and street sportster ever since the original's introduction in 2013. Now fully updated with more power, less weight and refreshed looks/spec it's better than ever while this SP version adds refinement and class few £10K bikes get close to. As a street scalpel and B-road blaster it's among the best.
Reasons to buy:
Fabulous triple engine now better than ever
Roadster ergonomics + intuitive handling = brilliant B-roads bike
Added 'SP' sheen highlighted by sublime Ohlins ride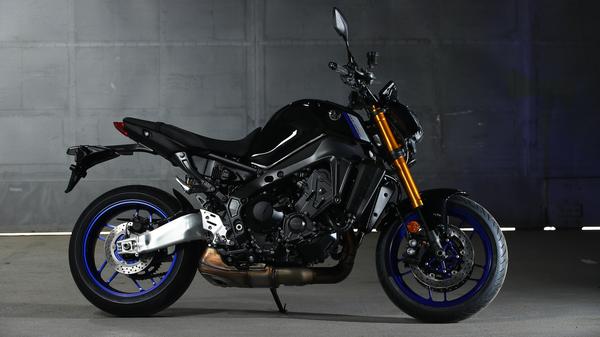 Design
Engine, frame, styling are all-new but this is still conspicuously an MT-09 – for better and worse. This third generation version's thorough re-design is to be applauded: it's now lighter, faster, better equipped and more refined – so much so it's hard to imagine a better £10K street roadster. While this 'SP' version adds two-tone paint, black detailing, dual-texture seat, quickshifter and, best of all, uprated suspension including an Ohlins rear shock which gives a sublime ride. The new styling, however, remains polarizing and is so minimalist it looks like some body panels have fallen off.
Riding position
The new MT-09 retains a traditional, upright roadster stance but Yamaha has somehow achieved excellence by making its riding position completely natural and unintimidating, which is great for novices, yet also with enough meaty substance and the right hint of sportiness to satisfy more experienced sports riders. Being a triple helps the MT-09 be neither too light and flighty nor hefty and bulky. The saddle is pleasingly slim at the front while the tank fans out between your thighs to give you something to grip on to. While the bar position and width is 'just right', too. Usefully, the bars and pegs are also both adjustable. (That said, there's little by way of weather protection and we wouldn't much fancy being a pillion, but if you want that, go for the equally new sports-tourer version, the Tracer 9.)
Practicality
We've docked a mark straight away for the simple fact that the MT-09 SP is a sporty, naked roadster – it simply hasn't the weather protection of long-distance comfort and luggage capacity for touring or motorway miles, although a variety of accessory 'packs' (including small screen, top box and more) should help significantly. Overall, though, if practicality's a priority, as mentioned above, get Yamaha's sports-tourer version, the Tracer 9. In virtually every other respect, however. The MT-09 SP's a surprisingly good all-rounder: affordable; nimble and easy around town; blinding on B-roads and more than substantial and speedy enough to be good on A-roads, too – especially in this SP trim.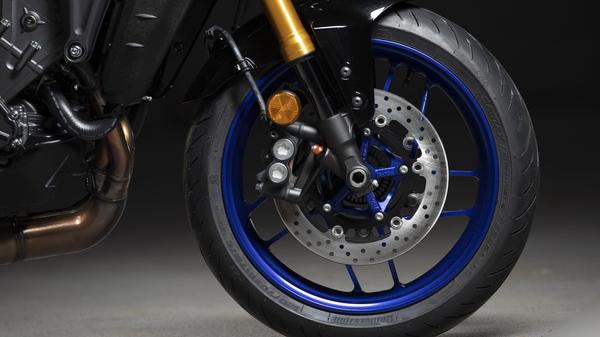 Performance & braking
For a street bike, the MT-09SP is pretty much perfect. The original 2013 MT-09 proved a big hit for its combination of flexible, invigorating, characterful, three-cylinder 115bhp performance, decent roadster handling and value. The third generation version now ups the ante with an extra 4bhp, an improved response and soundtrack, excellent electronics (highlighted by four easily-switched, well-judged riding modes) and 4kg reduced weight. In terms purely of performance, the SP then adds to that with its new quickshifter/autoblipper, which works seamlessly. Seriously, if you want any more purely for road fun you must like living beyond the pale or have a fat stash of Get Out Of Jail Free cards. As for braking, the MT-09's twin radial set-up was always among the best of 'budget' roadsters and has been improved further for 2021 with a new radial master cylinder, with an upspecced version on the SP. No complaints whatsoever.
Ride & handling
Although the old MT-09 was a decent handler, there was some slight criticism of 'vagueness' from the front end. No more. Recalibrated suspension along with a new, lighter, more rigid frame including a lower headstock plus clever, lighter 'like-forged' wheels combine to give thoroughly intuitive, engaging steering that belies the Yamaha's price. The SP version is better yet, primarily due to the addition of a higher quality Ohlins rear shock which gives the sort of cultured, refined ride usually associated with bikes twice the price, and is also multi-adjustable and has the benefit of an easily accessible preload knob. The SP's also multi-adjustable KYB front forks are also uprated and feature a black, 'Diamond Like Coating' (DLC) on the legs.
Running costs
The MT-09 and its junior sibling, the MT-07, were always conceived as affordable 'first big bikes', which is partly why they've proved so successful (over 63,000 MT-09s have been sold since 2013) and, although quality and specs have improved, the same remains true today. The new, third generation MT-09 currently starts at under £10K new although its better performance than some rivals suggests a greater hunger for consumables such as tyres, brake pads and chain, its lighter weight counters that slightly so you should have few concerns. While this SP version, although pricier and sportier still, represents great value overall at just over £10K when launched, undercutting some rivals such as Triumph's Street Triple RS.
Reliability
The MT-09 has been around since 2013, has largely proved reliable and trouble-free and has been significantly evolved and refined since. This is the third generation version and although substantially new (capacity is up by 40cc, there's new pistons, rods, crank, a new frame, revised suspension etc etc) we see little reason to have anything to worry about. On top of that quality has noticeably improved, too, particularly on this SP version, with conspicuously improved finishes and detailing. We docking a mark out of caution, due to its newness and some reports of suspect finishes on older models, but have no tangible concerns.
Warranty & servicing
The MT-09 is fairly average when it comes to warranty and servicing. It's offered new with a standard two-year/unlimited mileage, manufacturer-backed warranty for all parts and labour, which is now pretty typical from the major manufacturers while serving follows a 600-mile first, then every 6000 miles service route with every other being a major service.
Equipment
Although originally fairly basic, budget offerings both Yamaha's MT-09 and MT-07 have been steadily uprated and upspecced, although not so far as to lose their budget appeal. Accordingly, the new MT-09 now lacks for little (apart from, arguably, bodywork!). There's a new, albeit small, colour TFT dash, uprated engine, chassis and electronics, even improved mirrors. While this SP version gets special paint and finishes (bars, master cylinder, swing arm etc), dual-texture seat, further uprated suspension, a quickshifter and even cruise control! Yes, it's still a slightly 'minimal' machine – but that's due to its naked/roadster style rather than its spec. What's more, an impressive range of official accessories is now available, too, neatly organized into three packs: Sport (flyscreen, lever guards, tank pads, plate holder); Urban (short screen, rear carrier and 39litre top box plus tank pad) and Weekend (comprising short screen, comfort seat, soft panniers and USB socket).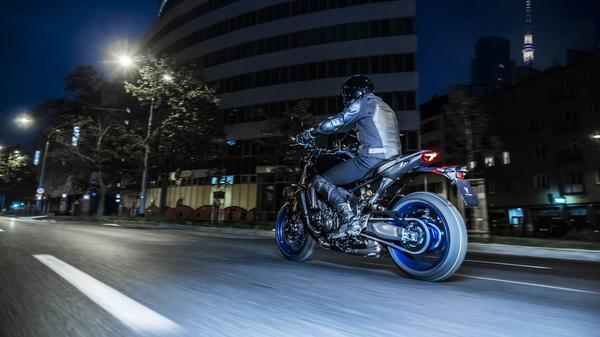 Why buy?
The MT-09 has always been a keenly-priced, sporty, 'first big bike' roadster characterized by a brilliant three-cylinder engine. This latest version, however, is better in every way – performance, handling, ride, specification – and significantly more refined, too. If you're after a lively roadster with a sub-£10K price, it's almost certainly the best. The SP version, however, takes it into brilliant but real world 'super naked' territory and is worth the extra for its sublimely refined ride, slick quickshifter and added class. In fact it's so good you have to wonder, if you're after a pure fun naked for the road, why anybody needs a true £14K+, 1000cc+ so-called 'super naked' at all…