Expert Review
Yamaha Tracer 9 GT sports/tourer (2021-) review
Popular and perky sports-tourer gets a comprehensive makeover – and in this top spec GT trim more goodies than ever.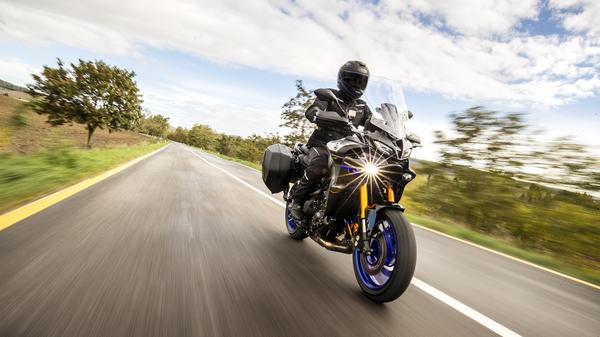 The Auto Trader expert verdict:
Available new from £10,654
All-new version of Yamaha's best-selling, three-cylinder sports-tourer gets uprated chassis, engine, styling and, in this top spec GT trim, with panniers, quickshifter, new semi-active suspension and more, is one of the best – and best value – bikes of its type around.
Reasons to buy:
Great versatility
Exciting three-cylinder performance and handling
Uprated spec and equipment – including panniers
Design
The upright, 'adventure-sport' style of the sports-tourer version of Yamaha's brilliant MT-09 three-cylinder roadster proved a popular masterstroke ever since the introduction of the original, budget-priced MT-09 Tracer in 2015. Updated into the Tracer 900 in 2018 when it was joined by an upspecced GT version with panniers, uprated suspension, TFT dash, quickshifter, heated grips and cruise control, it's now into its third incarnation (and name) and with a facelift, new chassis and more it handles, goes, looks and is equipped better than ever – but it's also more expensive and the new dual-screen dash is a retrograde step.
Riding position
The new Tracer 9 (and GT) is based heavily on Yamaha's new 2021 MT-09 roadster for which the key upgrades are a larger, more powerful and now Euro5-compliant engine and, just as significantly, a new lighter, stronger 'Deltabox' aluminium chassis. The new Tracer 9 gets both, which, along with new KYB forks and revised steering geometry, make the front end feel less lofty and more sportingly aggressive than before. The result, along with a new tank and seat is an instantly comfortable but 'cute' and purposeful upright riding position that's both all-day comfortable and makes you feel part of the bike and puts you in charge when you turn up the wick. It may seem a little less roomy than some similar bikes but it's not a problem, even for taller riders.
Practicality
Bikes simply don't get much more versatile and all-round practical than the Tracer – and especially this latest GT version. The MT-09 underpinnings mean it's genuinely sporty and entertaining yet also sufficiently nimble around town. The fairing, complete with one-hand adjustable screen, and extended seat mean it's comfortable over distance. The GT's panniers, semi-active suspension, quickshifter, cruise control and heated grips lift it towards luxurious tourer standard and yet it's still impressively affordable and cheap-ish to run. The latest Tracer GT may not now be quite as cheap at the original, but you still simply don't get more 'bang', ability and equipment, for your 'buck'.
Performance & braking
This is the area that sets the Tracer 9 apart from rivals such as BMW's sport-adventure F900XR and Triumph's Tiger 900. Yamaha's 'CP3' triple has been regarded as one of the best motorcycling engines ever since its debut in the 2014 MT-09 for its combination of fruity midrange flexibility and 118bhp top end but now it's better than ever. Fully revised for 2021 it's now not only Euro5-compliant, it's grown from 847 to 889cc and has gone from 113 to 117bhp and 65 to 68.5ftlb. The whole bike's also lighter, there's four riding modes and the overall result is both tractable and practical yet also thrillingly fast accompanied by an intoxicating wail, when you want it to be. As for its brakes, R1-style Nissin radial discs give ample stopping power and feel and the whole plot is also both longer and lower than before, giving impressive stability.
Ride & handling
Another area where the new Tracer 9, including the GT version, is a significant improvement over the previous incarnation. The old Tracer was always a decent handler – light enough, nimble and willing. But the new version, with its new stiffer frame, revised steering geometry and, in GT trim, new semi-active suspension, raises its game even higher. The lower front end means steering is more instant and intuitive. Lighter wheels reduce unsprung mass further aiding its immediacy; the longer swingarm improves stability while the uprated suspension inconspicuously just gets on with it. The result is intuitive, light, nimble steering combined with a sense of security, grip and precision not present before. Sports-tourers never used to be this sporty.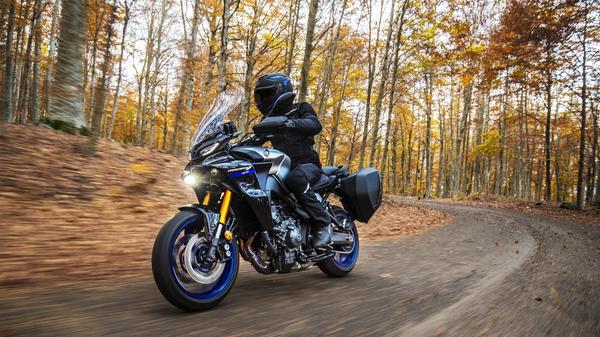 Running costs
Yamaha's midrange MT family, comprising the MT-07 twin and MT-09 triple, restyled semi-retro XSR versions of each and both Tracers, were always conceived to be affordable and relatively cheap to run and although the Tracer 9, and particularly this GT version, have repeatedly had their spec – and prices – raised, that's still the case, certainly compared to more lavish, larger capacity machines. So, although the GT's price is now over £12K (and now more than £2K more than the base Tracer) that still compares well to most rivals. By being a 117bhp 900 it's also more affordable to insure and, although a genuine performance machine, that power output is kinder on consumables such as tyres, brakes pads, chain and so on that, say, 150bhp rivals. No, the latest Tracer 9 is not as cheap to run as it once was but considering its spec and abilities, it's better than most.
Reliability
The latest Tracer 9, and GT version, are virtually all-new bikes, so it's difficult to be certain about likely reliability, but it's also the latest derivative of a hugely popular and massive-selling machine and is a development and refinement of that bike rather than a 'clean sheet' design, so we have few concerns. Some owners have reported concerns over flaking metal finishes and corrosion if earlier versions were used over winter and neglected but it's too early to say about this new variant.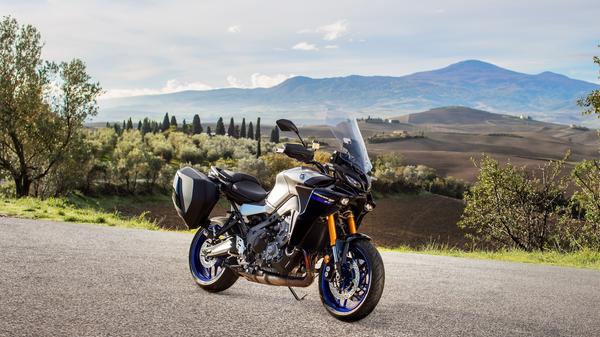 Warranty & servicing
As with all new bigger Yamahas, the Tracer 9 GT comes as standard with a manufacturer-backed two year/unlimited mileage warranty covering all parts and labour. Despite the changes to the engine, including new Euro5 compliance, service intervals are unchanged are fairly typical for a bike such as this. Minor service intervals are not exceptional at every 6,000 miles with major ones due at 12,000 miles but the valves need checking only every 24,000 miles, so few owners will need to worry about it.
Equipment
Another area where Yamaha has again raised the standard on its new Tracer 9 GT. The original 2018 Tracer 900 GT came with panniers, touring screen, TFT dash, cruise control, quickshifter and heated grips. This new version gets all the above plus new semi-active suspension, hence the slight price hike. In truth it wants for nothing, there's plenty of nice touches, the electronics are good and the screen is adjustable on the fly with one hand. But we're docking it one mark here as the new, twin screens are, in our view, a retrograde step over the old TFT, being gimmicky and difficult to read and the latest screen is a little noisy and can cause buffeting. On the whole though those are minor quibbles. The Tracer 9 GT is an impressively specced bike – especially for the money.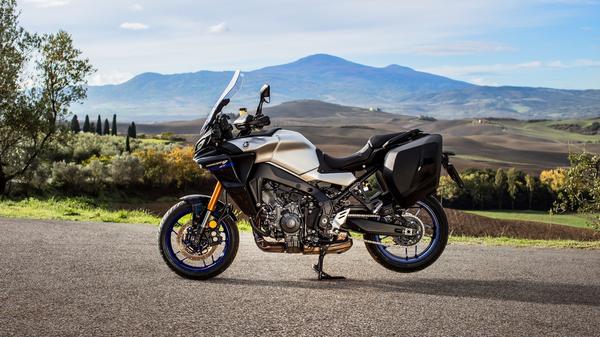 Why buy?
If you want to buy a genuinely do it all bike and you're operating on a slight budget without the means to afford, say, the latest £18K Ducati Multistrada V4 S, the new Tracer 9 GT, although not perfect, is almost certainly the best bike currently available. It's easy and versatile; it's a thrillingly engaging and entertaining sports bike when you want it to be and, with standard panniers, cruise control, heated grips and classy suspension it's also a genuine two-up tourer requiring no further outlay. Both previous generation Tracers have proved Europe-wide best sellers. This latest version is the best – and most entertaining – of the bunch and deserves to be just as popular.