Expert Review
Royal Enfield Continental GT (2019 - ) review
Indian-owned Royal Enfield take a significant step up with their two all-new (but old-looking) 650 twins. Compared to their previous, old-fashioned singles, the roadster Interceptor and this café racer GT are brisk, pleasing and should appeal to both new riders and older buffs, too.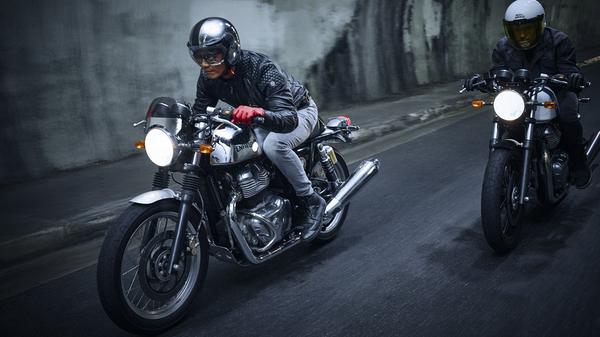 Words by: Phil West
Published on 25 March 2019 | 0 min read
The Auto Trader expert verdict:
At under £6000, this retro roadster twin is a bargain-priced Triumph Bonneville or Guzzi V7 alternative. A little basic and only (A2 licence-compliant) 47bhp it's also easy, pleasing and stylish.
Reasons to buy:
Very affordable price
Authentic retro name and styling
Easy, pleasing and unintimidating manners
Design
There's not just one, but TWO all-new Enfield 650 twins – the more upright, roadster Interceptor, complete with slightly larger tank, and this café racer-style Interceptor GT with 'ace' bars and a more sporty attitude – although both have the same chassis and engine. Both tick all the right retro styling boxes with wire wheels, twin clocks, Monza fuel cap etc and all for a significantly lower price than, say, a comparable Triumph Bonneville, but they are notably behind in terms of performance and quality, too.
Expert rating: 4/5
Riding position
You'd assume the more upright Interceptor version is the more comfortable, but the Continental also impresses. Despite the café racer attitude it's in no way extreme – in fact the slightly lower 'tuck' keeps you out of the wind more. It's also slim (partly thanks to its smaller tank), light, low and very manageable. Both new riders and older types should have nothing to fear, here.
Expert rating: 4/5
Practicality
Although still a retro-roadster, Enfield's latest is more versatile than it looks. It's nimble and easy around town; is pleasing and entertaining on country roads and can happily cruise at motorway speeds as well (although the lack of weather protection means anything more than an hour is a chore. As a pleasant Sunday toy it's fine. But it's not long-legged enough to be a credible tourer and is too small for long pillion trips.
Expert rating: 4/5
Performance & braking
Though its willing 47bhp is a quantum leap above Enfield's old, 20bhp singles and it'll happily roll around at 70mph+ plus all day long, it's still no performance machine. Instead the rumbly, happy twin delivers pleasant cruising. Besides, if you push too hard the single front disc is overstretched and requires assistance from the rear brake. If you like your riding gently, though, it's fine.
Expert rating: 3/5
Ride & handling
Although deliberately old-fashioned and conspicuously built down to a price, the Enfield 650 is a pleasing ride. The twin loop chassis was co-designed by frame experts Harris Performance and steers beautifully making back roads a joy. And although the forks and twin rear shocks are a little basic and crude, on the whole they're easily up to the job.
Expert rating: 4/5
Running costs
Enfield ownership has never been exorbitant and even though their new 650s are their biggest, most powerful bikes in decades, we see no reason for that to change. Fuel economy is in the mid-50s, tyres, chain, brake pads etc have a more gentle life than most and, of course, it's a very affordable bike in the first place. So, although it'll cost more to run than Enfield's older bikes, it's still much better than most.
Expert rating: 5/5
Reliability
In truth it's too soon to be certain, but early signs are promising. The all-new engine is understressed and was developed by ex-Triumph personnel. Most examples are likely to lead a fairly gentle, sedate life and, though build quality can't match the likes of Triumph and does seem a little cheap in places, it's also better than most preceding Enfields.
Expert rating: 4/5
Warranty & servicing
Encouragingly, Enfield have given their all-new 650 impressive three year, unlimited mileage, manufacturer-backed parts and labour warranties, which should give most owners plenty of peace of mind. Serving, with the all-new engines being both so simple and straightforward and with all parts so easily reached and accessed, should be better than most, too.
Expert rating: 5/5
Equipment
Enfields have long been basic and old-fashioned, that's a big part of the appeal, after all – and little of that's changed with this all-new 650 twin. There's two conventional, analogue dials plus an inset LCD panel for odometer and fuel gauge and… that's about your lot. No luxuries, no fancy electronics, no bodywork, no luggage, what you see is what you get. And, for many, that's a refreshing change.
Expert rating: 3/5
Why buy?
The new 650 lifts Enfield onto an all-new plane, giving buyers a bike that, for the first time, can genuinely cruise all day at 75mph, go further and in more comfort than their previous singles and provides a value-packed alternative to rival retro roadsters such as Triumph's Bonneville or Moto Guzzi's V7. It's cute, easy, willing and stylish – and tempting both to new A2 bikers or down-sizing older ones.
Expert rating: 4/5