Advice
What Motorcycle Licence Can I Get and What Are They?
If you are baffled by which motorcycle licence you need to get on to your dream bike then RideTo the UK's #1 motorcycle training platform explain all below.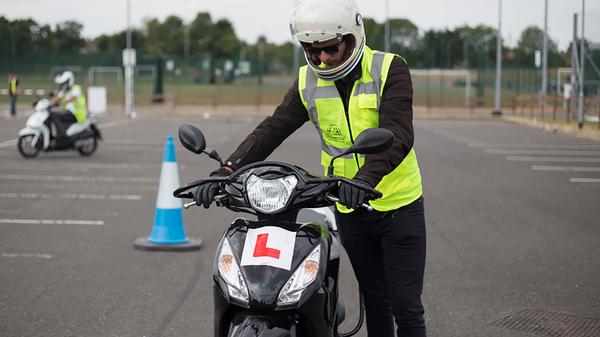 Are you looking to get on two wheels but have no idea on which licence you need? You have heard so many different things that you are unsure which one is correct. Maybe you have heard of the CBT, A1 Licence, A2 Licence and A licences but you aren't sure which one suits you?
At
RideTo
, we train over 1,000 riders per month and we get every question under the sun, below we have outlined every step that you need to get on two wheels and riding safely, enjoying the freedom of two wheels. To start on your journey to the unrestricted freedom of two wheels you need to follow these 3 steps:
Complete the CBT (Compulsory Basic Training) training
Pass the Theory Test
Pass both the Full Motorcycle tests
These three steps are typically taken in chronological order. However, the one exception is that the theory test can be taken before your CBT, however, it is not required to take the CBT course. Both the CBT and Theory need to be completed and succeeded in before taking full motorcycle training.
The Three Steps Explained
CBT Training:
CBT Training is the first step on to two wheels, it is a legal requirement for all two wheel riders to take and hold a valid CBT certificate. The certificate is valid for 2 years and allows riders to ride up to a 125cc motorcycle or scooter or 50cc if 16 years old.
The CBT has further restrictions that L-plates must be displayed at all times, the rider must not go on motorways and cannot carry a pillion passenger. CBT Training typically takes between 6-8 hours on one day and consists of
5 parts
. No prior experience is required, however a good knowledge of the highway code is mandatory. You will need a
UK provisional licence
, UK driving licence or EU licence with UK counterpart licence to undertake CBT Training. You will also need to be at least 16 years old. You can take CBT Training on an automatic or manual and this choice depends on which you feel more comfortable on. However, if you plan to ride a manual (geared) bike after your training then we recommend training on a geared bike. If you train on an automatic you can legally ride a manual, this is unlike a car licence. CBT Training ranges in price depending on the instructors overhead costs and this is the main reason for difference in CBT prices nationwide. In the UK these prices range from around £100 to £160. Type in your postcode to
Rideto.com
for the prices near to you. For further information on
CBT Training
then take a look
here
.
Motorcycle Theory Test
The
theory test
is completed through the government website and currently (2019) costs £23. This is a mandatory requirement for you to be able to take your full licence training and get your full licence.
Motorcycle Full Licences
The majority of the confusion of which type of motorcycle licence is right for you is due to the 4 different types of full motorcycle licences that are available.
There are 4 types of A licence and these all depend on age. These are as follows:
AM Licence - Age 16
A1 Licence - Age 17-18
A2 Licence 19-23
A Licence 24+
The different types of licence restrict the size/power of bike that an individual can ride, with the aim of stopping a 16 year old riding a 600cc motorcycle which most would perceive as quite a dangerous thing to see!
On all full licences (AM, A1, A2, A licence) you will be able to have the following restrictions lifted meaning that you can:
Ride on motorways
Ride without L-plates
Ride with passengers
The only difference between the 4 licences is the size/power of bike that you can ride. The restrictions are as follows:
AM Licence - 50cc Moped
A1 Licence - 125cc Moped or Motorcycle
A2 Licence - Up to 35kW of power
A Licence 24+ - No restriction
A common question is, how do I go from a A1 to a A2 or A licence. If you have had a valid A2 licence for 2 years then you can take your two module tests and get a full A licence. Alternatively, when you turn 24 you can do the same.
Another question is can I take my full licence training on my 125cc? Yes, you can, however, you will be restricted to riding up to a 125cc on your full licence.
Full Licence Training
Once you have completed step 1 and 2 by taking and succeeding in your theory test and CBT Training then you will be ready to take your full licence training. The training typically consists of a minimum of 5 days with 2 module tests.
The two module tests are module 1 which is off road and module 2 which is on-road. Depending on your road experience you will typically have at the very minimum; 1 day of training for both module 1 and module 2. An example of how much training you will typically need is a rider that has had a CBT for 18 months, commuting every day around 10 miles each way, we at RideTo would suggest at least 3 days of training before the 2 module tests. Full Licence training costs between £700-£1200 depending on your location and riding experience.
Motorcycle Licence in London
average cost is £850 for a 5 day package. Outside of London, such as
motorcycle training in Manchester
, this average will be slightly lower.