Expert Review
Royal Enfield Interceptor 650 retro/roadster (2019-) review
Retro roadster alternative to Continental GT café racer is second half of Indian-owned Royal Enfield's all-new 650 twin offerings. Less extreme than the GT it's a bargain priced Triumph Bonneville rival that's unintimidating, effective and rewarding.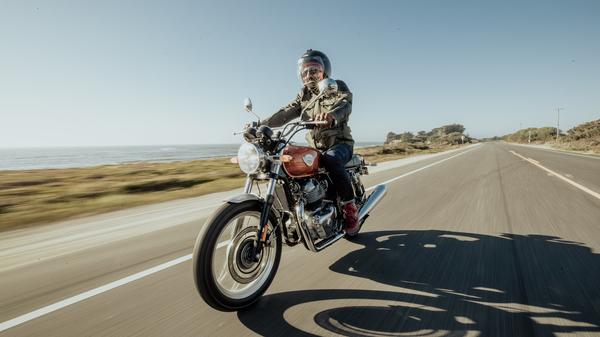 Words by: Phil West
Published on 25 January 2021 | 0 min read
The Auto Trader expert verdict:
Indian-built Triumph Bonneville alternative may not quite match the Brit's performance, refinement and quality but at over £2000 less and with sweet handling and lots of retro style for many that doesn't matter.
Reasons to buy:
Fabulously affordable
Authentic retro style, name and more
Slightly easier, more upright (and cheaper) than Continental GT version
Design
The Interceptor is the more upright roadster next to the café racer styled Continental GT, which together comprise Royal Enfield's all-new 650 twins. Both have the same chassis and new twin-cylinder engine but the Interceptor has a slightly rounder, smaller tank, upright, cross-braced handlebars and different seat – and is slightly cheaper, too. Handsome and easy to ride it also ticks all the right 'retro' boxes such as lashings of chrome, twin dials, wire wheels, 'Monza' fuel cap, etc, although many parts and finishes are crude and flimsy.
Expert rating: 4/5
Riding position
Although the café-racer Continental GT version isn't, in reality, at all extreme, despite its lower bars and more 'tucked-in' riding position, the more roadster Interceptor still beats it for natural, intuitive and unintimidating comfort. Small and light enough to get on with straight away, the Interceptor is also substantial enough for decently-long afternoon rides. We wouldn't recommend Europe-wide touring on one, but that's not what it's been designed for.
Expert rating: 5/5
Practicality
Ultimately there's a limit to how practical any retro roadster such as the Interceptor 650 can be. There's no protection from the elements or luggage capacity as a luxury tourer might have, it's too small to be a comfortable pillion bike over long distances and its 47bhp performance means its no sports bike either. That said, the Enfield 650 is easy to get on with, comfortable, nimble and sprightly enough to make a great town bike or commuter and does most things adequately, so it's better than many.
Expert rating: 4/5
Performance & braking
The new 650 twin's 47bhp is substantially higher than Enfield's previous, 24bhp 500cc singles so for the firm's traditional buyers it's more than sufficient. Being A2-licence compliant also makes the Interceptor attractive to both newcomers and returnees to biking. Its delivery is also willing and pleasing. Ultimately, however, that 47bhp is also significantly less than more punchy, modern alternatives such as Yamaha's 74bhp, 689cc MT-07 and even Triumph's entry level Bonneville, the admittedly 900cc, £8100 64bhp Street Twin. The Enfield's single front disc is also a touch on the weedy side, especially if ridden hard, when it requires the assistance of the rear. For it's more likely, gentle Sunday rides, however, it's up to the job.
Expert rating: 3/5
Ride & handling
Although great things shouldn't be expected of a an old-school retro roadster, complete with period-style twin shock frame and fairly spindly telescopic forks – especially one that's built down to a budget as obviously as the Enfield – the Interceptor's handling is actually a pleasant surprise. The credit for that surely goes to performance frame specialists Harris Performance which Enfield now owns and who were significantly involved in the bike's development. So, although the suspension is a little crude and soft, the ride is plush and most riders wouldn't find fault. It also steers beautifully and, overall, the Interceptor is a doddle to ride and a willing joy to sweep down country lanes.
Expert rating: 4/5
Running costs
Although the new 650 twins are their most sophisticated and highest performing machines yet, Indian-built Enfields overall are simple, budget-orientated bikes that cost a pittance to run – and the Interceptor, like the Continental GT, is little different. Although more powerful than its older 500cc singles, the new 650 twin will easily return mpgs in the 50s and above; its meagre 47bhp performance means, overall, tyres, chain, brake pads etc lead a fairly undemanding life, it's cheap to insure as well and, of course, the original ticket price is on the low side, too. For a mid-sized retro roadster they don't come any cheaper to run than this.
Expert rating: 5/5
Reliability
As with its Continental GT stablemate, the Interceptor's all-new 650 twin is still too fresh to be absolutely certain about its long-term reliability but again we've no real cause for concern. Enfield's previous singles have proved under-stressed and durable, the new twin is in a fairly low state of tune, it was largely developed in the UK at Enfield's new R&D centre manned, to a significant degree, by ex-Triumph personnel and, on top of all that, any example is likely to have lead a fairly gentle, cossetted life. Instead, our only concern is over some of the fairly cheap-looking finishes and cycle parts, especially if suffering prolonged exposure to the worst of British weather – but that's relatively easy to check.
Expert rating: 4/5
Warranty & servicing
As with its equally-new Continental GT sibling, Royal Enfield have chose to endow their new 650 twins with not only an impressive and reassuring three-year, unlimited mileage, manufacturer-backed warranty for all parts and labour (the industry standard for this size of bike is just two) but on top of that three-years worth of Europe-wide roadside breakdown assistance, too, so new buyers will have total peace of mind. As regards servicing, with both 650s still relatively simple and accessible (being air-cooled, unfaired, with no electronics etc) we'd expect servicing costs to be far less than average as well.
Expert rating: 5/5
Equipment
Again, despite being all-new, the Interceptor 650, as with its Continental GT stablemate, is still not only a retro-styled roadster, so, by its very nature is fairly basic and spartan, it's also a relatively budget-priced one. So, for example, the Interceptor has none of the electronic rider aids, fancy instrumentation and quality features of, say, its Triumph Bonneville Street Twin rival. With all that said, however, both Enfield 650s do impress by having all the right 'retro' detail touches in all the right places, such as twin analogue dials (complete, usefully, with a subtle LCD panel for odometer, fuel gauge and more), proper metal badging and even a 'Monza' style fuel filler cap, so there's plenty to admire – even if much of it is a little flimsy and crude.
Expert rating: 3/5
Why buy?
If you fancy a gentle, pleasing, authentic middleweight retro roadster the Royal Enfield Interceptor 650 (along with its Continental GT café racer brother) has an awful lot going for it – as thousands of British bikers have realized. It's become a best seller in its class. The biggest of these is, of course, value. With prices starting well under £6000 (£200 less than the Continental GT) the Interceptor is over £2000 cheaper than its closest rival from Triumph yet ticks many of the same boxes. No it can't match that bike for performance, refinement and quality, but it delivers most of what people want from a middleweight retro roadster at an irresistible price.
Expert rating: 4/5