Feature
Five reasons to commute by motorbike
Not sure about the benefits of commuting by bike? Here our Editorial Director Erin Baker discusses 5 of the reasons she thinks a bike is a great commuting option...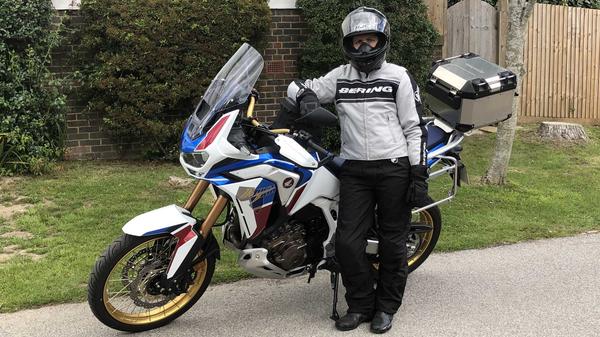 • You never get stuck in traffic
• It makes the commute enjoyable
• It's cheap
• You can always find parking
• You look good
I haven't ridden a motorbike for five years, but
coronavirus
and lockdown have caused me to reconsider my commuting options in recent weeks. I did my CBT and passed my full motorbike test back in 2008, and had a good few years commuting 20 miles each day through London on first a
Harley-Davidson Sportster
, then a
BMW F800 ST
and finally a
Kawasaki ER-6F
. I briefly had a Buell, but I dropped that with barely a mile on it, so least said about that, the better.
I abandoned two wheels altogether when I had my children, which was followed shortly afterwards by the death of my biking mentor and Telegraph motorcycling correspondent Kevin Ash on a BMW launch in South Africa. He, more than anyone, however, would have understood the constant yearning to get back on a bike, filter through the traffic, blow away the cobwebs, have some fun on the morning commute and arrive at work on time. And now there's the added anxiety of sharing public transport with large numbers of people in a confined space. It seemed the biking stars were aligned last month, so I took possession of a gleaming new Honda Africa Twin for a fortnight's test ride to see if the love is still there. Answer, dear reader, it is. Big adventure bikes like the
Honda Africa Twin
,
Triumph Tiger
,
Suzuki V-Strom
,
KTM Adventure
and
Ducati Multistrada
aren't for the faint of heart, or short of leg They sit up high and look very big, heavy and imposing. I'm 5ft 6in and just managed to touch the ground with the saddle on its lowest setting, but would have preferred a bit more foot on floor if I'm honest, for the sake of confidence.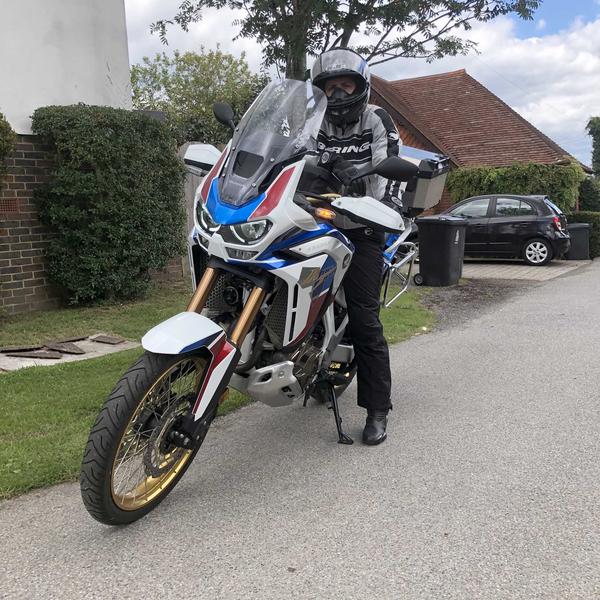 But, my, how motorbikes have changed in recent years. When I was riding, the only digital thing was the clock. The Honda Africa Twin has two digital displays: one showing speed, indicators, gears and mileage, and one 6.5-inch touch-screen above it that even works with gloves on. You can switch between displays and activate all sorts of stuff, including loading up the optional electronic suspension if you've got a pillion. You can also activate Apple CarPlay (and, by extension, Google Maps) by plugging your phone into the USB port by the screen and tucking it in a tank bag, with its screen showing through a plastic window. This is an unbelievable development for the rusty biker.
I'd also forgotten entirely the visceral, satisfying joy of filtering through traffic to the front of every jam, especially during the morning commute in London. It feels fantastic every single time you skip past 20 cars to the lights, then pick up and go as soon as they change. The
commuting
actually becomes something enjoyable, interesting and challenging as opposed to the same old drudgery. Plus, it's like driving with the window down - you feel the air temperature, and smell the different scents of pubs and lawns as you ride past. In fact, the Africa Twin is so high you get a good view over hedges straight into people's gardens, too. I tested the Africa Twin with the DCT gears on it, these automated Dual Clutch Transmissions familiar enough to car drivers. There are upsides and downsides to this sort of riding and it's very much a Marmite reaction. If, for example, you've always been a bit dodgy on hill starts, balancing clutch, back brake and throttle, you're in for a treat, with all that stress taken away. But I find gear changes on a bike - down for first, up through neutral to second, and so on - an integral part of riding and missed it. It also means you can't blip the throttle to warn other road users you're coming by, and I found low-speed manoeuvring very tricky because it would change gear when I wasn't expecting, causing a surge in revs. That's it, though, and the rest of the experience was an unalloyed joy. My partner and I took it down to Devon with me pillion, with panniers and a top box fitted (nice to have the back rest on the top box), and we each rode it round town. He used to ride Triumph Speed Triples and misses biking even more than me. And when you think how much cheaper a bike is than a car, there's not much to consider if you're looking to skip public transport for a bit. It's harder now to
get your full licence
than when I learned, because you have to go from CBT via a an A1 and A2 licence to an A licence if you are under 24. However, I've always been comfortable on bikes with 47 horsepower or less, and you only need your A2 licence for those. That's plenty for pottering around. Go on, do it. You know you want to.