Auto Trader
Best Bike Awards 2019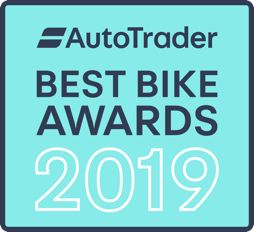 Play to see 2018's winners
Auto Trader Best Bike Awards 2019 nominees
Best AM
The AM category is open to riders from the age of 16 who have a provisional licence and have completed Compulsory Basic Training (CBT). With a maximum engine size of 50cc and requirement for L-plates, style, practicality and economy will be critical factors for our judges.
Nominations
Best A1
The A1 category encompasses all motorcycles upto 125cc and is open to riders from the age of 17 who either have a provisional licence and CBT, or have taken the theory and practical test to no longer display L-plates. Style, affordability and a breadth of ability will be important here.
Nominations
Best A2
The A2 category is open to 19-year olds and older, yet still restricts riders to motorcycles that develop less than 47bhp. The judges will be looking for talented all-rounders that are both intuitive and user-friendly.
Nominations
Royal Enfield Interceptor 650
Best Retro
The retro category blends traditional style with modern day technology, so our winner must offer far more to buyers than a trip down memory lane.
Nominations
Best Naked
Naked motorcycles encompass everything from junior 125cc models to 1200cc super-nakeds, so our judges will be assessing each bike on its individual fitness for purpose.
Nominations
Best Adventure
Adventure bikes are the UK's most popular category, appealing to commuters, weekend riders and globetrotters. Go-anywhere ability and versatility will be the important traits here.
Nominations
Best Cruiser
The cruiser category may take life at a more relaxed pace, but it will be under no less scrutiny. Luxury, comfort and technology will all be under the critical lens of our judges.
Nominations
Indian Chieftain Dark Horse
Best Tourer
The tourers category is one of the most competitive and encompasses long-distance load luggers of all sizes, speeds and budgets. Performance, practicality and value will be key strengths.
Nominations
Best Sports
The sports bike category continues to shift the needle in terms of performance, technology and aerodynamics. Genuine motorsport pedigree will be important to the judges, too.
Nominations
Best Scooter
This commuting solution for the masses includes everything from entry-level 50cc scooters to electric and maxi-scooters. The winner will offer style, economy, ease of use and security.
Nominations
Meet the Judges
Jon Quirk

Award-winning journalist, former Editor-in-Chief of Auto Trader and creator of our annual Best Bike Awards.

Maria Costello MBE

British motorcycle racer who made Isle of Man TT history by becoming the first woman to compete in both sidecar and solo classes at the same meeting.

Phil West

One of the UK's most authoritative, respected and long established motorcycling journalists. Now a senior road tester for Auto Trader Bikes.
An Auto Trader Best Bike Award is regarded as a signature of excellence from the UKs biggest marketplacefor motorcycles. Whether you're a seasoned pro or just starting out, rest assured we have a category that matters to you.