Best Of
Top 5 vans to live in full time
There are a wide range of benefits to living in a van, with some of the most significant being the lack of rent or mortgage, and the freedom to travel while sleeping in your own bed every night. However, if you have been tempted by the potential perks of breaking from the norm and moving into a van, you may be wondering where to start?! Without a doubt, the first step is choosing the right van to make your home.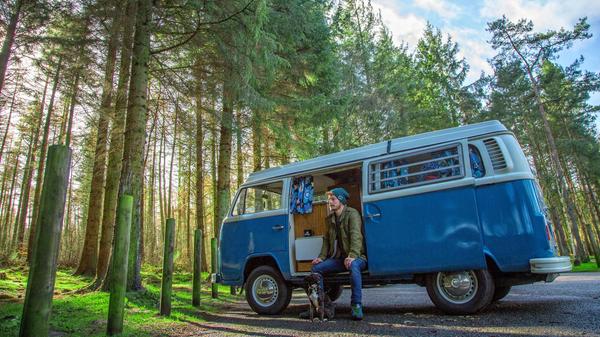 Choosing to live full time in a van is becoming an increasingly popular choice across the world, with all sorts of people turning to the versatility and freedom of life in a van. We've compiled a list of our top 5 vans to live in full time, bearing in mind key factors such as reliability, versatility and space.
1. VW Bus
When it comes to vans that you can live in, the VW Bus is no doubt one of the first to spring to mind. You'd be mistaken for thinking that this iconic motor had its heyday in the 1970s, it is in fact still a firm favourite deeply embedded in vanlife culture. Whether it's to your taste or not, it is hard to deny that this is a van built for living. Those looking for the older VW buses that are no longer in production will struggle to find parts, however, there are a few companies that will even offer to install your VW Bus with an electric engine.
2. Vauxhall Movano
Appearance-wise, the Vauxhall Movano couldn't be more different to the classic VW bus as it is a commercial vehicle designed for the transporting of goods, and yet this is another of the most popular and versatile vans to live in full time. The great thing about this model of van is that it is exceptionally tall, which can be handy for if you plan on creating a two-level interior or raised bed. Despite its tall shape, it is still a fairly compact vehicle that is easy-going to drive and easy to fit into parking spots – its performance as a solid all-rounder makes it a trusty option for van living.
3. VW Crafter
Just like the Vauxhall Movano, the VW Crafter is a commercial vehicle designed to transfer goods, and it is also an incredibly spacious van to make a home out of. This can often make a much more convenient alternative to the VW bus as it is still in production so easy to get hold of parts. Not only will you feel peace of mind knowing you have invested in a reliable and high-quality brand, this van is also incredibly smooth and easy to drive, even on rougher terrain. This is also quite a budget-friendly van choice, providing comfort, ease of use and reliability for a great price.

4. Ford Transit
Every van man across the UK will be all too familiar with the instantly recognisable Ford Transit, but who knew it was also a great choice to live in too?! The great thing about this van is that it is affordable while also being built to stand the test of time. This van is not quite as big as the Movano, but still has plenty of room for getting creative with the space. This van is particularly popular amongst people who want to live in a van as the structure is sturdy and the shape is versatile, those seeking to move in full-time often add wood panelling to the interior for an added homely touch.
5. Mercedes Sprinter
The Mercedes Sprinter is one of the most popular choices for off-grid van living, and one of the most easy vehicles to convert into an on-the-road home. Conversion companies will often recommend the Mercedes Sprinter when creating a liveable van due to their power and durability, they also make for a strong and sturdy base to build upon. Where reliability is concerned, this is the vehicle for you. The Mercedes Sprinter is also a great choice if you plan on travelling, as with a global name like Mercedes you can always have the peace of mind that parts will be easy to get hold of.
Which van you eventually decide to go for will probably come down to personal preference, such as how much space you will need inside, how you plan to convert it, do you intend to travel and how long you plan to live in it. Ultimately, each of the vans on this list will make a fantastic place to live, allowing you to live more simply without having to compromise on comfort.