Expert Review
Renault Zoe Van Panel Van (2020 - ) Electric review
The van version of Renault's smallest electric vehicle, the Zoe, offers affordable running costs, a quiet driving experience and all the zippiness that comes with an EV.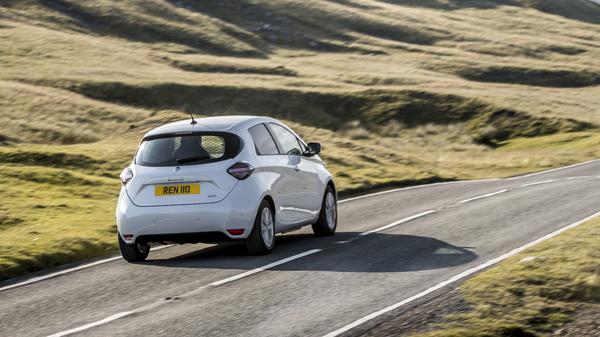 The Auto Trader expert verdict:
Available new from £32,440
There aren't many car-derived vans to choose from, and there are even fewer that are pure electric. The Renault Zoe Van is the only one in fact, and offers a small delivery vehicle for those that don't need much carrying capacity but also like the idea of freeing themselves from the filling station. It's limited in who it will work for as it can't carry heavy or big loads, but the plusses will outweigh the negatives for those that can fit it into their working lives.
Reasons to buy:
245-mile range and cheap to run
Luxurious car-like cabin
Quiet and smooth driving experience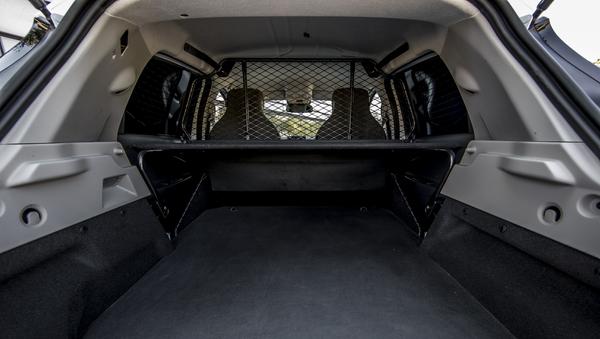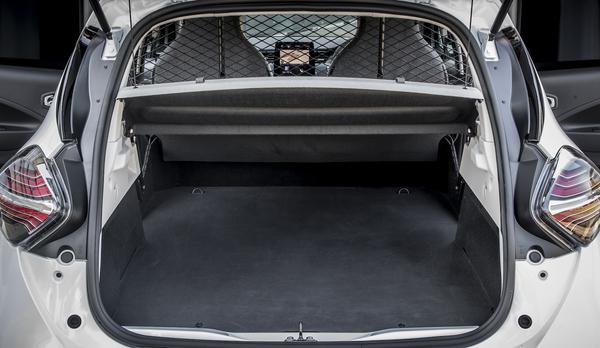 Cargo & practicality
Renault hasn't done huge amounts to the rear part of the Zoe to turn it into a van, which means you don't get masses of storage. The rear seats have been taken out and the resultant loading bay floor has been lined with something flatter and more durable than you get in the back of the Zoe car. You also get a mesh bulkhead and blanked off rear side windows. This is a requirement for the Zoe to be classed as a van, but those who don't want it to look too much like a commercial vehicle will be pleased that Renault has made them look like heavily tinted glass windows and it hasn't gone down the route of adding body-colour panels. The side doors remain, too, which means you can open them to get into the loading bay from three places. The mesh bulkhead has its bonuses, such as being able to see out of the rear window, which is a plus for those who are not used to driving a van. You can also glance into the back to check on the contents. The obvious related negative is that this visibility makes it easier for others to see into the loading bay, too, which means valuables can't be stashed out of sight as easily. There is a loading cover that allows you to tuck some things out of view, but it only goes up to just below the window line. The overall space on offer in the back is one cubic metre if you load it up to the roof, which is marginally more than the only other car-derived van on sale, the Ford Fiesta Sportvan, which offers 0.96 cubic metres. If you do load it up fully, though, it would have to be balloons (well, not quite, but something fairly light) that you pop in the back as the payload is just 387kg – some way short of the Ford's 515kg payload. The cabin space is very much car standard, rather than van size. This means a bit of space in the doors, a standard sized glovebox, a slot ahead of the gear lever that is big enough for your phone and a couple of other bits, and a pair of cupholders.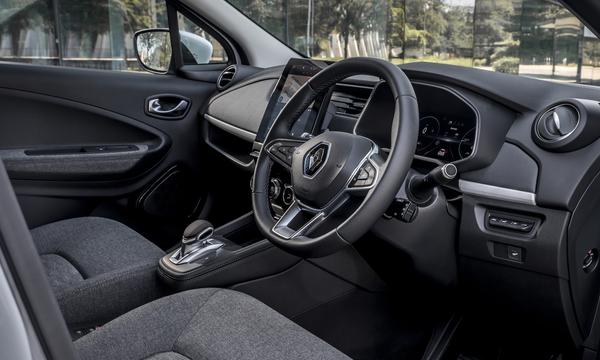 Interior
By van standards, the Zoe's cabin is really upmarket, with a fantastic level of equipment and a set of materials that allow you to forget you're in a commercial vehicle. This is because it is essentially the car's cabin, complete with all the tricks and modern features that often come with an electric vehicle. The materials on the wheel and gear lever are soft to the touch and various elements are ringed with silver coloured trim that livens up the look of the cabin. A large, seven-inch portrait-style touchscreen is at the centre of it all. This controls many of the functions in the cabin, including the stereo, navigation and various vehicle settings. Thankfully the temperature can be adjusted via a row of dials below the screen, which are easier to grab on the move. In front of the driver sits a second, 10-inch display, which acts as a digital dashboard, with speedometer and data on the state of the battery. It can also be configured to show navigation info or what is playing on the stereo. The car-like cabin might not be as capable with dealing with the robust life that some vans lead, but it is unlikely that the Zoe will ever be subjected to that sort of ordeal.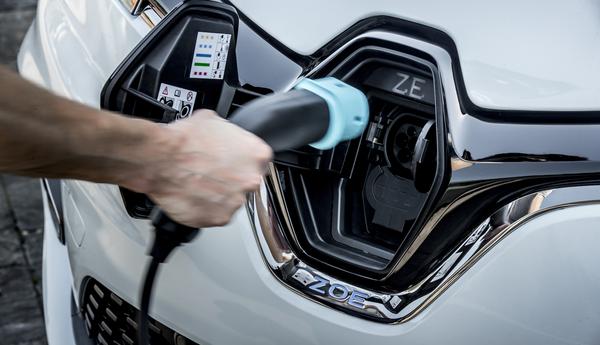 Running costs
Once you get over the initial hurdle of buying a Zoe – it comes with a higher price tag than the Fiesta Van – then the Renault should be an affordable van to live with on a daily basis, particularly if you are based in or near a big city. As an electric vehicle it is eligible for free entry into all of London's congestion charging zones and all the planned equivalents in other cities around the UK. It also qualifies for zero VED road tax and drivers won't have to pay any personal Benefit in Kind tax if they take the van home after hours, either. This is all before you factor in the fact that electric vehicles are cheaper to fuel than petrol or diesel equivalents and that they should be cheaper to maintain, too. It's impacted by where you charge – an optimised home charging tariff will be cheaper than relying on some road-side posts – but in any case, it should give you a full charge for less than if you were using a combustion engine. The range is an advertised 245 miles but, in reality, it is rare that you'll get that as a maximum. Something around 230 is a more realistic top-end range in summer, while in winter that is likely to dip down to something around 150 miles. The more stuff you carry, and the faster you drive, the more that is going to decrease. The eco mode in the Zoe really helps to curb any enthusiasm with the throttle, as it limits you to a top speed of 60mph. This can make motorway driving a little more efficient but also a little more intimidating as you end up spending more time alongside the lorries. You can force it to go quicker if needs be, but this dulled throttle response really helps to preserve range if you need it. The charger that comes as standard will replenish the Zoe in 9-10 hours on a 7kWh wall box charger, which means it can be left overnight between working days. If you need to do more than the daily range then the optional 50kWh charger will take the Zoe from 0-80% in an hour and 10 minutes or will add 90 miles of range in 30 minutes.
Reliability
Renault and sister company Nissan have a longer history than many brands when it comes to electric vehicles, which means that while the Zoe is a relatively new product, it has been created with the benefit of experience. Although there is no history of reliability or otherwise for the Zoe, Nissan says that there have been no critical incidents related to Leaf (which is closely related to the Zoe) batteries since the car was launched in 2010. It also says there have been an "extremely low number of warranty claims". The overall warranty for the Zoe is an impressive five-year 100,000-mile offering, while the battery gets an eight-year warranty over the same mileage. Electric vehicles have fewer things that need to be done come servicing, too – there is no oil to change for example. Said service intervals are 12 months or every 18,000 miles, whichever comes sooner.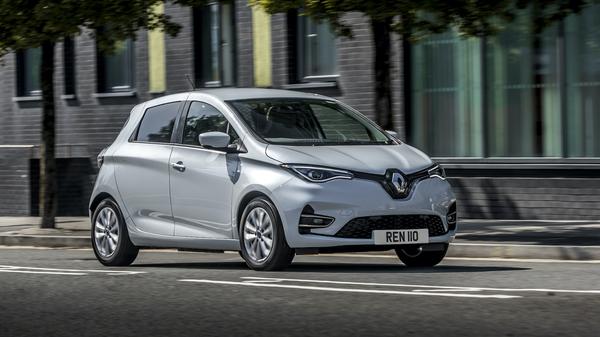 Performance
Renault hasn't dialled back the power on offer in the Zoe, which means that it is a really nippy and entertaining little thing to drive. Some electric vans offer a more sedate acceleration, but that isn't the case here with the 80kW engine offers 107hp and the pulling power is available immediately, rather than at higher revs as it is in a conventional engine, which makes the Zoe really swift away from a standstill. The 0-62mph time might not be blistering by car standards, at just under 11 and a half seconds, but it is pretty quick for a van. Zipping around like this might be fun, but it might not be the best thing for the load in the back or for the range if you blast around all day. For the job-to-job trips in town it makes more sense to press the Eco button and engage the 'B' mode, which increases the amount of engine braking. This engine braking won't slow the van to a total halt, but it will take a fair amount of the speed off and it feeds the energy created by braking back into the battery. This also helps reduce the strain on the actual brakes, which helps with wear and tear too. The Eco button reduces the van's top speed and dials back things like the air con, but it makes a lot more sense when speed isn't of the essence.
Ride and handling
Despite its amusing nippiness, the Zoe's driving experience is more sensible and unremarkable. It is stable around corners and less entertaining than the Ford Fiesta Van. There isn't too much in the way of body roll and the ride is smooth and composed. It copes well with potholes and speed bumps, but with a touch of firmness to it. The steering is light and easy for the sort of town driving that the Zoe is best suited to. It makes parking simple, although it does mean that it isn't quite as enjoyable as the Fiesta should you wish to go for a more spirited drive.
Safety
Safety is one area where vans usually do the bare minimum but, once again, the Zoe's car origins do it well on this front. The standard kit on the Business trim includes four airbags, Isofix on the passenger seat, cruise control with a speed limiter and the E Voice system that emits a noise to warn pedestrians of its presence at low speeds. You don't get any intelligent safety aids until you step up to the Business+ model. Then you get a lane departure warning and a lane keep assist system, automatic high-beam headlights, traffic sign recognition and rear parking sensors and a rear parking camera. It's a shame that there is no autonomous emergency braking as standard, though – you have to add it as an option and can only do so on the higher trim.
Equipment
As well as the usual choice between trims – there are two on offer – there is also a decision to be made when it comes to the Zoe's charging ability. The basic trim is called Business, and comes with keyless start, cruise control with a speed limiter, air conditioning, Android Auto and Apple Carplay, auto lights and wipers and a type 2 charging cable. The Business+ adds more in the way of intelligent driving kit, such as lane keep assist and lane departure warning. It also gets climate control, wireless charging, headlights that automatically adjust to and from high beam, and 16-inch alloy wheels. Both come with the option to upgrade to 50kWh DC rapid charging.
Why buy?
The Renault Zoe is a charming, yet small, commercial vehicle for those that want an urban delivery vehicle or one for a company that doesn't need to carry much in the way of weight around. That it is also an electric van with an impressive range and associated cheap running costs makes it all the more compelling. As is ever the case with electric vehicles, there is a bit of a price premium when it is new, but the running costs could well make up the difference for those who use it in an urban area.