Expert Review
Peugeot e-Boxer Electric Van Review (2021-)
Peugeot's large electric van offers great body size choices and a spacious cabin, but does it deliver the performance it needs to?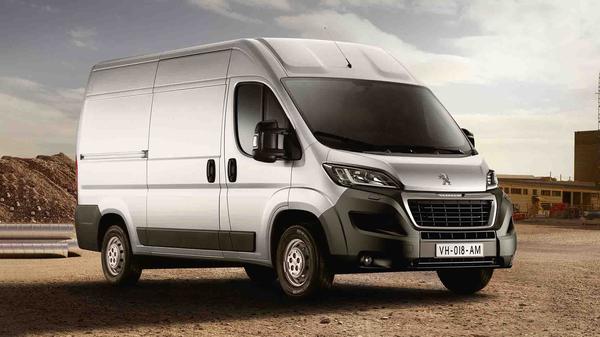 Words by: Auto Trader
Published on 2 June 2023 | 0 min read
The Auto Trader expert verdict:
Available new from £76,231
The all-electric Peugeot e-Boxer large van completes the company's electric van offering - sitting next to the Peugeot e-Partner and Peugeot e-Expert. The aftermarket nature of the electric installation is clear to see - this is a classic example of a retrofitted diesel platform turned electric - but the basic nature of the Boxer means it's a van that loves hard work. If you have a requirement for a budget large electric van, the e-Boxer is a good place to start - it's affordable, durable and capable of carrying enormous loads in its cavernous loadspace.
Reasons to buy:
Capable of carrying large-sized loads in its huge loadspace.
Cabin isn't the most modern, but is as durable as they come.
Good electric range and powertrain makes it easy to drive.
Cargo & practicality
While the diesel Boxer comes in a wide range of styles, the electric e-Boxer is only offered in three guises - two panel vans in L3H2 and L4H2 sizes, and an L3 chassis cab for bespoke conversion. The three-seat cab layout is available for all three, while the panel vans offer access to the cargo area via a sliding side door and twin rear doors that open to 180 degrees (although, 270-degree opening is available as an option and I see a lot on the road whose drivers have opted for this). The panel van features a full-height steel bulkhead, and there are 10 lashing eyes located around the floor to tie cargo down. Load volumes are the same as the diesel Boxer, giving the L3H2 e-Boxer 13 cubic metres of cargo space, while the longer wheelbase L4H2 panel van offers 15 cubic metres. The load length at the floor is 3.71 metres for the L3 van, and 4.07 metres for the L4 version, while both vans have a maximum load height of 1.93 metres, allowing most people to stand up straight inside. Payloads are lower than the diesel Boxer due to the weight of the electric drive battery pack on board - the L3H2 offers 690kg and the larger L4H2 has a 645kg capacity. These weights are low, but exactly what you'd expect for large electric vans. The e-Boxer Chassis Cab has a healthier payload weight of 995kg, but the weight of any conversion that's been added to the frame will need to be factored into this.
Expert rating: 3/5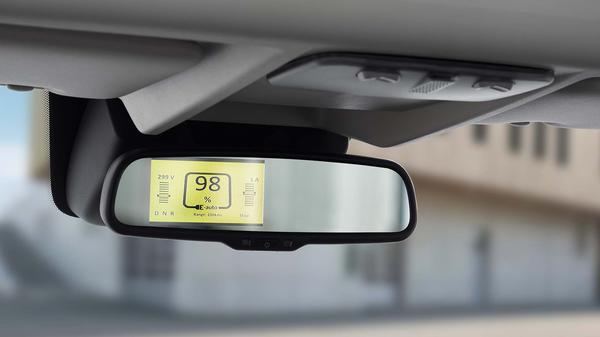 Interior
The Peugeot e-Boxer was introduced in 2022, but the van it's based on has been around for almost a decade. As a result, it's quite a basic cabin when compared with many of its rivals, with lots of hard-wearing plastics and painted metal on show. All versions come with a three-seat layout, with the driver's one made fully adjustable for height, rake and lumbar support. The twin passenger seat is roomy and there's storage underneath - a useful addition and a perfect place to stash lunch. The sole trim level on offer in the e-Boxer is Professional Premium+ but this has a decent level of kit - although selected option packages can be added to the vehicle if required. Split-level door mirrors with a wide-angle section boost rearward visibility, while storage includes very deep door bins - 1-litre water bottles get swallowed up by these bins. A dashtop clipboard lifts up and forward to let you keep paperwork close to hand, plus there are the usual dashtop trays, although there are only a couple of small shelves for storing loose items on the front of the dash. There are a few redundant controls built into the dashboard. For example, since the heater temperature is operated via an aftermarket system located to the right of the steering wheel, it's just the air vent speed adjustment that operates on the built-in controls. And while the driver has a speedometer in the dials, the needles for the rev counter, fuel gauge and engine temperature have all been removed. Instead, the battery info is located on a heads-up display projected into the rear-view mirror. I think this is a handy location to have it - even though the e-Boxer has a bulkhead that can't be seen through, it's quite natural to glance up at the rear-view mirror (even though there's nothing to see) and having the battery reading right feels like a good use of space. Just to reiterate, this is a budget electric van - designed to be quick to acquire and get used to. Bells and whistles in the cabin are at a minimum to keep the price down - but that doesn't stop it from being a comfortable and durable place to spend time.
Expert rating: 3/5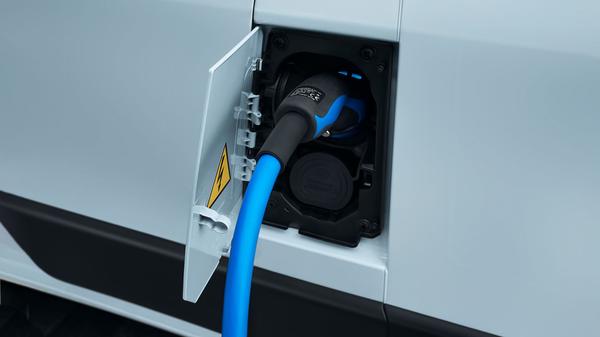 Running costs
There's a single electric drive option available in the Peugeot e-Boxer, and it's fitted in place of the powertrain found in the diesel Boxer - although the system nearly doubles the price of the e-Boxer on a like-for-like basis (but is more affordable than other premium electric large vans). And if you charge it via public points, you're not going to be saving much in terms of everyday costs to fill it up. The 75kWh battery that's fitted in the e-Boxer is good for an official WLTP-tested range of 154 miles, which means you'll be having to stop and charge more frequently than you will need to in a diesel van - a home charger will be a major plus for anyone choosing to drive this van. A single charge from a 7.4kW wallbox will take 12 hours, while one from a three-phase 22kW supply is faster, at just five hours. More expensive DC charging can be done at rates of up to 50kW, which can take the battery from 0-80% in an hour - prices will change accordingly.
Expert rating: 3/5
Reliability
No-nonsense construction and a decade in service means that the Peugeot e-Boxer platform (and its parts) are tried and tested. It's worth pointing out, however, that the electric powertrain is installed by an independent company once the existing Boxer is taken off the production line. The Turkish company that fits the driveline has plenty of experience with these systems, and the eight-year/100,000-mile warranty for the electric powertrain should provide some added peace of mind. Do note that the warranty above is additional to the standard three years and 100,000-miles of cover that Peugeot gives all of its vans.
Expert rating: 4/5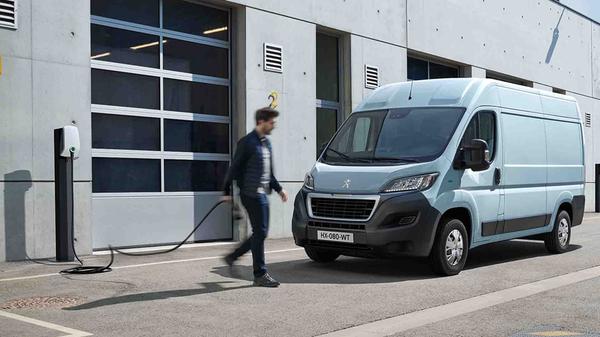 Performance
The 120hp electric motor in the e-Boxer is as powerful as the entry-level diesel van, and since it also has a heavy battery to haul around, its power delivery feels slightly slower. Once you've turned the ignition on, you press one of three large buttons on the dashboard where the diesel model's manual gear lever would be. This puts the drive system into forward, neutral or reverse, and only works when you have your foot on the brake, preventing you from selecting the wrong mode while driving. Once you're moving, the e-Boxer is actually good fun to drive – keep your momentum up and the van will keep pace with traffic. With no noisy diesel engine under the bonnet, the e-Boxer is more refined and it's a pretty stress-free experience, helped hugely by the lack of manual gearbox to contend with. Unlike other electric vans, there are no drive modes to switch between to boost performance or economy, and energy recovery under braking is set at one level. It's enough to help the e-Boxer slow reasonably quickly without touching the brakes, but the van won't come to a complete halt by itself.
Expert rating: 3/5
Ride and handling
The e-Boxer's comfort is heavily improved thanks to the heavy battery on board, so it feels more stable and less bouncy than the diesel model when unladen - although the obvious downside to this is the lower overall payload that's on offer. Reinforced rear suspension therefore comes as standard to make up for the additional weight of the battery. The steering has a lot of turns from lock to lock and is heavy, but the set-up isn't designed with sportiness in mind, it just points the e-Boxer in the right direction - exactly what you want from a steering wheel. It's an easy vehicle to drive and move about the road - that's high praise for a van of this size.
Expert rating: 4/5
Safety
The basic safety kit you'd expect from a large van is present, but there's not a lot else of note because this is an older van platform. You get a driver's airbag (a passenger airbag costs extra), a trio of three-point seatbelts, ABS with emergency braking assistance, and brake force distribution and stability control. There's cruise control and a speed limiter, plus a Thatcham-approved alarm and immobiliser (not many vans come with an alarm system as standard, this is not to be overlooked). An optional Safety Pack includes auto main beam headlights and auto wipers, speed limit detection, active braking and lane departure warning, plus a distance alert system. It's got everything you might need to stay safe on the road - true, it doesn't pack some of the more modern safety techs, but it packs enough.
Expert rating: 3/5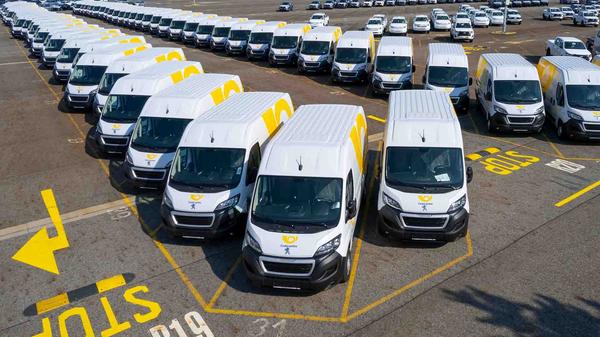 Equipment
The sole trim level offered on the e-Boxer is Professional Premium+, which offers the same equipment levels as you'd get on the diesel Boxer, but with electric-specific features added. It has air conditioning, rear parking sensors, daytime running lights, electric windows, cruise control, steel wheels, 180-degree opening rear doors and a single sliding side door. There's also a seven-inch touchscreen infotainment system, which comes with navigation, a DAB radio, Apple CarPlay and Android Auto connectivity, Bluetooth, a USB socket and steering wheel controls. The e-Boxer additions include charging cables, the reinforced rear suspension and the rear-view mirror which shows battery info, energy use and charging status.
Expert rating: 3/5
Why buy?
The Peugeot e-Boxer expands the company's range of electric vans, but it's a difficult model to recommend. It's not as sophisticated as the company's small and medium-sized vans (it's based on an older model), with a distinctly aftermarket feel to its powertrain installation that adds a retro feel to the interior of the van. In short, if you need a large electric van that can do short trips without fuss, this is definitely worth putting on your list. Where this van excels is with its cargo volume - it can swallow large bulky loads in its load space without breaking a sweat. It would be a great first step on the electric ladder for a tradesperson who carries physically large loads who's looking to make the switch. Affordability - relative to other large electric vans - is also one of this van's strong points, and it doesn't try to be anything other than a durable and practical workhorse. Removals businesses, delivery companies and last-mile enterprises should take a closer look at the e-Boxer and its Stellantis platform sharers - they might just find it to be the right van for their business needs, and help them reach their environmental goals. Find more in-depth tests of large electric vans with our expert Renault Master E-Tech review and Vauxhall Movano-e review.