Long Term Review
Living with… a Citroen Berlingo Crew Van
Can a modern crew van be the one vehicle you ever need – a tool for the working week and family transport at the weekend?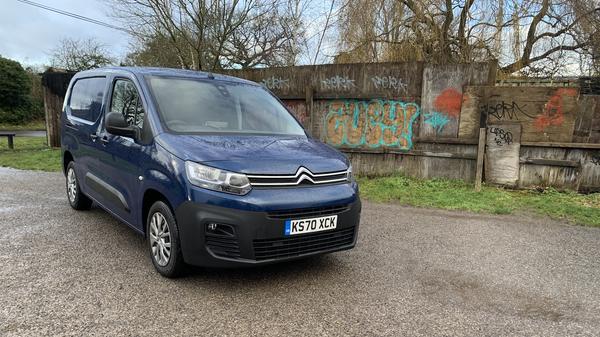 What is it?
Model: Citroen Berlingo Crew Van
Version: Enterprise BlueHDI100
Options fitted: Metallic paint: (£350)
Cost as tested: £21,360 (excluding VAT)
We like...
Fantastic second row of seats with three Isofix points and easy folding
Flexible and simple-to-move bulkhead
Excellent to drive
We don't like...
Solid side doors
Unnecessary rear-view mirror
Lack of options on Crew Van
Key information:
Official economy - 55.6mpg
Our average economy - 49.8mpg
Mileage - 1302 miles
Vans are enjoying a huge boom in popularity right now, with buyers desperate to get hold of vehicles that are playing a big role in the massive rise in home delivery. There are whispers of waiting lists until 2022 for some new vans, while used prices are on the rise.
This is not unique to vans, though, with demand up for new cars too. Could, and indeed should, you live with one vehicle that does both jobs? There aren't many vehicles that can be a working tool during the week and family transport at the weekend, but the crew van, with its second row of seats and loading bay that's designed to take a battering, is one. We've been living with a Citroen Berlingo Crew Van for the last six months to find out. There is one very notable oddity about this particular crew van, though. While crew vans (they also go by names like 'kombi' or 'double-cab-in-van') normally look like big estate cars with two sets of side windows and a blanked-off loading bay, the Citroen only has side windows for the driver and front passenger with solid side doors that you can't see through. The reason for this is quite a dry one and is down to tax, as many things in the automotive world are. In short, a recent court case has suggested that a vehicle that is designed to take people rather than tools or deliveries should be classed as a car for company car tax, or Benefit-in-Kind (BIK) purposes. Vans qualify for a very low rate of BIK that is calculated on a fixed basis regardless of the vehicle's emissions so it's in manufacturers' interests to not have their vehicles classed as cars, which might put people off. If you started paying BIK on the basis of the Berlingo's 148g/km CO2 emissions then it would get a lot more expensive.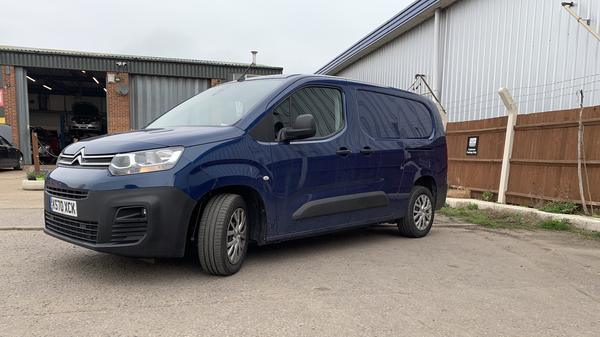 Six months of life with the Berlingo gave us a chance to test this out, although my usual 'crew' was far younger than the colleagues that you would ordinarily take with you to a job that required a team of workers. However, while your colleagues might grumble a bit about not being able to look out to the side, they at least stand a chance of understanding the oddities of the UK's taxation system, so you can at least explain the reasons behind the lack of windows.
I did think about launching into an explanation to my three-year-old daughter, but thought better of it and instead went with the "We're playing hide and seek with the people outside!" line. Because the majority of our time with the Berlingo coincided with the UK being in a coronavirus-instigated lockdown, the game of hide and seek never had to be maintained for longer than around half an hour. Thankfully, there wasn't a point when the façade failed, although there were a few more mutterings about wanting to go in a "car with windows" towards the end of the Berlingo's time with us. The baby just cried, but that was rarely down to the view. So, while the lack of view might be drawback, there are plenty of other things in the Berlingo's favour when it comes to being a family wagon. Rather than being a bench, the seats in the second row are all individual ones, each with their own Isofix point. This makes this crew van one of the few vehicles capable of taking three child seats across the back row. Ironically this, and the sliding doors that allow for easy access in tight parking spaces, make the Crew Van a brilliant weekend family transport option.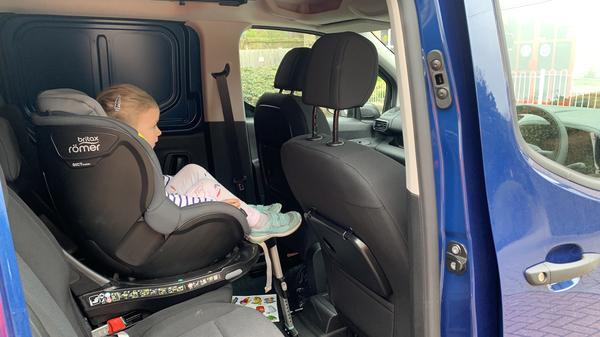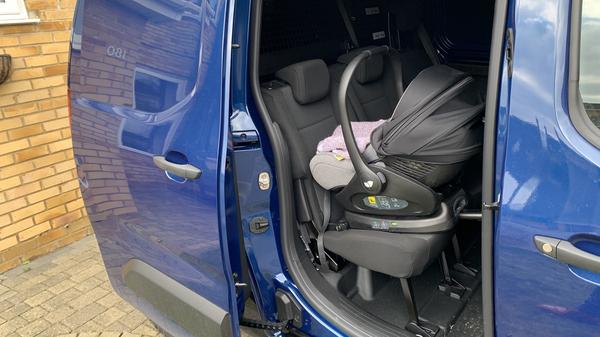 Add in the rubber floor mats with their wipe-down ability, good view out the front window and wide space between the front seats allowing for easy access to the second row and it is, in many ways, a brilliant option for carrying kids.
The rear-view mirror seems like an odd addition when you consider that the rear doors are not glazed, but they do allow you to keep an eye on younger passengers. If you are only ever going to carry colleagues then it is a more annoying feature as the presence of a rear-view mirror means that your eyes get drawn to it more often, before you then revert to using the door mirrors, which adds a tiny fraction of a second to the time it takes to check what is happening behind you. Despite all this, there are more things that make the Berlingo Crew Van a working vehicle first and foremost. The second row of seats are, once again, a major factor. Whereas many crew vans are designed so that the seats have to remain in place for the majority of the time, the Citroen has a clever system that allows you to make the most of the loading bay in just a few easy moves. The seats fold down, which can be done one handed, while the few bits that you have to unclip to slide the mesh bulkhead forwards are all handily labelled in yellow. This meant that the Berlingo spent more than one occasion being used as a full panel van for, most notably, a house move.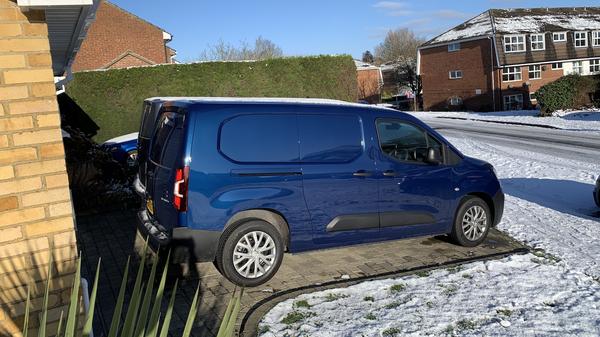 If there was still any lingering doubt about the targeted buyer for the Crew Van then the Citroen's kit list should really put it to bed. There are some genuinely wonderful bits of tech in the Berlingo range, with overload sensors, cameras to show blind spots and others that act as rear-view mirrors, head-up displays and a smooth automatic gearbox. None of these are available on the Crew Van, though, which comes with just the one trim – mid-level Enterprise – and only the mid-range 100hp diesel engine.
You can add parking sensors, a rear-view camera and a safety pack that brings kit like lane departure warning and an active safety brake, but not masses more. It doesn't desperately need it – the Berlingo as a package served wonderfully well on longer journeys for example, with the engine offering plenty of push to perform happily on the motorway. The initial concerns about the lack of sixth gear and the potential for high revs at motorway speeds proved unfounded, as it managed to keep the engine speed in check. The only exception was going uphill on a motorway, but it was a rarity that it ever felt anything other than settled. The Berlingo nails pretty much every job you ask it to do then, but without offering some of the pizzazz that the panel van version can provide. It's clear that even though it has some elements that are fantastically family friendly, it is a tool first and foremost so it isn't quite the 'All things to all people' solution that a crew van might sometimes be. If you are after a vehicle that will allow you to take five colleagues to a job then it is perfect. If you want it to be a working tool in the week and a family vehicle at the weekend then the compromises brought about by the tax system mean that it might not cut it.