Expert Review
LEVC VN5 Panel Van (2020 - ) Electric review
The VN5 marks LEVC's first foray into commercial vehicles, and it represents an innovative and brave step.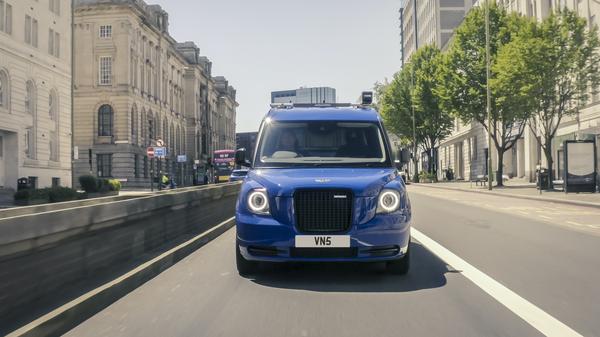 The Auto Trader expert verdict:
Available new from £56,491
The LEVC VN5 is a brave new venture in many ways – it is an electric vehicle, but not quite. As well as being powered by a battery and electric motor, it has a petrol engine that acts as a range extender in a bid to tempt buyers who are wary of running out of charge. This isn't the first vehicle with this arrangement – the company is the one behind the recent TX taxi – but it is a first for the van market and it is LEVC's first commercial vehicle full stop.
Reasons to buy:
Innovative and impressive drivetrain
Really quiet to drive
Smart touchscreen
Cargo & practicality
For all its innovation elsewhere, the loading bay of the VN5 is rather basic in its approach and offering. That's not to say it doesn't do those basics fairly well. It comes with a pair of asymmetric rear doors that can be opened out to 180 degrees and a sliding door that allows you to slide a Euro pallet in from the side. The overall space inside measures a generous 5.5 cubic metres, which places the VN5 somewhere between two classes. This is bigger than the likes of the Vauxhall Combo Cargo and even marginally larger than the smallest Vivaro, which starts at 5.3 cubic metres. The payload is not quite as impressive, though. At a maximum of 830kg (for the basic trim, the top trim only offers up to 780kg) it falls short of the electric versions of the Citroen e-Dispatch, Peugeot e-Expert and Vauxhall Vivaro-e that LEVC is targeting – they all claim more than 1000kg. There is little in the way of cleverness in the loading bay, too, which will have been done to aid those who want to put their own storage solutions in there. The only downside of this is that there is nowhere to store the charging cable in either the loading bay or the cabin, so it can end up sliding around loose if you need to take it with you. Admittedly, most will leave it back at base, which negates this issue.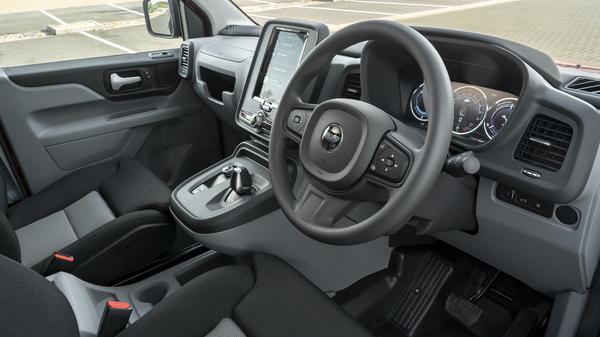 Interior
The VN5's cabin is a bit of a mixed bag, as some elements are truly glorious and unseen on a commercial vehicle, whereas others show the brand's inexperience with making commercial vehicles. The good stuff includes a wonderful and clear screen that sits, portrait style, in the middle of the dashboard. It is clear, easy to see and huge. It has its oddities, and it is a shame that pretty much all the functions are controlled through it, like the driving modes and the climate control, but it gives the cabin a modern and sophisticated feel. The materials are impressive, too, as they come across as being durable without being totally utilitarian. There is a good amount of storage, with spaces at the top of the cabin, between the seats, in the door and on the dashboard, but it is a shame that none of it has a lid so you can tuck things out of sight easily. The biggest issues are visibility and ergonomics. To maximise space in the back, LEVC has pushed the bulkhead and B pillar at the back of the front door as far forward as possible. This means that taller drivers may find themselves wishing they could push the seat back a little further to get into an optimum driving position. It also means that, if you sit all the way back, the B pillar is directly to your right, so you have to lean forward to look out of the side window at junctions and the like. Visibility isn't helped by the door mirrors, either, which are on the small side and don't have any form of fish-eye-type lens to let you see into the blind spot. The blind spot recognition system might prevent you from pulling into an occupied lane on the motorway, but it won't help you see a cyclist that is between you and the kerb at the traffic lights. The cabin layout means that there is only room for two seats, whereas rivals often have space for a third, smaller seat in the middle.
Running costs
Running a VN5 has the potential to be very cheap indeed. As it is classed as an electric vehicle it enjoys exemption from the various city-based charging zones, is exempt from VED or road tax, and there is no company car tax to pay on electric vans. With a pure-electric range of just over 60 miles, many will be able to do the majority of their daily driving on electric only. This is all the more likely when you factor in that a 50kW fast charger can replenish the battery in just 30 minutes, so a lunchtime pit stop somewhere with the appropriate charger will double that range. It seems slightly odd to talk of fuel economy when the engine doesn't directly power the wheels, but the VN5 has an official petrol-only range of 243 miles and a fuel tank capacity of 36 miles, which works out at 30.7mpg. This isn't great, but no-one should be buying a VN5 to spend loads of time refuelling it at a petrol station. The fly in the ointment is the initial purchase price. Even if you factor in the fact that the VN5 qualifies for the full Government plug-in vehicle grant, it is still expensive compared to the bigger Ford Transit Custom plug-in hybrid. The other savings mean that plenty of businesses should still be able to make it work.
Reliability
You might think it would be hard to judge how reliable a brand-new company's first van will be, but there are positive signs. For a starter, the battery has an eight-year warranty, while the rest of the vehicle is covered for five years. The mileage allowance is an industry-leading 150,000 miles, too, meaning you can cover 30,000 miles in those five years and still be covered. The service intervals are a decent 25,000 miles apart, too, which suggests confidence from LEVC – the regenerative braking means that it shouldn't get through brakes as quickly as a comparable van with a diesel engine. It's also made of bonded aluminium rather than steel, which makes it lighter and stronger – LEVC says it is designed to last twice as long as a conventional rival. The final reassurance is that LEVC's parent company is Geely, which is the Chinese company that also owns Volvo. The VN5 shares parts with Volvo and can be repaired using the same tools, so it isn't a total unknown for the service and repair network.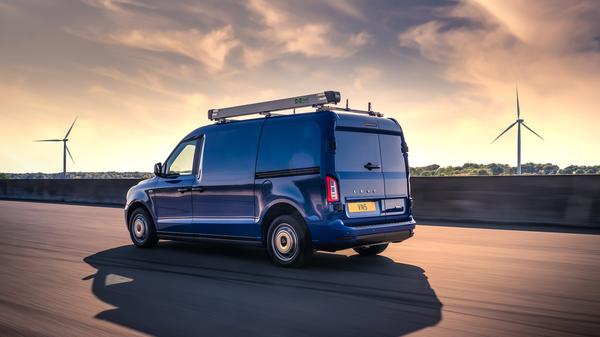 Performance
The first thing to note about the VN5 is the noise, or lack of it. You would expect that when it is running purely on electric, but it is incredibly impressive that you can't really tell when the engine is running. Because it acts as a generator to charge the battery, it doesn't need to rev more to give you more power or speed. This means that the noise doesn't go up when you put your foot down. LEVC says it has worked out a way of making the engine work harder at points when there are other noises such as wind or road noise that are unavoidable on the motorway. There is the occasional whirring noise from various motors that you notice when you pull to a stop and the like, but they are only really noticeable because of the general lack of noise otherwise. The acceleration is swift, but there are no instantaneous lurches off the line as you put your foot down, but you get a hefty amount of pulling power if you are already moving and accelerate. This means that quick overtakes are possible but your load won't get thrown to the back of the van if you fly away from a traffic light. The engine braking does a good job of slowing the van down so you don't have to touch the brakes much, but it doesn't manage to take it to a total halt. You can adjust it to set it at different levels so drivers unfamiliar with the system need not have it interfering more than they are comfortable with. There are three driving modes – Pure EV, Smart and Save. The former is self-explanatory, the second uses the engine some of the time while the latter prioritises petrol so you can save the battery for inner city areas or similar. It is a real shame that you have to delve into the touch screen menus to change the mode, though – it takes five individual actions to move from navigation screen to change the mode and go back again. A physical button would be far better.
Ride and handling
Without a load in the back, the VN5's ride is slightly firm with the odd bump but it doesn't crash over holes and speedbumps. This could well be eased if you make more use of the payload. The benefit of this is that there is little lean when you head around corners, and the LEVC is a neat handling vehicle. Because it was developed to be both a van and a taxi, the VN5 also enjoys a fantastically small turning circle – it whips around in just 10.1m, and does so really easily thanks to the light steering. This light steering is less helpful at speed, where you have to pay attention to ensure that you don't drift out of your lane on the motorway – rivals offer a little more weight at cruising speeds.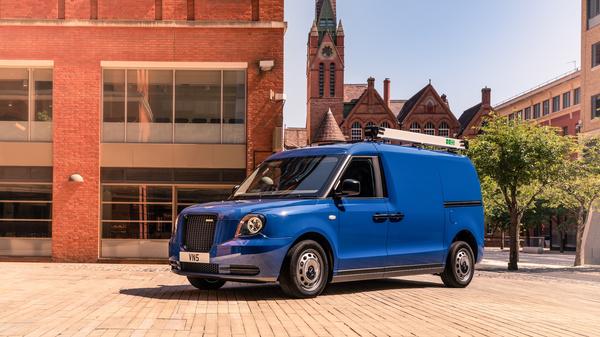 Safety
Safety is often under catered for in vans, but the VN5 comes with a great selection of equipment. While many vans only get one airbag as standard, the LEVC gets 'bags for both driver and passenger and two down the side. You also get Autonomous Emergency Braking, a forward collision warning system, post-impact braking, cruise control and an alarm. From the mid-level trim upwards, you also get a safety pack, which adds road-sign information, an intelligent speed limit function that adjusts the cruise control to the legal limit as it changes, a lane departure warning system and driver and passenger curtain airbags. You also get front and rear parking sensors while the top trim then brings a rear-view camera.
Equipment
There are three trims available, Business, City and Ultima. The entry-level Business model gets a lined loading bay with an LED cargo light, four tie loops and six roof mounting points. Other highlights include a dual-zone climate control, DAB digital radio, Bluetooth, two USB ports, keyless start and auto lights and wipers. You also get several charging options, with 50kW DC rapid charging, 11kW AC fast charging and a Type 2/CCS combo charging port. City adds a heated windscreen, extra storage under the passenger and driver seats, front and rear parking sensors and the safety pack. Range-topping Ultima comes with metallic paint, body coloured bumpers, fully electric and heated seats, satellite navigation and more tie loops in the loading bay. It also adds a rear-view camera and 22kW AC fast charging.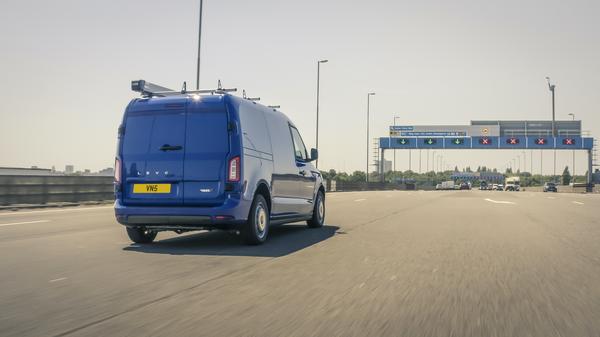 Why buy?
The VN5 has the potential to be a great van, although it does show LEVC's lack of van-manufacturing experience in a couple of places. Some of these – like the door mirrors and the lack of button for changing the drive modes – could be easily changed but others like the visibility are harder wired. The biggest issue for many will be the price. It is a lot to pay for a van that is electric that still has to be refuelled, even if it is only occasionally. It will work perfectly for some users, though, so if you fit into that niche then it may well enhance your working day a great deal.