Expert Review
Ford Transit Panel Van (2021 -) review
For many the Ford Transit is the definitive van in the UK, having been around in various forms since the 1960s. In many ways, even after all this time, it remains the best of the bunch.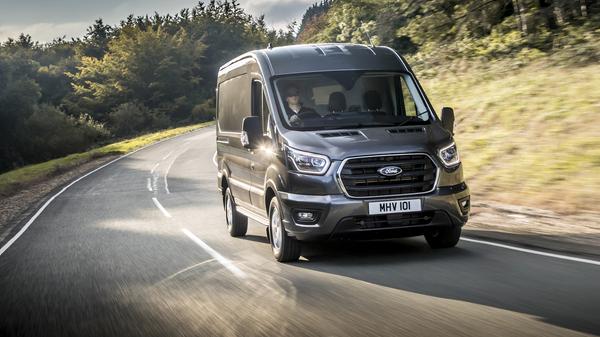 Words by: Tom Webster
Published on 20 July 2021 | 0 min read
The Auto Trader expert verdict:
You probably interact with a Transit several times a day, without even realising it. The large van is so popular and has been around for such a long time in the UK that it is a fixture on our roads and beloved of large and small companies alike. Whether it is delivering goods to our doors, helping people move house or helping tradespeople go about their job, the Transit has been the default choice for many over the years. This isn't because of a lack of imagination, though – it remains one of the best big vans you can buy.
Reasons to buy:
Excellent range of shapes, sizes and engines
Strong 10-speed automatic gearbox
Great to drive
Cargo & practicality
The Transit range is a wide-ranging one, with the van coming in three lengths and two heights. These means you get internal loading lengths ranging from 3044mm for the L2, 3494mm for the L3 and 4217mm for the L4. This means that the two shorter versions are capable of taking four Euro pallets while the largest can take five. There's a decent amount of space height wise, too, with internal heights ranging from 1786mm to 2125mm. The front wheel drive models offer marginally more internal height, while the rear- and all-wheel-drive versions also have slightly higher loading heights. The difference might only be 10cm, but it's enough that it might add up over a long day of lugging loads in and out of the back. This results in overall internal space that stretches from 10.7 cubic metres to 15.1 cubic metres, which is decent but not the biggest in the class – big vans like the Peugeot Boxer provide 17 cubic metres of space. Payloads are also something that is decent rather than the best in class, as they head up to 1472kg. What is striking is that the Transit has a couple of models with a payload less than 1000kg – something vans two categories smaller can offer. If you want even more capability then there is a heavy-duty version of the Transit, with gross vehicle weights that go up close to 5.0 tonnes. This takes the payload over 2.2 tonnes, but this does require a special licence to drive for many.
Expert rating: 4/5
Ford Transit Panel Van (2021 -) review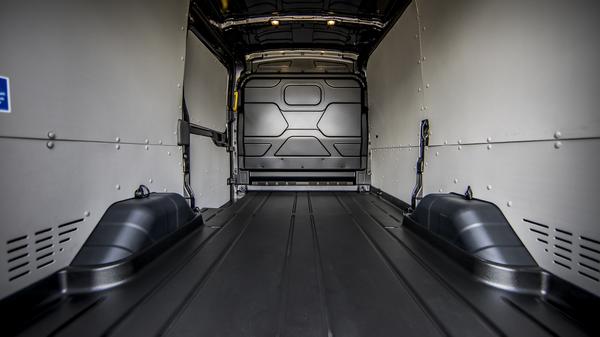 Ford Transit Panel Van (2021 -) review
Interior
The 2019 facelift lifted the Transit's interior up to a smarter and more attractive standard. This brought it into line with the smaller vans in Ford's range, which in turn are closer to the passenger car cabins than the pre-facelift model. The materials are particularly impressive, with a variety of different soft-touch and smooth surfaces that often don't appear on a utilitarian van. There's enough durability to deal with working life, though. Although the entry-level model is a bit more monochrome, the higher up versions get more in the way of silver and chrome elements to offer some variety and style to the interior. The storage is impressive, with lots of low-down cubbies and big pockets in the door and up on the dash. It's a shame that there aren't any coverings for the higher up bins, though. As well as the standard panel van the Transit comes with a double-cab-in-van version that provides two rows of three seats with space for six adults. The bulkhead between the two parts of the interior is solid and keeps noise to a minimum and it is still possible to get a large amount of gear in the back. The couple of isofix points in the second row are a bonus if you end up using it at the weekend too.
Expert rating: 5/5
Running costs
The Ford Transit is priced to rival its main competition – it matches the likes of the Mercedes Sprinter and VW Crafter when you look at the list prices. Older and less high-tech alternatives such as the Citroen Relay and Peugeot Boxer are slightly cheaper, though. The running costs are also bang on what you would expect and hope for. Although it is obviously dictated by what your plans are in terms of maxing out the payload or not, you should be able to get something in the mid 30s at least, with the official figures heading up to the low to mid 40s for mpg. The mild-hybrid models are the ones to go for if you want to eke out every drop of efficiency, with a maximum claimed figure that is about 4mpg better than the non-hybrid equivalent. The lack of obvious hybridity mentioned earlier could work in its favour here as it should boost efficiency even for those drivers that are not putting in as much effort as they could to drive economically.
Expert rating: 4/5
Reliability
Transit buyers wouldn't keep returning time and again if the big Ford had a reputation for unreliability and kept letting people down. Put simply, it has decades of dependability to fall back on. That said, the warranty is not the longest in the class, with just three years cover as standard, which is short of the five years offered by some rivals. It does give you 100,000 miles of cover though, which should be sufficient for all but the most dedicated of drivers. The Ford dealer network is one of the largest, too, so getting things sorted and serviced should be relatively simple. The company is also introducing more mobile servicing vans, which might mean that you don't need to go anywhere at all to get your vehicle maintained. The FordPass app allows you to keep an eye on routine maintenance, too.
Expert rating: 4/5
Performance
Diesel is the dominant theme in the Transit line-up, but it isn't quite as simple as that. Alongside the conventional diesels, Ford also offers a couple of versions with a mild-hybrid engine. This is essentially the same engine, but with a battery to take the strain off and therefore save fuel in the process. There are four different power outputs on offer, with a 105hp, 130hp and a 170hp model joined by a 185hp engine that is the most powerful in the class. They all meet with the latest Euro emissions standards and the updates to bring them up to those requirements brought about a slight tweak to efficiency, says Ford. All four of them are strong enough to deal with the Transit's size, even the 105hp model. The 170hp model is entertainingly powerful, which gives an illustration of how much the 185hp version has to offer – it's more than you really need in a large van, so is more likely to be of appeal to those who are going to be towing, maxing out the payload on a regular basis or converting the Transit into a campervan or similar. The mild-hybrid element doesn't really make a huge difference to how the Transit drives. There is no electric-only operation and the battery and motor only really support the engine. There is little in the way of indication to show that you are benefiting from it, too, which could be a good thing or not depending on how you like your hybrids to behave. It means that it cuts out and fires up quickly when the stop-start system kicks in and there is a little more low-down power, but the difference is negligible from a driver's perspective. It does mean that there is less of a reminder to change your driving style to maximise the battery's power. The engines are not exactly loud, but such is the quality of this class nowadays you could have a slightly quieter experience in some rivals. The Transit is still quieter than many, but it isn't quite the best out there now. The two gearbox options are a smooth-shifting six-speed manual or an incredibly slick 10-speed automatic that just slips into the background and is really relaxing to use. The ratios are so close together that it is pointless to shift gears manually with the auto – you'll end up picking a gear for no good reason and it is better to let it do the job for you.
Expert rating: 5/5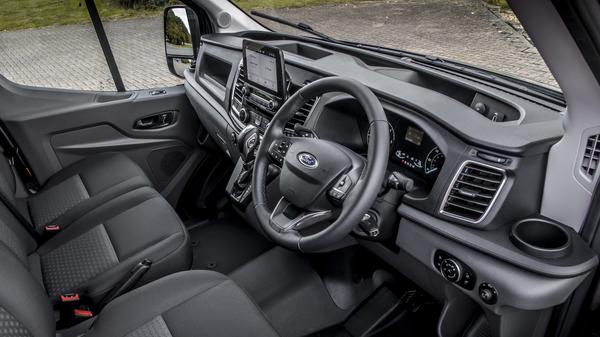 Ford Transit Panel Van (2021 -) review
Ride and handling
The Transit's sharp steering doesn't exactly make it a fun vehicle to drive in the same way that its smaller siblings are – it is too big for that – but it does help make it an easier van to drive. The accuracy and responsiveness of the steering means that threading it into a parking spot or nipping around town is made all the easier. It also means that it is solid on faster corners when you head out of town – you get a reassuring sense of the wheels heading exactly where you want them to when you are on B-roads and the like. Thankfully this responsiveness is dialled down at faster speeds so that you don't twitch around at speeds – the steering has a good weight to it so it is easy to hold it in a lane on the motorway. The compact steering wheel makes for a more enjoyable and less intimidating drive, too – there is no sense of stepping behind the wheel of a bus when you get into the cabin for the first time. The suspension is a glorious setup, too, with a controlled ride that keeps the vast majority of the bumps and imperfections out of the cabin. It performs slightly better when you have a load on board, but it needn't be a big one. The Trail version adds a small selection of off-road equipment that allows it to make short work of more challenging conditions – a mechanical limited slip differential means that you can take much the same approach to wet and muddy fields as you do to a tarmac surface. It's as unobtrusive as many of the other elements of the Transit and makes for a very user-friendly experience.
Expert rating: 5/5
Safety
As is often the case with a van, the entry-level model doesn't get the most generous of safety kit. You only get a driver's airbag for example – front passenger and side airbags are optional. One bonus is the standard fitment of the crosswind assist and the curvature control, which helps if you head into a corner carrying too much speed. Trend trim gets cruise control with a speed limiter and front and rear parking sensors, while Limited adds parking assist. There are loads of other systems, including trailer sway control, blind-spot warning, a rear-cross traffic alert, lane keep assist and lane departure warning and a speed sign recognition system, but they are all optional. As an offering goes it is good, but not quite the best.
Expert rating: 4/5
Equipment
The base Transit, which is the most popular thanks to its popularity with big companies that buy loads as tools, comes with a relatively simple trim offering. Thankfully the basics include a four-way adjustable driver's seat, a seat that adjusts in and out and up and down, a fold-out table on the passenger seat and Ford's vehicle maintenance monitor. Trend is the next step up, which is the pick in many ways, thanks to the heated windscreen, auto lights and wipers, cruise control with speed limiter, Ford's latest Sync infotainment system that is compatible with Android Auto and Apple Carplay so you can plug a phone in to act as a sat nav, front and rear parking sensors and a leather steering wheel. The top two trims both build on Trend but head off in different directions. Limited is the one geared towards those set to spend their time on the road, with a body coloured front bumper, bi-xenon headlights, 16-inch alloys and side park assist. It's a bit disappointing that this is the first point that you get air conditioning included as standard. Trail is the more rugged option and gets a bespoke front look with a big 'FORD' logo on the black grille. It gets Trail badging, a leather interior and bespoke 16-inch black alloy wheels. It too gets air conditioning. It also comes with a mechanical limited slip differential or all-wheel drive which boosts its off-road ability.
Expert rating: 4/5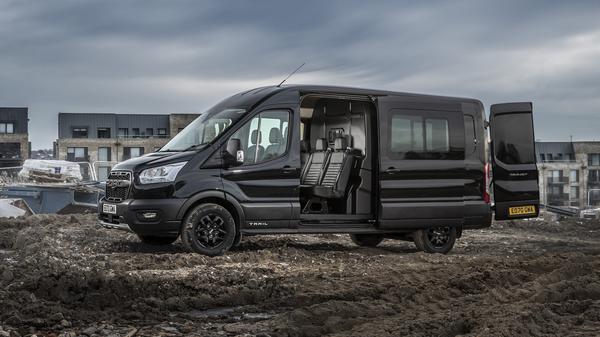 Ford Transit Panel Van (2021 -) review
Why buy?
In many ways the Transit is the best large van you can buy, even if rivals have it bettered in some areas. It might not be the cheapest, the best equipped or have the biggest payload but it is economical, great to drive and has a great selection of body shapes and sizes. Pick the right trim and is unlikely that you will be disappointed with your choice.
Expert rating: 5/5