Expert Review
Fiat Scudo Panel Van (2022 - ) review
For the 2022 model year, Fiat Professional revived an old name for its medium-sized van, with the return of the Fiat Scudo. Read all about it here...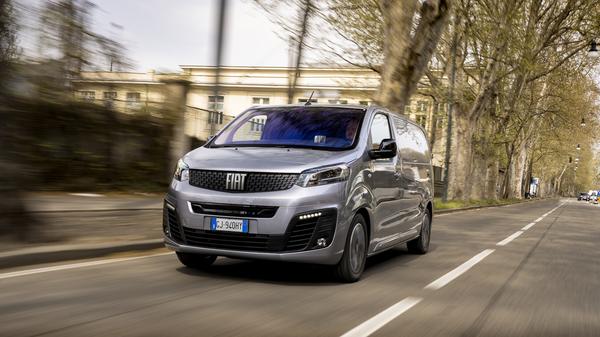 Words by: Auto Trader
Published on 22 February 2023 | 0 min read
The Auto Trader expert verdict:
Available new from £32,173
The previous Scudo was replaced by the Talento from 2016-2021, but this in turn was replaced by the new Scudo. There were significant changes with the introduction of the new model, chief among them being a slightly smaller cargo capacity, but this is made up for with a more car-like driving experience and a boost in the technology on board.
Reasons to buy:
Quite car-like to drive
Lots of safety kit
Electric version available
Cargo & practicality
Some medium-sized vans offer different roof heights, but that's not the case with the Fiat Scudo. It does come in two lengths – Standard M and Maxi XL – while there's the choice of standard panel van or six-seat Crew Van bodies, plus a chassis cab version for bespoke conversions. Cargo volumes measure from 5.3 to 5.8 cubic metres for the Standard van, while the Maxi has 6.1 to 6.6 cubic metres of space. The higher figures are for vans fitted with the Magic Cargo through-loading bulkhead, which adds a removable panel at floor height in the metal bulkhead so that longer items can be carried through to the passenger compartment. The maximum length of the load compartment is 2.51 metres for the Standard M and 2.86 metres for the Maxi XL, although the Magic Cargo option increases these lengths to 3.67 and 4.02 metres, respectively. Choose the Crew Van, and the capacities are smaller of course. There's 3.2 to 4.7 cubic metres of space in the Standard Crew Van, or 4 to 5.5 cubic metres in the Maxi XL. Load lengths are 2.18 and 2.37 metres, respectively. All versions of the Scudo have a load area height of 1.39 metres and a load width of 1.63 metres (or 1.26 metres between the wheelarches). All vans feature a full-height bulkhead and twin side loading doors (that's not always the case with the Scudo's rivals), which open to 935mm for easy access to the cargo area. At the back, symmetrical rear doors lock open to 90 and 180 degrees, with an opening if 1.28 metres on offer. In terms of payload weights, the Fiat Scudo isn't quite up to the leaders in the medium-sized van class. There are gross vehicle weights ranging from 2.6 and 3.1-tonnes, and this means payloads measure from 1,100kg to 1,499kg.
Expert rating: 4/5
Interior
With car-derived running gear under the skin, the Fiat Scudo offers less of a van-like driving experience than some of its medium-sized rivals. The cab is well built and packed with tech, but the seating position isn't much taller than you'll find in the SUVs that share the Scudo's running gear. The cab is a little on the narrow side, too, so if you're travelling three-up in the panel van, then shoulder room might a little tight. It also means that there's no natural armrest for the driver to use – some rival vans either come with a cut-out at the right height in the door panel, or are wide enough to have two armrests on either side of the driver's seat. Storage is reasonable, however, with lidded storage on top of the dashboard, cup holders, deep door bins, a good glovebox and reasonable space under the twin passenger seats.
Expert rating: 3/5
Running costs
Since it's a bit smaller than most rival medium–sized vans, the Fiat Scudo does offer decent fuel economy. The 1.5 MultiJet diesel comes in 102hp and 120hp outputs and both feature a six-speed manual gearbox, while both have official economy figures of 43.5mpg. The 2.0 MultiJet has 145hp and a six-speed manual or eight-speed auto, too, while fuel economy is quoted at 38.7mpg for the manual and 38.2mpg for the auto. At the top of the range is the 177hp 180 MultiJet which achieves 37.7mpg. A large 22.4-litre AdBlue tank is included on diesel models, and this has a range of around 9,300 miles. The van's trip computer will let you know when it needs filling. Servicing costs can be kept in check with Fiat Professional's 555 after-sales package, which offers a five-year warranty, five years of servicing and five years of breakdown cover, and can be included in any monthly finance payments.
Expert rating: 4/5
Reliability
While the Fiat Scudo only launched in 2022, if you're up to speed with the new van market, it will look very familiar to you. That's because Fiat is now part of the Stellantis group, and the Scudo is essentially a rebadged version of the Citroen Dispatch and Peugeot Expert that were launched in 2016. Since those two vans were launched, the Vauxhall Vivaro and Toyota Proace have also been released using the same tech, and with so many vans using the same technology, there should be strength in numbers in terms of reliability. There's a three-year warranty covering the Scudo, although Fiat Professional's 555 deal can extend that by two years.
Expert rating: 3/5
Performance
There are 1.5 and 2.0-litre MultiJet diesels available in the Scudo, and there are four power outputs on offer. The 1.5 comes with 102hp or 120hp, while the 2.0 MultiJet has 145hp or 177hp. No engine is really lacking in power, although the 102hp MultiJet won't be very powerful for heavy loads. The range-topping 177hp engine packs real punch, although it's offset by the slightly hesitant eight-speed automatic gearbox. The engines are quiet and refined in most instances, although road noise does get harsher the faster you go.
Expert rating: 4/5
Ride and handling
While basing a van on the running gear of a passenger car means it's not the most versatile model in the medium-sized sector, this is offset by the fact the Fiat Scudo is one of the most comfortable models on offer. The steering is responsive, and a low centre of gravity means that there's not much body roll when you're tackling corners at speed. The suspension is still designed with heavy loads in mind, though, so there is plenty of bounce if the van is unladen, although adding some weight smooths things out considerably.
Expert rating: 5/5
Safety
Another benefit of the Scudo's passenger car roots is that it comes with a host of safety equipment that would have been unheard of in a mid-sized van a couple of years ago. Standard equipment includes ABS with EBD (electronic brake assist), ESC (electronic stability control), HSA (hill start assist), and cruise control with speed limiter. It comes with driver and passenger airbags as standard, too. Other safety kit that's available optionally includes a reversing camera, front and rear parking sensors, speed limit detection, driver tiredness alert, lane assist and blind spot monitoring. This latter option will come in handy, because unlike some rival vans, the Scudo doesn't feature wide-angle mirrors, so there are blind spots on either side of the van.
Expert rating: 4/5
Equipment
Trim levels on the Fiat Scudo comprise Business, SX and Tecnico. As its name suggests, the Business model is aimed at fleet users, and it comes with 16-inch steel wheels, driver's seat with armrest, electric windows, 12v and USB charging sockets, a DAB radio and Bluetooth phone connection. The SX adds air conditioning, heated electric door mirrors, rear parking sensors, the Magic Cargo thru-loading bulkhead, another 12v charging socket in the cargo area, and a seven-inch touch-screen multimedia system with Apple CarPlay and Android Auto. The Tecnico is designed for sole traders and adds some plusher kit to the equipment list. There are 17-inch alloy wheels, colour coded bumpers and door mirrors, a 180-degree rear parking camera, with sensors front and rear, too.
Expert rating: 4/5
Why buy?
If you're in need of a mid-sized van that offers car-like driving characteristics and decent tech and equipment, but you don't need maximum carrying or payload capacity, then the Fiat Scudo is worth considering. The engine range is broad, so there should be a powerplant to suit your needs, while the trim structure offers a variety of options to suit most budgets. One thing to consider is that the Scudo is very similar to vans from Citroen, Peugeot, Vauxhall and Toyota, and there's not much to choose between them. Fiat Professional's five-year aftersales package might be tempting for drivers who keep their vans for a longer period, though.
Expert rating: 4/5