Expert Review
Fiat Ducato Panel Van (2022 - ) review
A notable update to the Fiat Ducato brings welcome and modern tech onto a tried and tested platform.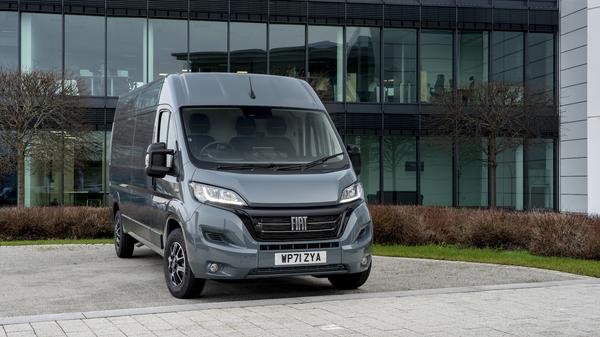 Words by: Tom Webster
Published on 8 March 2022 | 0 min read
The Auto Trader expert verdict:
Available new from £35,215
The Fiat Ducato might not enjoy the same levels of popularity in the UK as it does elsewhere in Europe and beyond, but this long-standing large van is still one which has a huge amount going for it. This version first went on sale in 2006 but the changes it has undergone in the intervening years mean that the 2022 model looks and feels very different. The upgrades are welcome but don't do quite enough to hide the Ducato's underlying age.
Reasons to buy:
Big payloads
Lots of driver assistance tech
Strong electric option
Cargo & practicality
The Fiat Ducato is based on the same underpinnings as the Citroen Relay and Peugeot Boxer and as a result of this it shares some of the most crucial assets of those vans – a large loading area and a strong payload. This doesn't mean you can pick whichever one you like as there are still models out there with a payload the wrong side of 1000kg, but the vast majority have the ability to carry a serious amount of kit – over 1600kg in some cases, which is marginally more than the Relay and Boxer and comfortably more than the nation's best-selling Ford Transit can offer. The space is aided by the fact that there is a dazzling array of sizes and shapes to choose from. As well as a crew van, a passenger version, a selection of ready-made converted vehicles such as a tipper and a chassis cab there are also three heights and four length set over three wheelbases. There are also a couple of heavy-duty models with gross vehicle weights in excess of 3.5 tonnes and a proportionally higher payload, so if you can't find a size that will suit what you need then the chances are you won't in any rival van. The storage in the cabin is pretty impressive, too, with bins up high and down below and multiple spaces in the doors. There is even a glove box, and various other cubbies with lids, which is a rarity. Be aware that not all versions have overhead storage, though.
Expert rating: 5/5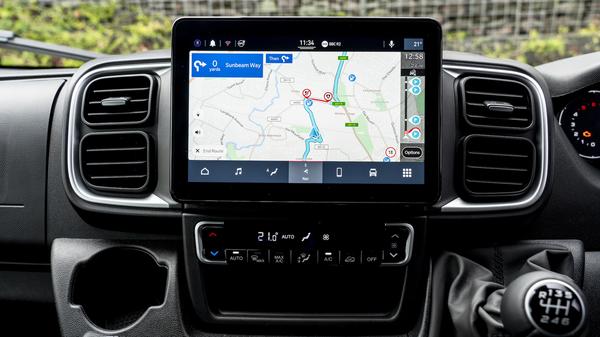 Interior
The Ducato has taken a big step forward in terms of its quality and general ambiance, but even that doesn't do enough to match the best in class. The materials are very much designed for durability, with some lower down feeling particularly raw, where some like the VW Crafter do at least offer a little luxury in some areas. There are some notable gaps between the panels in areas too, which doesn't inspire great confidence. The new screen looks a little tacked on rather than integrated but, when equipped with the high-end infotainment system it is smart and is much easier to work your way around than the previous clunky affair. In a boost to buyers who don't want to spec loads of extra kit, you get this from the mid-level trim upwards. However, you do get a smaller, 7-inch screen on that version with the 10-inch one not coming until the top-spec Business edition. Both come with smartphone mirroring, so there is no need to go for sat nav, and there is a wireless charging slot that tucks your phone well out of sight so it isn't a distraction. Getting comfortable will be a challenge for some drivers, though, especially taller ones. For such a big van the bulkhead is set rather far forwards, so you are prevented from sliding the seat too far backwards. A six-foot driver will be ok, but the steering wheel doesn't come out quite far enough either, so you will be compromised either way. Knee and feet space is curiously cramped, too. You get an armrest for your left elbow, but even then resting your arms isn't perfect – the brake lever sits between the door and the seat so you end up a bit lopsided if you want to have both arms on the rests while cruising.
Expert rating: 3/5
Running costs
The Ducato's relative age means it is comparatively light. This lightness counters some of the other age-related shortfalls when it comes to efficiency, to the extent that the Ducato is the most efficient of the large diesel vans that you can buy. The most efficient versions offer official mpg ratings in the high 30s, although this is for the least powerful engine, which can feel like it is struggling a little at times, and the official figure dips down to below 30mpg for the tallest and longest models with the automatic gearbox. With servicing intervals set at two years or 36,000 miles, costs will be kept down on that front too.
Expert rating: 4/5
Reliability
The latest generation of Ducato has a decent reliability record, with a decent warranty to back this up. The standard warranty is pretty much par for the class at three years or 100,000 miles, but this can be extended to five years and 125,000 miles. There have been comparatively few recalls for the latest version of the Ducato, too, which bodes well.
Expert rating: 4/5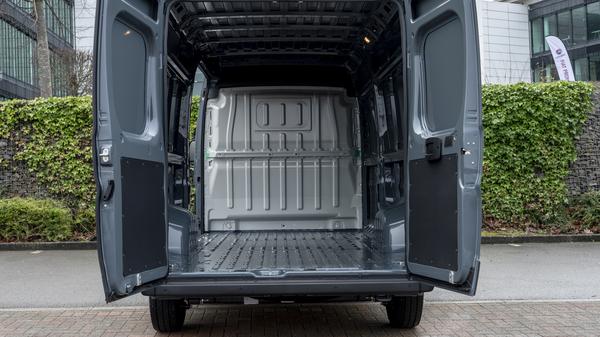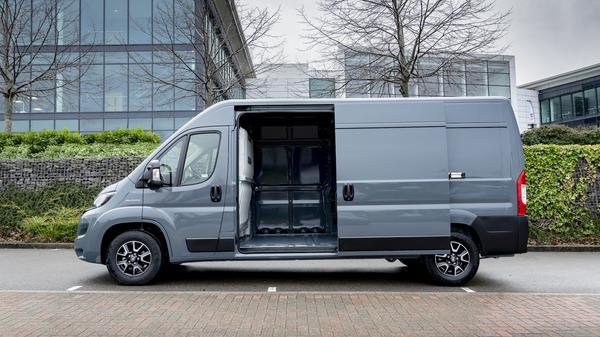 Performance
The latest range of engines are all 2.2-litre diesels, with four power outputs to choose from, with 120hp, 140hp, 160hp and 180hp all available. All meet with the latest Euro6D-final emissions requirements, and are updated versions of previous engines, so are tried, tested and more efficient than the versions they replace. The 120hp model is the only one that might struggle to fulfil every brief, but the 140hp version is a strong all rounder that is happy on the motorway and around town. The caveat to this is that it needs a bit of encouragement and regular gear changes at times – it isn't particularly happy sitting at low revs in a higher gear for example.
Expert rating: 4/5
Ride and handling
The 2022 update also brings a new electric power steering setup, which has been brought in to enable the driver assistance features to work. The new system is light at lower speeds, which is good for parking and town driving, but it is less reassuring at higher speeds. The steering on large vans is often solid and resistant, so you don't feel as though it will twitch around on the motorway, but the Ducato's is now much lighter than it should be at higher speeds. It will take some getting used to. It doesn't ride wonderfully, at least when it is empty – it crashes through and over rough surfaces somewhat – but things do settle down when there is a load in the back.
Expert rating: 3/5
Safety
The 2022 update has moved the Ducato from being distinctly sub par in terms of safety kit to up with the best, if not the best. It now comes with autonomous emergency braking and a lane-departure warning system as standard. The automatic models can come with adaptive cruise control with lane centring too – kit that means Fiat describes the Ducato as offering 'Level 2 autonomy'. It can take car of driving in some circumstances, but the driver needs to remain in overall control. Other kit available, but not standard across the range, includes cross-wind assist and trailer stability control. The one blight on the safety front is the speed-sign recognition, which is clearly a system that has been borrowed from elsewhere in Fiat's range as it displays the limits for passenger cars rather than a large van. It goes further than simply displaying the sign on the road and incorrectly interprets national speed limit signs. Fiat has said it is something it will investigate so hopefully it will be rectified.
Expert rating: 4/5
Equipment
Standard equipment is improved with the latest update, with every model now coming with a five-inch screen with DAB, Bluetooth and a USB connection. There is also the lane-departure warning system and autonomous emergency braking and a speed limiter – much more than many entry-level vans get. The Technico version gets a bigger, seven-inch screen with Apple Carplay and Android Auto. It also comes with wireless phone charging, air conditioning, an electronic parking brake and a rear-view camera. The Business Edition takes things further on the infotainment and adds a 10-inch touchscreen and a seven-inch digital instrument display.
Expert rating: 3/5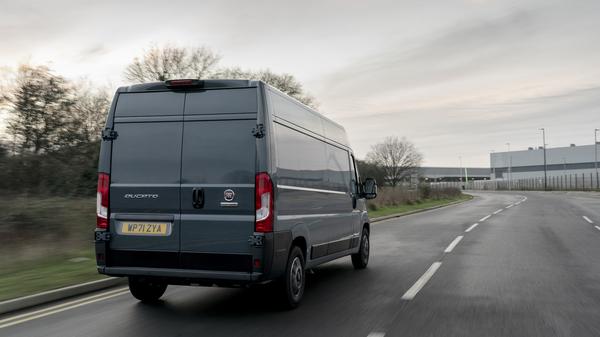 Why buy?
The 2022 update is a very comprehensive one, thanks largely to the new technology it brings about. Some of the changes, like the new steering, are less welcome but on the whole the refresh breathes new life into a van that has some very strong fundamentals in the form of decent engines and a big payload.
Expert rating: 3/5