News
2018 Mercedes-Benz Sprinter
The all new version of Mercedes-Benz's flagship van, the Sprinter has been revealed, bringing with it a brand-new look and a host of new technology inside and out.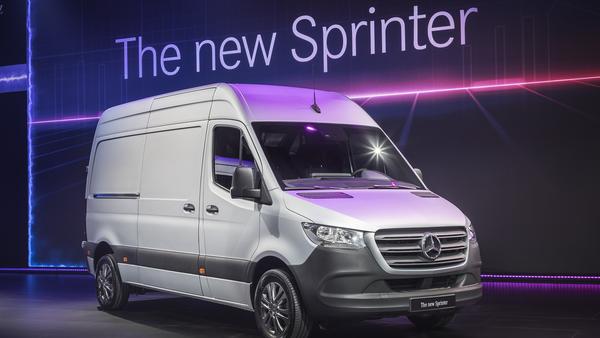 The new model is the third generation of the Sprinter, and it is now available with plenty of new features, including built-in internet connectivity that aims to make life easier for the driver and the fleet manager. However, the addition of a front wheel drive version and an electric model that is joining the range in 2019 will make more of a notable difference to most prospective customers.
The styling has been brought in line with the latest Mercedes passenger cars, although its need to appeal to a conservative market means that it is not a drastic departure from what you would expect of a commercial vehicle. There is a choice of three different radiator grilles, with a plain black, one with chrome details and one that can be left plain white for painting in the buyer's chosen colour. Other visual changes are evolutionary rather than drastic, while the rear window has been restyled to let in more light.
Technology
Vans tend to lag behind cars when it comes to innovation, but on the new Sprinter the new technology is its most notable feature. As well as a new built-in communications module, the Sprinter is the second model in Mercedes' range to get the brand's newest MBUX infotainment system. This system features a touchscreen of either 7- or 10.25-inches, while it is also controlled by steering wheel mounted buttons and a new voice control system.
The new connectivity hardware is designed to allow a new level of communication between fleet manager and driver. There are eight packages that are designed to appeal to different users. The packages include 'Optimised Assistance,' which aids the planning of maintenance, 'Efficient Fleet Management' which allows managers to pinpoint a vehicle's location and plan journeys and jobs appropriately. A 'Mobile Vehicle Access' package also allows certain functions, such as opening the doors and checking whether the windows are open, to be done remotely. Other packages include an uprated dynamic navigation, digital driving records and driving style analysis. In the future, owners will also be able to use the connectivity to integrate with camper van versions of the Sprinter. It will be able to show the levels of fresh and waste water, and even let owners switch the heating on remotely. This communications module uses an open-source Linux system, so third-party developers will be able to create specific software tailored to managers' needs. Mercedes is also integrating the address system 'what3words' into its satellite navigation system. The system has divided the globe into 3m x 3m squares and allows the pinpointing of a specific location, even if it doesn't have its own address. There are several power sockets, including USB connections, a 12V plug and wireless charging for mobile phones that have the feature equipped.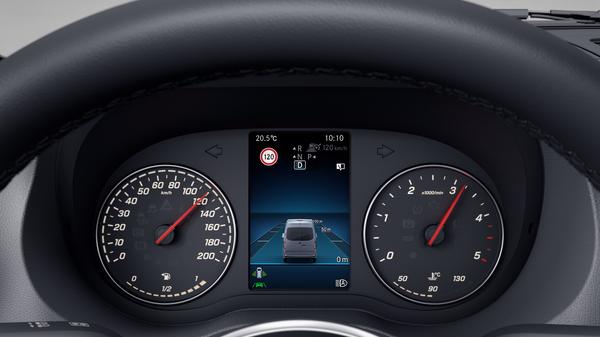 Engines and gearboxes
Although Mercedes hasn't confirmed the precise details of the engines that will be in the new Sprinter, there is expected to be a degree of familiarity to the range. It will feature the 3.0-litre and 2.1-litre diesels that appeared in the previous Sprinter, with power outputs ranging from 114hp to 190hp. Final fuel economy figures are expected to range from around 40mpg to 30mpg.
Mercedes plans to introduce the newer 2.0-litre diesel engines that feature in its latest passenger car models, but will do so later in the model's life cycle. The biggest change is the confirmation that the new Sprinter will come with an electric variant, although this will not be added to the range until the end of 2019. The precise range and charging time will be confirmed closer to the launch, but Mercedes says that overall operating costs will be roughly comparable to diesel models. There will be a choice of three different transmissions for the Sprinter. The six-speed manual gearbox is all new, and joins the nine-speed automatic, which is also included for the first time. This auto 'box is only offered on the new FWD model, and features a drive select mode and steering-wheel mounted paddles that allows the driver to take control if needs be. The seven-speed auto is also available, and is offered on the rear-wheel and all-wheel drive versions.
Drivetrains
Mercedes has added a new front-wheel-drive option to the range with the launch of the new Sprinter, with the new version sitting alongside the existing all-wheel and rear-wheel drive models.
The front-drive version brings more traction for vans with light loads, a loading capacity that has been boosted by half a cubic metre and a loading sill that is 80cm lower to help couriers that lift lots of items in and out of the back of the van. The payload has also been boosted by 50kg over the previous rear-wheel drive only model. The rear wheel drive model has a smaller turning circle, and Mercedes claims a better ride and more agile handling. The all-wheel drive model is geared at those who need to tackle tricky terrain on a regular basis.
Practicality
There are three different wheelbases for the new Sprinter, ranging from 3924mm for the front-wheel drive model up to 4325mm for the rear-wheel drive, three heights and five weights that range from 3.0 and 5.5 tonnes. The maximum loading volume is 17m3, with a minimum bay width of 1.22m, which allows pallets to be loaded sideways, while the maximum towing capacity is set at 3.5 tonnes.
Mercedes is also offering a range of different floors, with a new lightweight plastic covering offered to help boost payload. This is alongside a standard fit metal floor and a heavy-duty option for those that need to carry uneven but substantial loads. New galvanising on the underbody and side walls should help stave off corrosion, while service intervals range from 40,000km or two years for the front-wheel drive model to 60,000km or two years for the rear-drive version.
Inside
The cabin will come with a choice of four different grades, with a base level model aimed at the fleet buyers that intend the Sprinter to be a tool above everything else. The top of the range version, however, will come with that new MBUX infotainment system.
Other highlights include new ergonomic seats with electronically adjustable lumber and lower cushion with memory function, keyless entry and go, an electronic parking brake, smartphone holder and a choice of storage options with lockable compartments.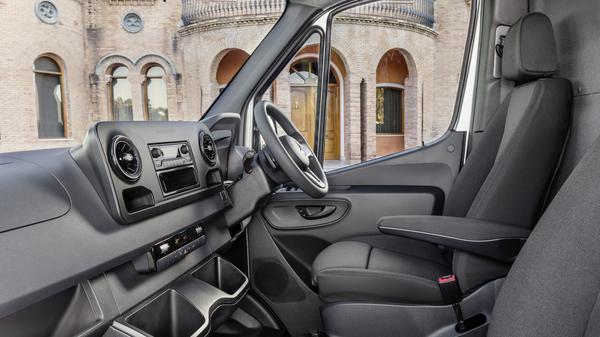 Safety
Safety has also been boosted, with a host of systems now available on the Sprinter that are new to the world of vans. New items include a reversing camera with the image in the rear-view mirror, a 360-degree parking system and a windscreen wiper that contains the jets for the washer fluid to minimise the impact on visibility. Systems such as adaptive cruise control, emergency brake assist, lane keep assist, attention assist and crosswind assist are all also included, the latter as standard on all models.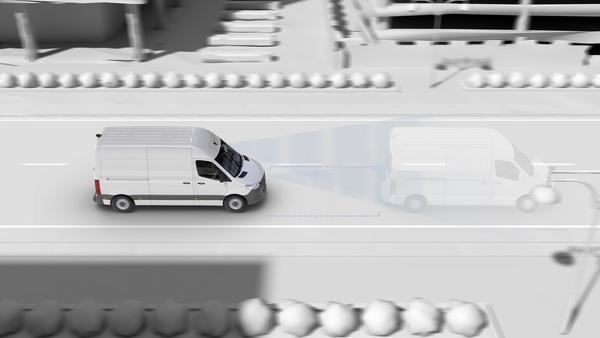 Pricing
UK pricing is expected to be confirmed in the spring, but the addition of a new base model and a corresponding reduction in the German starting price suggests the new version might well be slightly cheaper than the outgoing model. However, with so much equipment and more than 1700 different combinations available, a Mercedes spokesman said that it should be possible to create a Sprinter with a list price close to €100,000.
View Mercedes Sprinter vans for sale on AutoTrader