News
Government announce grants for HGV training to tackle lorry driver shortages 2021
Learn more about the government funding available for HGV training and the measures being taken to tackle the national shortage of lorry and HGV drivers.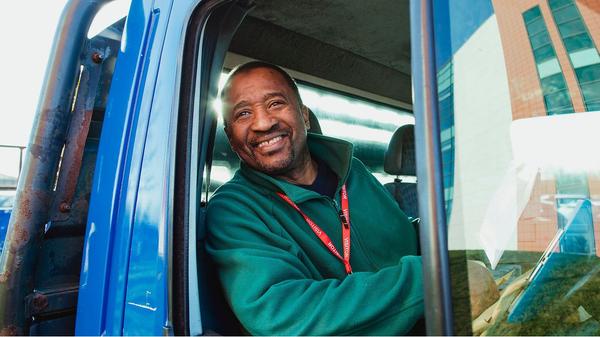 Britain is currently facing a shortage of about 100,000 heavy goods vehicle (HGV) drivers. The high demand and low supply for lorry drivers are causing supply chain issues, including an
increased demand for fuel
and shortages in the collection of essential items such as food and milk.
If you're thinking about starting a new career in this field, then the following links (including government-funded HGV driver courses) might be of help.
How to become an HGV driver
The basic requirements for becoming an HGV driver are:
• you need to be at least 18 years old • you can legally drive • you hold a Category B (car) driving licence. Once you fulfil these criteria, you can apply for a provisional lorry license.
Read our full guide on becoming an HGV driver to learn more.
How can I get a HGV license?
You need a Category C1 license to drive an HGV vehicle with a maximum authorised mass (MAM) between 3.5 – 7.5 tonnes.
To drive a lorry above 7.5 tonnes, you need a Category C license, while a Category C1+E or Category C+E license is required to tow a trailer behind your large goods vehicle, depending upon the MAM of your vehicle. Moreover, you need a
CPC certification
to drive an HGV professionally. There are four parts to the driving test that you need to pass to get a basic Category C driving license.
Learn what the four steps are
and how to pass the HGV driving test.
Changes to HGV license
The government has implemented changes to the driving license test requirements to make it easier to get a lorry driving license from Autumn 2021 onwards.
Previously, you had to pass a Category C1 test to be able to drive a medium-sized lorry and then pass a Category C1+E test to get a license for a medium-sized lorry towing a trailer. Similarly, you had to get a large rigid lorry (Category C) license first and then pass another test to get a large articulated lorry (Category C+E) license. With the new changes, you can now directly learn and apply for a Category C+E license, skipping the need to pass a Category C test. By getting a Category C+E directly, you'd be able to drive a medium-sized lorry (Category C1), a medium-sized lorry with permission to tow (Category C1+E), a large rigid lorry (Category C) and a large articulated lorry (Category C+E). If you don't need to drive a large lorry, you can apply for a Category C+E license directly, without applying and passing a Category C driving license test, and get the right to drive in a medium-sized lorry as well as a medium-sized lorry towing a trailer in the UK.
Learn more about the changes to an HGV license on gov.uk
How much do HGV drivers earn?
HGV drivers can earn up to £32,000 per annum, and with the shortage in lorry drivers, you could potentially earn even more. If you decide to work for a company, you'll also be entitled to various perks as well such as overtime pay, discount cards, life assurance and additional training.

Are there any government funded HGV training courses available?
Various government measures and funding have been set in place to tackle the shortage of lorry drivers:
• The government will fund driving licenses when an HGV driver qualification is completed through the Adult Education Budget in the 2021 - 2022 academic year • All those enrolled in the Adult Education Budget's HGV driver qualification on or after 1 August 2021 will be eligible to have their driving license funded by the government for the 2021-2022 academic year • Apprentices enrolled in large goods vehicle (LGV) driver C and E (level 2) course will receive £7,000 funding • The Department for Education will organise a free, short skills bootcamp to train and provide up to 3,000 more HGV drivers • Driving tests for a rigid and articulated lorry licence (Category C and Category C+E licence) license will be made easier and the daily number of driving tests will be increased with the help of the Ministry of Defence's Defence Driving Examiners, who will join forces with the DVSA to conduct extra tests • Temporary visas will be issued to 5,000 overseas HGV drivers for three months until Christmas to help reduce the strain on supply chains • The Department for Work and Pensions (DWP) are developing a training pilot to get more HGV drivers and encourage previous drivers who had left the industry to re-join • From 4 October 2021 onwards, EU drivers' hours will be relaxed when deemed necessary in England, Scotland and Wales till 31 October 2021. This will allow drivers to either increase their daily limit of nine hours to ten hours for four times a week instead of the usual twice a week or extend their two per week rest periods to over two weeks or allow the driving limit from 90 to 99 hours within every two weeks. You can find more information
on gov.uk
• Local councils are being advised to allow flexible delivery timings in the morning and late evening