Guide
How to get a Category C 7.5-tonne lorry licence
To drive a large vehicle such as a truck, it's necessary to have a full Category C driving licence to legally drive the hgv for personal or commercial use. Read our guide to driving a 7.5-tonne lorry to learn more about the different driving tests you need to pass to get a C1 licence, when to renew it and the costs.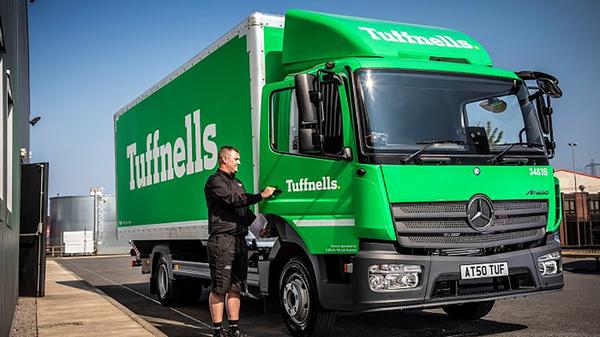 Five steps to getting a 7.5-tonne vehicle licence
1. Check if you meet the eligibility requirement
To be able to apply for a C1 licence, you must:
• Be 18 years or older • Hold a category B driving licence
2. Take a medical assessment
Medical standard required for a C1 driving licence is higher than that for driving a car, so a separate assessment is needed to check if you meet the medical requirements.
You need to be assessed by a doctor, who will fill in a
D4 medical application form
which you'll have to
order online
from the DVLA or get from a
post office
. The form has two sections – vision assessment and medical assessment. You can choose to see your local GP or go to a private doctor if you wish. The doctor will ask you about your medical history and whether you have any conditions that could affect your driving. There will also be a physical exam, including testing your eyesight. If your doctor is unable to fully answer the vision assessment section of the D4 form, you'll have to go to an optician or optometrist to get it filled in.
3. Getting a provisional licence
After you have completed the medical test, the next step is getting a provisional licence that'll give you the provisional entitlement to drive a 7.5-tonne vehicle.
To apply for a provisional licence, you need to fill in a D2 form which you can
order online
from the DVLA or get form from a
post office
. If you want to be able to drive a vehicle up to 7.5 tonnes, you need to indicate that you're applying for a C1 licence. You'll then answer some more medical questions and sign the form. Both the D2 and D4 forms should be sent with your current licence to the DVLA. The DVLA will return your licence with the provisional entitlement on it. Once you get your provisional driving licence, you can start learning to drive a 7.5-tonne lorry under the supervision of someone who's held a full, C1, C1E, C or CE licence for at least three years, and passed their driving test after 1 January 1997.
4. Pass you theory test
Applying for a C1 driving licence involves completing three theory tests. These include a multiple-choice test, hazard perception test and a case study.
The multiple-choice test has 100 questions covering how to safely and proficiently drive large vehicles. The pass mark required is 85 out of 100. The hazard perception test involves watching 19, one-minute hazard perception clips. You must indicate when you see a developing hazard, with one in each clip, except for one clip, which will have two hazards. You need 67 out of 100 points to pass this portion of the test. The case study test lasts 75 minutes, with seven case studies. You'll be asked 50 questions and need to get 40 of them right to pass the test. A practice session of up to 15 minutes allowed. You can book your theory test
online on Gov.uk
, and all three sections cost a total of £60.
5. Pass your practical test
After passing the first part of the theory tests you can
book your practical test
. This test
costs
£115 on weekdays and £141 during evenings (after 4:30pm), weekends and bank holidays.
This lasts about 90 minutes and tests your safety knowledge and practical driving skills. You can pass with 15 or fewer driving faults and no serious or dangerous faults. You will also need to book the practical demonstration part of the test, which shows that you can safely load and unload, stop the trafficking of illegal immigrants, assess emergency situations and reduce physical risk to yourself and others. This costs £55 during weekdays and £63 during weekends, bank holidays and evenings.
After you've passed your C1 licence test
Once you've passed your practical test, you'll receive your full C1 driving licence within 10-15 days.
After this, you can only apply for a provisional trailer (+E) licence. If you wish to drive a 7.5-tonne lorry professionally, then you'll have to complete a Certificate of Professional Competence (CPC) training too.
CPC training
A Driver Certificate of Professional Competence (CPC) is required for all drivers who wish to drive vehicles in the C1 category as their job.
You need to complete the necessary training every five years if you're below the age of 65, after which you need to complete the training each year. The course involves 35 hours of training every five years. Only
approved courses from approved CPC trainers
are counted towards your 35-hours of training. Different courses will cover different parts of the full syllabus, and each course will be at least seven hours long. There are four parts to the CPC qualification. Part 1 - theory test which includes multiple-choice and hazard perception test Part 2 – seven case studies Part 3 - driving ability test which includes vehicle safety questions, practical road driving and off-road exercises Part 4 – practical demonstration Commercial drivers need to pass all four tests, while anyone else needs to do only part one and part three. After you've passed all 4 parts of the CPC test, receive a Driver CPC card, or a 'driver qualification card' (DQC) which you need to carry with you at all times or can be fined.
How much does it cost to get a C1 licence?
The total cost for getting a C1 licence depends on when you take your test. During weekdays, a C1 licence test costs a total of £230 during weekends, bank holidays and evening (after 4:30 pm), it costs £264.
If you decide to take a CPC test, it has additional charges for the courses.
How much is a CPC course?
The cost for a CPC course depends on the trainer you choose to do the course with. Each trainer set their own charges for the course.

How long does a C1 licence last?
If you got your driving licence before 1 January 1997, you get a C1 licence automatically. After you reach the age of 70, you need to provide the DVLA with a D4 medical form to renew your C1 licence for another three years.
If you received or renewed your bus or lorry (C1, C, D1, D, C1E, CE, D1E or DE) licence on or after 19 January 2013, you'll need to get it renewed after every five years if you're 44 years old or less and after every one year if you're 45 or older, by filling the D2 form – application for a lorry, bus or minibus driving licence. You can check your driver licence's expiry date in the 4b section of your licence. The DVLA will send you a D47PU form, 56 days before your driving licence expires. To renew your licence, fill this form and send it to DVLA along with your current licence. In case you don't receive the D47PU form, you can order a
D2 pack online
. In case you automatically lose your Category B car licence, you'll lose your lorry or bus licence automatically as well.