Expert Review
Mercedes-Benz X-Class pickup (2017 - ) review
You don't see a Mercedes badge on a pickup every day, but then again, the X-Class isn't your average Merc. Find out whether that's a good thing with our expert review
The Auto Trader expert verdict:
The Mercedes-Benz X-Class is a Merc as you've never seen one before – it's a pickup truck. Built as a high-end alternative to more utilitarian rivals like the Ford Ranger and Mitsubishi L200, it goes head-to-head with the Volkswagen Amarok, and aims to combine the rugged ability of these pickups with the class and style of a Mercedes.
Reasons to buy:
Very good to drive for a pickup
Good looks and strong image
Lots of safety kit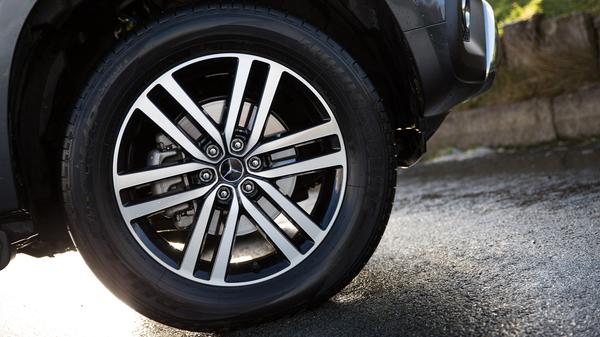 Running costs for a Mercedes-Benz X Class
The X-Class is aimed at the more exclusive end of the pickup market, and it's priced as such, making it an expensive option for customers. It costs considerably more than pretty much every other rival except the Volkswagen Amarok, and with the VW, you get a brawny V6 diesel engine for your money rather than the four-cylinder you get with the Merc (unless, of course, you opt for the pricey X 350d). Mind you, while it's too early to say exactly how solid they'll be, you can comfortably predict the X's desirability will mean resale values will stay strong. With fuel consumption in the mid-thirties on both engines, the X-Class is thirstier than the equivalent Nissan Navara and about the same as the more powerful Amarok. That said, the correspondingly high CO2 emissions won't be too much of a problem for benefit-in-kind payers, because you pay a comparatively affordable flat rate on pickups.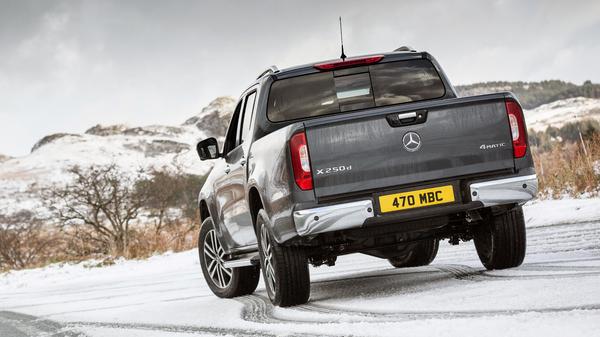 Reliability of a Mercedes-Benz X Class
Mercedes' relatively lowly position in the manufacturer standings of Warranty Direct's Reliability Index can be tempered slightly by the fact the X-Class is mechanically very similar to a Nissan Navara, and Nissan sits much higher in the rankings. You can also take some heart from the vehicle's rugged construction, and the fact it's built to withstand the rigours of your average building site. However, the Warranty Direct study also considers the Navara as an individual model, and things look a lot less rosy, because older versions have a very low score. That's not all that encouraging for prospective X-Class owners. Thankfully, the three-year/unlimited mileage warranty will provide some peace of mind.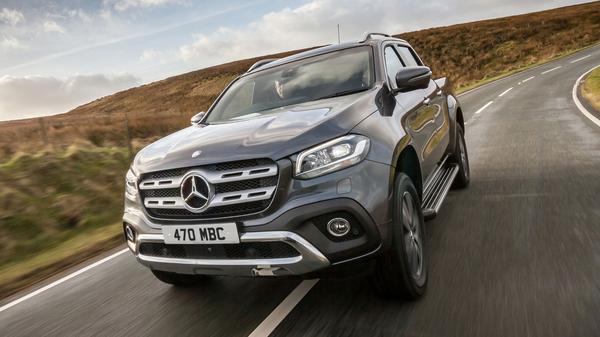 Safety for a Mercedes-Benz X Class
As many pickups are designed to be very utilitarian and basic, this isn't an area in which they usually dazzle. The X-Class, however, really stands out from the crowd on safety. As standard across the range, it comes with seven airbags – including one to protect the driver's knees – along with some of the latest kit to prevent an accident from happening in the first place. That includes automatic emergency braking, a lane-keeping assistant, and a traffic sign recognition system that reminds you of the speed limit.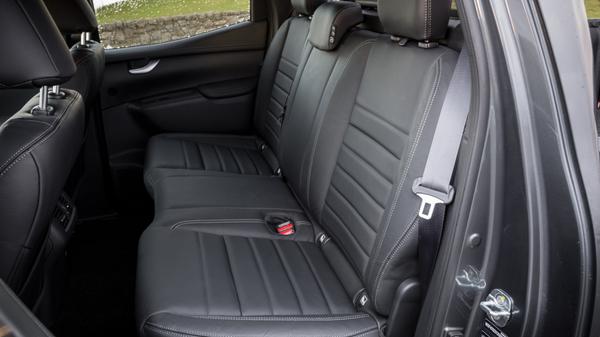 How comfortable is the Mercedes-Benz X Class
Mercedes positions the X-Class as a posher, more prestigious alternative for pickup buyers, but look inside the cabin, and you might not feel this promise has been delivered on, as many of the plastics, especially around the bottom half of the dashboard, the footwells and lower down on the doors, are hard and scratchy, meaning the cabin doesn't feel as high in quality as it should. Happily, the materials on the top half of the dashboard are a little better, while the steering wheel and the X-shaped air vents look and feel good. You get the same infotainment interface as in many Mercedes passenger cars, which looks sharp and works very well, and what's more, you get the high driving position and clear visibility pickup drivers love. The short seat base might leave you wanting more thigh support, however, and the steering wheel only adjusts for height, not for reach, so if you've got shorter-than-average arms, you might find it a bit of a stretch. The X-Class is only available in double-cab form, meaning all versions have rear seats. These have enough head- and legroom for a pair of tall adults to get comfortable – more than in a Volkswagen Amarok – and because the floor in the middle is reasonably flat, fitting a third person in isn't out of the question. All pickup trucks of this type have roughly the same sized load bay, and the X-Class is no exception. If you like, it can be covered with a hard-top or a retractable roll-top, and can also be embellished with loading rails or lockable storage boxes. The payload – the weight you can carry – is very standard among this sort of pickup at about a tonne, as is the towing weight of 3.5 tonnes. Mercedes reckons the X-Class won't just appeal to buyers who already drive pickup trucks, it'll also tempt buyers out of more conventional prestige SUVs. Don't expect it to drive like a normal SUV, though, because it uses the more utilitarian ladder frame style of chassis that all pickups do, meaning there's inevitably some shudder and tremor to be felt through the body over rough roads that you simply don't get in more sophisticated offerings. Compare the X-Class' ride comfort with other pickups, though, and it feels really impressive, protecting you from most of what a scruffy surface can throw at you. It's also really good at keeping the outside world outside, with excellent suppression of wind- and road-noise, making it a more relaxed way to travel than pretty much any competitor. It doesn't feel overly cumbersome in the corners, either, because the suspension keeps body lean in check reasonably well, while the plentiful grip – whether in rear-wheel-drive mode or with four-wheel drive engaged – also helps keep things stable and secure. The steering is exemplary, too. It's a bit slow, like it is in all pickups, but it has a really solid feel and is nice and progressive in the way it reacts.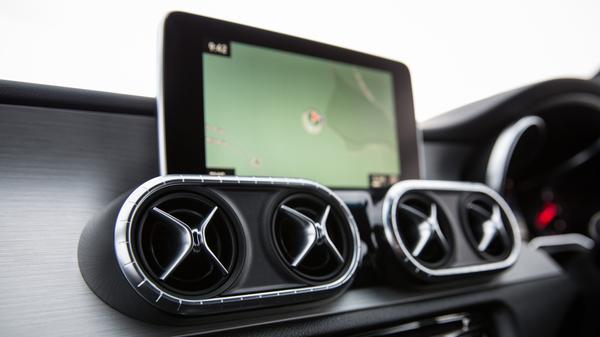 Features of the Mercedes-Benz X Class
The range kicks off with the Progressive model, which comes with the essentials such as air-conditioning, alloy wheels, automatic windscreen wipers, and the high-definition infotainment system that incorporates Bluetooth connectivity, DAB radio and a bunch of connected services. Across the range, this system can be upgraded to support sat-nav for a small fee, and the whole system can be replaced for a swankier one for a bigger fee. Power trim adds keyless go, electrically adjusting front seats, and leather-style upholstery on the inside, while outside you get a smattering of extra chrome trim and more imposing bumpers. A bunch of optional extras are available, too, including 360-degree cameras that are very handy for both parking and off-roading.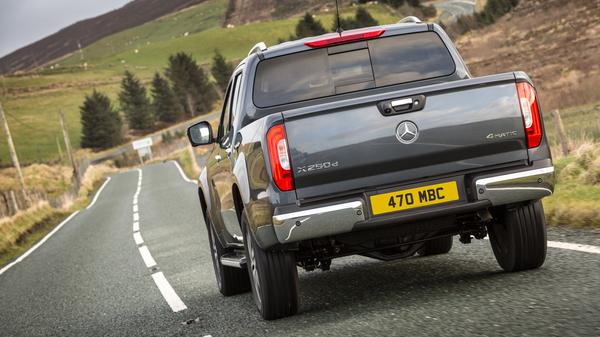 Power for a Mercedes-Benz X Class
Progressive models are available with a choice of two four-cylinder 2.3-litre diesel engines – badged X 220d and X 250d – offering 163 horsepower and 190 horsepower, respectively. So far, we've only had the chance to sample the more powerful X250. It's muscular from low revs, meaning you don't have to floor the accelerator too hard to get the X-Class moving, or to pick up speed gently on the move. Most of the time, it works very smoothly and unobtrusively with the seven-speed automatic gearbox as well. If you demand more speed by burying the accelerator, the gearbox kicks down and works the engine harder, but you don't get a great deal more acceleration. What you do get is a lot more noise and vibration transferred through to the cabin from the engine bay, so it's much better to adopt a lazy driving style and just be happy to get there when you get there. Power models come as standard with a gutsy 3.0-litre V6 diesel that's badged as the X 350d. This gets 258 horsepower and an automatic gearbox as standard. We haven't tried it yet, but a 0-62mph time of 7.9 seconds suggests it should feel pretty potent.