Advice
Everything you need to know about a CBT test
On the surface, it would appear to be getting harder and harder to learn to ride a motorcycle or scooter these days, but the reality is that after completing some compulsory basic training (the CBT) you could be riding around your local roads within the next 24 hours!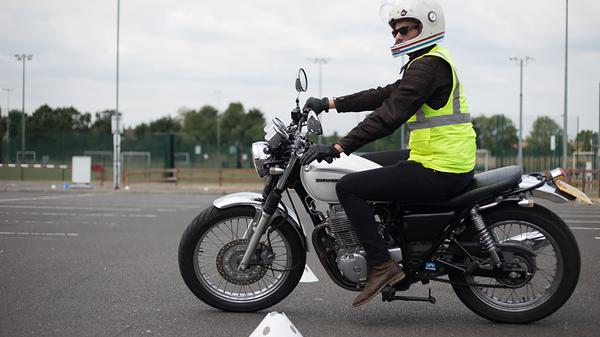 Words by: James RideTo

Additional words by: Auto Trader
Last updated on 22 June 2021 | 0 min read
RideTo the UK's largest motorcycle training platform answers the key questions about what a CBT test is, what you will need to take one, what happens on the day and how hard it is (or isn't) to pass. After reading you'll be ready to get to grips with completing your CBT and getting on to two wheels...
What is the CBT?
Contrary to popular opinion the CBT is not a test. The 'T' in the acronym definitely stands for 'training' and the entire session usually lasts for around 1 working day.
The purpose of the CBT is to provide all riders of powered two-wheeled vehicles the basic skills and knowledge required to ride on the roads safely. In fact, it's a requirement of anyone who is wanting to ride a motorcycle or scooter in the UK, so everyone you see riding on the roads today with an L plate, will have had to have completed the course at some time in their lives - this is the 'compulsory' nature of it. Essentially this is the day of training that you will need to do in order to get your L-Plates. Once you've completed it - and you do get a nice certificate to prove it - you're able to put those big, red 'L's' onto your bike. As long as you meet certain legal requirements that is, because there are rules governing what size of bike you can ride based upon your age.
What do you need to know in order to take your CBT?
There are a few requirements that anyone taking their CBT will need to be aware of before contacting their local training school.
A rider must be 16 years of age or over on the day of the training course.
If you're under 17 then you will only be allowed to train on - and then ride - a moped (essentially a bike that is 50cc or under).
If you're 17 or over on the day of your training then you will be able to ride a scooter or motorcycle up to 125cc and with a power output of up to 11kW.
For more details on the age and engine size requirements, you can find a full breakdown here: https://rideto.com/motorcycle-licence
If you ride a bike on the roads without having taken your compulsory basic training then you could be subject to a £1000 fine and a penalty of up to six points on your licence.
Do you need a provisional licence to take your CBT?
You definitely need a provisional licence if you're going to ride a bike on the road. You will be riding illegally if you do not have L-Plates, and both a valid provisional licence (or UK driving licence) and a valid CBT certificate whilst on the road. And that includes whilst you're taking your training.
What does the training itself involve?
The course itself is typically completed in a day although everyone learns at a different pace. The CBT is broken down into five parts:
1. Introduction and eye test
2. On site CBT training
3. On site CBT riding
4. On road CBT training
5. On road riding
First, you'll learn how to handle your machine, and learn basic highway code in the classroom. This will take just an hour or two and often this is usually accompanied with a good cup of tea and perhaps even a biscuit or two!
And don't worry about it feeling too much like school or college, this isn't really like being at school. The whole purpose of the beginning session is to make you feel at ease and comfortable with the idea of riding and what it's like out on the road. Once you've understood the theory, you'll next head outside onto the instructor's off-road training area, where you'll get the chance to familiarise yourself with your bike. For many this is the first time you will have even seen a motorcycle up close, so this means learning about how the brakes, throttle and gears work before getting a chance to swing your leg over the seat and trying out some basic manoeuvres (like practicing riding in a straight line, throttle control and riding in and around some cones). Then, assuming that your instructor is happy that you can handle the bike safely and have understood the riding and road theory taught so far, it will be time to head out onto the open road for an assessment ride. This by law will take a minimum of two hours. During this portion of the day your instructor is looking for you to be a safe and confident rider on the road and it's here that you'll really want to pay attention because the road craft you learn on this first time out on the road will be invaluable to you. And that's it… It really is that simple. And once this is all over, you'll be able to head out on the open road on your own. For a full breakdown of the
5 parts of a CBT here.
How hard is the CBT to pass?
To reiterate here, there is no pass or fail of the CBT; it's practically impossible to fail because there is no test. But with all of that said, the training school instructors do have a duty of care to you - and the other road users - so if they believe that you've not attempted to learn on the day, not paid attention or for some other reason are not capable of riding on the road safely without supervision then they can refuse to issue you with a certificate and ask you to come back for further training. The instructors want you to get out and onto your bike just as much as you do!
We would suggest that if you spend enough time and attention on the day listening and learning, you'll have your certificate in your hands soon enough - and perhaps your L-Plates on your bike, and your bike on the road not long after!