Best Of
Top 5 new Triumphs for 2020
What are these new Triumphs for 2020? How do they differ from existing models and what do you get for your money. We focus on the Top 5 new Triumphs for 2020 to find out…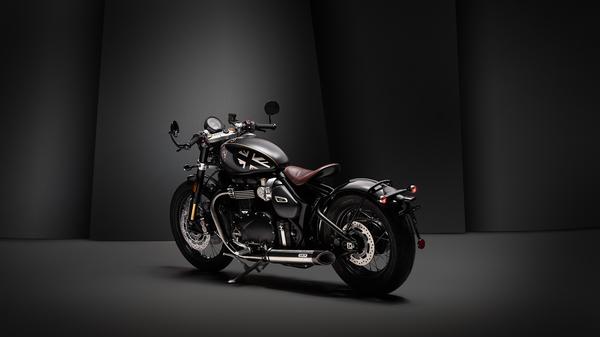 Words by: Phil West
Published on 13 December 2019 | 0 min read
While many of the headline new bikes for 2020 boast ever bigger, wilder and more extreme performance claims – as highlighted by Kawasaki's new 204bhp supercharged super-naked, the Z H2, Ducati's equally wild naked version of its all-conquering V4 Panigale superbike, the Streetfighter V4 and Honda's most extreme Firebade yet – leading British brand Triumph's newcomers for the new year seem much more subdued.
But don't be fooled. Updates to its Bobber, Bonneville, Thruxton and Street Triple may seem little more than refreshed versions of existing bikes but they're also so thorough they're definitely worth a second look. While its all-new Rocket 3, while also reinventing a great name from Triumph's past, is so striking and dynamic, all preconceptions should be put to one side. And if all that isn't enough, a new Tiger 900 is expected to be unveiled any day to join Triumph's existing line-up of 800, 1050 and 1200 Tiger adventure machines.
Triumph Bobber TFC – the high-spec cruiser
Triumph's Bonneville Bobber has been one of its most successful bikes since its 2017 launch thanks to its blend of Bonneville T120 retro authenticity and US-inspired, 'Bobber' cruiser style – it was a British take on a cruiser that handled and performed well. Now, for 2020, Triumph's third 'TFC' offering (the terms the Hinckley firm gives to its up-specced 'Triumph Factory Customs') takes that bike and gives it an extra premium feel, improved performance, higher quality cycle parts and added exclusivity.
The 1200cc twin is retuned to get 10bhp and 4Nm extra; 5kg has been shaved off its weight; there's adjustable Ohlins suspension front and rear; superbike-standard Brembo M50 brake calipers; an extra 'Sport' riding mode; Arrow silencers; special carbon fibre bodywork and a real leather seat and more. Just 750 are to be built, each with an individually-numbered plaque and it's not going to be cheap. But we struggle to think of any cruiser as mouth-watering.
Triumph Thruxton RS – the higher spec café racer
Similar to the Bobber, Triumph's Thruxton, the café racer version of the Bonneville retro roadster, also gains a higher spec variant for 2020. Originally launched in 2016 in Thruxton and Thruxton R form, the latter boasting Ohlins twin rear shocks, Showa Big Piston forks and better Brembo radial brakes to go with its lusty 96bhp performance and authentic styling, for 2020 Triumph have now added this even better performing and higher spec RS version. The updated engine gains 8bhp with a meatier midrange; weight is cut by 6kg; there's new Brembo M50 brake calipers and stickier Metzeler Racetec RR tyres; new LED lights; three uprated riding modes and a new, blacked-out finish with two colourschemes.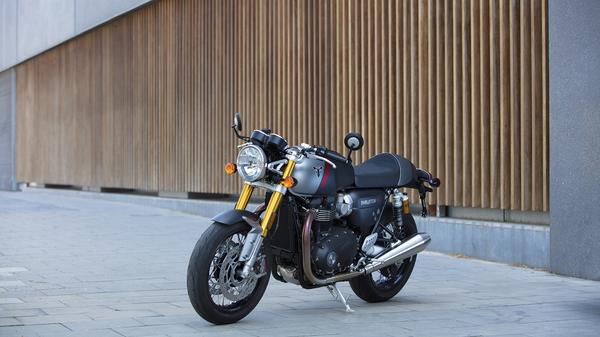 Triumph Bonneville Bud Ekins Edition – the retro homage one
Bud Ekins isn't necessarily a name that will resonate with many bikers – but it should. Ekins was a motorcycle dealer and one of America's great off-road biking stars from the 1950s and '60s who, via a friendship with biking Hollywood star Steve McQueen, most famously was the rider who performed THAT motorcycle jump in The Great Escape – all on Triumphs. Now, to commemorate the great man, Triumph has decided to issue special 'Bud Ekins Edition' versions of its latest T100 (900cc) and T120 (1200cc) Bonneville retro roadsters. Although the base bikes are unchanged the softer, slightly more basic, 54bhp T100 and 79bhp T120 were already so good, wanting for nothing and setting the bar for usable, authentic retro roadsters, we have no complaints. Instead, what they do get are special, California-inspired paint jobs; unique 'flying globe' Bud Ekins tank logo; 'Bud Ekins' side panel branding; Monza filler cap; bar end mirrors; LED indicators and special handlebar grips. In addition, each bike will come with a unique certificate of authenticity that includes an account of the incredible Bud Ekins story signed by Nick Bloor, Triumph CEO and both of Bud Ekins' daughters, Susan Ekins and Donna Ekins. And if that isn't special, we don't know what is…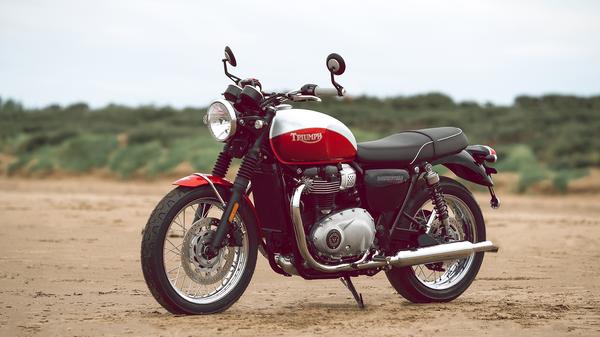 Triumph Street Triple RS – the Moto2-inspired one
2019 was hugely significant for Triumph in being its first year as engine supplier for Moto2, with a full race version of its 765cc triple. Now, for 2020, Triumph is bringing some of the 'learnings' from that experience with its new, uprated Street Triple RS. Taking the opportunity to update the three-cylinder unit to Euro5 spec as well, the new motor, rather than chasing peak power, instead has more torque and midrange while still producing a healthy 123bhp. There's also a more responsive throttle; a freer-flowing exhaust; an improved transmission; fully-adjustable Ohlins suspension; Brembo M50 radial brakes; striking new LED headlights and revised bodywork, new mirrors plus interchangeable seat cowl and pillion seat. The old Street Triple 765 was already by far the best naked in the middleweight class; this one takes it into biking royalty.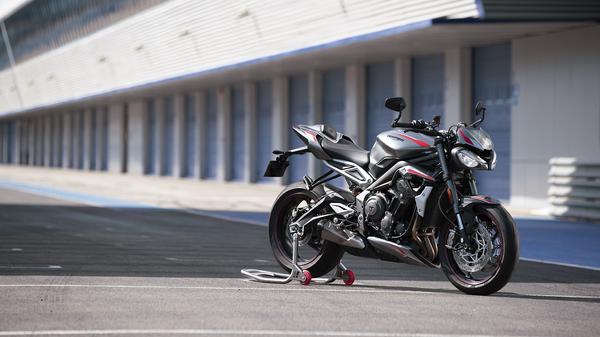 Triumph Rocket 3 – the return of a legend
But surely Triumph's biggest news – quite literally – for 2020 is the return of an all-new version of its gargantuan, 2300cc, three-cylinder heavyweight – the Rocket III. Now called the subtly different 'Rocket 3', everything else about the powerhouse bruiser is all new. Now a whopping 2500cc (making it the world's largest production motorcycle) there's 11% more power than the 2004 original (now peaking at 165bhp); a massive, world-leading 221Nm of torque, together delivering phenomenal acceleration. But there's also an all-new chassis, far lighter chassis promising much improved handling; top spec Brembo Stylema brakes; adjustable Showa suspension; electronics including foru riding modes and traction control PLUS two different versions are available – the roadster R and the more touring orientated GT. The biggest is back – and then some!