Best Of
Top 5 new café racers
Of all the different categories of new bikes none has seen such a surge in popularity – or of new models available – as that of café racers.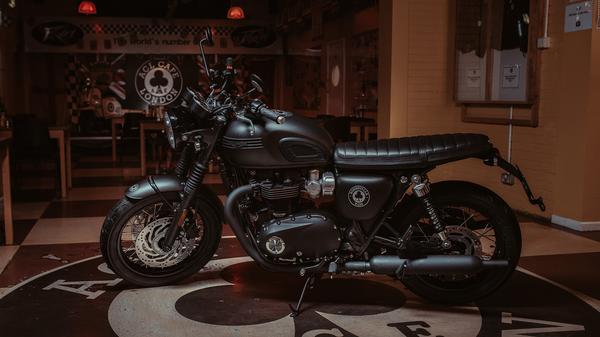 But while more traditional bike types such as adventure machines (big, trail style machines capable of global travel) or superbikes (large capacity sports machines equally at home on road or track) need no introduction, the term 'café racer', certainly for newcomers to motorcycling, isn't just so clear.
In simple terms, a café racer is a retro-styled machine, possibly derived from an upright roadster, that's been given an extra sporting attitude by way of performance or ergonomic modifications. As such they're a sub-category within the whole explosion of interest in 'retro' bikes – or bikes styled (and sometimes engineered) to evoke the character and image of classic bikes of the '60s and '70s. The best known, arguably of all of these is Triumph's Bonneville, as first reintroduced in 2001 as a purpose-built, clean sheet design with modern engineering and performance but with looks and character intended to replicate the Bonneville of 1969. That bike proved such a success it spawned not only a whole family of new Triumph Bonnevilles (including a café racer variant, the Thruxton) but also a huge variety of imitators from rival manufacturers the world over. The result, today, is that most of Triumph's range of machines is now retros, including a number of café racers, while the likes of Yamaha, Ducati, BMW and more also now produce retros – and indeed café racers – of their own. Indeed, 2019 has seen yet another influx of new retros, scramblers (trail styled retros) and café racers, so much so that the choice is more bewildering than ever. Some are modern, liquid-cooled four-cylinder machines that have merely been restyled to resemble classic forebears from the past; others are air-cooled twins, liquid-cooled singles with styling inspired from the '60s, 70s or '80s and with a wildly varying mixture of appeal and abilities. So, to help you sort your single cylinder Sunday toy from your retro-inspired speed merchant and more, here's our pick of some of the best NEW café racers for 2019 and what they deliver.
1. Triumph Bonneville T120 Ace - the authentic one
The British firm is, of course, no strange to café racers having arguably produced the first of the new breed when it introduced the Thruxton, a drop-barred, sportier version of its Bonneville roadster, way back in 2003. Today, along with the latest 1200cc Thruxton, Triumph also produces the 900cc Street Cup, a café racer version of its more novice-friendly Street Twin and has now also for 2019 announced its new, limited edition 120 Ace, a bike which rekindles its links with the original '50s biker caff, London's Ace Café, and is its latest take on the café racer breed. Based on the Bonneville T120 Black, the Ace is limited to 1400 examples worldwide, each with a special Ace Café paint job, chopped down mudguards, LED indicators, special bench seat and badging. As a ride, without 'ace' bars, the experience will be more retro roadster than pure café racer, although there's not much wrong with that. The T120 is an easy but usefully potent 79bhp roadster with impressive handling and manners. And in this Ace form, at around £11K, it has instant café racer credibility and exclusivity as well.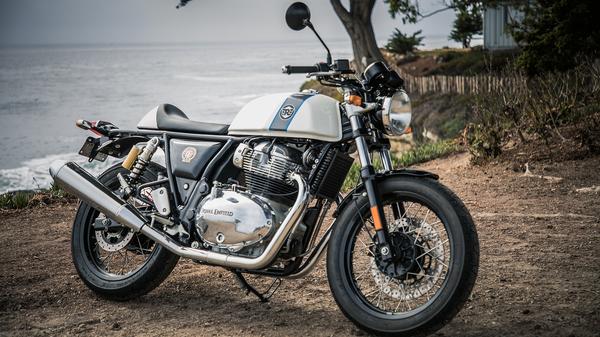 2. Royal Enfield Continental GT– the revived one
When now Indian-owned Royal Enfield announced they were making an all-new, retro-inspired 650 twin it generated a huge amount of interest. After all, following decades of making worthy but hardly long-legged 350 and 500cc singles it was clear there was an appetite for something more in terms of performance and ability. And for 2019 the British-designed, Indian built result has finally arrived – in two forms: the high-barred roadster Interceptor and lower-barred, café racer style Continental GT which we're most concerned with here. Both share the same all-new, A2 licence-compliant, 47bhp, air-cooled parallel twin, which is willing and pleasant, housed in a sweet-handling duplex frame designed by UK chassis experts Harris. The GT has lower bars, slimmer, racer style tanks and optional race seat while the Interceptor has high bars and larger, more bulbous tank. And while neither has particularly thrilling performance and their spec and build quality is a little basic, priced at well under £6K they represent great value for money and an evocative, pleasing ride ripe for further customization.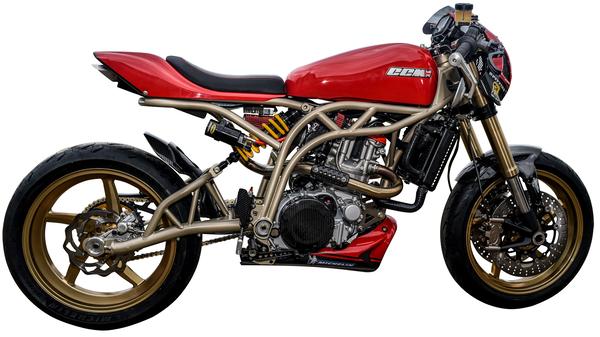 3. CCM Spitfire café racer Foggy edition – the funky, exclusive one
Bolton-based, 'boutique' British manufacturer CCM may have its roots in off-road sport in the '60s and '70s but its recent Spitfire, a lightweight, retro-styled single in a variety of fashionable formats, has proved a big hit with those after a trendy, retro-inspired fun bike. The café racer version was introduced last year based around the same hand-built tubular steel frame holding a punchy, 55bhp, BMW-sourced, liquid-cooled single cylinder motor, but for 2019 they've also announced not one but two new special 'Foggy' editions, designed in collaboration with local four-time world superbike champion Carl Fogarty and boasting a wealth of special features. The base version costs just under £12,000 and has 19inch alloy wheels, underseat exhaust, flat track styling and 'Foggy' styling touches while the 'S' version, at £12,495, is more the true café racer with 17-inch wheels, carbon bodywork and clip-on bars. While no distance machine or not much by way of versatility they're mostly Sunday toys, but exclusive, fun rides, little evokes café racer as well.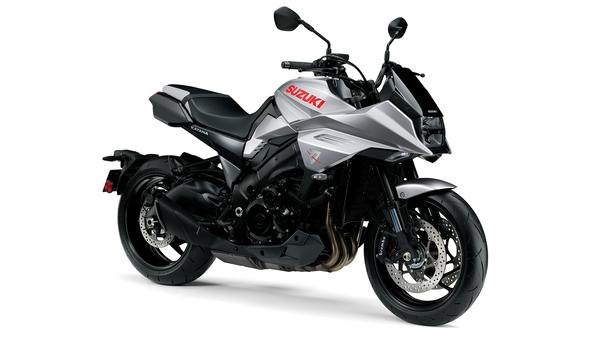 4. Suzuki Katana 1000 – the '80s throwback one
To be honest, this is pushing the definition of café racer here – but Suzuki's new retro will be so evocative to so many that it's more than deserving of a mention here. Inspired by the original, early 1980s Katanas, which were radically-styled sportsters based on existing machines, the new Katana reboots that brief in being based on the current GSX-S1000 four-cylinder sports-tourer but with an all-new, '80s reminiscent look inspired by the original 'Kat', As such, it's just as much of a drop-barred style victim as the other bikes here but with the added appeal of a modern, long-legged chassis plus a 148bhp four-cylinder powertrain (derived from that of the GSX-R1000K5 superbike) that's more than enough for most. Add to that LCD clocks, LED lights, funky swingarm-mounted number plate hanger and enough presence to draw a crowd at any biker gathering and the new Katana is a true, usable café racer for the 21st century – even with a price tag of around 12 grand.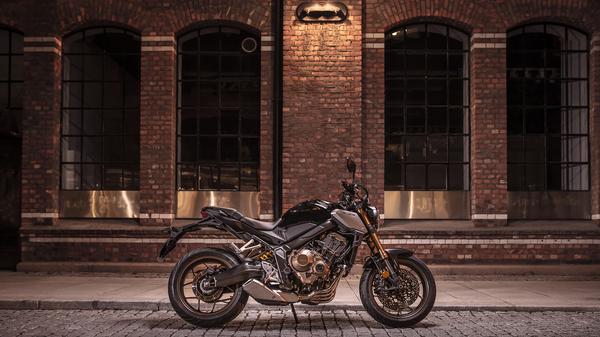 5. Honda CB650R – the 'Neo Café racer' one
Again, a bit like Suzuki's new Katana, Honda, like the rest of the Japanese manufacturers, without the genuine '60s café racer heritage of British marques such as Triumph or Royal Enfield, have a slightly different take on the whole café racer thing – but it's one that's worth considering. Honda's offerings for 2019 are what it calls its 'Neo Café' machines, which also includes last year's CB1000R and CB300R. All are effectively restyled, existing modern roadsters with the 'Neo Café' styling effectively a typically Japanese, 'manga' style blend of modern and retro. Accordingly, the CB650R is an updated, restyled CB650F as first introduced in 2014 then restyled in 2017. The base bike remains a goodie: a 90bhp, inline four that blends affordable middleweight flexibility with enough budget-orientated handling and equipment to be a pleasing, versatile ride for many types of rider. The wacky new styling, complete with LED headlight and the same LCD digital dash from Honda's CB500s (which, in truth, looks OK but is difficult to read in bright sunlight), only enhances that appeal – especially at an affordable price tag of under £7000.