Best Of
5 best AM bikes for new riders
So, you're a new rider. Let us help you pick your first bike.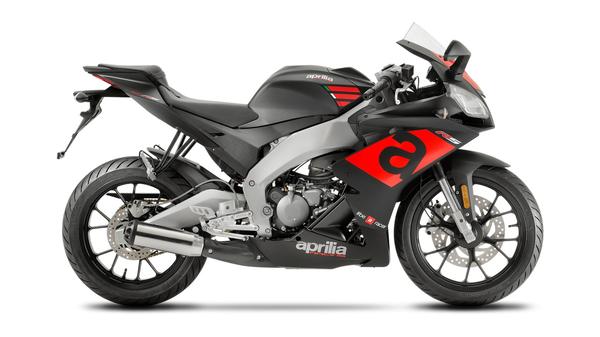 Sweet 16 is the magic number when it comes to getting on the road for the first time on two wheels in the UK.
At that age, providing you pass your CBT, theory test and practical test, you qualify to ride on the road for the first time under what is called the AM licence classification, which restricts holders to mopeds (ie no more than 50cc) with a maximum speed of 45kph. Or, in pounds and pence, 30mph. OK, so that might not sound that exciting but it opens up two whole worlds of possibilities. First, getting your own wheels gives freedom like never before and it doesn't really make that much difference whether that's at 30 mph or 300. And second, don't be too quick to dismiss what kind of machinery may be available to you just because 50 and 30 aren't the largest of numbers. For those after a true sportsbike, despite the 30mph restriction, the potential is every bit as mouthwatering as with A1/125cc licence holders with Aprilia offering a version of its delectable RS4 mini-superbike. And even though it's no longer officially available new in the UK, being dropped from its line-up in 2019, there's still plenty of good, low mileage used examples available. If your taste veers more into the upright trailie or supermoto style of machine, Spanish specialists Rieju, among others, has something simply gorgeous on offer there as well with its aggressive-looking MRT 50 SM. While if you decide pursuing performance on a mere 50 is a pointless and your preference instead is for something with more style than substance or with the sort of affordable practicality only a scooter can offer, there's plenty of choice for you here, too. Peugeot's Speedfight 50 remains the definitive 50cc sports scoot and if, at over £3k new, that's a bit rich for your blood, Chinese brand Lexmoto has the best-selling Echo 50 starting at just £1649. Both have been Autotrader's AM class bikes of the year. While finally, with the fashion for all things retro, there's plenty of straightforward, nostalgia fuelled, 50cc retro roadsters around, too, all giving a tempting mix of street style and upright and easy novice-friendly manners. But whichever you go for, just do it – getting onto two-wheels at 16 will open up a whole new world of freedom and fun!
2006-2019 Aprilia RS 50 – the race-replica one, £1300-4300 (used only)
It could be argued that rarely has there been a bike with so much show and yet so little 'go', but that doesn't stop the 50cc version of Aprilia's glorious RS4 125 'mini-superbike' being any less desirable.
Based around the same, full-size, high specification rolling chassis as its 125cc, four-stroke bigger brother, complete with genuine aluminium twin spar frame, inverted race style front forks along with a monoshock rear and all dressed in the same, RSV4 superbike-inspired bodywork, the RS 50 doesn't just look like a mini-superbike, it has much of the quality to back that up. And although the engine this time is only 49cc, being a liquid-cooled two stroke in place of the 125's four-stroke means it has plenty of 'old school' GP500 character, too. Fifties simply don't get any sportier.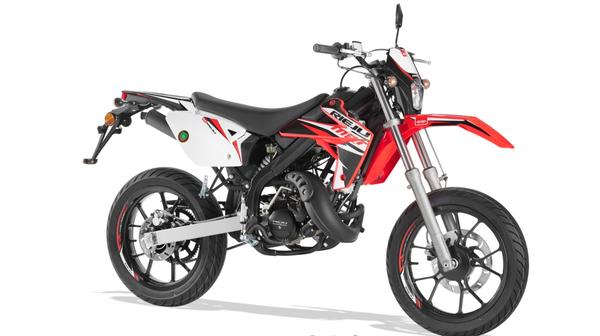 Rieju MRT 50 SM
2009-current Rieju MRT 50 SM – the 'supermoto' one, £2500 (used) – £3699 (new)
If sports bikes aren't your style, but sports performance and aggressive, upright, supermoto style is, the Rieju MRT 50 SM could be for you. The Spanish firm specializes in sporty lightweights and this is their top-spec, Supermoto (ie street wheeled and tyred) version of its MRT 50 trail bike. As such it has a novice-friendly, upright riding position, the more reassuring grip of its street wheels/tyres and brakes and yet virtually all of the nimble, exciting fun of a conventional sports bike – especially as its 30mph is just the same as anyone else's. Yes, it's pricey, but there's plenty of quality touches, it has a Minarelli two-stroke, liquid-cooled, six-speed engine, twin disc brakes, as much street cred as any 50 and is a great, fun way to get through your debut year on the road.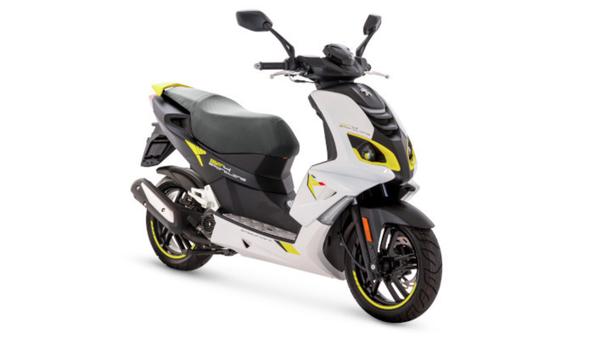 Peugeot Speedfight 50
1996-current Peugeot Speedfight 50 – the 'sports scooter' one, £650 (used) – £3109 (new)
Then French-owned Peugeot (the historic scooter marque was sold to Indian company Mahindra in 2014) effectively invented the 'sports scooter' when it brought out the first Speedfight in 1996 and this latest Mk IV version, as before also available in 125cc form, retains its crown. With sharp styling, decent specification, quality build, a great fun ride and a deserved reputation for excellence, the Speedfight remains the definitive 50cc sports scooter. What's more, with most Japanese rivals such as the Yamaha Aerox now no more (in the UK at least), that status is now more certain than ever before. If you want your 50cc machine to be scooter-shaped, there's none cooler than the Peugeot Speedfight. Autotrader's Best AM class machine in 2018 and 2019.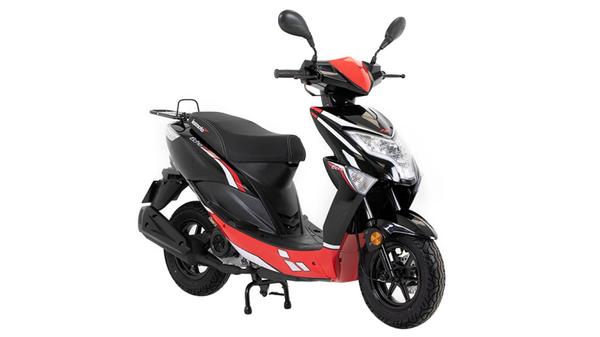 Lexmoto Echo Euro5
2015-current Lexmoto Echo Euro5 – the affordable scooter one, £895 (used) – £1649.99 (new)
The Echo is the leading 50cc sports scooter offered by Anglo/Chinese brand Lexmoto, which specialises in affordable lightweights made in China. So, although it has decent sports styling, a reasonable spec including LCD digital clocks and sufficient performance (after all, there's little difference between any AM class machines as they're all regulated to 30mph), there's only one figure that really matters – its £1600-odd price. At almost half the price of the Peugeot Speedfight we can forgive its slightly basic spec, crude build quality, lesser quality dealer network and suspect residual values (but do, please, take them into account when buying), especially as, by its very AM class nature, few owners are likely to run one for more than a year. For all of that, the Echo has been Autotrader's best AM class machine on numerous occasions. And, if you want slightly more, the Echo+, with more stable 12-inch wheels for just £100 more, is available, too.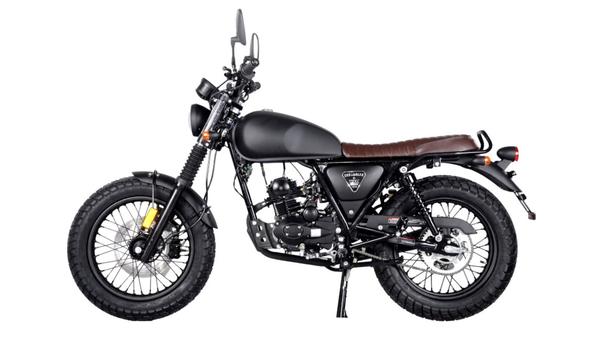 WK Scrambler 50
2021-current WK Scrambler 50 – the budget 'retro' one – £1700 (used) – £2049 (new)
A slightly 'left field' choice, this, due to the Scrambler 50's short track record and its budget, Chinese-built heritage, but also one that's so cheap, simple and stylish we doubt it can go wrong. WK Bikes, like Lexmoto, above, is an Anglo/Chinese brand that specialises in British styled and marketed lightweights that are built to budget prices in China. Along with a couple of bargain scooters and a mini bike, its Scrambler, available in both 50 and 125cc forms, stands out. It's based around an old, Japanese, air-cooled, single-cylinder four-stroke engine and twin shock frame, but with clever, retro styling including a brown, ribbed seat, wire wheels, semi-knobbly tyres it looks for all intents and purposes like a bang 'on-trend' mini Triumph Bonneville, has performance on-par with most 50s, its upright riding position and light weight means it's a doddle to ride and, at just £2049 is something of a steal, too. Don't expect Japanese-style quality, dealer networks or residuals, but it does the job, will be admired by many and is an affordable entry into biking – for budget money. And isn't that what a 50cc bike should be all about?